As you can see we are back in Thailand!
I just can't get enough of the food, beaches and sunshine. I am always looking around for the best prices and departure times, and when researching flights to Thailand it's good to check with the major airlines such as Emirates.
This trip saw the family fly into Phuket airport. We had accommodation booked on the other side of Thailand in Koh Samui, but we wanted to see more of the country first. There are so many cheap flight options for getting around Thailand that would have been quicker, ie; flying into Bangkok and getting a bus or a driver, or perhaps to fly directly into Koh Samui, but we liked the idea of a road trip.
Our initial thoughts were to hire bikes or a vehicle. Other than this vague concept we had flown into Phuket with no real plan on how we would be making the journey to Koh Samui. Hiring bikes went out the window as soon as we landed. It's the rainy season, or the "green season" as it is euphemistically known. With kids in tow we ruled this option out and looked at car rentals. We had allowed plenty of driving time to get to the destination as our flight had arrived at 9.00am.
By 9.30 we had bargained our way into a Toyota Vios for 900 Thai Bhat per day or $30 Australian dollars per day. Easy and cheap!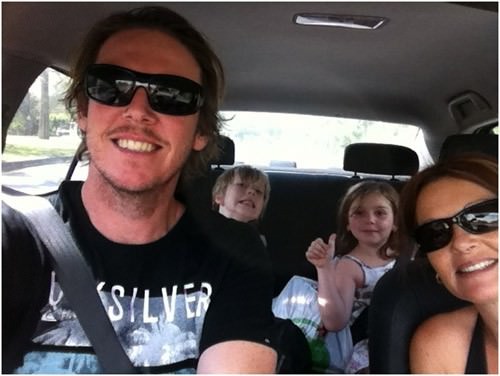 We were on our way on no time!
A map would have been useful, it may have been nice if the hire company included one with the car, but we got no more than a cheery wave, and a friendly "good luck," when staff heard of our plans. At this point we were estimating the trip to be 6 hours driving.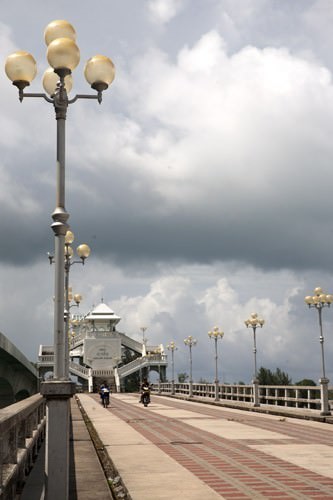 Phuket is actually an island joined to the mainland by a series of bridges. On our last trip to Thailand we visited Phuket and hadn't made it onto the mainland at all. This time we crossed the bridge to the province of Phang Nga on the mainland, and promptly turned back around to take a walk on the pedestrian bridge.
Sarasin Bridge was built in the 1960's, prior to that travel to Phuket was via ferry only. Today the Sarasin Bridge has been restored as a tourist attraction and footbridge. It serves the occasional pedestrians and scooter but I don't know that too many tourist would take the trip. I am pleased we stopped and had a walk.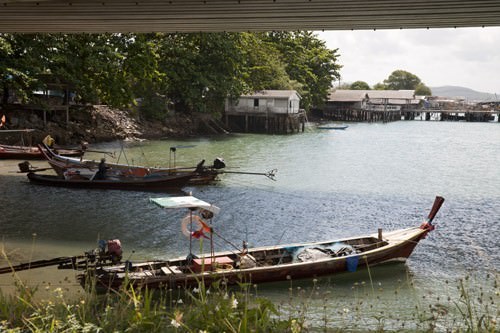 There was a little fishing village at the waters edge on the Phang Nga side of the bay and everyone was busy going about their day. I couldn't resist taking a picture of one of the traditional Longtail boats moored under the bridge. The feel of the village was so different to Phuket.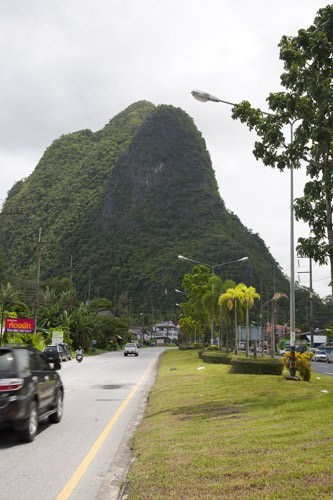 We managed to get our hands on a very basic map. It showed a number of routes to reach our destination. Our aim was to travel along the coast of Phang Nga and then head in an easterly direction inland until we found road signs to Surat Thani. From there our plans got even sketchier… we were hoping for signage from Surat Thani to Don Sak Pier, where we would meet the ferry.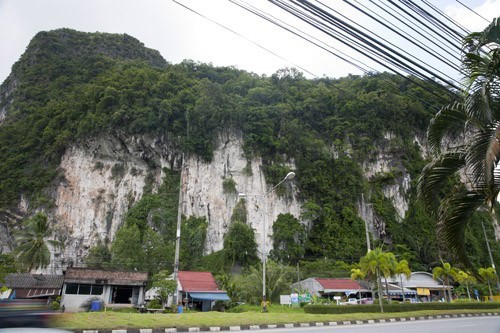 It sounded like a great plan to me. I was enjoying looking at the lush green coastline and admiring the dramatic rock formations. I figured if we found ourselves lost we could always find accommodation in one of the larger towns.
I am not really sure if we followed the route on the map as I intended. At one point in the journey we seemed to be getting incredibly close to Krabi. During this time of random wandering we were rewarded with a Buddha sighting.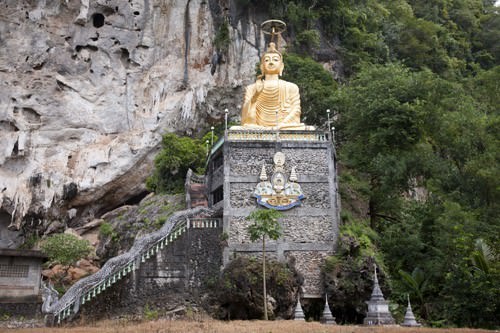 This golden Buddha was quietly guarding a mountain somewhere between Phang-nga and Krabi.
Driving along I was amazed at the countryside, so lush, tropical and green. The terrain was completely flat and covered in coconut trees and jungle, then out of nowhere mountainous jagged volcanic outcrops appeared, jutting straight up in the air.
Thankfully it seems that all roads lead to Surat Thani!
As we neared the city, little villages, farms, dilapidated and abandon buildings gave way to more organized towns. Each town was fringed with banana, papaya and coconut trees. It was a very easy drive with only the occasional car or truck to be seen. Signage was good and before too long we noticed a sign for the Koh Samui ferry at Don Sak Pier.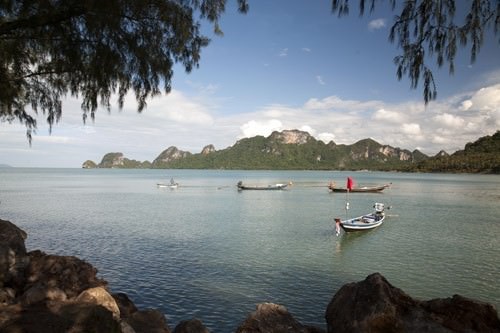 It was 2.30pm when we arrived at the ferry port. There are two companies operating ferries to Koh Samui and the cost of passage with a vehicle is approximately $30 Australian dollars.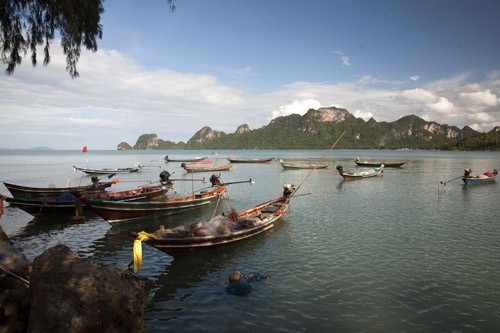 We were told that although ferries depart at 3.00pm and 4.00pm, we would need to wait until the 4.00pm ferry. With this in mind we grabbed a beer at the shop, paid our fare and joined the queue.
Such gorgeous scenery! Don Sak Pier looks like something you would find on a Thai postcard with the fishing boats moored in neat lines and the blue skies in the background.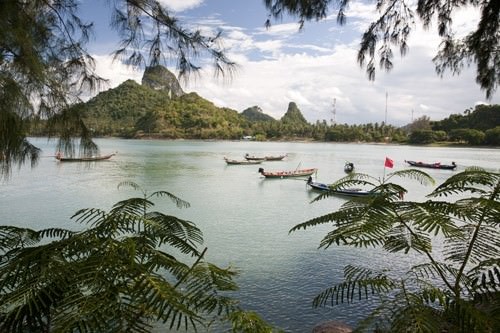 Once on board the ferry we made our way from the rental car to the air conditioned seats. The trip took about an hour and before too long our Koh Samui destination came into view.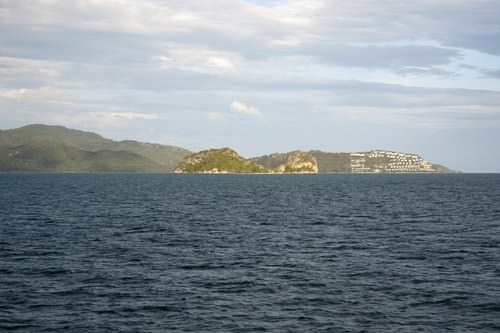 It was after 5.00pm when we disembarked at Nathon Pier on the island. We had no idea where our accommodation was located or how big the island actually was!
We dove aimlessly for about 30 mins before we decided to stop at a resort and ask for directions. It was lucky we made that call as we discovered it takes approximately 45mins to an hour to circumnavigate the island. Koh Samui has a large mountain at it's centre, so the coast road is the only practical way around the island. Our resort was on the opposite side of Koh Samui.
We were making excellent progress until sunset. Once it was dark a lack of street lighting meant we were missing turns and kept circling sections of the island. It was 9.00pm before we finally managed to find our hotel.
Four weary but happy travellers.