Queensland may have used the marketing phrase beautiful one day, perfect the next but as a Coffs Harbour girl I can tell you that title belongs to Coffs Harbour.  It may sound like I'm bragging but even the CSIRO agrees Coffs Harbour has the most liveable climate in Australia.
In Coffs we have an average summer temperature of 27°,  and an average winter temperature of 19°.  The humidity is much lower than Queensland, and we have the nicest beaches… Ok, CSIRO didn't add the bit about the beaches, but we do have fabulous unspoiled beaches.
So with gorgeous weather and beautiful beaches I thought I would give you some suggestions of what to do in Coffs Harbour. I've started the list with some free things to do in Coffs Harbour. My next story will include some great local operators making the most of our beautiful climate and gorgeous beaches.
FREE Summer Fun – Things To Do In Coffs Harbour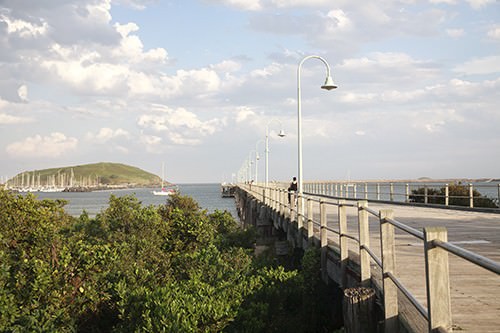 Swimming at Jetty Beach –  Cost $0 
This is one of Coffs Harbour's most popular family beaches. The Jetty and the marina forms a protected harbour.  This make this beach particularly safe for swimming with little children.  The waves do break inside the harbour but they are usually quite gentle. Setting up your towels under the jetty provides a welcome amount of shade if you're planning to send the day at the beach. You will also see a lot of other activity in the beach. Swimmers train by swimming laps across the beach and various sailing and rowing groups use the harbour for training.
Jetty Jumping – Cost $0

Jetty Jumping Coffs Harbour – Things to do in Coffs Harbour

This is a right of passage for Coffs locals and visitors alike. Whether you're looking for an adrenaline rush or you just want to cross jetty jumping off your list you will always find a group of kids and adults jumping, diving or even backflipping of the structure.

Jetty Jumping off the small Jetty Coffs Harbour

If heights aren't your thing you can always start on the smaller Jetty.

Fishing off the Jetty – Cost $0
Grab a fishing rod and some nice smelly bait and take the kids fishing. If you walk along the jetty you will see stairs which lead down to the lower jetty. This is a great place to sit for a few hours and contemplate how beautiful it is to be spending time on the Coffs Coast. Depending on the time of day you might even be in the shade. My children have caught a few brim, and a crab that was actually hanging on to the bait??? So there could be a seafood meal on the cards.
Fishing off the Break Wall – Cost $0
This is another great place to fish if you have older children.  Make sure you use this area when the sea is calm. Climb down the break wall blocks until you find a comfortable position to fish. I have seen plenty of people catching fish here.
Scootering or Walking along the Break Wall – Cost $0

Coffs Coast Breakwall

Park the car at North Wall (near the Coffs Harbour Marina) Take a walk along the break wall and admire the natural beauty. Our break wall is really popular with people walking dogs, kids riding scooters, rollerblades and skateboards and cyclist. If you have the kids make sure you throw in a scooter.

Climbing Muttonbird Island – Cost $0

Muttonbird Island Walk

At the end of the break wall you will find Muttonbird Island. There is a walking track which leads up the island and all the way over to the other side. Have a read of the site information and then follow the boardwalk. The first opportunity to take in the view of the marina is a wooden seat, which is located at a lovely picturesque spot. I always pretend I need a photo at this point so that I can catch my breath!

Lookout at Muttonbird Island

The view from the top of the island is breathtaking, or perhaps its the walk itself that takes my breath away. Either way, climbing to the viewing platform offers a gorgeous view of the marina and jetty foreshores area.

Muttonbird Island Easterly Seaview

Continuing along the walk along the pathway will take you to the most Easterly point of Muttonbird Island.  It is a gorgeous flat walk over the island and you are often rewarded with a dolphin sighting.  We have a local pod of dolphins that enjoy playing in the area. In winter and early spring you will often see whales on the annual migration route.

Snorkelling along North Wall – Cost $0

Snorkelling at Northwall

As you walked along the break wall and looked out to sea did you notice the beautiful clean, clear water?  We often take the children snorkelling on the surf side of the wall.  In calm weather at low tide you can climb down near Mutton bird Island and enter the water here. We have seen huge turtles and lots of fish life.

BBQ on the Jetty Foreshores
The Jetty Foreshores is the area of parkland behind the Jetty Beach. The foreshore has been landscaped with children play equipment, free BBQ's, picnic tables and lots of sheltered pavilions. This area makes the perfect spot for a BBQ or picnic lunch or dinner. The footpaths along the foreshore stretches for nearly 1 kilometre so its another good spot for the kids to scooter or ride bikes. You may even get a moment or two of reading while you rest under a tree.
Swimming at a Clothing Optional Beach – Cost $0
Did you think I was going to include a photo for this one??? Nope, sorry… strictly no camera's here! Coffs Harbour's nudey beach is called "Little Diggers". It is located North of Coffs Harbour at Diggers Beach. The secluded areas is accessed by walking to the furtherest Northern point of Diggers Beach and climbing over a small rocky outcrop which seperates "Little Diggers" from Diggers Beach. Here you will find an array of people enjoying the sunshine, swimming and occasionally even surfing in the nude! Make sure to sunscreen those delicate areas!
Coffs Creek Reserve at Park Beach  – Cost $0 
The next beach along from Jetty Beach is Park Beach. Here Coffs Creek meets the ocean. This area is very popular with locals as there is a lovely grassed reserve with plenty of large shade trees.The reserve area includes BBQ's, picnic tables and large trees which are the perfect shape for climbing! There is a playground for children and lots of pathways for kids to use scooters or bikes.Coffs Creek is tidal so the water at the mouth is crystal clear and usually a little warmer than the ocean.
Coffs Creek reserve is perfect for families as the creek provides a safe, clean swimming spot for small children. At low tide the water can be quite low and suitable for toddlers, at high tide there are sections which are very deep. Change of tide will see older kids making use of the current to ride body boards with the outgoing tide.Coffs Creek is a great spot bring a picnic or BBQ and spend a whole day.
Twilight Markets at Coffs Creek Reserve – Cost $0 +The Twilight markets are held at the Coffs Creek Reserve every Friday night during daylight savings. Here you will find an array of food stands, face painting, airbrush tattooing and other child friendly activities.

Sugar Plum Cakes & Desserts Food Van – Twilight Markets Coffs

Each week there's a different band or singer keeping the adults entertained whilst the children take advantage of the parks play equipment. Enjoy the wonderful atmosphere, and make sure you bring a picnic blanket or chair.

You are permitted to BYO your own food and alcohol so this can be a free night out. Alternatively, take advantage of all the delicious food on offer and give the cook the night off. This is a great evening out.

Go Surfing – Cost $0 

Macauley's Beach Coffs Harbour

We are spoiled for surf spots along the Coffs Coast. Unlike popular surf breaks in the cities or Gold Coast you won't be competing for waves too often. If you would like a little local knowledge I have included a story on the Coffs Coast Best Surf Spots.  If you are interested in learning to surf we also have great surf schools but as this isn't a free summer fun activities I will include it in my Summer Fun Things To Do In Coffs Harbour.

Boambee Beach Reserve – Cost $2 for Vehicles
Sapphire Park – Cost $0Located North of Coffs harbour in the new Sapphire Estate is Sapphire Park. As part of the development consent, council required the developer to include a public playground. The park is located right on the beachfront so it benefits from a cool breeze. It's also nice to take a stroll up the boardwalk which traverses the dunes and beach vegetation, and walk along the beach. Please note this is not a safe swimming beach.The park itself is one of Coffs Harbour's newer parks so the play equipment is modern and suits a wide range of ages. There is a soft fall play area specific for toddlers and a much larger climbing structure and a flying fox for the bigger kids.The park provides BBQ's and a number of sheltered picnic tables and is a popular spot on the weekends for birthday parties. One of the big draw cards to Sapphire park is Beachstone cafe. Here parents can enjoy a leisurely coffee, breakfast or lunch whilst watching their children play less than 20 metres away. This is one of my favourite parks.
Brelsford Park – Cost $0

Brelsford Park Coffs Harbour

So I have to admit, this is not my favourite park. Brelsford Park is a new park located in the middle of town, on Harbour Drive opposite Coles shopping centre. It feels a little bit out of place to me, I would have preferred to see this park at one of our beachside locations. I have found that in Summer it's too hot to spend very much time here.

Brelsford Park – Coffs Coast

Despite two shade sail over the play equipment there is still very little shade and the park doesn't benefit from any sea breezes. Council has planted a lot of new trees to help with this problem but at the moment it is still a very hot playground.

Brelsford Park Climbing Structure

Another oversight is the lack of picnic tables and BBQ's facilities. There are only two tables and no BBQ's so if you want to have a picnic here you need to get in early.

On the upside the park is fenced, making it safe for little children, and the play equipment is brand sparkling new. The play equipment suits a wide range of ages from little toddlers through to tweens and there's even some play equipment options for children with mobility issues.

So although I'm not a big fan of this park, I can honestly say I have seen all ages playing here and enjoying themselves. Brelsford Park is a popular park with kids and there is no way a toddler will let you drive past without a visit. Just make sure you Slip Slop Slap!

Brelsford Skate Park – Cost $0

Brelsford Skate Park

The skatepark is part of the Brelsford Park shared sporting facility which is home to the play equipment mentioned above. This is another brand new facility which is popular with all age groups. Kids from age 3 through to adults use scooters, skate boards and bikes to perform tricks and have a bit of fun.Every time I visit the skate park I am amazed at how conscious the "big kids" are of the little ones. Everyone manages to use the bowls and ramps safely and I find it fun to watch some of the more clever acrobatics. Warning though, BYO Shade!There is absolutely no shade here.
I hope you enjoyed my story detailing the free things to do around the water in Coffs Harbour. I know I may seem a little biased but we have a fabulous area here on the Coffs Coast. It is filled with natural beauty, and so many things to do in the outdoors. In bringing you this story I have restricted myself to free, mostly water activities in, or very near the Coffs Jetty area. The main reason for this is because it would have been a VERY long story if I shared all the attributes of our local beaches.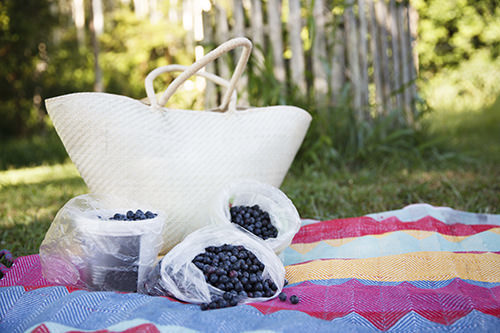 Want more things to do in Coffs Harbour? I have another fabulous family activity that's almost free is Pick Your Own Blueberries. The cost is just $10 per kilo and it's so much fun. Check out the story.
Also the Coffs Harbour Jetty area is home to the majority of our popular restaurants and cafes. If your planning a visit to Coffs harbour find some accommodation near the Jetty foreshores area and you will barely need your car at all for a fabulous Gourmet Getaway.