The beachside town of Byron Bay had been one of the most amazing spots I have set foot on in Australia. It is host to a number of sports such as surfing and skydiving, beautiful ocean views, rainbows extending from the mountains to the bays, and the towering lighthouse. Night shops, music performers and a whole stretch of restaurants- this includes Fish Heads at Main Beach – I am so jealous of the 5,000 people keeping Byron Bay to themselves!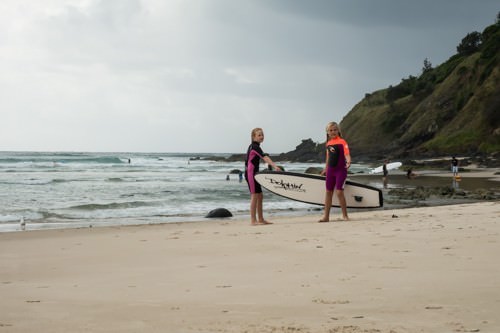 Still astonished at the nostalgia evoking, romantic villa at Rae's On Watego's we took a quick break off the love spell and drove away for dinner. We couldn't decide what we wanted to have that night. Everyone just wanted a generic "something nice". Julie had a great idea in mind. She took us all to Fish Heads, a restaurant by the bay which she and Brett had been wanting to visit all along. Brett was not with the team, but this visit was sure to give him compelling reasons to finally walk in when they visit North Coast's 'style capital'.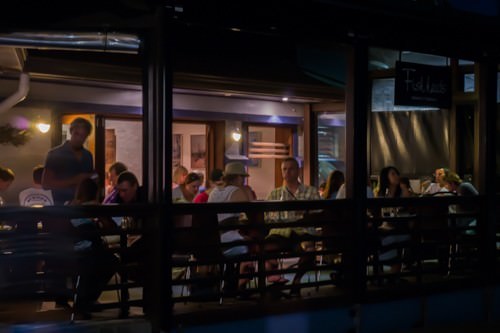 We were at Fish Heads early for dinner but guests were already glued to the seating area outside we were getting anxious we may not get seats. Luckily, there was a group that just finished their meal as Anais saved our spot in a breeze.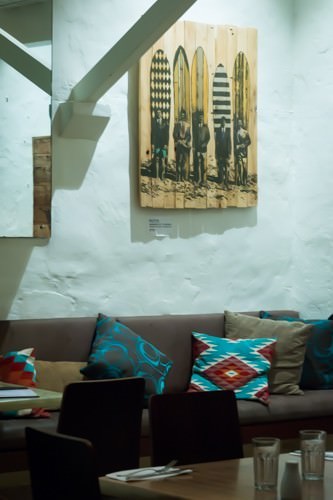 The place had a fun and snug ambience with a couch and fluffy pillows. The waitstaff were all on their feet and busy! "This resto gets the POPULAR badge!" I told Julie. She nodded and replied that's why she was always curious.
Before we convened for our dish, Julie had her dose of sparkling. She ordered a glass of Vallate Prosecco that was crisp and fruitty with a hint of peach and citrus. It was a refreshing way to start the meal.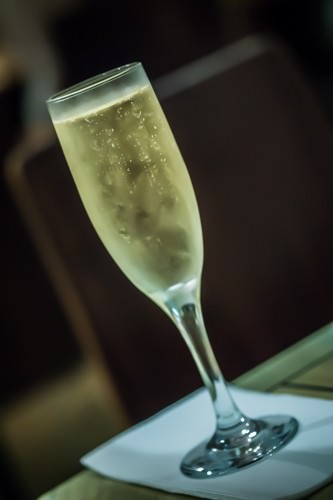 So we scanned the menu, and suddenly our calamari girl Anais incessantly raised her excited brows borrowing her brother's cheeky grin. We all knew why. Thanks to this crispy Szechuan Calamari that also inspired me to share with you my own simpler version. The crunchy salt and pepper squid came with Fish Heads' sweet chilli sauce which was unmistakably Szechuan. Everyone took bites and not too long the bowl was empty!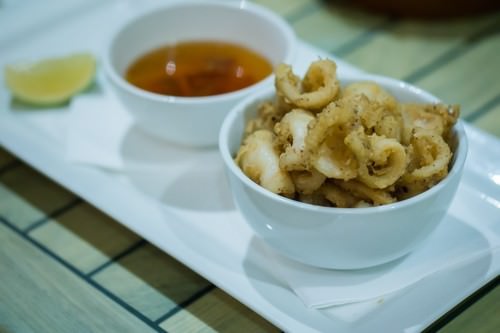 The tasty entrée whetted our appetite, we ordered another one. I have not had enough fish for days so I asked for the Seared Tuna. I mused at the lovely pink fish that was perfectly browned on the the outside. It was sweet and delicate. I could not ask for more. Oh yes, I could. The glass noodles and wasabi mayonnaise accompaniment added more texture and spice to the fish. Another great dish by Fish Heads.
If Anais was the calamari fan, I was the crab devotee. I could eat heaps of crabs and go home happy. So everyone indulged me with this Spanner Crab Salad. Bhing didn't particularly like the fishy nature of crustaceans, but Fish Heads brilliantly incorporated in strips of tart granny smith apples, hazelnut mayo and sweet mango purée giving us all no reason to nitpick. Conclusion – another gone with the wind dish of the day!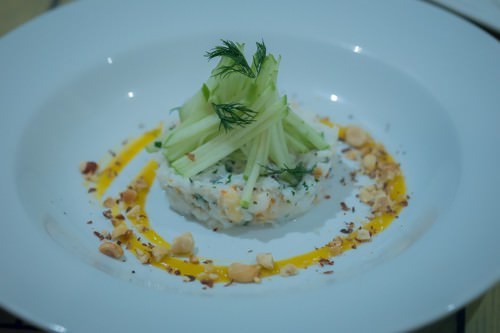 I realised there were no veggies on our table. We called for a broccolini side that was sautéed in butter with cheese shavings on top. I just loved the crunch delivered by these juicy, buttery flowers in between sampling the entrées.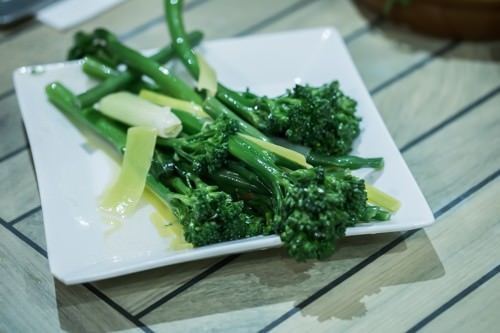 Another side that caught our discerning eyes was the Sautéed Potatoes and Pan Fried Chorizo. Julie detected it would be a pleasant addition to the fare. It came in a homely wide-mouthed pot. I thought it was a smart presentation in that I was instantly reminded of home cooking with this dish. I forked the halved baby potatoes with a slice of chorizo and a rocket leaf. All three flavours complemented each other well. The savoury chorizo gave life to the rocket and enhanced the simply spiced potatoes. I had to admit, all the dishes we had were really good. And we haven't had dessert yet!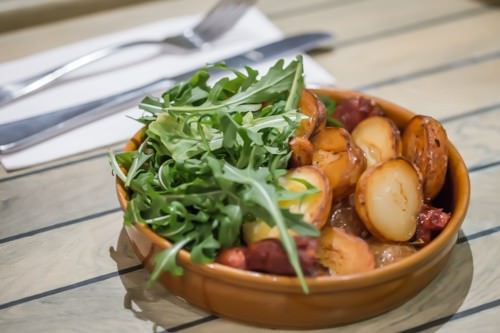 I guess we were a little fired up by being absolutely satisfied by our sides and entrées, we still had room for a light salad and another seafood fare. We went for the Greek Island Salad. The ingredients were all fresh and not soggy. The portions of feta, avocado, tomatoes, olives and greens were just the right amount for a dose of healthiness.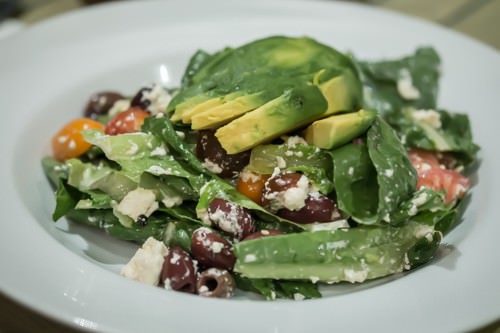 This was my first time to taste vera cruz sauce doused on the prawns with corn and black bean salad. The result was spice and tangy dash on the naturally sweet prawns and corn. For a moment, Mexico came to mind.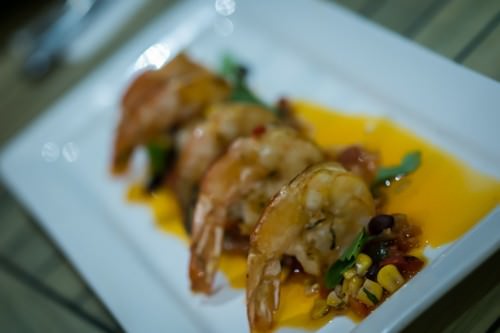 That was a lot of entrees! Now I love going with the Gourmet Getaways entourage for a meal. We all get to collaborate about what we thought about the dish. Best of all, we keep the excitement going until it was time for…dessert!
With all the entrées that paraded to our table (and our guts), we only had two desserts. All agreed on Honey and Vanilla Panna Cotta. A lovely, creamy, panna cotta, sweetened by honey jelly, backed up by three blobs of rich chocolate ganache and neutralised by fresh strawberry slices. All smiles in the table :).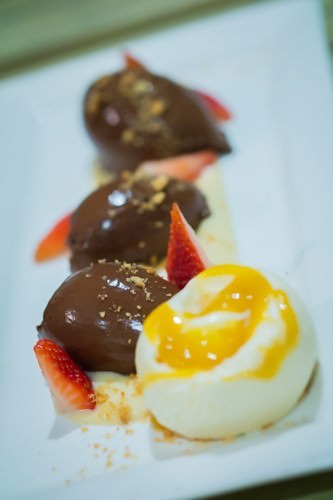 And then came manna from heaven. Two scoops of vanilla ice cream with kahlua and espresso. This was Julie's pick. I waited for her to pour the liquid before we all attacked.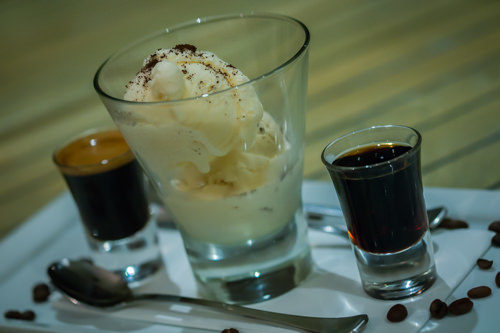 The combination tasted like a marriage of cookies and cream and coffee crumble in a single spoon. It was so sinfully good I tried hard to control myself from stealing the glass away from the chief.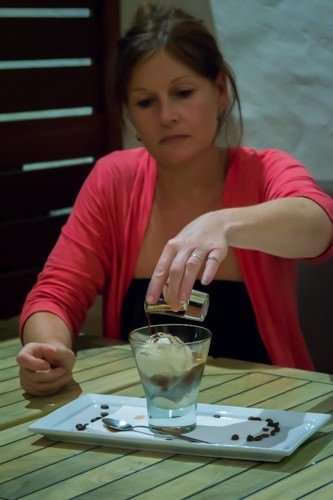 Wow, this was one of greatest dinners we have had. One proof is two satisfied pretty girls who couldn't hide their smiles for tonight.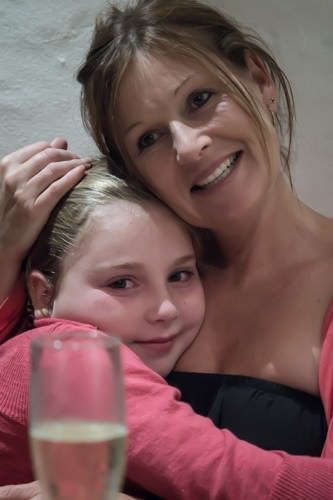 We had a fun evening stroll at the shops strip of Byron. It was an animated night with vibrant music, homegrown boutiques and grinning girls who raved the night away about Fish Heads at Byron Bay.

Fish Heads Byron Bay
1 Jonson St, Main Beach
Byron Bay NSW 2481
Ph: 02 6680 7632