Hello and kumusta (how are you), lovely GG readers?!
The online giveaway is finally here in this story. I'm sure we got you all in blazing anticipation. Thank you for following the series. And now it's time to tell you about firefly and dolphin watching tours in Puerto Princesa. These tours are offered by MAG Palawan Tours.
Puerto Princesa is perhaps most famous for the Underground River. In 2012, The Puerto Princesa Underground River was officially dubbed as one of the New 7 Wonders of Nature.
But it is not all that the city could offer. Its Firefly Watching and Dolphin Watching Tours are equally enlivening, especially if you have kids with you.
The day before our flight back to Manila, Daytripper transported us safely from El Nido to Puerto Princesa (6 hours). If you've read about our experience with Daytripper, you would know this was the land transport company that had looked after us well during this trip.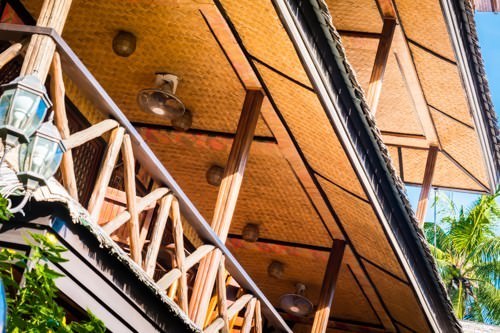 We arrived at a compact but charming accommodation at exactly 3 PM. MAG Palawan Tours had booked us to a 6 PM Firefly Watching Tour with buffet dinner. My eyes glistened at the thought. Three days in a row we were at sea through the day enjoying wonderful tours and delicious meals. This time the setting was complete darkness to enable us to appreciate the illuminating beetles.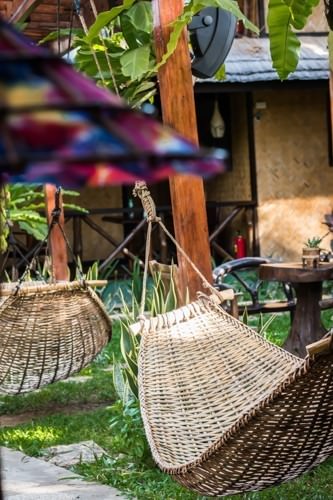 A shuttle van honked at the lobby to signal our tour pickup. I just finished a rejuvenating massage by a trained local masseuse. Massage, firefly tour, lavish buffet dinner.  A girl could start to feel very pampered here! How does that sound to you readers? 😉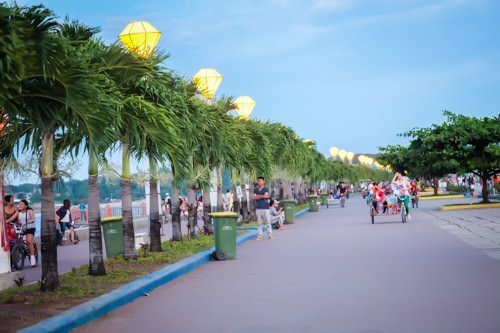 Being December the port was brimming with tourists. We took a 5-minute survey of the area while waiting on our co-passengers.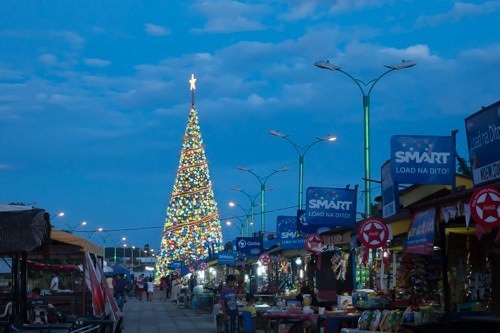 We boarded the first boat at 6 PM. The lady guide briefed us. She advised we would transfer mid-way to a second boat. The smaller boat is streamlined for the shallow calm waters flowing to the river.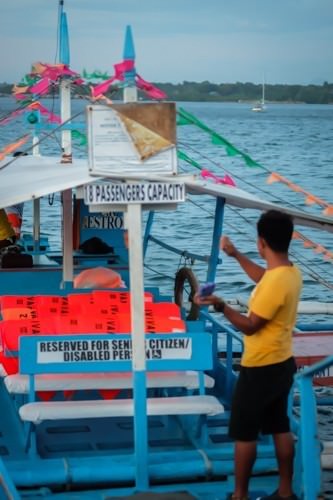 It took us about 40 minutes including the transfer. This time we had a balanced local/foreign tourist ratio in the group.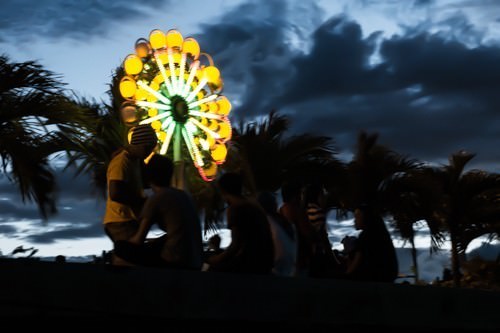 The boat took off at twilight. The December breeze was chilly. But the waters were serene. This is in fact another facet to enjoy a Palawan tour.
After the boat transfer, we quietly traversed the narrow river surrounded by mangroves. This is firefly paradise as these insects feed on mangrove leaves.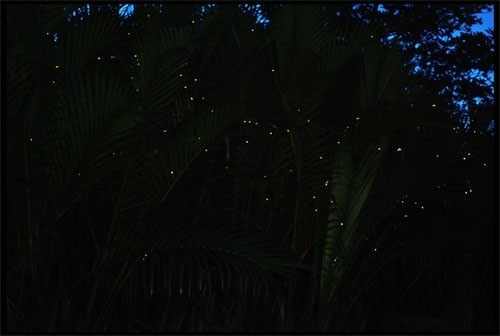 I could not explain how mesmerising it was to see the fireflies illuminate in groups from tree to tree. Literally, what I saw was random Christmas trees in the dark. The group let out "ooohs" and "aaahs" looking everywhere in the dark to spot the lighted trees. As if the fireflies played hide and seek with us.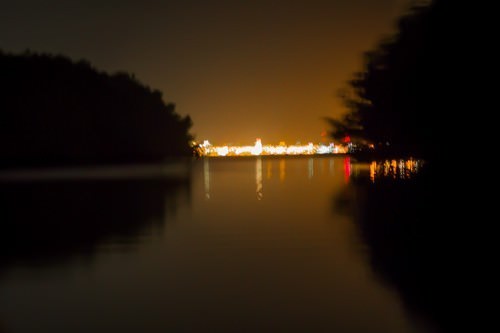 The boat didn't stop longer than a second, so I had no luck with my camera. Except for this one shot of the city lights as we exited the river. It was an amazing evening tour.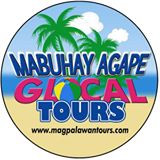 The following video will show more about the Firefly and Dolphin Watching Tours in Puerto Princesa by MAG. Please take time to watch it as it is a great prologue to these fun tours. Warning: steamed crabs are a buffet item! I love crabs!!!
GIVEAWAY ALERT (For Philippine residents only):
MAG Palawan Tours would love to meet an avid Gourmet Getaways reader and his/her family or friends. The prize: 1 WINNER OF A PUERTO PRINCESA DOLPHIN WATCHING TOUR PACKAGE FOR 3! *See terms & conditions
*Terms and conditions
Good for 3 persons to be used in a

single scheduled Dolphin Watching Tour

Valid until December 31, 2015 (seasonal and depends on the weather)
Prior booking with MAG Palawan Tours required
Booking must be made 2 months in advance
Transferable but not convertible to cash
Good luck, everyone!
Gourmet Getaways' El Nido and Puerto Princesa tours was provided for by MAG Palawan Tours. The opinions contained in this review are written without bias and in accordance with Gourmet Getaways' disclosure policy.
MAG Palawan Tours
18 Fernandez Street, Masangcay Bldg 2nd Flr, Unit 6 Puerto Princesa, Palawan Philippines Phone: +63 48 723 3258