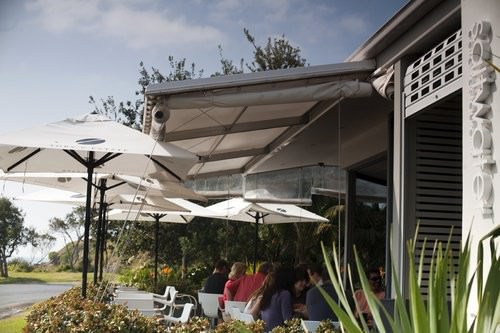 It is day four, on the Mid North Coast Foodie Tour with Lorraine from NQN. Unfortunately it is nearly time for me to bid this lovely lady goodbye.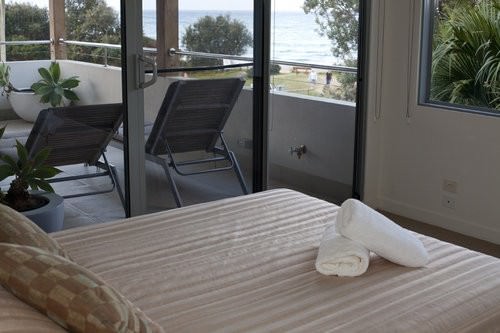 We have a little time to wake slowly and enjoy our beautiful beachfront surrounds at Saltwater, on Emerald Beach. I soak in the view of the waves breaking on the shore just 100 metres away and contemplate breakfast.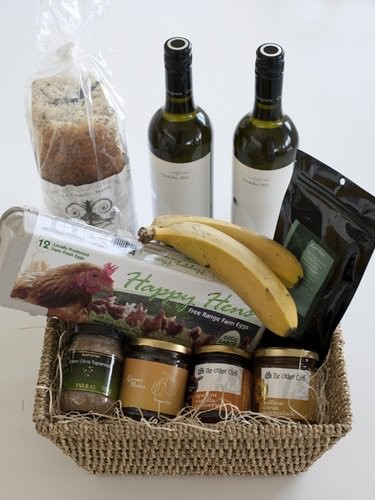 I can hear the restaurant below in full swing downstairs. I am tempted to run down for a quick coffee but I can't quite bring myself to leave the tranquility of our abode. I settled for making a cup of tea for myself and my traveling companion, and just remained where I was, simply staring at the sea.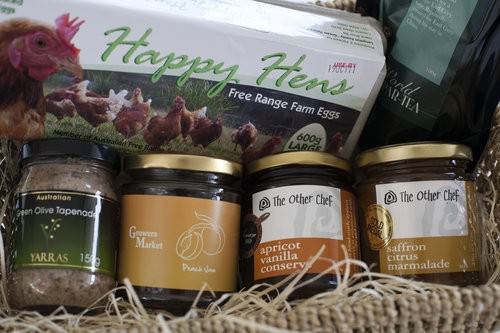 Mid North Coast Tourism have put together a bountiful breakfast hamper for Lorraine and myself, but alas after being so totally indulged over the last three days we both feel that even a bite and we may never be able to eat again! What a tragedy that would be! Instead we divide up the hamper so we can enjoy it completely at our leisure.
All too soon there is packing to be done before one last stopover at a famous Coffs Harbour icon.
Oh course we are visiting the Big Banana! I am embarrassed to say that I have never eaten a frozen chocolate banana, so I intend to rectify this oversight today.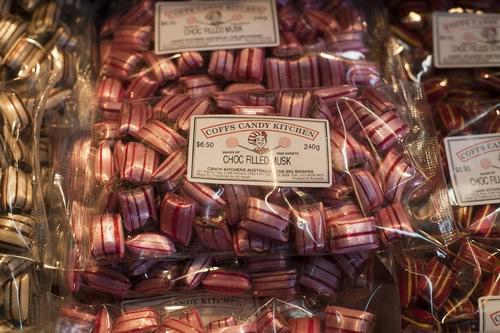 As we walk through the Big Banana, on our way to meet the manager we are drawn into the candy store.  There is a candy making demonstration taking place and we watch at the skill involved in making these sweet treats.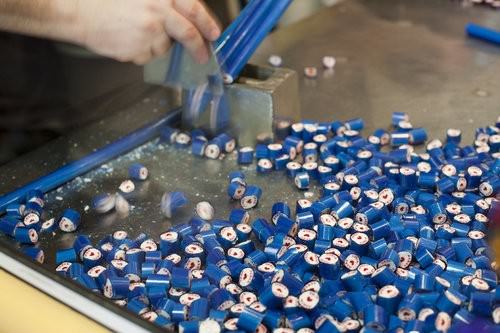 There is every flavour conceivable on the shelves. I can't help but purchase a passionfruit candy which is filled with white chocolate! Delicious! Now I just need to hide it from the children when I go home 😉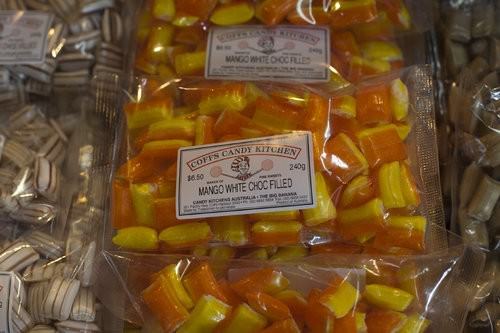 Just upstairs from the candy store we notice a puppet shop. We are entertained by a cheeky little boy puppet as we wonder through admiring the toys.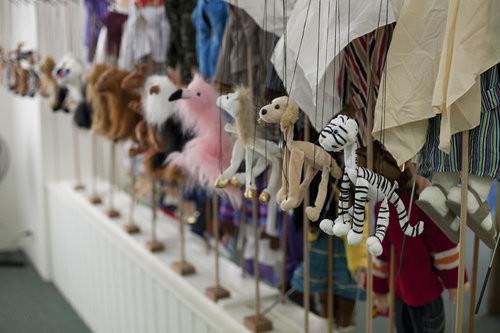 We meet Drew, the Big Banana manager next and he takes us for our special tour.  We are shown through the first of two theatres to watch a history of banana growing in the area and a second show explaining the health benefits of the humble banana. By the end of the second show I am beginning to notice a rumble in my tummy. It has been about six months since I have eaten a banana as they have been up to $18 per kilo in the supermarket due to the Queensland crisis.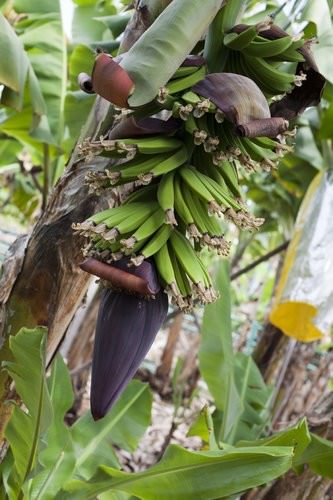 We are taken on a walk through the plantation and the packing area. In Coffs Harbour we grow Cavendish bananas. As we have a sub tropical climate it takes longer for Coffs Harbour plants to produce bananas than they do in Queensland. A plant would take between 12 and 18 months to bare fruit in Coffs, whilst in Queensland the same fruit may take just 6 months. It is not all bad news for the Coffs Harbour banana however.  The longer the fruit spends on the tree the more the sugars and flavours are allowed to develop. Meaning we produce a sweeter, tastier product.
Most of the Big Banana's product is destined for their very own food court.
Here you will find the most delicious variations on banana themed desserts that you will find anywhere.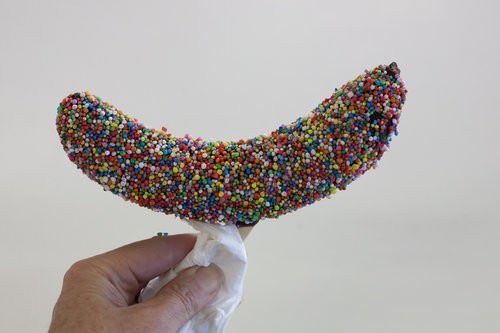 Naturally I am intent on trying the chocolate covered banana. The banana's are frozen on a stick and then dipped firstly in chocolate and then in either 100'2 & 1000's or nuts. The can also be purchased without the addition on the sprinkles, but we choose the more adorned banana's. I start with the 100's & 1000's and then move on to the nut coated banana. My favourite is the nuts as it seems to me that nuts, chocolate and banana are the perfect combination.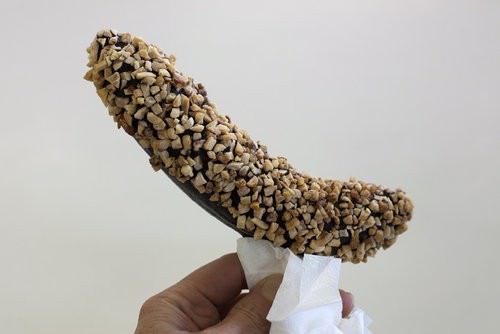 Next we are treated to a banana fritter.  Made from one of the Big Banana's A lovely sweet banana which has been fried until crispy and golden. It is topped with a caramel sauce, a served with banana ice cream, of course!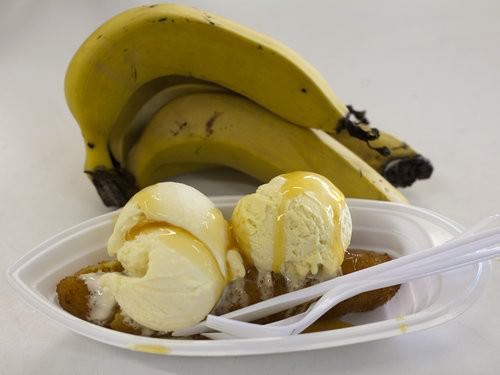 Then we are a presented with a banana milk shake.  Made with real banana naturally and not a syrup, it is more like a banana smoothie. The milkshake is the biggest I have seen an I am feeling very full at this stage.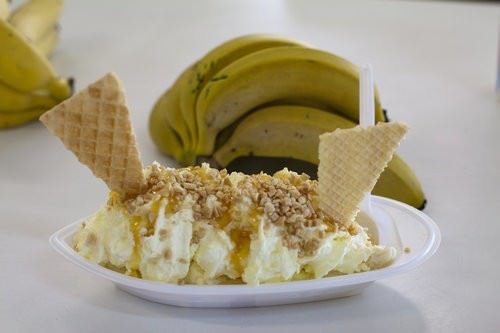 We have only just started on the banana desserts, we also try the banana split. These are served in gorgeous little banana boat dishes and include a banana, whipped cream, ice cream and topping of your choice.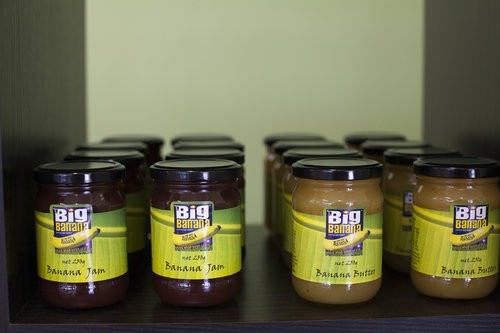 In the food court area we notice so many products made using banana's. The banana jam catches our eye. Lorraine is fascinated and soon extracts a promise from the manager to supply the recipe.
As always occurs we find ourselves in a rush for the airport, we bid each other goodbye, and sadly my journey with Lorraine has come to an end.
I feel so fortunate to have had this wonderful experience.  I would like to thank everyone involved as it has been a marvellous opportunity to share the area I love with my readers and my idol.
If you have missed any of our adventures links to the full itinerary are below;
Signature Dish Dinner at Saltwater
The Jaaning Tree – Nambucca Heads
Day 2- Mid North Coast Signature Dish Competition
Gourmet Getaways & NQN have been guests of the following Tourism Departments, Restaurants, Hotels and businesses.
Destination NSW
Mid North Coast Tourism
Saltwater Restaurant & Accommodation
The Observatory Hotel
The Jaaning Tree
The Corner Restaurant
The Stunned Mullet
The Milkbar Town Beach
Ricardo's Tomatoes
Gaian Poultry
The Big Banana
Comboyne Cheese
Macadamia Farm
Lil Baba Chocolates