That Friday we checked in to the gorgeous Plantation Bay, we were to be treated to lunch at Fiji Restaurant. Our night schedule got even more stirring having invited to one of the resort's daily themed dinner shows – Filipino Fiesta!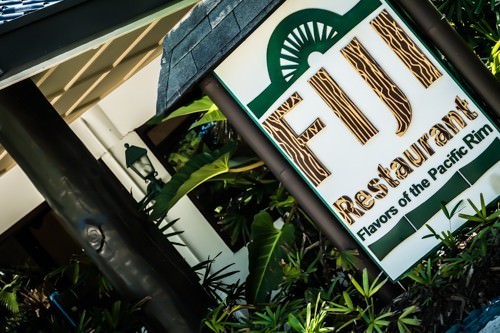 Fiji restaurant is in fact within spitting distance from the reception gazebo. If you're after seafood, Japanese or Korean, Fiji is one of the four restaurants that can satiate your craving. Plantation Bay continually ensures to anticipate the needs of their guests. Three other restaurants operate in the resort – Palermo Restaurant for tapas and pastas, Kilimanjaro Kafe for international and Filipino favourites and Savannah Grill for fast food offerings prepared and served in style.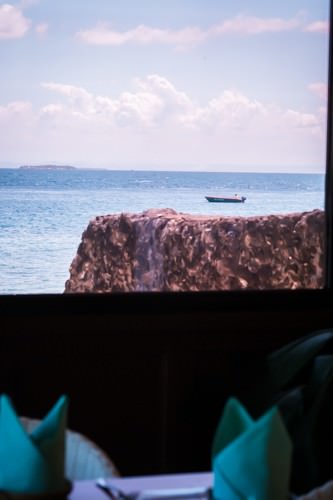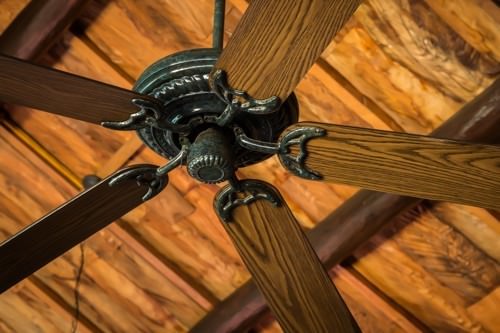 The restaurant is situated by the beachfront. It provides a view of the calm sea and aqua activities enjoyed by the guests. As I had revealed in the review of Palermo Restaurant, Plantation Bay is an advocate of home made food, whenever possible. This restaurant also serves food à la minute or prepared as ordered. One evidence was the fresh sushi bar by the entrance.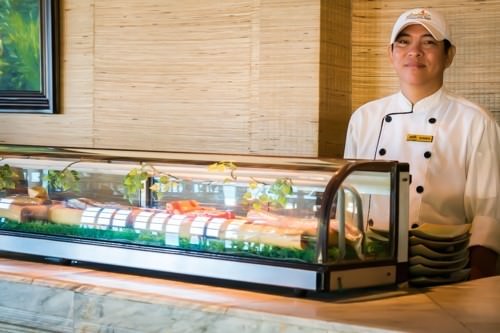 We didn't take long to order. The group came from an hour flight from Manila. Plus a 20 minute taxi ride from the airport to Marigondon where Plantation Bay is. Our eyes had feasted on some of the many interesting sights in the resort. It was time for FOOD.
The lovely resort's PR Officer, Hannah, joined our table as we waited for the specialties. A complimentary basket of freshly baked pita bread with butter arrived. It had that homey aroma and softness that home baked breads carried. It was good on its own I didn't feel the need to touch the butter.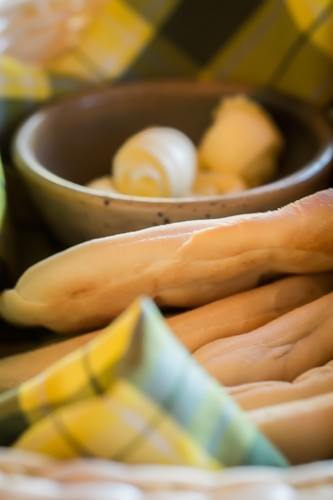 Bhing and I love greens so it is imperative that we have salad in most of our meals. We had ordered the Cucumber Kani Salad. Cucumber and nori strips in sweet Japanese mayonnaise served on crisp iceberg lettuce. It was a refreshing start!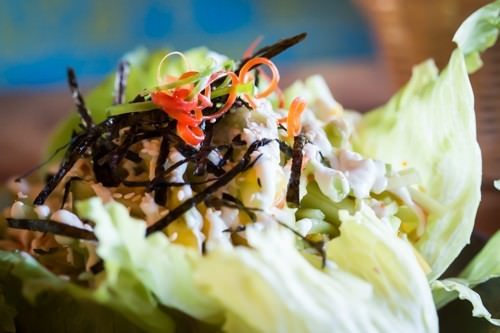 As you may already know, the Philippines is an archipelago with 7000+ islands. Where there are islands, there is fresh seafood. Where there is seafood, our provinces have their own versions of kinilaw or ceviche. I recollect as a child I would snatch a bite from my dad's beer match – mackerel ceviche. So I had also asked for the Fish Taro Basket. I used the sweet taro chips to scoop up the cubed cucumber, mango and vinegared salmon. With a hint of red chillies and toasted sesame, all that's inside the deep fried crunchy batter basket blended together – sweet, sour, hot, spicy.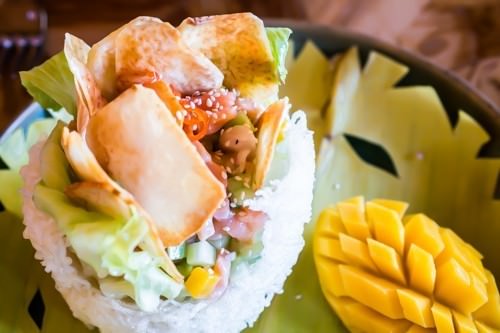 For a Korean dish, Hannah had recommended the Korean flavoured ox tail. I was skeptic at first as I am a huge fan of Filipino Oxtail Kare-kare.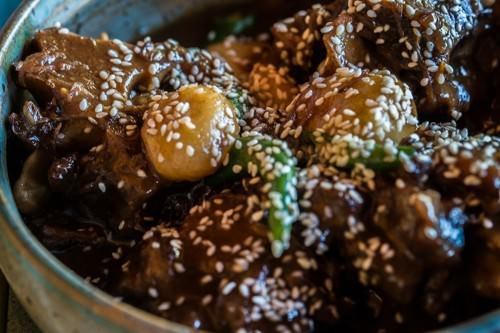 Forking the ox tail piece, I had felt the acceptable tenderness of the meat – falling off the bone. Putting it into my mouth the first time was a blast. I forgot to reset my Kare-kare programmed sensors, the program rebooted on its own. It had the flavours of bulgogi – with a comforting sugar, soy sauce and mix of spices. Looks like the kare-kare found a runner-up in this version.
I had thought it was getting hot in the dining area and someone had put a fan on our table. Behind the cleverly crafted fan made of tempura batter was a troop of prawn heavyweights. The Visayan Sea and other rich surrounding waters supply the region's demands for seafood.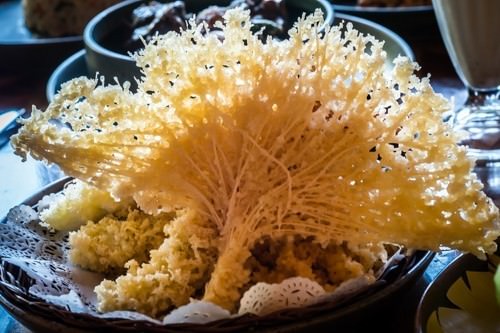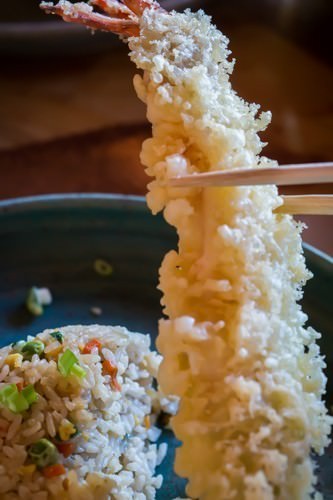 The usual prawn tempura in Manila would be lighter on chopsticks. But this crustacean required an extra lifting power. Though a plus size, the tempura was still crisp and crunchy to the bite. The prawn tasted like it had just been netted and brought to the kitchen for frying. Sweet and fresh. I wished I had twin stomachs for these!
But I had to discard this wish right away. I spotted milkshakes on the menu. My eyes locked in on Chocolate Peanut Butter Milkshake. I walked around as I waited for my sweet treat. A parade of Best Restaurant plaques awarded by Philippine Tatler confronted me. I counted 7 awards from 2008 to 2014. Without skipping years, Fiji Restaurant was consistently recognised by the luxury lifestyle magazine for its excellent food and service. Kudos, Fiji! Kudos, Plantation Bay!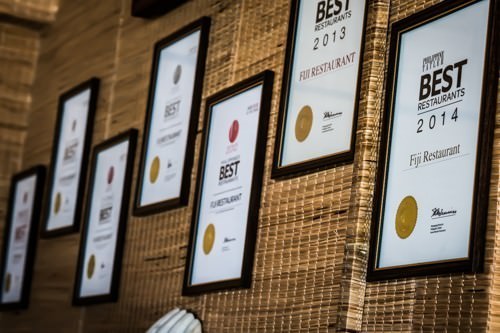 Returning to my seat, I didn't know I would have another amazing discovery as I did of the ensaimada at Kilimanjaro Kafe.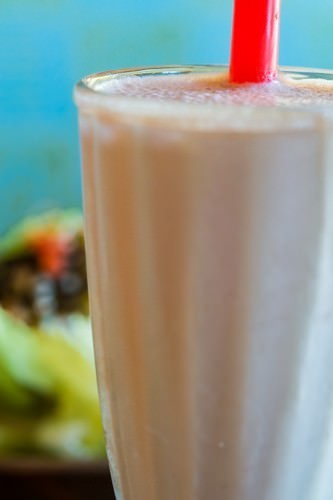 Nothing spectacular from the outside, but once I locked lips with this Chocolate Peanut Butter Milkshake, I didn't want to let go. It was like cocoa and milk finding their soul mate in each other meeting halfway during the sip, while the good ol' peanut butter with its just-in-time nutty richness towards the end as the offspring. I had to share it with Bhing and my friends. All of us couldn't say a word, but just…"Mmmm" with round glowing eyes.
We ended lunch with that milkshake bang and headed to check in to our room.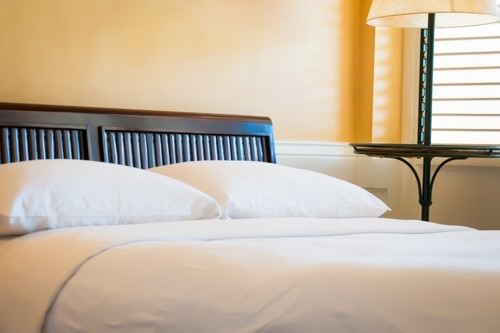 As we explored the 11.5-hectare property, we bumped into another festive delight. The black lechon on the pit that would be served for the night's Filipino Fiesta Dinner Show!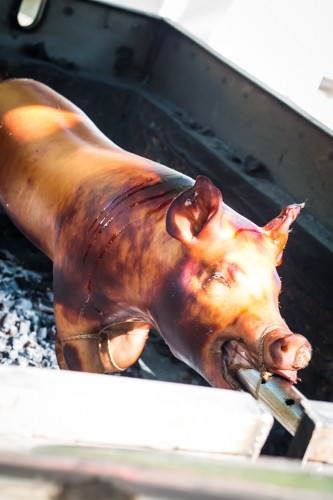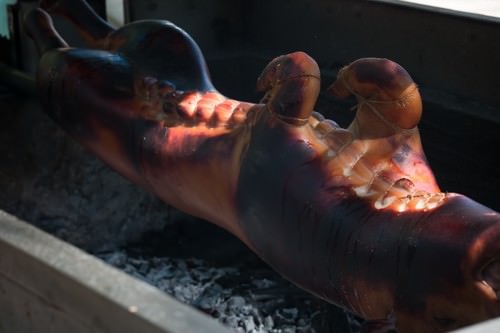 The resort's founder, Manny Gonzalez, tells us he always wanted Plantation Bay to have unique offerings. Let there be black lechon! Black not because it was burnt but because accordingly they submerge the pig in coconut milk prior to roasting. That procedure would turn the pig black while on the pit. I wonder what it would taste like. "Laters!", I whispered as I winked at the fiesta star.
By 6:30 PM our foursome headed to the stage of the Filipino Fiesta. Again, we were taken to a different dimension. The setup was so festive and the theme was evident of a community Filipino dinner.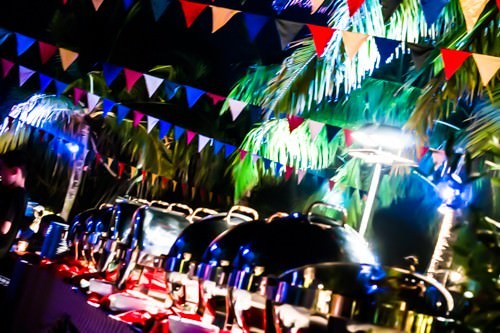 This night was when my school textbook photos came to life similar to Jumanji characters in action. The folk dancers (the resort's own staff), the food, the ambience – everything was truly Filipino.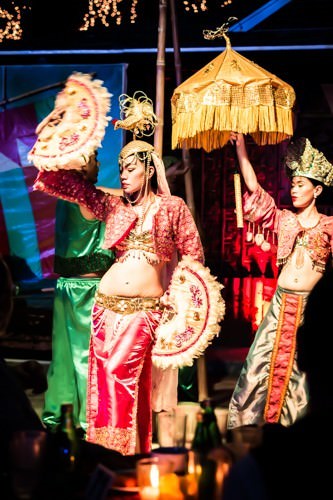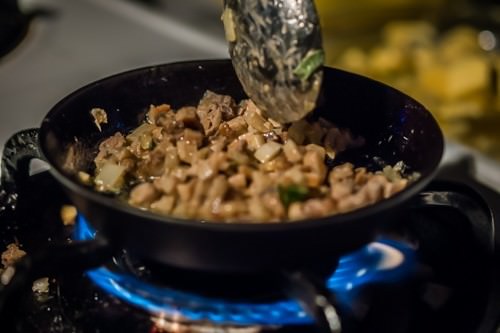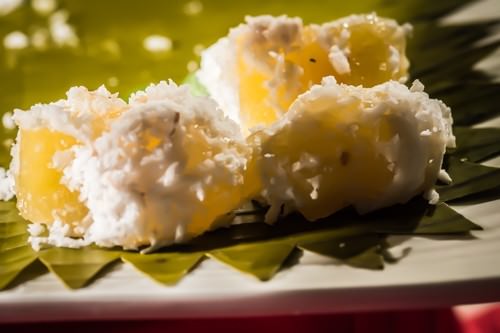 There you are, my lechon friend! I took some bits lest they vanish. The black lechon had that crunch and crisp no other skin could ever match. The meat was tender and tasty. It held back a notch of the usual saltier flavour of lechon. I liked it this way.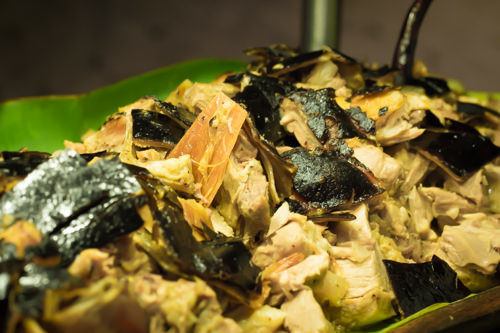 Tonight, there were tourists enjoying and joining the performers on the stage for a much more fun and festive weekender.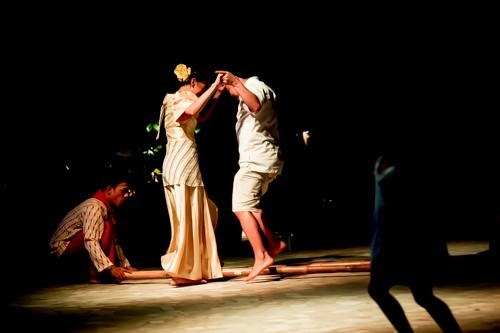 Fun and festive. Fiji and Filipino Fiesta. Our Friday was so full of F's it was "effin'" awesome! Black lechon, anyone?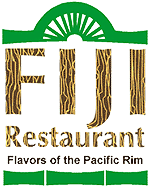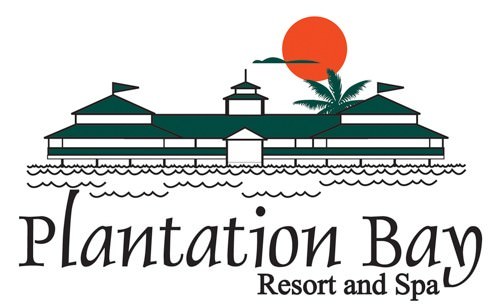 Gourmet Getaways dined as guests of Fiji Restaurant and Plantation Bay. The opinions contained in this review are written without bias and in accordance with Gourmet Getaways' disclosure policy. 
Fiji Restaurant @ Plantation Bay Resort and Spa
Marigondon, Mactan Island Cebu, Philippines 6015 T: +6332 505-9800 F: +6332 236-4821 
Open 12 Noon – 3PM and 6PM – 11PM.
Closed on Mondays
Filipino Fiesta is held every Friday at 6:30 PM.