You know you are going to have a great holiday when you board your flight to Fiji and you are immediately made comfortable by friendly smiling faces.
We had booked a Qantas flight and we were being flown by the partner airline Air Pacific, so our Fijian experience commenced immediately with a "Bula" as we boarded the plane. Our attendant ensured that Mr GG was very comfortable and each time he did the drink trolley rounds he offered hubby a second Fiji Bitter "for later". It seems he had a knack of knowing which seats were likely to be a little thirsty and we were very well looked after.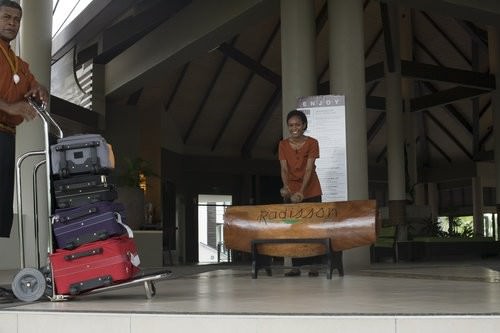 My sister and her family were also on the same flight and they received the same attentive service. Needless to say, we arrived in Fiji, fully relaxed and ready to begin our holiday.
Our first night was to be spent on the Fiji mainland before continuing on to our chosen island. We explained to our travel agent that we wanted somewhere of above average quality for our first night in Fiji. We also wanted to be close to the marina for our trip out to the islands.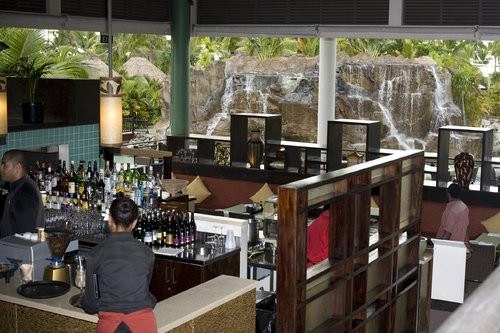 Our agent booked us into a two bedroom apartment at the Radisson Fiji on Denarau Island. The resort is only a quick cab ride from both the airport and the Marina, but when you arrive you feel as if you have been transported to a tropical paradise.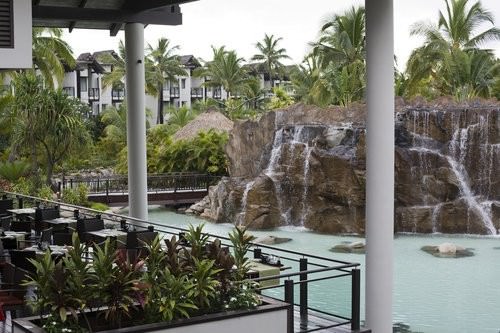 The resort grounds are beautifully landscaped with pools and garden winding throughout. The centrepiece of the landscaping is an impressive waterfall which empties into the pools and can be seen from the restaurant, bar area and the main reception.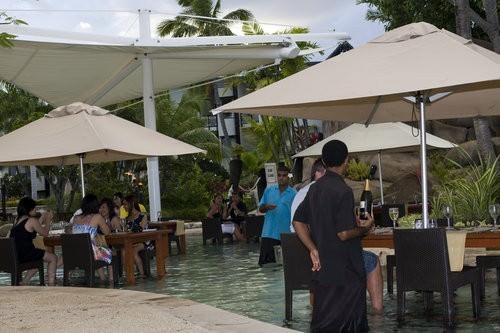 There is so much to love about this resort. Our apartment was beautiful and spacious with all the expected facilities and amenities. There was a choice of eight restaurants including a romantic "adults only, over water" restaurant which serves a set three-course menu. The evening in the pool commenced with champagne on arrival, and wine throughout the meal served by your own private waiter.
Whilst the resort was completely children friendly and offered Kids club and childminding services, the pools were distinguished as either being "adults only" or family friendly pools. This gave couples a chance to have a romantic moment without the splashing of children, and with a total of five pools on the resort grounds, there were plenty of choices. One of the children's pool included a slide which was a great way to keep the kids amused for hours.
Hubby particularly enjoyed the ability to swim in the ocean, in the gorgeous, calm, warm tropical water, but remaining within shouting distance to the pool bar. Although he did regret not having the opportunity to play a round of golf on the 18 hole course.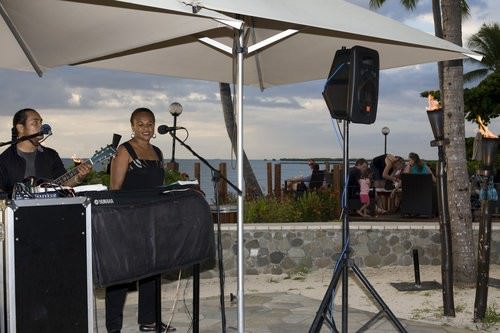 With only an overnight stay booked we were limited in the activities we could enjoy and spent our time in the pool until well after dark.  Feeling a little hungry we made our way to one of the resort restaurants with a view of the waterfall and the ocean.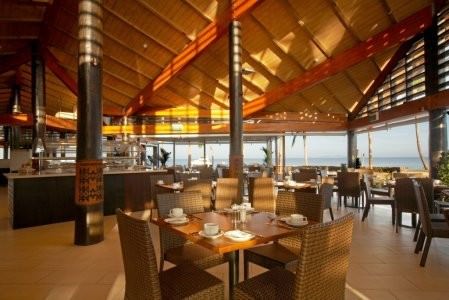 The restaurant BLU feature light fresh cuisine which was a fusion of Fijian and Asian flavours. When we were seated by the waitress we were given refrigerated wet face washers with a refreshing mint aroma. Given the humidity of the evening, the washers were appreciated by all.
The Fijian ladies were lovely, fussing over the children and being friendly and chatty. When it came time to order I chose the Chicken Nasi Goreng. I loved the way it was served and the meal was huge and thoroughly delicious.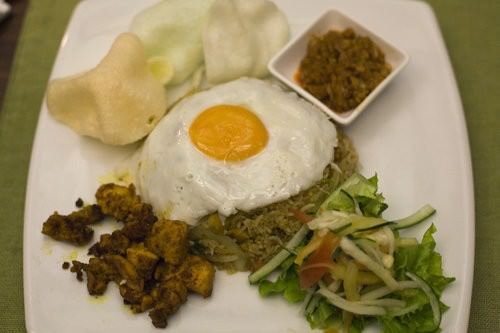 Hubby went with a Duck & Seafood Laksa, plus he also had the task of finishing my dish as usual. I wish I had more stomach space, I seem to always get full so quickly.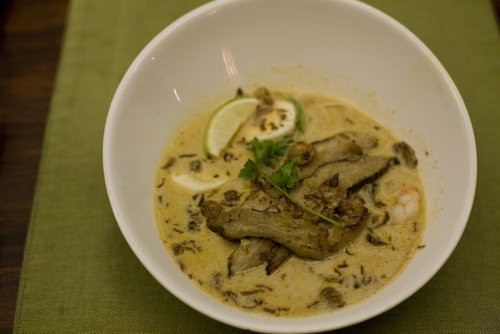 The little children shared a serve of Singapore Noodles which even after it was divided was a very big meal.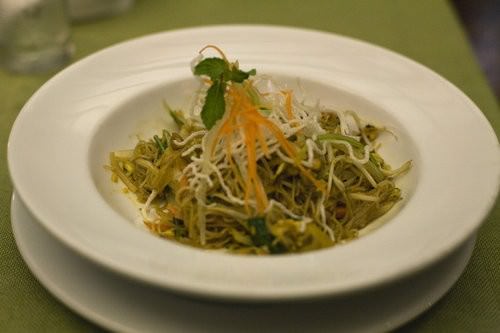 The big boy had a really interesting dish which included a spiced rice dish wrapped in a very thin egg pancake and served with spicy prawns.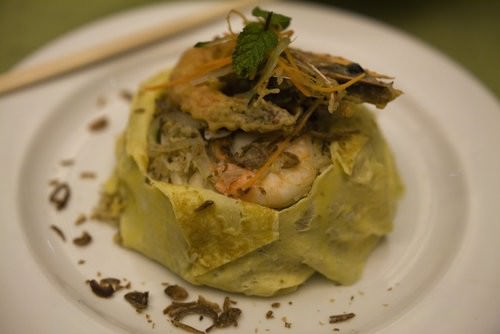 My sisters and hubby joined us through the meal.  Her hubby ordered the Crispy Lemon Chicken and also had the job of finishing Donna's rather large meal.  Donna had liked the look of the spicy pancake and had settled on that for dinner but it got the better of her. We are both cursed with small appetites.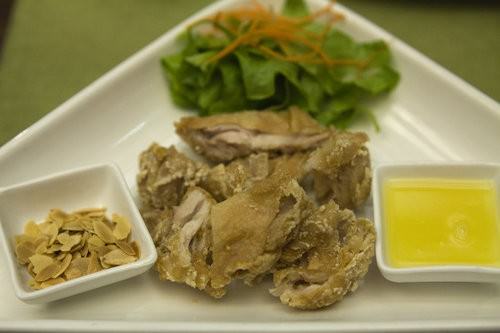 After our meals, we returned to our wonderful air-conditioned room. We all slept so soundly! My hubby who is a "bed connoisseur" decided that the bed in our room was the best bed he had ever slept in. It was just the right level of softness and firmness, being 6"6' the fact that it was King sized melted his heart on arrival.
With all the sleeping going on in our room we found that we needed to hurry to the breakfast buffet, as we had slept through until almost until the end of service. This doesn't usually worry me too much, as I am not really a breaky person. I find I never have an appetite in the morning, and it's a good strong cappuccino that I am usually looking for, but today I had really wanted to see if there were any surprises on this buffet so we hurried down.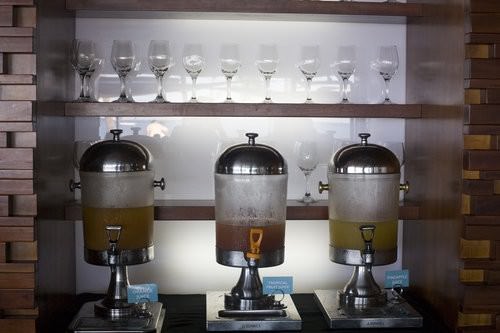 Our little bit of effort was definitely rewarded the whole breakfast setup was very impressive. We were given a "tour of the buffet" which included a double glass door fridge containing champagne and chilled glasses for guests to enjoy at their leisure.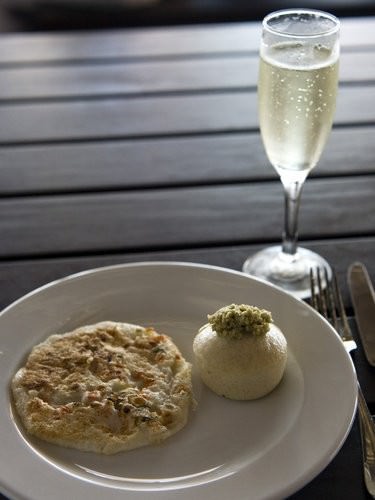 There were various cooking stations, where chefs would make you your eggs, omelettes or pancakes as you ordered and the usual tables containing continental breakfast items and cereal.
Due to the heat, there were also glass door fridges containing sliced meats and cheeses and delicious homemade yoghurts with various sweet fruits added.
My favourite item was a lime and mint sorbet which is stored in a self-service mini freezer. It was so deliciously tangy and refreshingly cold. I loved having something so fresh at breakfast, and the sugar hit was very much appreciated.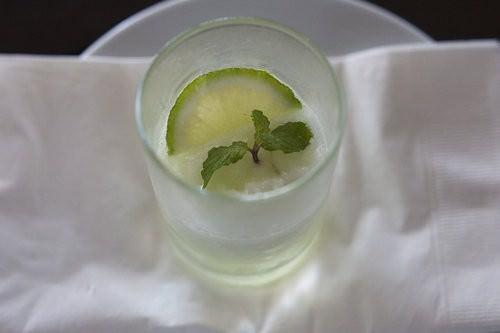 Hubby by now was on his third serve of Raspberry Yoghurt, all the while he had been telling me that I should also try one. I followed his directions to the glass door fridge which contained the cold meats, cheese and other deli items. In this fridge, there was also an assortment of drinks, chilled fruit and yoghurts.
The fridge ensured that all the items were kept beautifully fresh and chilled in this hot humid environment. It's the little things which make a difference.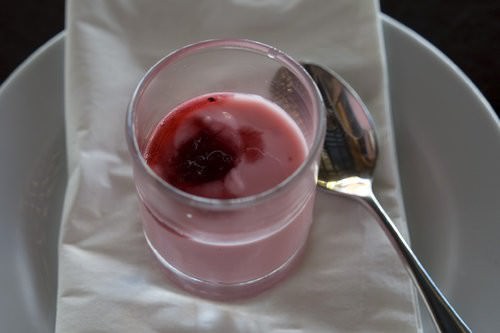 Mr GG was right on the money with the raspberry yoghurt, it was like a sugar bomb of sweet raspberry and creamy sweetened yoghurt! I have never tasted a nicer yoghurt.
So in summary, my breakfast consisted of my coffee the sorbet and the yoghurt followed by a serve of delicious tropical fruit.  Believe me, I left breakfast with a real sugar buzz happening.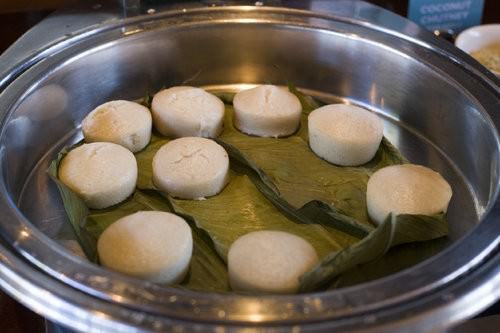 Husband and son number one also sampled some of the local dishes, including these savoury cakes called Iddil which are served with a coconut chutney.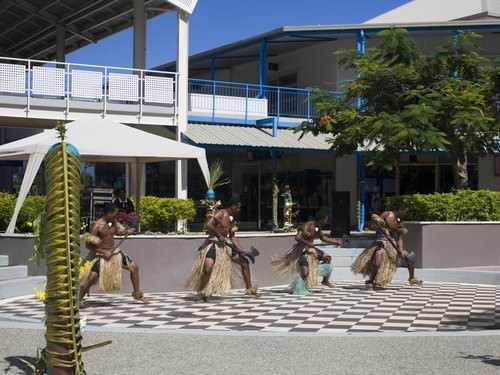 We had been staying at the Radisson with my sister and her family. They too had chosen the Radisson on the recommendation of our travel agent. My sister had booked for an extra night so reluctantly we said our goodbyes and departed for the Marina and the second stage of our Fijian holiday.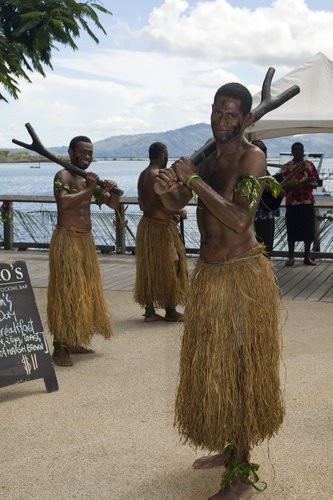 Fijian Dancers at the Marina