As part of of Food Tour of Delhi we visited the Gurudwara Bangla Sahib. This temple is one of the most prominent Sikh temples in Delhi, India. Earlier in the food tour I asked our guide Jaidev about the people we saw living in the street. I was concerned that they were so thin. Some adults and children looked like they were literally starving! Our guide explained that no one leaving near a temple should starve as they can be fed by the temple kitchen.
Jaidev explained a lot of the temples practise a policy of Langar. This term means the temple has a kitchen  staffed by volunteers that will provide a meal. There is no payment for food and all visitors to the temple can partake, regardless of religious beliefs.
Until we arrived at the temple I had no idea of the scale of food preparation! Literally 1000's of people are fed in the temple kitchen each day. Not all of these people were poor or homeless. The Sikh temple kitchen welcomes all visitors to the temple with a meal if they desire one.
To my surprised visitors were allowed to enter the temple kitchen. We were asked to remove our shoes and cover our head before we were shown through to the huge kitchen. It was strange to be barefoot in a massive kitchen.
There were large cauldrons of curries bubbling over flames. Volunteers were sitting on low benches near a grill flipping chapati into baskets. We also saw a machine that was making commercial quantities of chapati's under the supervision of another volunteer.
We had to walk carefully through the kitchen.  There was water all over the stone floor and it was extremely slippery. Everywhere I looked I could see an accident waiting to happen but the volunteers went about their work without mishap.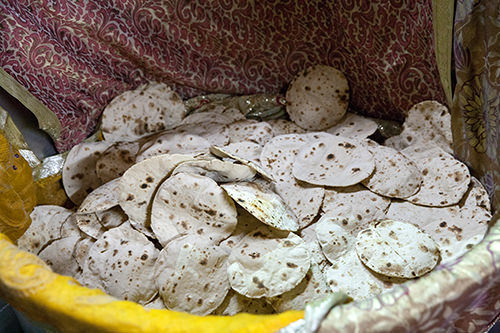 We left the kitchen and walked through the dining room. The number of people eating in the room was quite surprising. I have no idea how the temple could afford to feed everyone!
Outside the dining room, an equal number of people waiting for the next meal sitting. Each sitting lasts about 30 minutes and the process continues from 11.00am in the morning to 5.00am the following morning.
Our next stop within the temple was the Sarovar. The Sarovar is the temple pool.
Food Tour In Delhi
Tour Guide – Jaidev Jamwal