Is it a bar? Is it a restaurant? Is it a nightclub?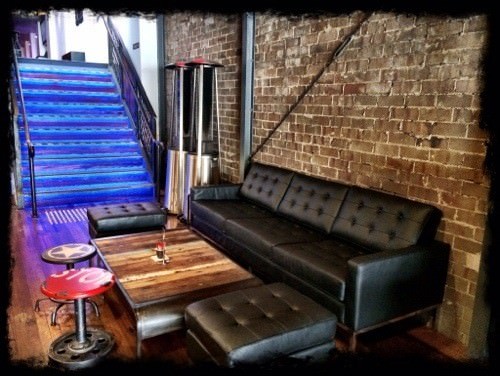 Element Bar is all those things and so much more! It's also one of the most exciting and innovative new venues Coffs Harbour has seen in a long time. Open just two months the fit out is amazing and the bar is attracting a huge following. The look is predominately a combination of modern/industrial meets new urban rustic.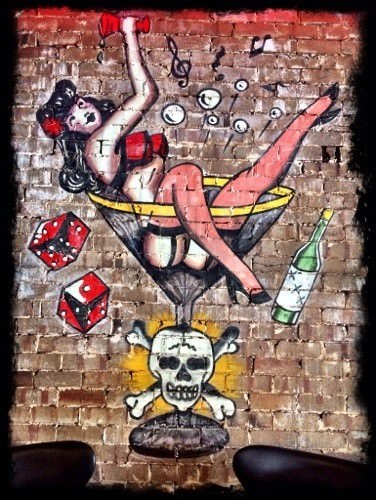 The original 1937 red brick walls are featured in the interior with the addition of some edgy urban art. The attention to detail is fabulous! Everywhere you look there is a touch or two of styling brilliance.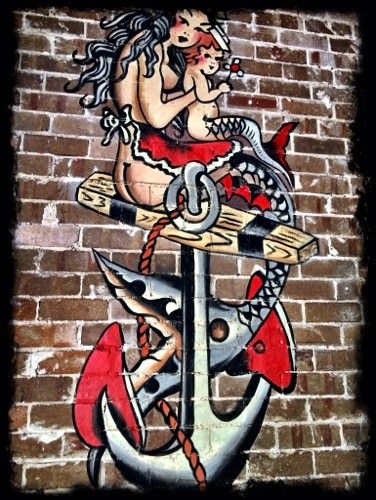 Even the steel beams and the metal ceiling fretwork adds to the eclectic style of the bar.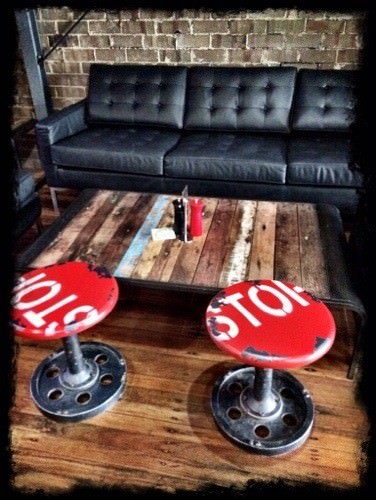 The comfy lounges make a cosy spot to relax into.  We have been lucky and nabbed a lounge at one of the rustic wooden tables twice now.  Oh and I love the trendy metal stools, so photogenic!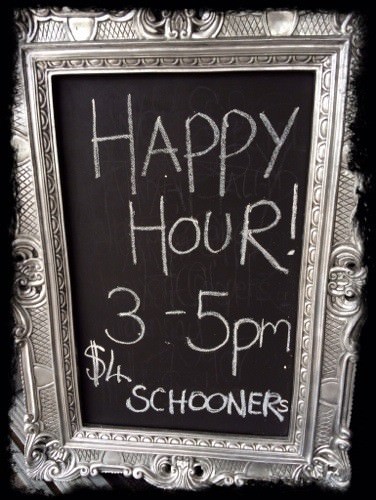 Mr GG and I made ourselves comfortable on the lounge whilst he took advantage of "Happy Hour." With $4 schooners of premium brand beers on tap, Mr GG took up the challenge of sampling a range of beers from the Element Bar beer arsenal.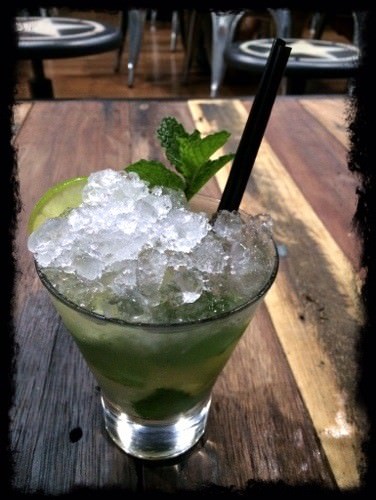 Happy Hour is all about the cocktails for me.  Element Bar has an impressive range of cocktails but I couldn't resist a refreshing mint and lime Mojito. The Mojito is my usual drink of choice, and this one ticked all the boxes for me!
We settled in for the afternoon and enjoyed the Element Bar Share plate for 2. The plate included 6 dips, my favourites being the Roasted Pumpkin & Feta Chutney, and Olive Tapanade. The dips were served with roasted Garlic Focaccia bread and some slices of Olive Ciabatta. As we made our way through the White Truffle Oil Hommus & Charred Baba Ganoush we became low on bread, and a friendly waitress offered to get some more for us. It's the little, customer service things that make all the difference. A few pieces of crispy toasted flatbread later and we had made short work of the Green Chilli Pineapple & mint salsa.
Our next visit to Element Bar was to take advantage of an opportunity for a long lunch.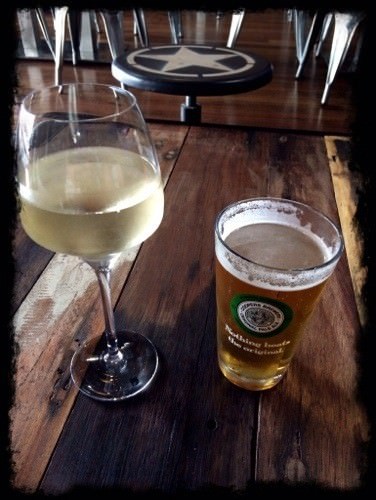 This time I decided to take advantage of the extensive wine menu and chose a Pinot Gris from NZ to start the meal. Cool, crisp and refreshing with green apple on the nose and a fruity clean palate, the wine was very much to my liking.
Lunchtime is casual, but there is still a quiet sophistication to the menu. Gourmet burgers and pulled meat sliders with mouthwatering fillings allow the atmosphere to be casual without compromising flavour or Element Bar's distinctive style.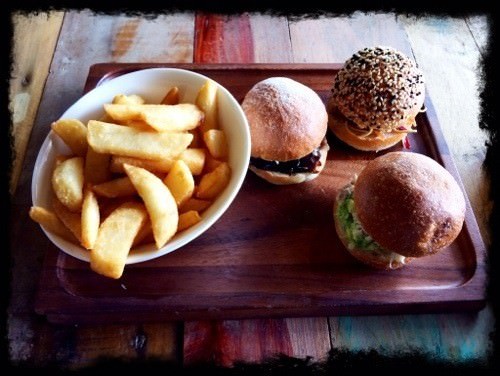 Both hubby and I had trouble deciding as all the flavours sounded mouthwatering. To solve the problem Mr GG ordered the Trio of Sliders.  This featured one of each of the sliders from the menu. The Pork Slider had been one of my picks so I was quick to request a bite. This slider consisted of Char Sui Glazed Pork with a creamy crunchy Asian Slaw! It was so good hubby was lucky to get it back.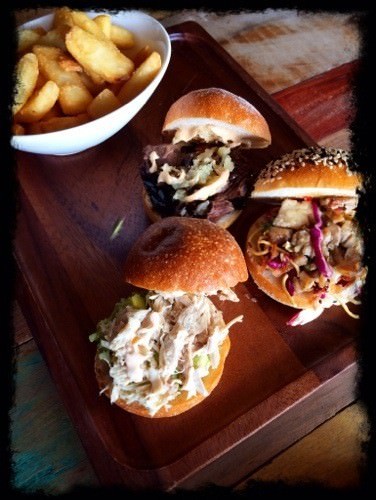 My favourite Slider from hubbies plate was the rather plainly named Beef Slider.  It was anything but plain.  This slider had a rich meaty filling of braised pulled Angus Beef Cheek with Onion jam and Ashgrove Cheddar Cheese! LUSH!
Mr GG was partial to the Chicken Slider which consisted of a creamy confit chicken breast served with an avocado salsa. The slider plate was a winner. All flavour bases were covered in the one dish.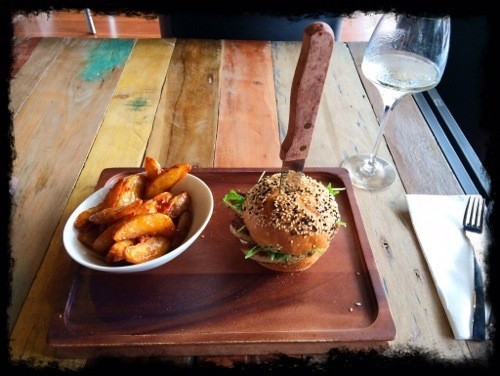 I chose the Blackened Barra Burger which is served with Cajun spices and a yoghurt riata.  It was exactly what I wanted, a light and healthy burger, with grilled barramundi that just melted in my mouth. The burger was served on a squishy soft Kyser Roll. It was all so full of flavour.
I usually avoid the fries, but I could resist Elements "Sticky Fingers."  Sticky fingers are wedges which are served with sweet chilli sauce and aioli. They are so good… and so hideously bad at the same time!!!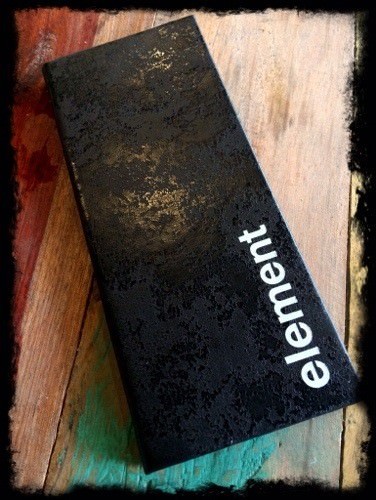 Our third reservation at Element Bar was a dinner booking. The evening menu is a more elaborate affair.  The meals are simply exquisite. You will have to trust me though as we were out for my birthday and I was not taking photos.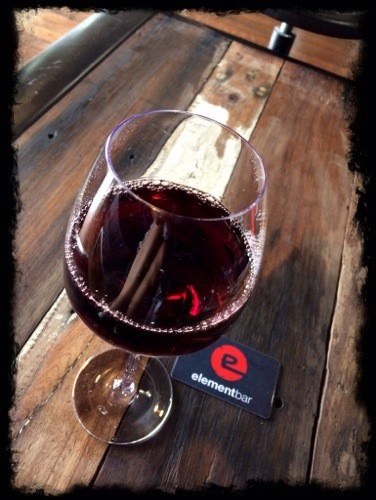 I did quickly take this photo of a gorgeous soft New Zealand Pinot Noir and my new Element Bar membership card. It is very unusual for me to make a return visits to a restaurant, this is reserved for my absolute favourite establishments. Element Bar has only been open two months and I have already frequented on three separate occasions.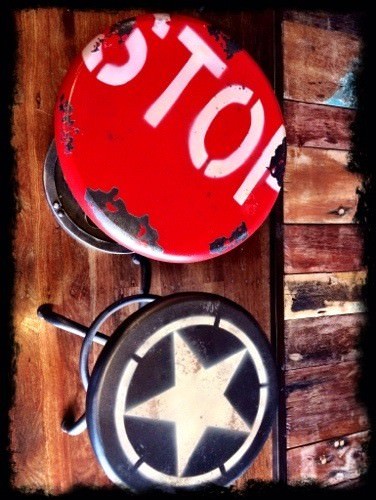 Element Bar is a breath of fresh air.  It really has something to appeal to everyone. Casual, on one hand but sophisticated on the other. Looking around the bar, on all occasions there was a mix of different ages and people. As I was sitting on the lounge I found it hard to believe we were still in Coffs Harbour, you could easily be fooled into thinking you were in a trendy inner city Melbourne bar.
Oh and a "little bird" told me that this is just the beginning. Plans are in the pipeline for another two levels! A bigger and better Element Bar.
So what are your thoughts Coffs Harbour??? Have you tried Element Bar? Are you impressed by the latest addition on the Jetty strip. Let me know!
Element Bar
380 Harbour Drive
Coffs Harbour NSW 2450
Ph:(02) 6651 6655