When a new cafe or restaurant opens in Coffs Harbour it quickly comes under my watchful eye. I usually like to give the restaurant owners a little time to settle in before I pounce, eager to try some new flavours.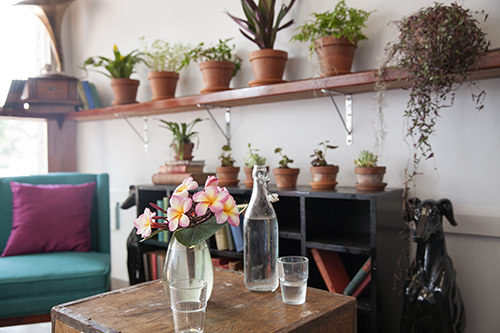 The first time I visited Eden on Harbour it had only been open one week! This is not my usual practise but a health conscious friend was keen to try it out with me so we met for a catch up.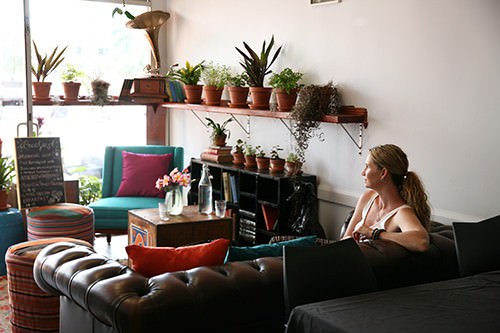 Eden on Harbour is not on the water, although the name may conjure up visions of a beautiful blue sea surrounded in lush vegetation. It's actually located in the Coffs Harbour city centre, on Harbour drive.
I image the Eden refers to the little oasis the owners have created within the cafe.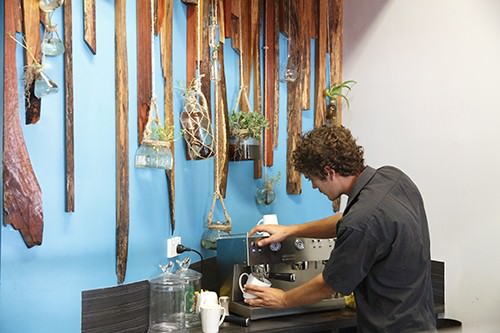 There is just so much to look at, and to love inside the cafe. It has a funky, retro feel, with a casual welcoming atmosphere. I loved the lounge setting in the window, and all the bright beautiful colours. We were able to get the window seat and I had the feeling of being in someone's house, not being in a cafe.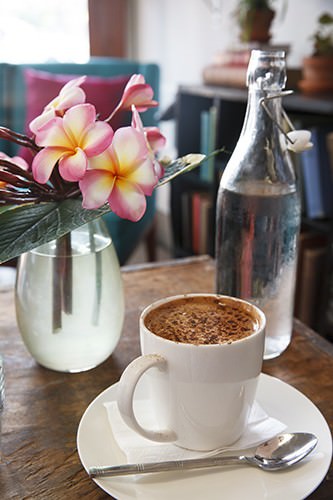 When it came time to order Bianca was looking at all the delicious desserts and I instantly regretted my decision to have breakfast at home. I would have loved to have chosen one of their Vegan, Gluten Free, Dairy Free desserts. Unfortunately I could only manage an almond milk cappuccino. Having said that it was a fabulous coffee. The beans are from the local roasters Artisi, and it was just what I need to start the brain working again.
Bianca ordered the Vegan Keylime Pie which I was able to try. It had a lovely biscuity, bliss ball style base and was topped with a layer of sweet coconut flavoured cheesecake. The filling had a delicious tangy lime flavour and a fresh passionfruit topping. It didn't taste sugar free, but we were assured it contained no sugar.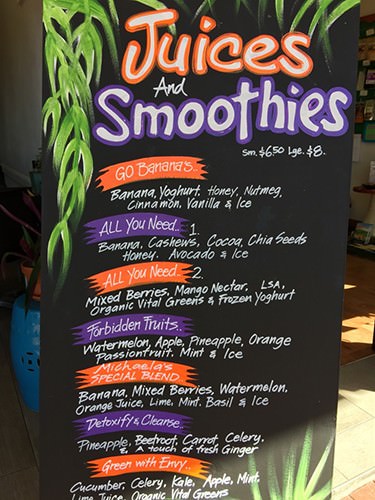 The cafe is becoming known for their delicious smoothies. Bianca ordered the Michaela's Special Blend which had the most fantastic fruit and herb mix. The smoothie contained watermelon, Apple, Pineapple, Orange, Passionfruit, Mint and Basil. So much goodness and flavour in one delicious drink!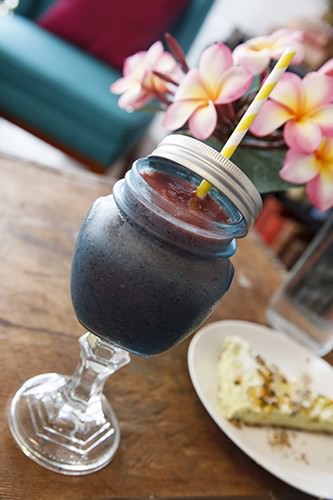 After such a relaxing experience I knew I would have to bring hubby back so I could actually get stuck into the lunch menu. I had noticed a menu item called "Three Roots Two Ways" and I was looking forward to asking he thought that sounded appetising.
It took me almost six months to get back to Eden on the Harbour and order my three roots!!
This time I had brought Mr GG with me for the tasting, and I hadn't eaten breakfast… that had been a real beginners mistake on my first visit.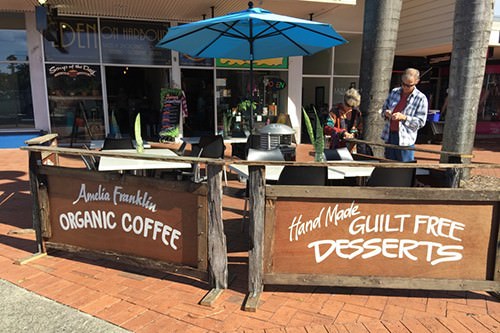 This time we took a seat at an outside table in the sun. I let hubby go inside to order first, while I held the table. The menu is on a blackboard, but inside there's also delicious salads on display to order.
When Hubby came back to the table I asked him what he had chosen so I wouldn't double up… after all, I always sample from his plate anyway so there was no point duplicating a dish.
The first dish I ordered was of course… Three Roots Two Ways! This plate includes sweet potato, beetroot and potato chips served with garlic aioli and sweet chili sauce. The two ways I presume refers to the two sauces.
The three roots dish was delicious. You can never go wrong with deep fried goodness. The vegetables had been hand cut and were lovely and salty. The aioli is made in house and was so creamy, perfect with the vegetables and sweet chilli. The dish was such a nice way to satisfy a chip craving fix without eating anything too junky. Eating all the different coloured root vegetables actually felt like I was being nourished with vitamins and minerals. I know its still fried but sweet potato, beetroot and potato aren't part of my usual lunch so I definitely got some extra goodness too.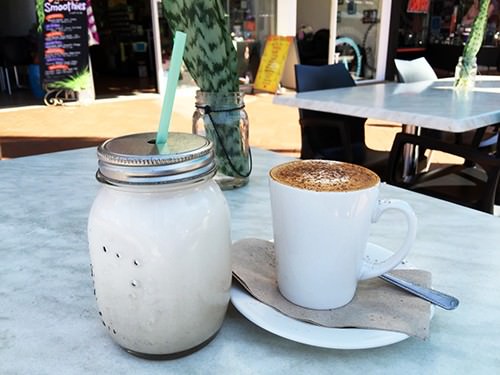 My husband is kind of predictable with his drink order, and so it seems am I. Regular readers would know he is a Banana Smoothie man and I tend to get a cappuccino.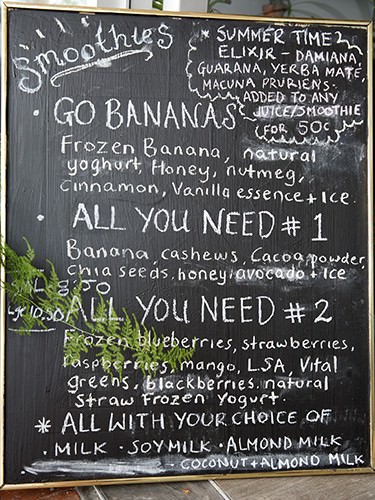 The Go bananas smoothie includes Banana, Yoghurt, Honey, Nutmeg, Cinnamon, Vanilla and Ice. According to hubby,
"It's pretty special!"
That's quite descriptive for my husband so I guess he really enjoyed the flavour combination.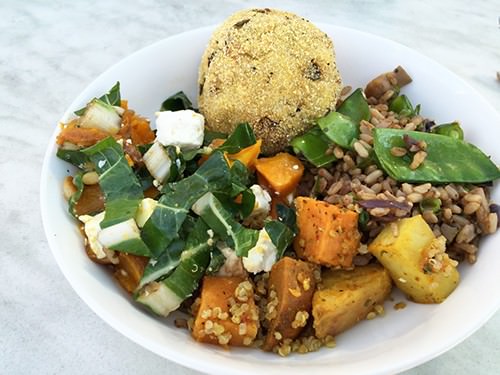 When I ordered my salad plate I found Brett had chosen to order all my favourites for himself. I will have to remember not to let him order first in future!
Above you will see he had the Italian risotto ball with a herb and cheese filling. The rice balls are served with the house made lime and garlic aioli. In addition to the rissotto ball he chose three salads. A Japanese rice salad with miso dressing, roasted root vegetables with quinoa, and my favourite pumpkin and feta salad with pine nuts and silver beet. Nope, he won't be allowed to choose first in future!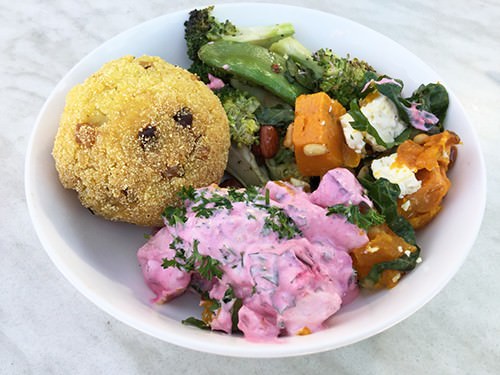 I think I chose the best risotto ball as I ordered the Indian risotto ball with a homemade hummus, spiced yellow rice, chick peas, caramelised onion and lentils. Yep, it tasted as good as it sounds.
Although Brett had "stolen" my favourite salad I decided to order it anyway so I too had the pumpkin & feta salad. I also chose the broccoli with rocket, toasted almonds, hazelnut and pine nuts which is marked as one of the vegan selections. I really loved this salad, it was so crunchy and crisps. The nuts had been freshly toasted and they added such an earthy flavour to the salad. The final salad for me was the beetroot salad with yogurt dressing and boil egg. For all my complaining I really enjoyed all my salads thoroughly, especially because they were choices I would not usually make.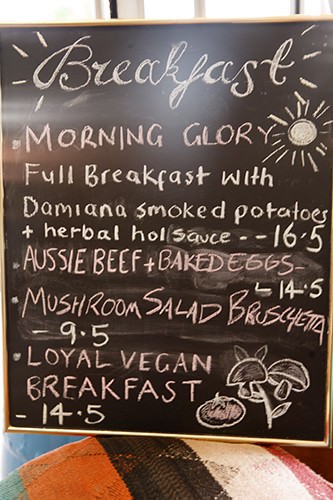 The cafe doesn't only cater to Vegan, Vegetarian, Gluten Free and Dairy Free customers. Those patrons with a healthy appetite for meat are equally as well looked after on the menu.
Health conscious people of Coffs Harbour have something to celebrate with the delicious menu at Eden. The produce is organic and locally sourced so it's also a great thing for our local farmers and growers economy.
What do you think readers, is it important to you that cafes source local seasonal foods. Do you try to support the small business owners, farmers and growers in your town or city. Perhaps you prefer the convenience of a big chain store? What are your thoughts.
Eden on Harbour
108-110 Harbour Drive
Coffs Harbour, NSW 2450