"Where are we going again." Asked Mr GG
We only had a 500 metres walk from our apartment at Mermaid beach but for some reason the name of the restaurant wasn't sticking in either of our minds. I checked again on Zomato.
"Easy Street" I said.
"But what's the place called." hubby asked, thinking I had given him the street name.
"We're going to the Easy Street Diner." I clarified.
We both realised at the same time that we were already standing outside the busy burger venue.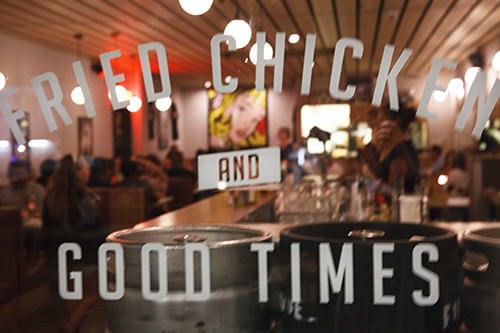 As we peered through the glass frontage I knew I had chosen well.  The place was buzzing. Waitresses were going this way and that, with delicious looking burger orders.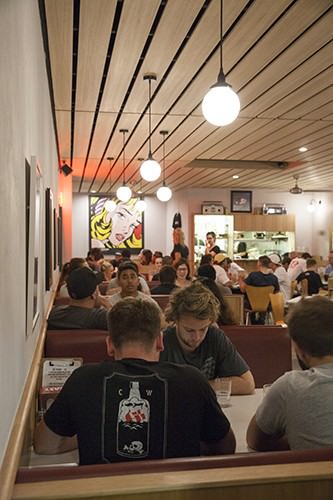 We made ourselves comfortable at the last available table and took a look at the menu. Everything looked fabulous, and very different from your usual burger joint. I had chosen the Easy Street Diner because I'd seen an image and the place looked so retro cute. Now that I was looking at the menu I was sold! I could have happily ordered one of everything off the menu. All the options were making me hungry in anticipation.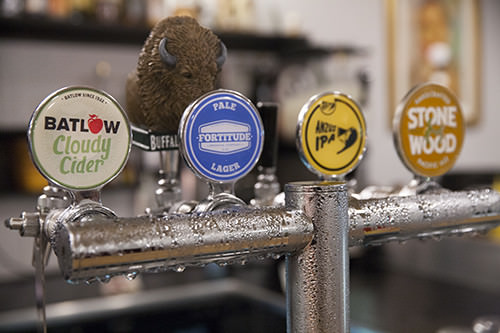 Even though the place was packed our waitress was quick to take our drink order. Brett would usually order a local beer.  There were beers on offer he hadn't tried but the Spiked Chocolate Malted Milkshake was what caught his attention.
"Does bourbon and choc malt actually taste good together?" Brett asked the waitress. "It tastes amazing." she answered.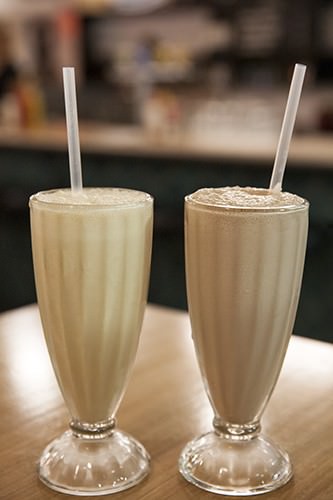 Little Anais couldn't go past the Salted Caramel Milkshake.  I was secretly very happy with both selections as it meant I was able to try them!
Anais Salted Caramel Milkshake lasted about 30 seconds! I had to quickly confiscated the drink so I could try the last mouthful! OMG! I was in Salted Caramel HEAVEN! The shake tasted like the most delicious salted caramel macarons you have ever tried, liquified into a silky sweet shake.
Brett's spiked chocolate milkshake was fabulous. I'm not usually a shake kind of girl, but I would drink one every day of the week if you gave me one with a shot of bourbon in it! Yum, sweet with a good kick!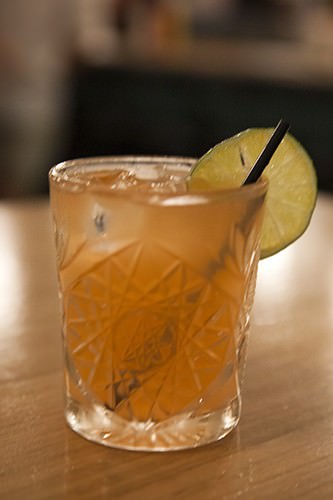 My Paloma tasted like our Mexico holiday all over again. I told the waitress I didn't want anything sweet and she hit the nail on the head when she suggested this drink. I once boozy tasting tart grapefruit juice with a tequila hit.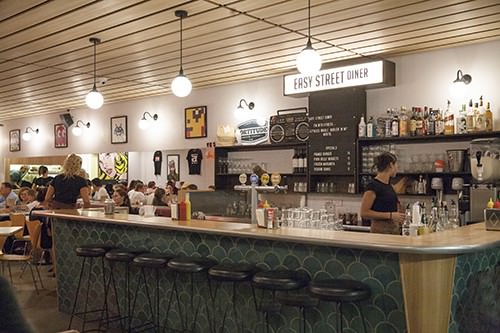 As we waited for our meal we watched the waitresses.  They were all dolled up and full of energy, service was fast and friendly. The place is loud, and full of "20 somethings" scoffing down giant size burgers. Take-away orders were flying out the door and pork belly nuggets were gracing just about every table.
Anais commented that Easy Street Diner reminded her of Peggy Sue's Diner in America. I guess this means Easy Street nailed the 1950's American diner style. The decor is fun, and some of the waitresses had strong American accents which added to the atmosphere.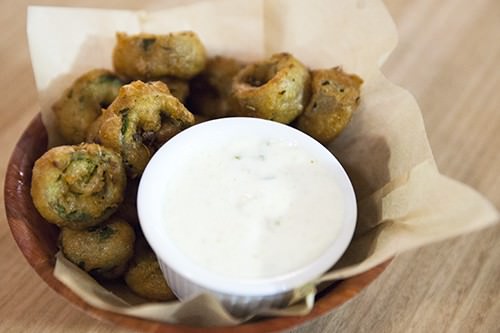 Our food arrived and I honestly didn't know where to start. It all looked so good… in that delicious fried food kind of way.
We had ordered Jalapeño poppers which were sliced Jalapeños coated in a beer batter and fried to deliciousness. They were served with a ranch dressing. Ahh crunchy fried goodness with the afterburn of a chilli Yum.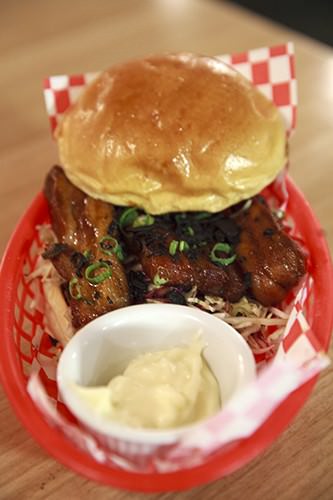 The burger that grabbed my attention first was Anais PO Burger. Can you see those thick strips of maple glazed pork belly?? Yum thick juicy pieces of deliciously fatty meat, served with coleslaw and crispy onions. The burger usually has a chipotle mayo but Anais swapped for a regular mayo.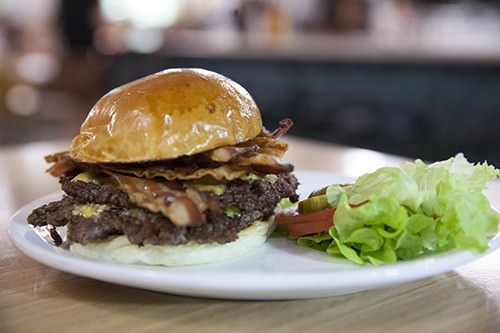 Brett is a bit of a "Pulp Fiction" fan so I knew when he saw the "Royale with Cheese" he would be all over it. I know my husband well, he ordered the Double Royal with Cheese and added crispy smoked bacon.
I have only been seriously in love with one other burger.  Carney & Earls make a burger that up to that first bite of Brett's Royale, was my one true love. However after trying the Easy Street Royale I was seriously conflicted.
How do you describe burger perfection? The Cheese Royal had a soft, barely there burger bun, delicious layers of melty cheese and smoky crisp bacon. The piece de resistance was the char grilled burger patties. They had just the right amount of crisps bits to moist soft meat.  The whole combination just melted in your mouth.  It was a food AHHH!!!, moment for me so I savoured my bite.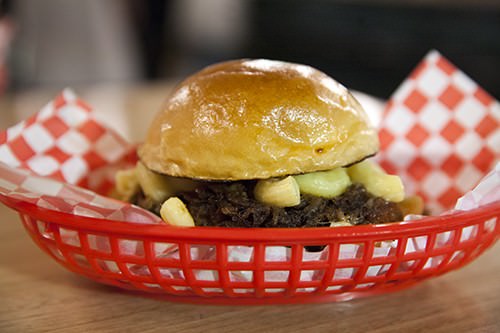 I decided to go the "whole hog," and ordered a PigMac… ahaha, do you like my joke?
Anyway, I ordered the PigMac which was on the specials board. It was a 12 hours spiced rubbed, Pulled Pork, served with a 3 Cheese, Cheese & Mac, Coleslaw and homemade BBQ sauce. I was looking forward to an amazing taste sensation. The PigMac was good, but the other burgers on the table were far better. I had been hoping for a really cheesy "mac and cheese" and for the meat to be more moist.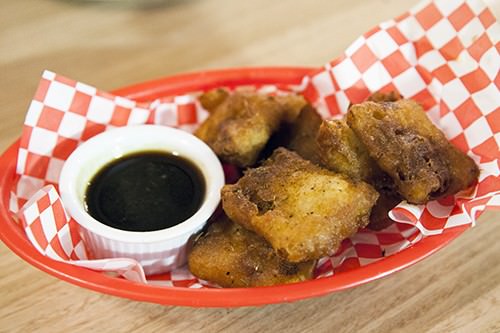 I have a question.  How do you make pork belly even more fattenening and more delicious?? Answer. Easy you cover it in beer batter and then deep fry it of course. Just in case that's not calorific enough for you, add a deliciously sweet and savoury, sticky maple glaze for good measure. Let make those arteries really do some work!!
This was the final dish we had ordered. Brett said, "are you sure we will need the deep fried pork belly suggest." I answered "Nope." I knew we would struggle, but I had to try one.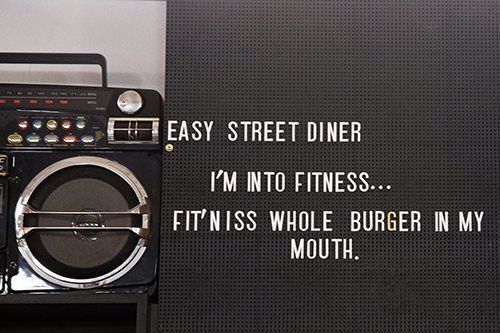 As we left Easy Street Brett said, "I think I have the meats sweats already!"
I agreed. "My belly hurts…"
Anais said, "I wish I had more tummy space."
We were three very happy and full diners..
We walked back to our apartment and Anais added, "My milkshake is the best thing I have ever tasted." Brett answered her, "Yep it was pretty special."
Our meal needed to end with the good old fashioned American style Pumpkin Pie. It was on the menu. Unfortunately we were busted! There are a few items on the menu that are calling my name so we will be back. Firstly, the Red Skin Split Milkshake! OMG, you simply cannot be a child on the 70's and not try a Red Skin Shake and then the Pumpkin Pie.
We were in LA over the spring break and there wasn't a slice of pumpkin pie in sight. The Easy Street Diner would have been my first experience of this culinary anomaly. Seriously, a vegetable in a sweet dessert pie?? I'm sure we are allowed to say "only in America."
Easy Street Diner
2563 Gold Coast Highway
Mermaid Beach, Qld