Mr GG and I are enjoying a 4 day Tasmanian touring holiday.
We arrived via the Spirit of Tasmania so we would have our car for the driving holiday. So far we have experienced the Cradle to Coast Tasting Trail and sampled some of Bruny Islands gourmet produce.
After a little bit of swimming and a drive through South Bruny National Park to visit the lighthouse, Mr GG made a very sudden decision.  We were stopping at the Hotel Bruny for a beer!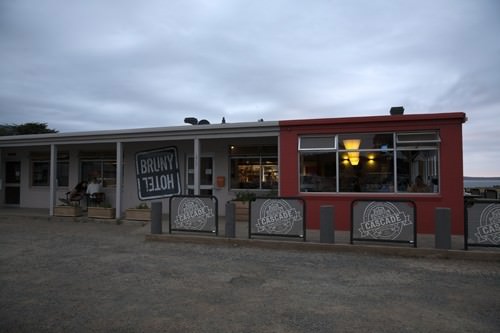 I thought he was joking at first…
…but I know my husband, he's dragged me into pubs all over Australia.  The remote Hotel Innamincka & Tibooburra Pub were an experience!
Once at Hotel Bruny we noticed the car park was huge and almost full! The carpark is at least twice the size of the pub itself, so obviously the hotel could pull a crowd. We stepped out of the car and into the chilli night air. I was tempted to get straight back in the vehicle, but Mr GG assured me there would be a fireplace.
Hotel Bruny was not what we expected, inside it was warm and inviting.  The hotel was filled to its exposed rafters with people enjoying over-sized plates of food, and the smell was amazing.
Country pubs really do feed their patrons well!
I intended to have just a quick glass of local Tasmanian Pinot and toddle off home to our fireplace but that changed when we viewed the menu.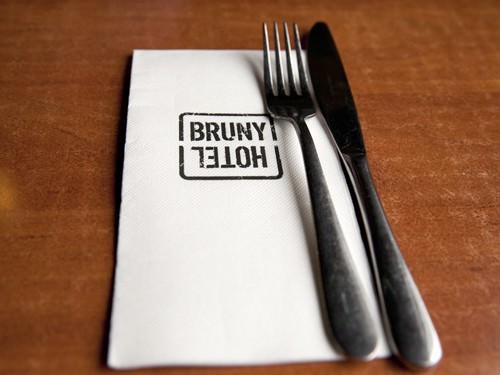 Everything was locally sourced and sounded delicious!
Husband is an aficionado of seafood chowder, especially when we are in cool climate, coastal towns.  I know this sounds very specific but it's true.  Mr GG lived on seafood chowder as we drove around New Zealand, and he's still comparing all recipes to the best at a restaurant in Kaikoura.
The lure of a seafood chowder for hubby, and a warm pub for me was all it took to have us settle in for the evening.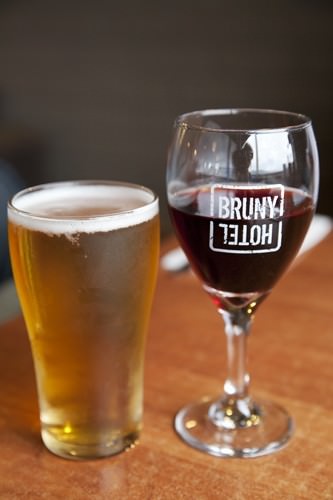 As expected the pub had a great selection of Tasmanian wines available by the glass and bottle. I chose the 9th Island Pinot Noir from the Tamar Valley, it's a wine that I have tried and enjoyed previously so I was pleased to see it on the menu.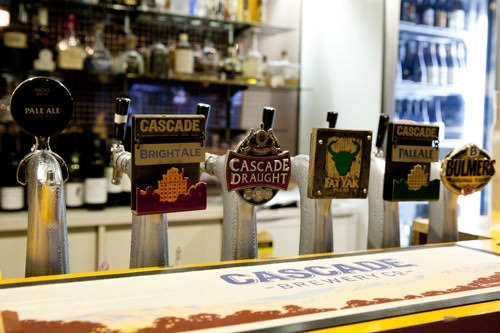 I may be wrong, but I think almost all the beers on tap were of Tasmanian origin!  Brett ordered a Cascade Pale Ale which was on tap, followed by a Boags beer he hadn't previously sampled.  The Boags beer was called Wizard Smiths Ale.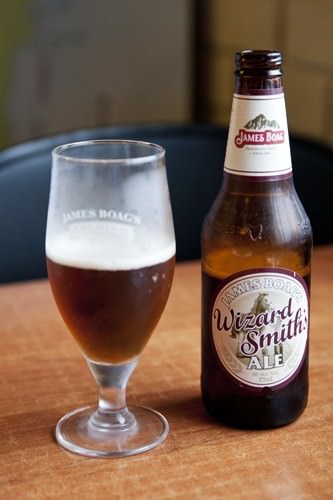 It seems that everything Tasmanian has a story and the story of Wizard Smiths Ale goes like this…
In 1829 a great flood swamped Launceston and the draught horses which delivered the beer were in grave danger. Without concern for himself a Boags employee by the name of Smith swam through rising flood waters to save the horses. He was given a job for life with Boags.  The English style ale is a tribute to Wizard Smith and to all heroes.
When the chowder was placed in front of Mr GG I was lucky to be allowed to whisk it away for photos! Hotel Bruny makes the seafood chowder using fresh produce caught in islands local waters.  The chowder includes Bruny Island smoked Atlantic Salmon , locally caught squid, Bruny Island oysters and whatever  fish was caught that day. We were very impressed, it had so much flavour!
I chose the "Ocean and Earth" from the special board.  The dish consisted of a scotch fillet steak, topped with a creamy, seafood sauce. The sauce was fantastic! It was a lush garlicky rich creamy sauce filled with locally caught squid and scallops. The seafood was as tender, sweet and fresh as you can imagine.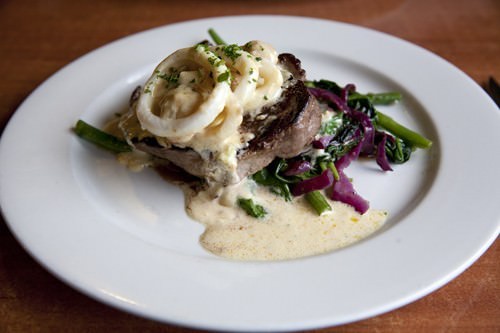 The steak was a bit of an anomaly for me, I like rare steak for the flavour and tenderness, so I ordered my meal this way. The steak came out well done… Not even a hint of pink, but it was still so tender and moist that it melted in my mouth.  I loved it! The fresh, crisp, buttered green beans were served with grated Parmesan and a parsley butter.  The whole dish was delicious.
I am so pleased Mr GG has a penache for experiencing different local pubs wherever we go. This was one of those serendipitous moments when you really get way more than you expect.  Hotel Bruny is a charming pub, with loads of personality, it's one of the many highlights of Bruny Island.
Hotel Bruny
3959 Main Road Alonnah, Bruny Island, Tas