On the road again,
Just can't wait to get on the road again…
Oh no! I am humming the lyrics to a Willie Nelson song, what has become of me?
If you have just joined me, I am on Day 3 of my road trip with Lorraine from Not Quite Nigella. We have been visiting the Port Macquarie area courtesy of Destination NSW and I have had the privilege of sharing my love of this area with my favourite food and travel writer.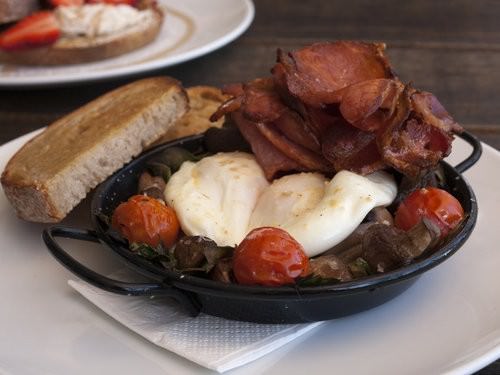 We started our day with a hearty breakfast at the Milkbar Port Macquarie (review to follow) and said our goodbyes to our comfy rooms at the Observatory hotel. The first stop on today's itinerary was Ricardoes Tomatoes. Ricardoes is a must for families, I have visited previously and picked strawberries with my children so I was excited to be getting a "behind the scenes tour."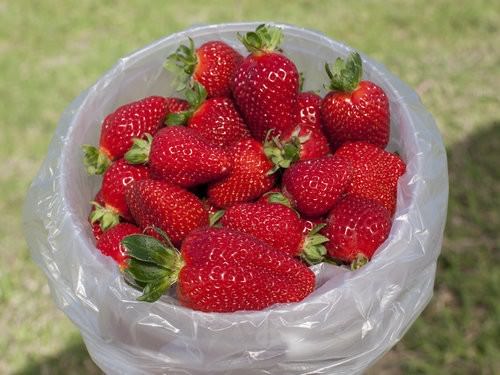 Anthony from Ricardoes explained to us that the business commenced 8 years ago with nothing more than great produce and an honesty box at the end of a dirt driveway. They were hoping to make a bit of extra beer money! Demand for top quality produce has allowed the business to grow beyond recognition. A shop and a cafe have been established and visitors are encouraged to pick their own fresh produce.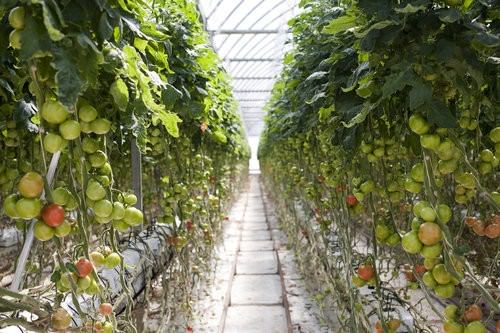 We are taken on a tour of the tomato hot houses and are surprised to see tomato bushes at various stages of growth, climbing up a pulley system.  I noticed there were quite a number of red tomatoes on the vine;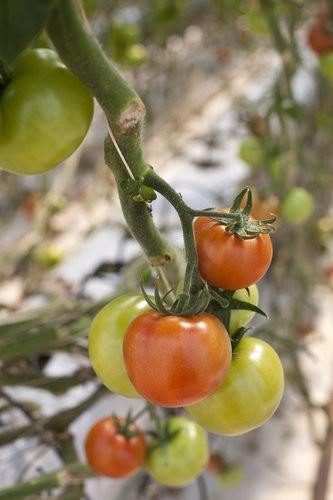 Anthony explained that the tomatoes are allowed to vine ripened for a superior flavour and nutritional value. Because the customer comes to Ricardoes it is not necessary to pick the tomato earlier to allow for transportation, handling time, and selling time. The tomatoes stay on the vine longer.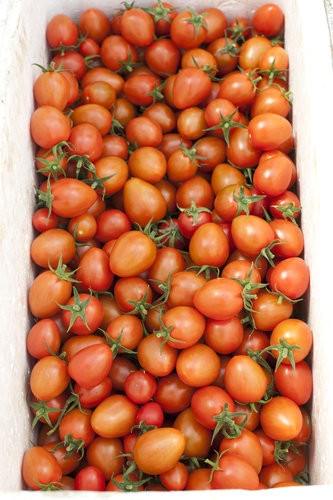 Ricardo prides itself on being a "see, touch, taste" experience and conducts free tours at 11.00am each day.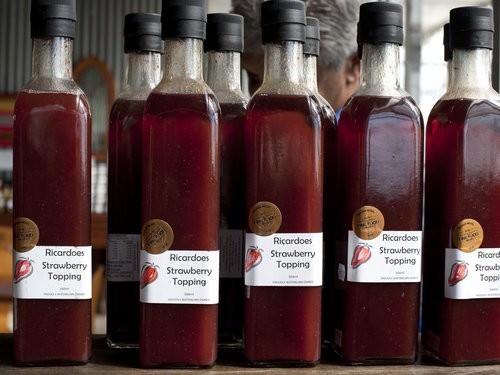 Looking around the shop there is a large range of condiments, sauces, preserves and Jams. We are told that nothing goes to waste in this business.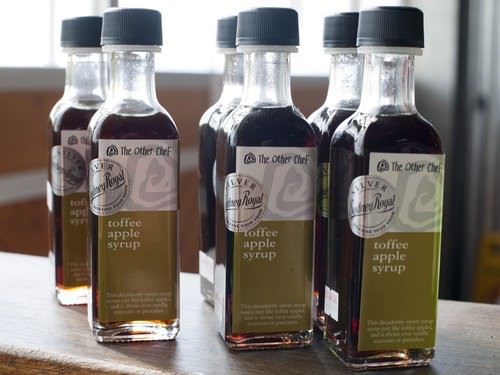 A local chef by the name of Eric Robinson from "The Other Chef" has established an award winning business creating a beautiful range of products using surplus fresh produce and gorgeous recipes.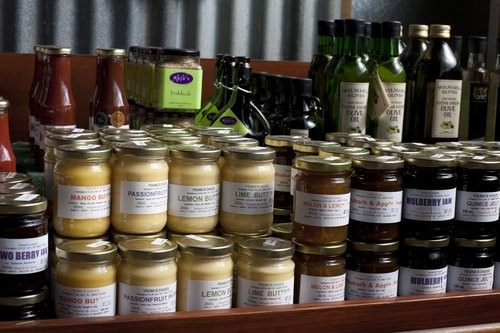 It seems only fair given our surroundings that we should lash out and put "The Other Chefs" Jams to the test. We sample the award winning Ricardoes Strawberry Jam with the cafes famous fresh scones and cream. A standard order for the cafe is 12 dozen scones, as these babies have a reputation for being light and airy ,and are very much in demand with the busloads of tourists who stop by.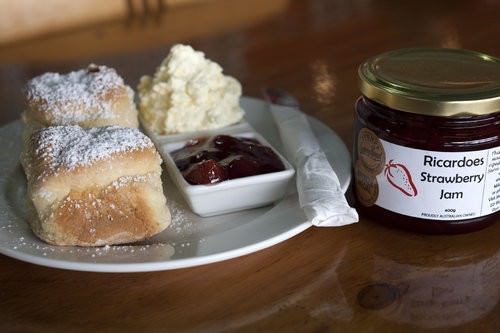 There is much oohing and aahing as Lorraine and I slurp our way through the deliciously sweet and tangy jam. We both love the chunks of strawberries and the syrupy consistency of the jam, the scone is truly light, airy and buttery, I understand why this is the most popular item on the menu.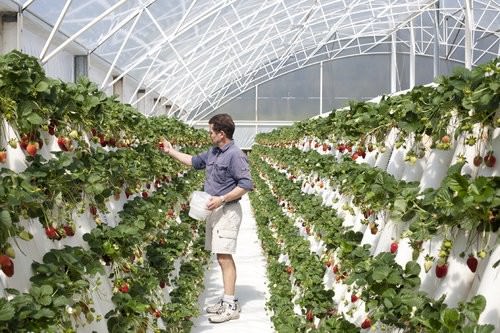 Both Lorraine & I are keen to pick some strawberries. We are shown through to the strawberry igloos. I am instantly in awe of all the cute little red strawberries growing!  They look nothing like my pathetic little plants at home. Each plant has plump ripe strawberries ready for picking.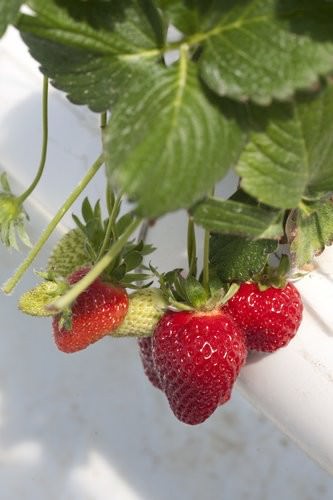 We encouraged to "pick and try" the strawberries. They are so sweet and juicy, we fill a bucket each in no time, although I have to admit I was putting one in my mouth for everyone that made it to the bucket.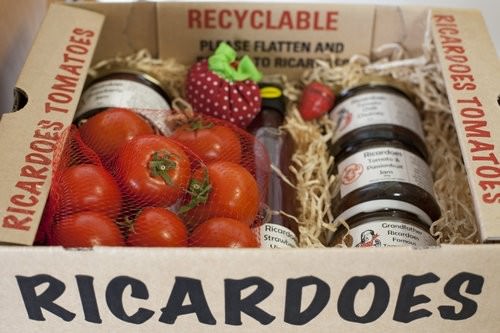 We are on a tight schedule so we say our goodbyes and are given the most generous box of goodies which contains beautiful ripe tomatoes, condiments and preserves.
We check our itinerary and find that our next stop is the Gaian Poultry and Game Farm.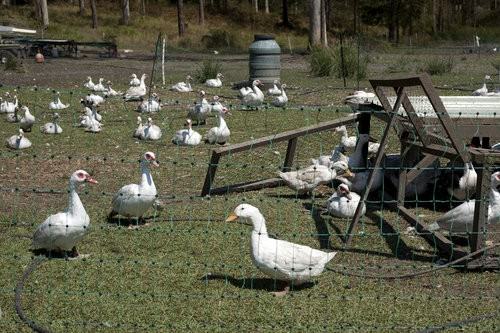 As wives I think we all try hard to please our husbands; however I am sure there are not too many of us that would start a free range, organic menagerie to cater to their husband desire for fresh delicacies such as Muscovy duck and suckling pig.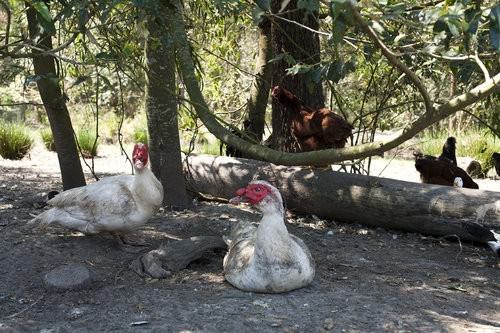 Beth McMillan credits her husband's love of natural product for the families move into organic farming. What started as livestock for "personal use only" has developed over the last two years into a niche business.  The farm supplies top restaurants and providores in Sydney and our local Mid North Coast Area.
If you have ever had a delicious duck at Berta in Surry Hills, Rockpool, Bells at Killcare or Fiasco Bar & Ristorante in Coffs Harbour the chances are you have enjoyed one of Beth's pasture raised animals.
The farm is a family affair with each member having their own area of interest. Eldest son Zane saw a gap in the market for rabbits and is now responsible for breeding and supplying this very popular product to wholesale merchants.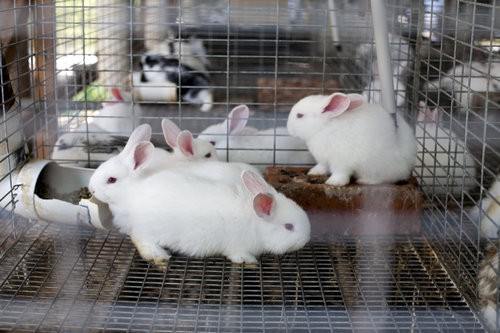 The property is chemical free and raises its chickens, Peking and Muscovy ducks in large enclosures. Beth explained that it takes five months for the Muscovy duck to get to a salable age so a lot time and care has gone into the animal before it reaches the table.  Conversely the Peking duck reaches its maturity at only 8 weeks age and this is reflected in the cost to consumers.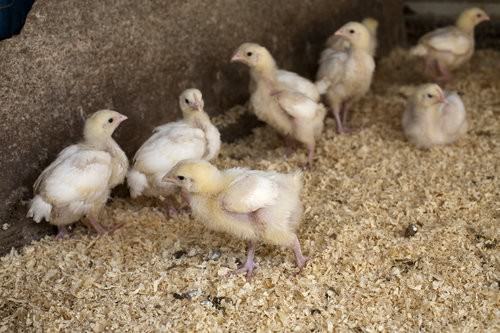 Indian Runner Ducks and Araucana Chickens are bred on the farm for their eggs.  The Araucana Chicken has a distinctive blue egg.  The farm also keeps a stock of Guinea Fowl which are available all year round from Hudson Meats in Sydney.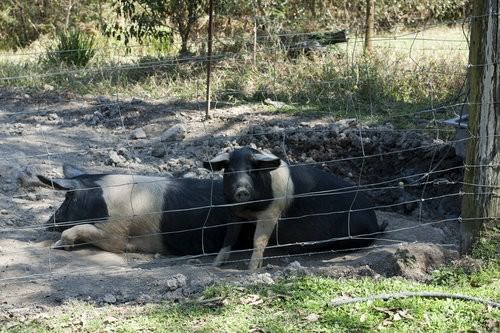 Can anyone tell me what delicious succulent meat I am missing? Could it be suckling pig? Don't worry Gaian Poultry and game has this delicacy covered too. They are members of the Rare Breeds Association and keep the Wessex Saddleback Pig.  This breed is seen to be an excellent eating animal and is very popular amongst the Sydney restaurants.
If you would like to sample organic free range product from Gaian Poultry and Game you can visit the restaurants mentioned in the story or purchase your own from the suppliers at the end of the story. Beth has given me some amazing Muscovy Duck recipes which I will be reproducing shortly for readers. Have a guess who fell in love with Beth's baby Chihuahua, Coco.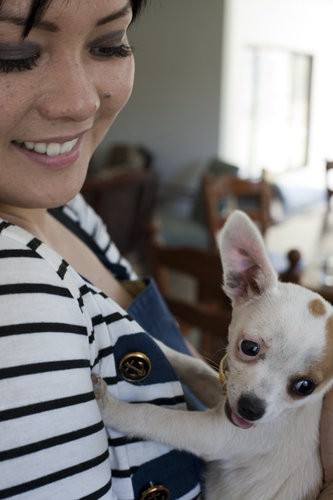 Back on the Highway, Lorraine and I are feeling a little hungry… hehe, just joking. We are feeling rather full, but since we are driving by an Aussie institution we feel we owe it to ourselves to stop.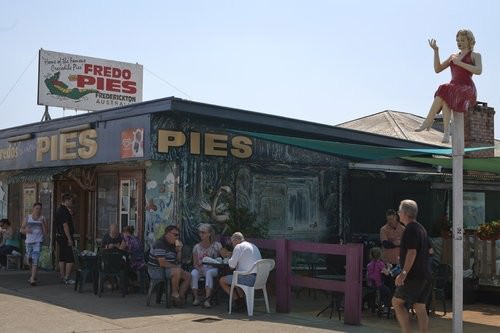 We were heading through the town of Frederickton when we spot the ever kitsch statue of Marilyn Munroe signalling the famous,"Freddos Pies". As always it is a tourist attraction unto itself and there are cars and trucks pulled up on the highway everywhere!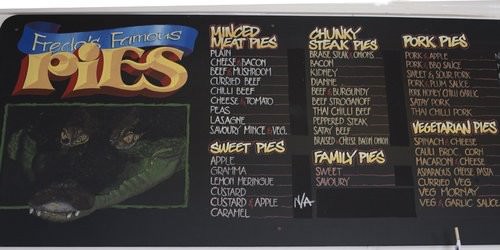 Freddos has 160 different pie recipes and make at least 50 different varieties daily. I have tried numerous Freddos pies in the past but I usually favour the more unusual varities with a hefty serve of potato and mushy peas.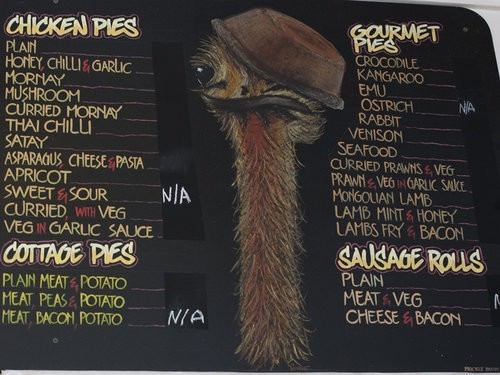 Inside the aroma of pastry is intoxicating, but we are on our way to lunch in Nambucca so we allow ourselves to share just one pie.  Lorraine chooses the crocodile pie, which comes with a CR in pastry on the lid.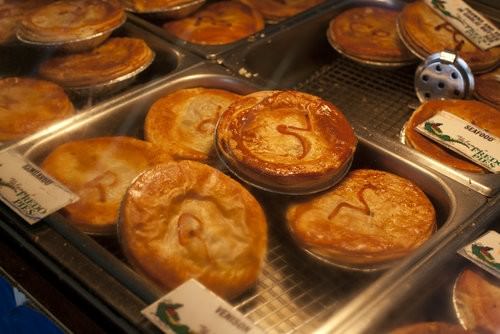 The pastry is lovely and crisp and Lorraine peels open the pie to reveal the creamy interior.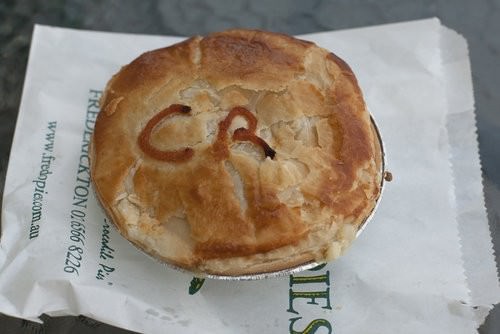 Freddos Pies is located on the highway at Fredrickton.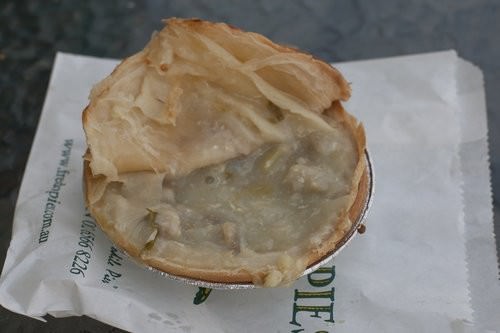 Back in the car, we continue on our way to the Jaaning Tree in Nambucca for lunch. Our delicious lunch and review can be found at the link above,  but I will leave you with this image.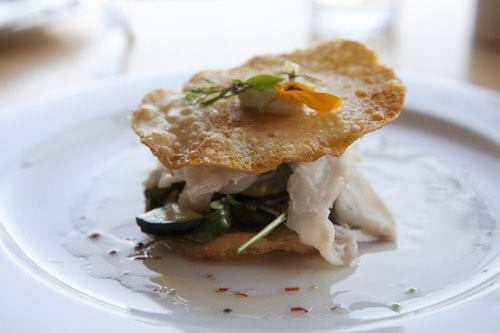 Perhaps we took a little long over lunch, should I blame good company, great atmosphere, gorgeous food or the most magnificent outlook… I am sure it was a combination of all these factors. We were due to check into to Saltwater on the beach at Emerald Beach by 4.00pm for the Annual Signature Dish Dinner at 6.00pm.  We were never going to make it by four but we figured as long as we made it before six we would be okay.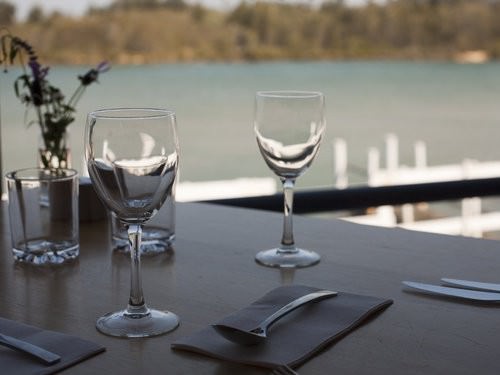 We arrived at Saltwater on the Beach with about an hour to settle in, soak up the gorgeous view of the ocean and get ready for another gorgeous meal.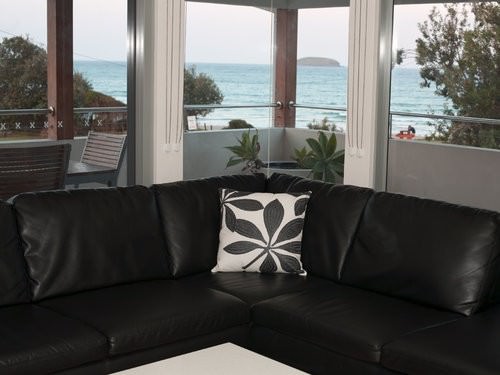 Saltwater on the Beach is the most ideally located beach house. It is situated across the road from a safe swimming beach and popular surf spot. The accommodation is a three bedroom modern house with all the comforts of home.  It would suit a family, or perhaps even three couples wanting a holiday at the beach.
Saltwater Restaurant is located downstairs from the accommodation so rest assured breakfast and a good strong coffee is just a shout away too.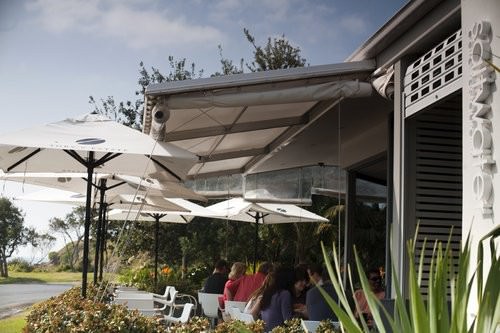 We are at Emerald Beach to experience local chef Dustin Bowie Fords winning entry to the 2010 Signature Dish Awards.  Saltwater Restaurant is playing host to the event, and I am very excited to be participating in such an important event for the Coffs Coast and food tourism.
Stay tune, more delicious food to follow….
Julie from Gourmet Getaways would like to thank Lorraine from Not Quite Nigella, Tourism NSW and Destination NSW for hosting this getaway.
Stockist of Gaian Poultry & Game
Essential Ingredient
1/1 Harbour Dr
Coffs Harbour NSW 2450
(02) 6651 1770
Gourmand Ingredients
3/ 41 Short St
Port Macquarie NSW 2444
(02) 6584 6268
http://www.gourmandingredients.com.au/
Bellingen Butcher
72 Hyde Street
Bellingen NSW 2454
(02) 6655 1132
Port Forshore Market on the 2nd Saturday of month
Wauchope Farmer's Market on the 4th Saturday of month.
Swansea Butcher
6/206 Pacific Highway
Swansea
(02) 4971 4799
Gresford Meats
44 Park Street
East Gresford
(02) 4938 9710
Hudson Meats
410 Crown Street
Surry Hills
(02) 9332 4454
Grass Roots Urban Butcher
101 New South Head Road
Vaucluse NSW 2030
(02) 9337 3063
www.grassrootsurbanbutchery.com