We are now on Day 2 of our quest to visit 14 top Sydney Tourist Attractions in just one weekend.  I have included the complete list of famous Sydney icons and landmarks which are on our itinerary below. If you need to review your itinerary for Day 1 Sydney Sights follow the link.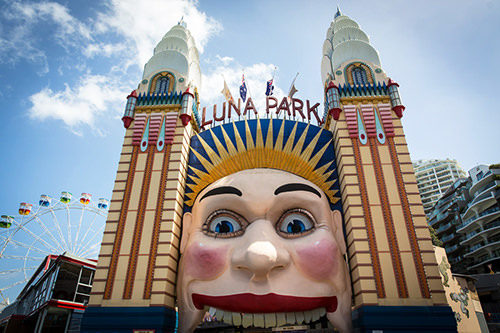 Day 1
Circular Quay
Opera House
Royal Botanic Gardens
The Historic Rocks Area of Sydney
Sydney Harbour Bridge
Luna Park
Sydney Ferrys
Manly Corso
Day 2
Town Hall
Queen Victoria Building
Centrepoint Tower
Darling Harbour
Chinese Garden of Friendship
Bondi Beach
Attend a Cricket/Rugby League Game (depending on the season)
Sydney Tourist Attractions – Day 2
Day 2 starts at Town Hall Station on the city circle line. When you arrive at the station come up to street level and take a look around. You will notice two very grand old buildings. The first is Sydney Town Hall
Town Hall Train Station and Sydney Town Hall are both built on top of Sydney's earliest
cemetery.  The Old Sydney Burial Ground was used from 1793 until 1820. It had been an ornate cemetery with large monuments but had become derelict over time. When the city was looking for an appropriate site for the new city town hall, they decided to exhume the contents of the cemetery and build an elaborate town hall on the site. The building was constructed with the local Pyrmont sandstone.
Building works commenced in 1868 and were completed in 1889.The city excavated more of the cemetery in 2008.
The second building you will notice is the Queen Victoria Building, right across the road from Sydney Town Hall.
The Queen Victoria Building is a grand old building which takes up one whole city block. It was built between 1893 -1893 to house the city's marketplace. The markets later moved and the building fell into disrepair until it was restored in 1984.
Now the building consists of four main shopping floors and features a magnificent central dome which allows natural light into the building.
The Sydney QVB as it's known by locals is one of the best places to shop. It has something for every budget and taste.
Sydney Tower/ Centrepoint Tower
Centrepoint Tower is next on our list of Sydney Tourist Attractions. It's located a short walk from QVB. Just continue along to the George Street end of the QVB and turn right onto Market Street. Just walk another block and you will be at Sydney Tower. If you get lost just look up, the Sydney Tower is by far the tallest building in Sydney. It was built 30 years ago and measures 309 metres. With such a distinctive shape it's a real Sydney icon.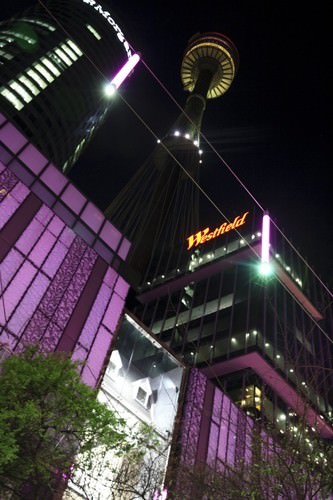 The tower has been know by a lot of names but it is most commonly known as Centrepoint Tower. There are four levels open to the public. The first level in the tower is 360 Bar and Dining, which is a fine dining restaurant offering revolving views of the Sydney skyline.
Above that is the Sydney Tower Buffet, which is a more casual restaurant offering a buffet dining experience.
Level 3 is an elegant function room which caters for cocktail functions and small events of approximately 170 guests. Perhaps the perfect place for a wedding?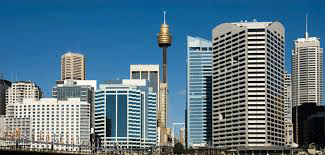 The observation deck is above these level and is currently known as the Sydney Tower Eye.  The view is magnificent but the experience is not for the faint hearted. It's an open aired experience and features a glass floor so you will have to get over any feelings of vertigo before experiencing the view.
So now it's time to take a walk back past the QVB and along George Street until you get to Liverpool street. We are off to Darling Harbour, with a stopover at the Sydney Chinese Gardens of Friendship.
Sydney Chinese Friendship Gardens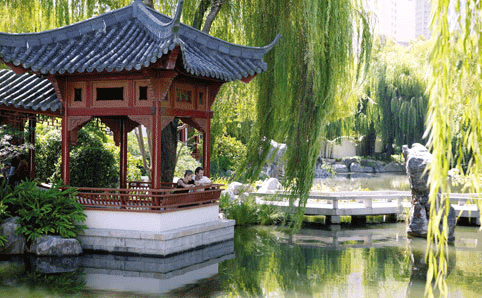 These gardens were a gift from Sydney's Chinese sister city for the Bi-centenary. The gardens recreate the philosophy and harmony of a traditional Chinese garden.  Beautifully landscaped with waterfalls, lakes, Chinese flora you will find so many hidden oasis.  There are private gardens with pavilions and meandering pathways to follow.
The gardens also have a Teahouse which serves Chinese tea and dim sum.
Just across from the gardens you will notice Daring Harbour.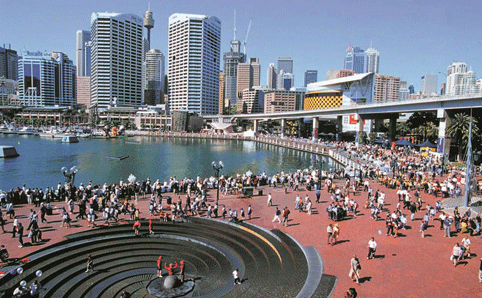 Darling Harbour is a picturesque tourist, recreation, shopping and pedestrian precinct which has views over the Harbour. The area was originally used by the railway but a redevelopment in the 1980's gave the area a new lease on life.
Now Darling Harbour is a great spot to do a bit of shopping, have a bite to eat or just sight see and people watch.
Our last stop for the day is at Bondi Beach. Take a walk back to Town Hall Station. Purchase a ticket to Bondi Junction. You will need to change at central Station and get on platform 24 for the Eastern Suburbs line. It's only a short trip 15 minutes and you will be disembarking at Bondi Junction.
Once at Bondi Junction follow the signs to the buses. the 380 will take you to the Bondi Beach.
Bondi Beach is one of Sydney's most iconic beaches. It's a glorious strip of white sand and perfect waves with a backdrop of restaurants, cafes, pubs and shops. Everyday through summer the beach is packed with locals and tourist looking to catch a few rays of sun and wave.
This group of "grommets" are taking a learn to surf class at Bondi Beach.
Bondi Rescue is filmed on Bondi Beach, and you can actually meet the guys from the famed television series. Just remember to swim between the flags so that you don't end up on the television show.
The buses leaving the beach get very crowded at the end of the day so it may be better to choose a cafe and have a beer as you watch the sun setting.
My last suggestion to round off our weekend itinerary of Sydney Tourist Attractions is something I feel you have to do when you visit Sydney.
Attend a Game of NRL or T20 Cricket
You have to attend a sporting event when you're in Sydney! Depending on the season you could chose between Football (NRL) or cricket for a truly Aussie sporting experience. If it's summer it's cricket season.  Rather than spend the whole day attend a one day match the T20 games are on in the evenings and are a great family friendly experience.
So there we have it! We have managed to see 14 Sydney Tourist Attractions in just 2 days. It will be a busy two days but I think we've managed to cover most of the important icons.
If your planning a Getaway to Sydney make sure you Pin this as a reminder.