Hi. I'm Nicola, aged 12, and my family and I had a holiday on-board the cruise ship, the Pacific Dawn, cruising Papua New Guinea in November 2015.
It was exciting waiting for our departure date, but the days dragged on and on. Our passports seemed to take ages to arrive. We were checking our cruise dashboard almost every day. But on the morning of our departure we got a text message to say that our boarding time had been put back 3hours! They said there had been stormy weather. I cried.  I was very, very disappointed.
But when our cruise did finally leave, we had calm seas the whole trip … how blessed were we?
I was surprised at how big and fancy the ship was. All the deck areas were big, and the restaurants were beautiful, and there were a lot of shops on-board. I like shopping.
When we reached our cabin though, I thought it was very small for 4 people.  Dad said we'd manage because we wouldn't be in there much.
The kid's club that I was in was for kids 11 to 14 years old, and was the best thing on the cruise. I made friends at kid's club, especially Eleanor, Shannon, Jessica, and Talia. I don't see Eleanor and Shannon any more, but Jess and Talia are still my friends.
We took hand-held radios with us, so Mum was okay with me roaming the ship with my friends, even sometimes at night.  That was pretty cool.
There were shows every night in the theatre. They were all good shows, especially the hypnotist. Mum missed that show … shame. It was awesome!  You need to get a seat in the theatre half an hour before the show starts, or forget about getting a seat at all.  I thought the theatre was way too small, but there were two shows; one early and one too late for us.
We mostly had dinner with 3 other families: adults at one table, us kids at another. Some days just us kids went to the Waterfront Restaurant alone: six kids at a table with waiters getting us anything we wanted. Cool!
I had fun on all our shore trips, but Doini Island was the best. Dad pumped up a soccer ball and we played a soccer game with the kids that live there.  We played on a dry, hot paddock. They played bare foot!
Cruising Papua New Guinea
Some tips from me to other kids my age:
1. Don't forget your swimmers, your hat, or your sunscreen. I couldn't have lived without mine.
2. Don't spend all your time in kid's club. There are lots of other things to do too. The days just aren't long enough to fit it all in.
3. Get up early in the morning and enjoy the outdoor spa by yourself.
4. If you plan on snorkeling, wear a pair of long tights so you don't get the backs of your legs sunburned (like I did).
5. Take a backpack on shore with you so you can carry all the things you need for the day.
6. Sometimes, don't go to the restaurants at lunch time; have a burger at The Grill near the pool instead.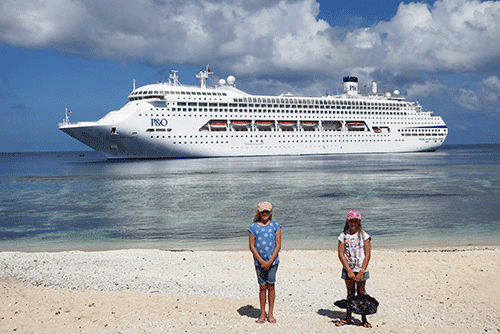 I didn't want the cruise to end. The pool, the spa, the theatre, the restaurants, kid's club, and shore excursions were all my favourite things, and not having to wash dishes or make my bed was very, very cool.  I really miss that.
Thank you so much for sharing your experience cruising Papua New Guinea with the Gourmet Getaways readers. It sounds like a fabulous experience! Nicola holidayed with her family and sister Anika. Anika has also produced a lovely story about her experience, which I will be featuring next week.
If you're planning a cruise take a look at these two stories; Top Cruising Tips and What to pack for a Cruise holiday.