Ever wanted to escape for a romantic Gourmet Getaway.  A "no fuss" mini break with wine, pampering, and lots of rest a relaxation? Then I have just the location! The Crowne Plaza Hunter Valley is a short 2 1/2 hour drive from Sydney and is on the Hunter Valley wine trail.
Winding our way along the Crowne Plaza driveway, we find ourselves taking in the view over the 18 hole golf course.  We watched golfers tee off, and buggies scooting along the paths. We were immediately lulled into holiday mode.
The Crowne Plaza Hunter Valley is set over a 130 hectares. This sprawling estate is picturesque and private and even includes large 2 and three bedroom self-contained villas.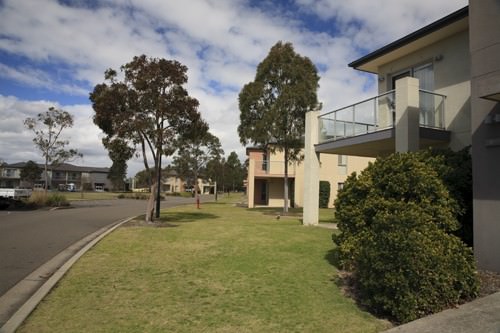 At the reception, I was lured into the bar area by the fireplace.  (At least that's what I told hubby).  It may have also had a little to do with the local Hunter Valley wine list.
Although it wasn't particularly cold, I took a seat in the comfy lounge nearest to the fire.  I love the ambiance a fireplace gives a room.  It's just so cosy!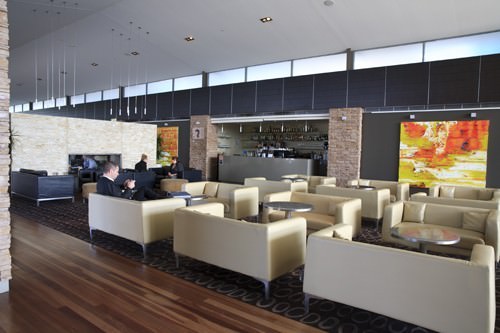 I told Mr. GG we would be back for cocktails this evening and he agreed.  Just minutes into our getaway we have completely relaxed.
Check in was swift, and before we knew it, we're opening the door to our King Spa Suite.  This was our home for the night!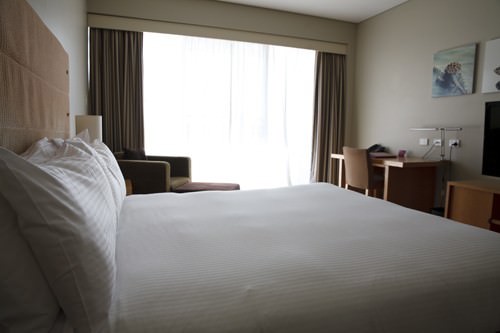 With luggage deposited and some time before dinner, we decided to have a look around the grounds.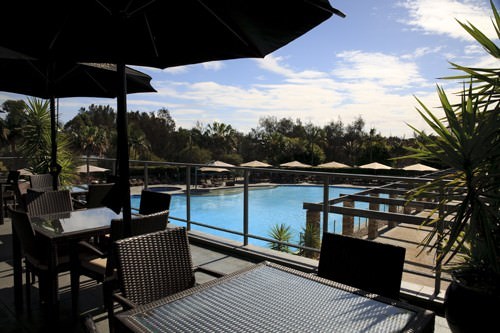 The pool looked so blue and inviting. I was told that it is heated to 26 degrees, but that was not enough to make me pull out the bathers.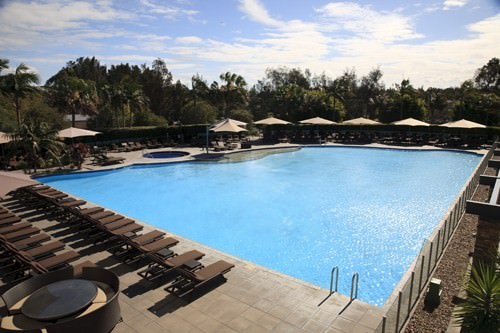 In Summer the pool and spa area would be ideal for the kids.  The pool backs onto an outdoor entertainment area with table tennis, pool tables, and the Lovedale Brewery.
Yes, I said brewery, not bar!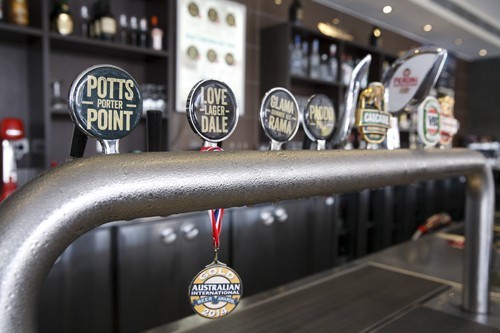 Lovedale Brewery is located at Crowne Plaza Hunter Valley and is also owned by the Schwartz family.  The brewery has recently won a gold medal at the Australian & International Beer Awards for their Lager.
There a six beers available from the brewery, all of which are on tap. Tasting paddles which include all six are available.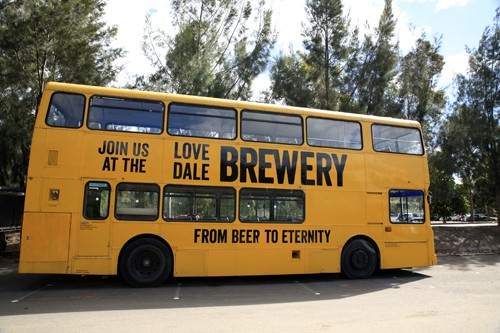 I told you there was something for everyone here!
So ladies if you think the boys have found their ultimate "man cave" you are correct.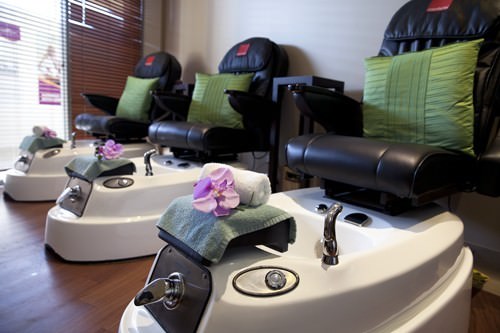 I imagine that while Mr. GG was off playing a  round of golf, or watching beer ferment, I would be free to visit the "Tea Tree Day Spa." The day spa has 13 treatment rooms, both double and single.  There were so many luxurious pampering packages on offer.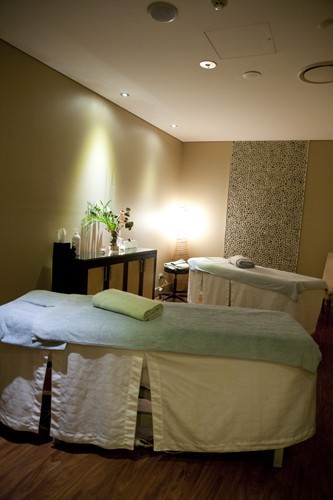 The rooms are so quiet and serene you could be forgiven for forgetting where you are.
Parents will know that a relaxing or romantic getaway is harder to secure once you have children.  At the Crowne Plaza, the kids are so well catered for it would be easy to have a relaxing holiday with the kids.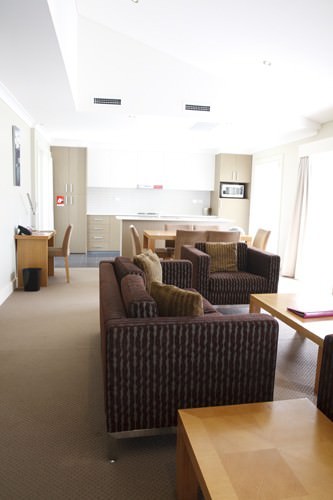 A romantic getaway with kids? I know it seems unlikely, but with large, modern 2 & 3 bedroom self-contained villa's available there is plenty of room for everyone.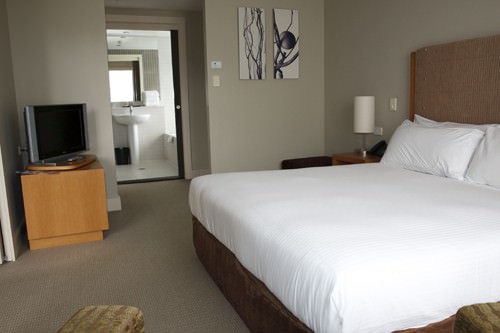 The bedrooms are spacious, and there is a dining room, large lounge room, en-suite, and bathroom.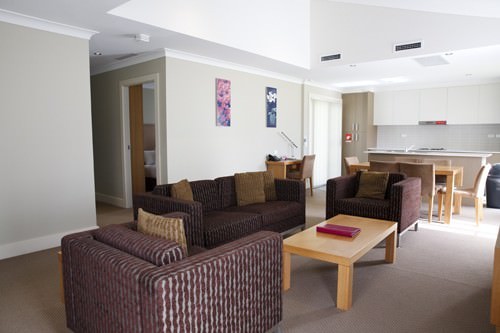 …but best of all is the kids club!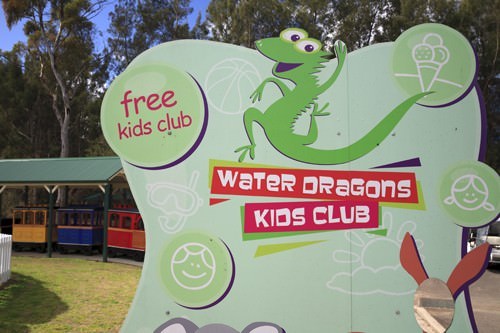 Families can enjoy the complimentary, fully supervised Water Dragons Kids Club for children aged 3-12 years old.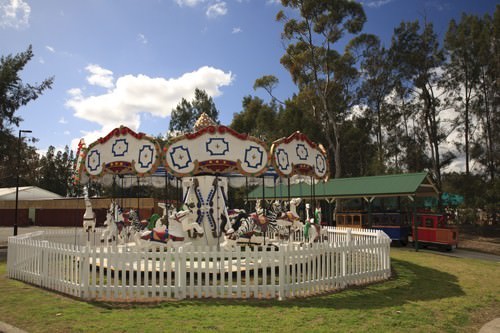 Take a look at this!
I am sure Water Dragons Kids Club is the ultimate kids club! I guarantee the kids will be booking themselves into the free sessions.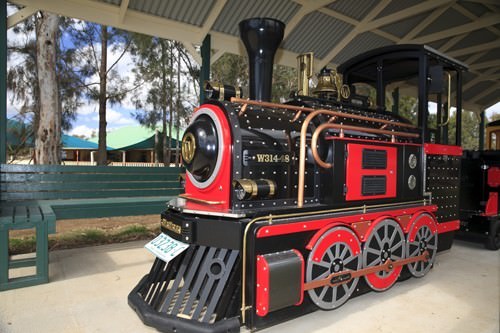 Each day the kids club train goes around the Crowne Plaza Resort and stops at the little train stops to collect the kids.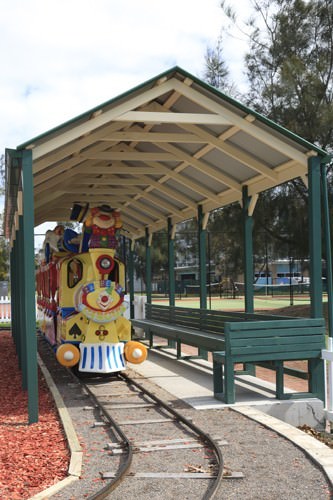 Even the teenagers are catered for with a Teenagers Retreat.  This is an unsupervised lounge with televisions and video games.  It makes a place for the teenagers to "socialise" with their personal electronic devices.
Happy children equal happy parents! So with the kids begging to go to kids club, the adults are free to play!
Wine tours are available at the doorstep, and Hot Air Balloons can land on the Crowne Plaza helipad to collect guests! I would have loved to book a Hot Air Balloon ride, but unfortunately, the weather was not going to allow a flight.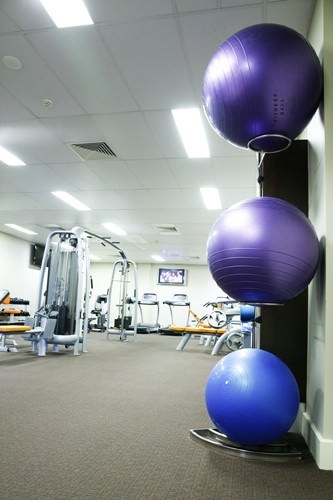 There is something for everyone at the Crowne Plaza Hunter Valley.  I know I will come back with the family. Golf and a brewery for hubby, spa and wine tours for me, water dragons kids club for the little ones, and a teenagers retreat. Perfect! Crowne Plaza Hunter Valley Bookings.
430 Wine Country Drive, Lovedale, NSW, 2325   Gourmet Getaways would like to thank the Crowne Plaza Hunter Valley for their generosity in hosting this stay. As always the opinions contained in this review are written without bias and in accordance with my disclosure policy.    
Accommodation Deals for the Crowne Plaza Hunter Valley on Bookings.com