CreAsian is Coffs Harbour's hottest new restaurant. Open for only six weeks the buzz has been all positive and the restaurant is always packed. Locals have welcomed the new look Harbour Drive eating precinct which has allowed for more al fresco style dining, two new restaurants and live entertainment in the street of an evening.
We have been experiencing glorious summer weather so the girls and I have taken the afternoon off, and planned to enjoy a long lunch sampling this new modern Asian experience.
Noticed the chefs busy at work in the open style kitchen.
Naturally lunch with the girls starts with a bottle of wine while we peruse the menu. We are all quite excited by the menu, it has all our favourite "street foods." Dumplings, pork buns and noodles, Yum, Mr GG is going to be sorry he missed this lunch. The prices are very reasonable so we assume the serves will be small and decided to order five dishes between three girls.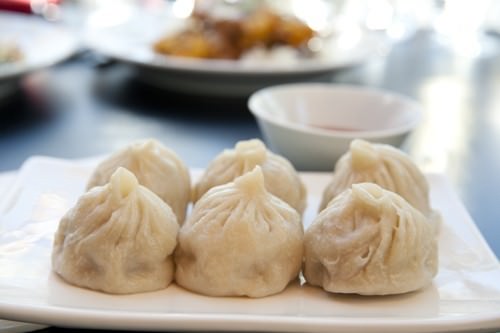 We were happily mistaken, the Steamed Shanghai pork dumplings were the first dish to arrive.  Six big fat dumplings filled withe delicious seasoned porky goodness served with a red vinegar and wild ginger dipping sauce. These babies were a meal unto themselves. I could have happily inhaled the lot but with more food arriving at the table I showed restraint and turned my attention to the next dish.
The aroma of this dish made me go weak at the knees. We had ordered chicken skewers and what was set before us was a plate piled high with fragrant rice and the most mouthwatering Malaysian Style Chicken Satay sticks, all covered in a generous serving of spicy, creamy satay sauce. The chicken was just so tender and moist, and we all loved  the coriander finish to the satay sauce. The dish was a winner!
Another tasty favourite was the CreAsain Fried Rice which included spiced Chinese sausage, pork belly, prawns, mushroom and vegetables. I loved the smokey flavour and we all agreed that it was so much more than your average fried rice.
Rach had chosen a main of Prawn and Pork Dumplings with fresh egg noodle soup. From the moment she looked at the menu it was clear she was on a soup and dumpling mission, although for a moment I thought she may waiver and select the BBQ Duck with Rice Noodle Soup. Her desire for more dumplings won, and the clear sweet broth arrived with lovely fresh herbs, spring onion and loads of healthy green vegetables. It was perfect as it was but then there was the addition of delicious pork and prawn dumplings that squirted soup as the bit them. Yum! Rach slurped and shared, slurped and twisted the long noodles all the way to the bottom of the bowl. A fine effort!
Even though we had more than enough food I really wanted to try the "Slow cooked Asian spiced Pork Belly with Udon Noodle Stir Fry". Oh and I am so pleased I did!  Gorgeous, soft, fat noodles were smothered in a lush smokey, spicy sauce that made my heart skip a beat. The noodles were the perfect accompaniment to the  deliciously naughty, slow cooked pork belly! Yum! I know I will need to have this dish again soon!
I loved everything about my dining experience at CreAsian Restaurant. Great company, friendly service, amazing food, good wine list and a modern light airy atmosphere. Perfect! I will be back to sample the evening menu and enjoy the entertainment.

 CreAsian Restaurant
Shop 47
36-61 Harbour Drive
Coffs Harbour NSW 2450
Ph: 02 6652 4368