In my recent and ongoing relationship with detox juices, I also tweaked my diet to eat lesser white carbs and meat. I am unable to make a 360-degree switch but an intake of more veggies on a regular basis isn't that hard at all! And what's great is that more and more restaurants promote a healthier "switch". And who says healthy is bland? Exhilarating is what I'll equate it with. Especially when I met Corner Tree Cafe Vegetarian Food in Makati.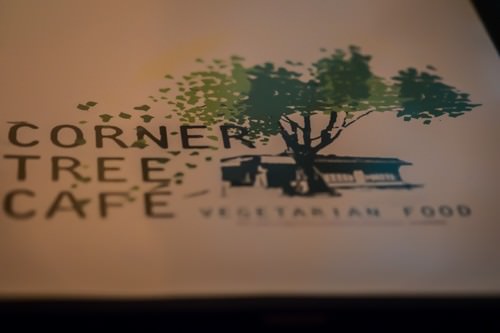 In search for a healthy vegetarian restaurant that would prop up my now adapting "very veggie" palate, I came across a tree. Well, the cafe named itself so appropriately. It is situated by a tree at the corner of a street in Makati. Corner Tree Cafe is perhaps the smartest name, it gives away its location without excessive dependence on GPS.
I came for dinner after window shopping for some camera lenses. Before I walked out of the camera store, my mind was all about what I had conceptualised for dinner. Healthy, tasty vegetarian food, with a little guilty pleasure for dessert ;). I went looking for a tree that's beside a cafe on the busy financial district. A few turns and voila! A cafe that's by a tree at a corner. Excellent.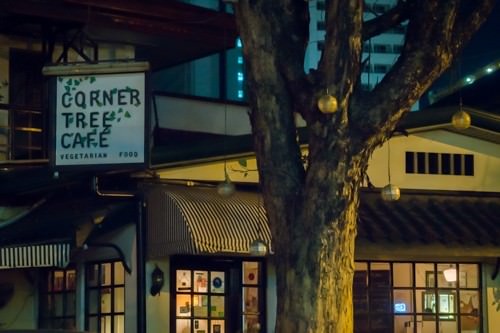 The cafe was dimly lit and had little table elbow space. But, for some compelling reason, it was packed. A vegetarian restaurant that's packed? "This is no ordinary resto – nu-uh", I mumbled.
The short, lighted candles on this long table had established a romantic mood in the entire room. There were paintings on the walls and vintage kitchen knick-knacks that would warrant attention. The owner loved pastel, for sure.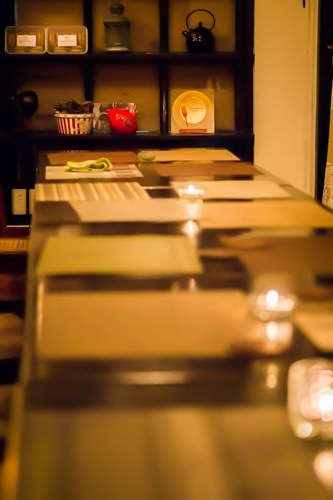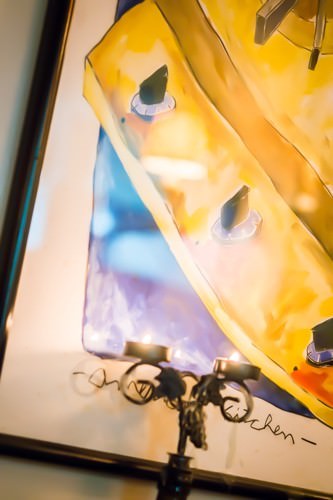 I was busy exploring like a human spy cam when I realised a cheery waitstaff was ushering me to a table. I managed to flash a smile and sat. Scanning the menu, I was quick to order my fare.
Of course, a salad starter. My eyes were locked in on no other but the Quinoa Salad. Fresh and crisp organic greens, lightly grilled asparagus spears, sunflower seeds and feta cheese. Such a refreshing, nutritious salad, I couldn't ask for more.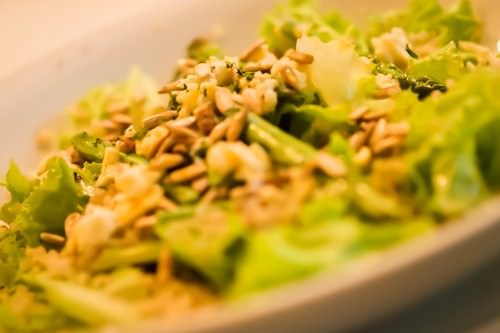 With Julie in mind, Lumpiang Shanghai was presented on my table next. Julie loved the Filipino Spring Rolls I featured a few months back. And so I tried Corner Tree Cafe's vegetarian take. Mmm…just as lovely. But healthier, crunchier. Just as the first dish, this was similarly satisfying.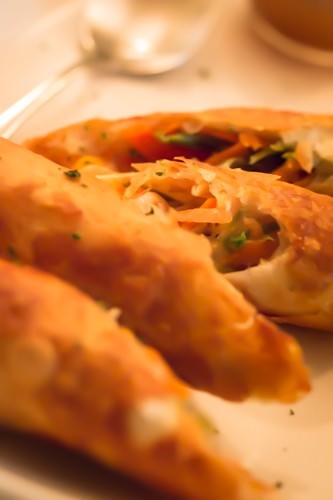 Before the third dish, I took the glass of water the kind waitstaff offered early on. Wait, there was something in the water – it tasted clean. I wanted another glass. I flipped through the menu and saw some interesting read on the last few pages.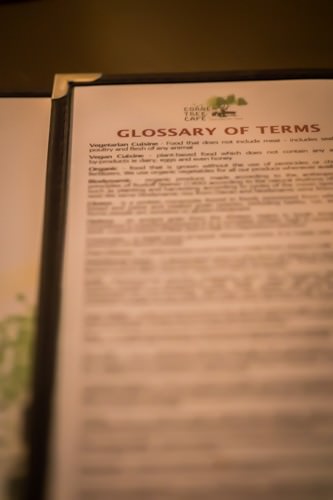 First, the Glossary of Terms. How thoughtful! We all know most people would die for meat. But Corner Tree Cafe saw to it they "talked" people into liking veggies. Not only the way they cook and serve it, but also by way of introduction in the glossary. Really clever!
Now back to the water…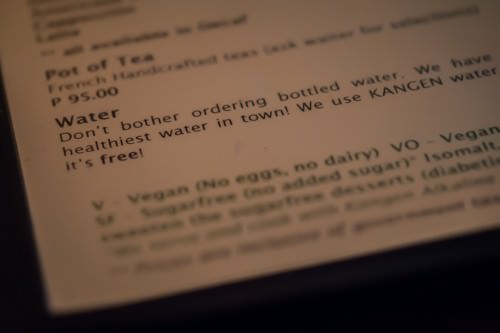 Wow, what a discovery! I have never seen a menu telling me this in the Philippines. At least from my own experience! I'm a Google girl, so I had to do a brief search on what Kangen water is. In a nutshell, Kangen is a Japanese technology which filters, ionizes alkaline and acidic waters through electrolysis. Isn't that cool! And the fact that it's free in this cafe…coolest!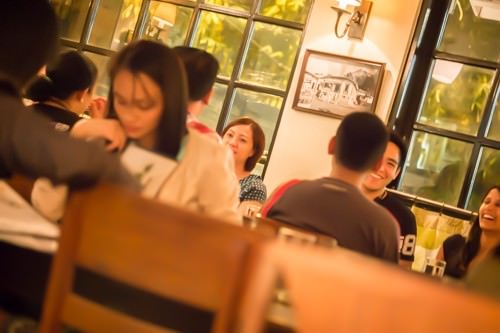 I noticed I was smiling while reading the great parts in the menu. Consciously, I looked if anyone noticed, too. But no, they were mostly busy smiling. Happy guests like me? I'll have to taste the last two items I had ordered before I conclude anything.
The last two dishes were so remarkable I could still taste them while writing this review. Tell you why.
Our dear readers, this Spaghettini with Broccoli and Toasted Nuts looked simple. That's true. But the taste showed more than it looked. Pasta drizzled with olive oil was a perfect bed for a well-estimated amount of grated parmesan, crunchy broccoli and flavourful toasted pine nuts. The dish was simple in presentation but stellar in taste. It was like paella disguising as a plain ol' porridge in front of you. You won't experience the bursting of flavours till you put it in your mouth. Magical!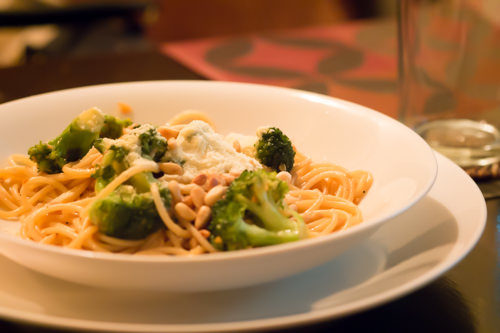 Why did it have to take so long to twirl this too-simple-to-be-awesome pasta dish? I wanted it all-in in one go!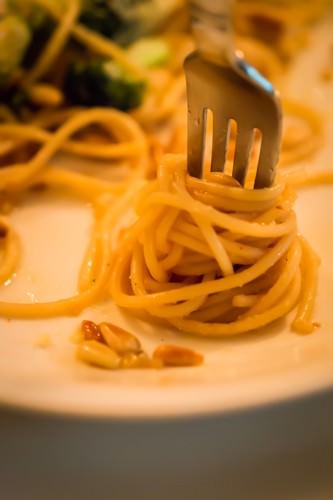 My chosen dessert was not to be "out-starred" by the spaghettini. Just one look and it was love at first sight!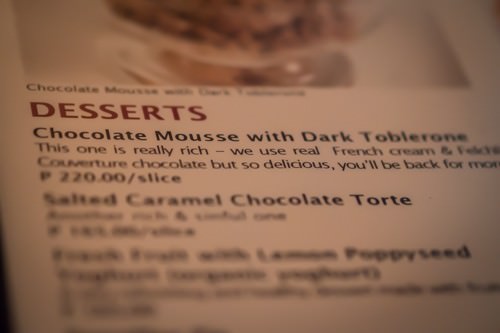 I couldn't let this one pass. Chocolate Mousse with Dark Toblerone? I don't know about you but no matter how many times I read it, I get reminded of the Charlize Theron and Keanu Reeves starrer – Devil's Advocate. Despite seeing the warning, "this one is really rich", the dessert's name was too strong for me to ignore.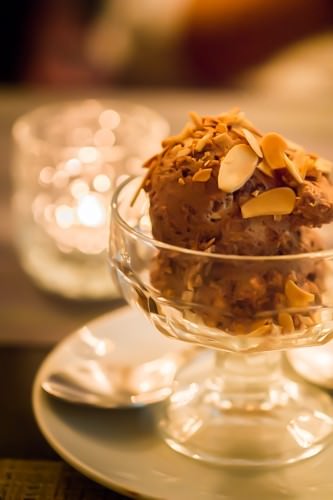 I'm afraid to announce this mousse was gone in seconds at my table. In fact when it was served, the couple beside me had just asked for their bill and constantly argued if they were to order my dessert or not. I chuckled inside while selfishly spooning my dark toblerone mousse.
One last time, I had surveyed the floor area like a pro. Then came a conclusion. The drawback was its compact space, yet it was packed. The room was dim, but guests showed bright smiles. It offered a not too common crowd-favourite vegetarian food, but it did gain acclaim from Philippine Tatler. Need I say more?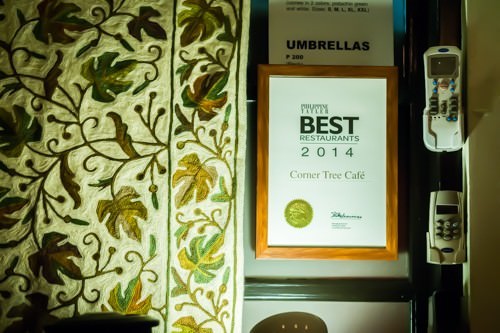 Opposites do attract! Yes, it worked for the quaint Corner Tree Cafe. It worked for me. Hope it works for you too when you visit.
Corner Tree Cafe
150 Jupiter St. Bel-Air, 1209 Makati, Philippines T: + 63 2 897-0295