Hello GG readers!
Let me take you to another Filipino treat which I am certain you will appreciate. This time to a bake shop that has created a buzz in Manila.
A sudden craving for something leads me to enter in a trance. Or perhaps, a state of frenzy. This holds true for a certain yearning for this delectable dessert. One fine day, my sweet craving connived with my body to lunge for Mango Bravo. This bestselling cake was introduced a few years ago by Conti's Bakeshop and Restaurant.
There is a well-known branch of Conti's Bakeshop and Restaurant in Global City in Metro Manila. The branch is strategically situated in Serendra, a garden residential establishment. Serendra has an open, airy atmosphere that is excellent for dining.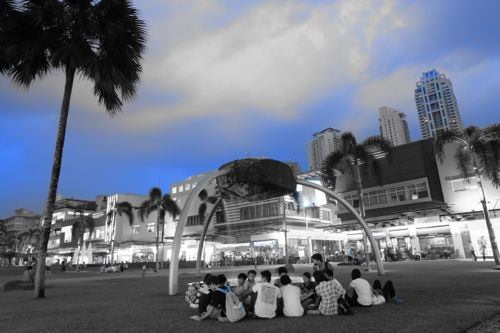 Global City is a highly urbanized district in the metro. It is conducive to walking especially after office hours. This was why I decided to traverse the equally popular High Street on my way to Conti's.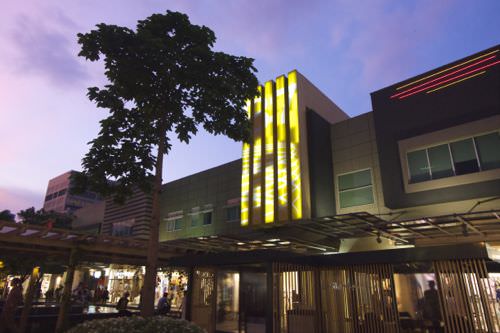 After an entertaining 10-minute tread, I was already at the location. Right across Serendra is a commercial centre known as Market! Market!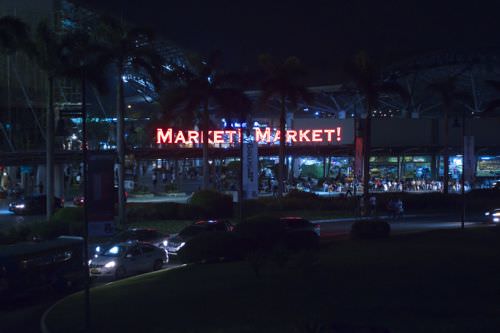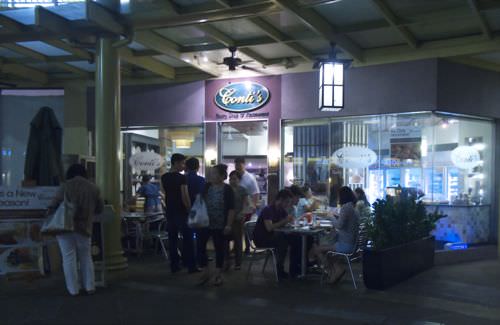 From a distance I could see the outside tables being occupied. I bit my lip with the hopes that the early patrons had left a piece of my "holy grail".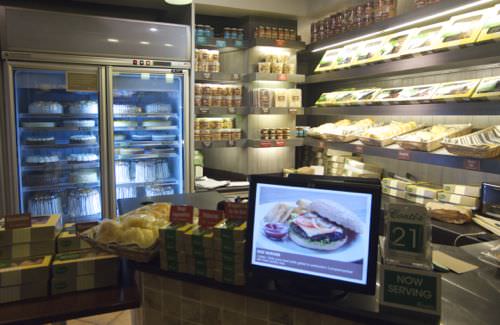 I was quite familiar with the restaurant's setup. My focus was on the inner right side where the cake fridges were. I felt tension building up. I was not ready for a No-Mango-Bravo-Left day. The tension was subdued by the smiles of the waitstaff. So I asked with all positivity, "You still have Mango Bravo for me, right?" The counter girl flashed a huge smile. She knew her inventory well and replied there were two cakes unreserved.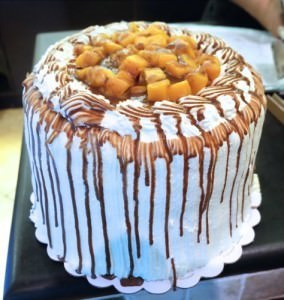 I was in ecstasy! Beaming with the result, I invited my partner to dine in. My treat (yeah)! For the meantime, this to-die-for cake was going back to the fridge.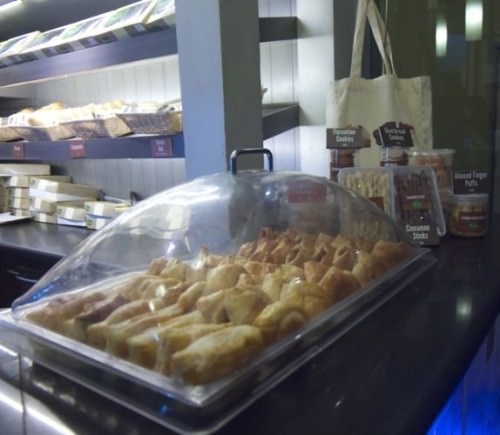 I stayed a few seconds at the counter to savour the aroma of the pies. These freshly baked assortment were another favourite takeaway bunch. But I was happy with my cake.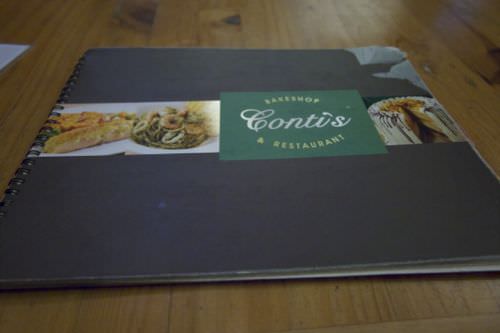 We were seated near the wall where I had a quick appreciation of the interior. Then I flicked through the menu and ordered soup.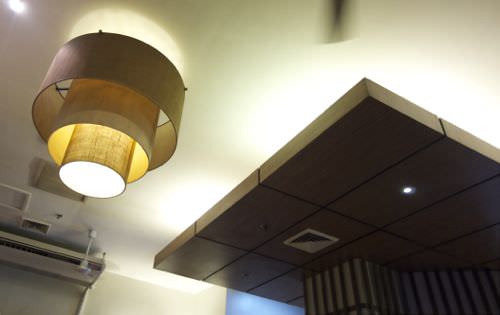 I had the Soup of the Day – Cheesy Vegetable. It arrived after just a little over five minutes. I quickly took a spoonful while it was hot. The crunch of the vegetables blended well with the cheesy, thick soup.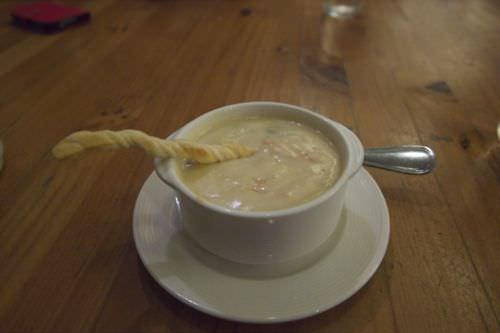 I always had a penchant for salads. Julie's frequent readers would remember my visit to the Sands Resto Grill and Celadon Thai. So I  ordered the Symphony Salad for starters. It was composed of lettuce, grapes, nuts and egg. The special dressing made it taste similar to Celadon's Mango Apple Salad. A certified yum!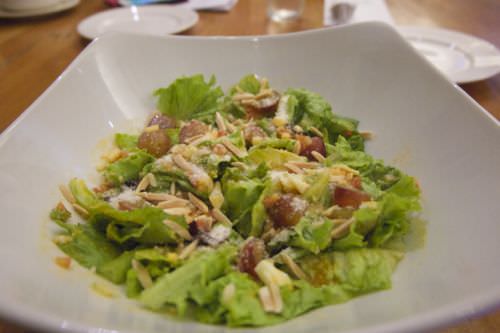 It was also my first time to try the Soft Shell Crab. I would have deferred so as to not compromise a first encounter. It had a perfect crisp but the starchy taste was a bit of a letdown. The flour overpowered the crab's natural taste.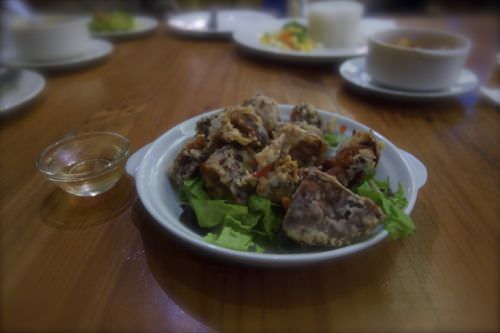 In Julie's visit to LaMesa Restaurant in Sydney she discovered that the Philippine cuisine was strongly influenced by Spain. I spotted Callos in the menu, which I ordered next. The subtle flavour of the stew was a perfect host to the soft, tender slices of ox tripe. I loved this dish, second to Ilustrado's version.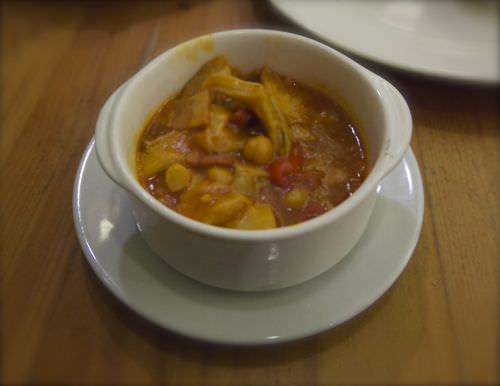 Now there was no time for delay. Time for my holy grail. But uh-oh, my partner wanted something else! A famous cake that made a name in Filipino pastry shops. It was here even before Conti's Mango Bravo era. I am referring to the Sans Rival.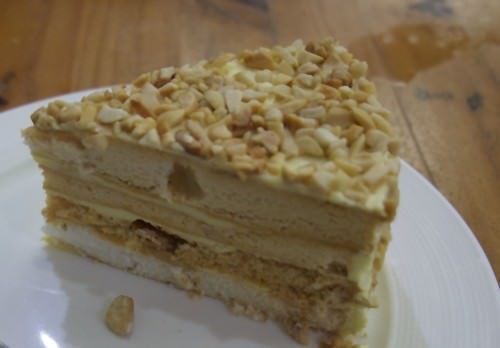 I instantly felt like entering a second trance. Conti's used cashew instead of the usual peanuts to top the chewy layers of meringue. They also tamed the use of butter. It was a well-balanced version of Sans Rival. True to its name, this cake was arguably unrivaled.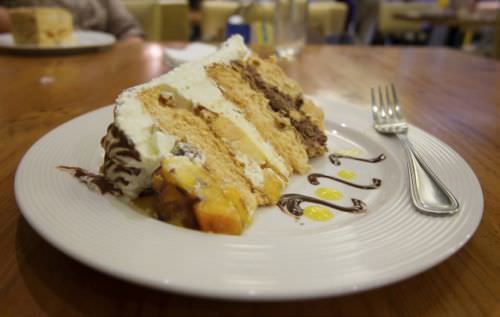 Trance and frenzy won the battle. We ordered the two majestic cakes. A slice of each to end our scrumptious meal. Layers of meringue, chocolate cream, cashew, chunks of frozen Philippine mangoes – all in one Mango Bravo slice. Superb!
Craving satisfied, it was one bravo experience.
So next time you're in Manila and aching to have a dose of cakes, you are guided on where to go and what to choose to begin with :).
Conti's Bakeshop and Restaurant
Unit 1C-17 Serendra, Bonifacio Global City