Whether your a visitor to the Coffs Coast or a local, I'm sure you've wondered where to go, to get Coffs best chips. After all, what's better on a lazy weekend than ordering a serve of takeaway chips, sitting in the park, and watching the waves break onto the beach.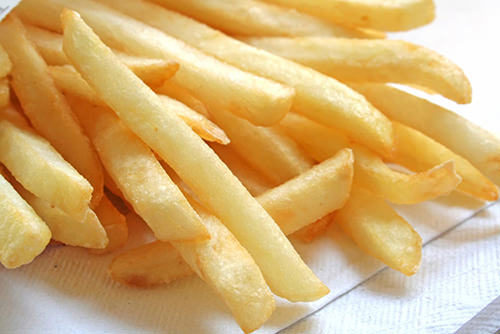 We have some amazing hot chips on the Coffs Coast, but I want the perfect chip! So this made me wonder, who makes Coffs best chips?
With so many chip outlets in Coffs, I knew the dilemma was bigger than just one person. I've tried more than my fair share of chips. I "may" be a regular at Molly Malones and Banancoast Seafood, I have a secret love affair with Attitude chips, but what if the best chips were yet to be discovered by me?
Maybe I was missing Coffs Best Chips! To answer this important question I knew I would need help. I decided to pose the question to some dedicated Coffs foodies.
I asked the big question on the Gourmet Getaways Facebook page followers.  Who makes Coffs best chips? It was a simple question but the responses were passionate. We obviously have a lot of great chips on the Coffs Coast, and fans wanted their favourite chip to win the title.
We posted a poll on the Facebook and ended up with 30 nominations that spanned Red Rock to Sawtell. The votes came thick and fast. The poll was shared on followers pages far and wide. After some serious voting we had our top nomination for "Coffs Best Chips."
I was one step closer to knowing the answer to "Who makes Coffs best chips?" But now we needed to put the chips to the ultimate test. We needed to taste the top nomination.  The only way to have a definitive answer was to munch on some crispy golden fries.
It's a tough job… so we looked for assistance. We needed a panel of chip judges to share the burden of choosing the Coffs best chips. 10 volunteers from Gourmet Getaways Facebook Page offered to help me with the all important "chip off."  These dedicated chip experts put on their "stretchy," chip tasting pants, and sacrificed their Sunday afternoon to eat chips at the Jetty Foreshores. Their job was to contemplate the merits of each potato fritter.
Given that we needed to purchase and transport the top 9 chip nomination from the vendor to the Jetty Foreshores, these selfless chip experts also acted as chip fairies. They collected the chips from as far a field as Woolgoolga, Coramba and Lowanna for the ultimate chip tasting.
When the chips arrived at the Jetty Foreshores they were weighed, and put into numbered bowls ready for our blind tasting. We collected some important information from our "chip fairies." We needed to know the cost of each serve of chips and the wait time.
While our esteemed chip judges deliberated over the merits of each chip I put together some interesting statistics.
Firstly from the 9 takeaway chip outlets we had purchased 3.976kg of chips. This meant our judges were facing a mountain of nearly 4kg worth of Coffs Coast Fries!
"Cheap as Chips"
Short on cash but starving?  From our Top 10 list of Coffs best chips we have also found the cheapest chip on the coast.
Molly Malone's – 478gm of luscious chips for just $3.80  = 80c per 100gm
Lowanna Takeaway – 430gm of crispy fried goodness $4.00 = 93c per 100gm
White Salt – Woolgoolga – 554gm of hand cut chips $6.00 – $1.09 per 100gm
"Chips on the Run"
Staving but in a huge hurry. Want to know who, in our Top 10 list, will get you fed the quickest?
White Salt – Woolgoolga – You're out the door in just

3 minutes

Lowanna Takeaway –  Don't sit down your chips are done in

5 minutes

Attitude Burgers – This busy burger place will have you eating golden fries in just

6 minutes
Coffs Best Chips
Remembering that out of 100's of takeaways on the Coffs Coast, locals voted these takeaway chips into the Top 9. All the chips we tasted were amazing. There are no losers in this list.
Our judges scored the chips out of 15.
Sea Salt Sawtell – 110
Attitude Burgers – 109.50
Sea Salt Jetty – 108.50
Molly Malone – 93.50
Coramba General Store – 90.50
The Roost – 89.50
Bananacoast Seafood – 86
Lowanna Takeaway – 78
White Salt Woolgoolga – 77
Voting was tight, but the winning chip was decided purely on taste!
I would like to say a special thanks to our Chip Judges & Chip Fairies. Without you guys this mammoth chip event would not have been possible.
Lisa Irving
Dannyel Alford
Debra Maugher
Rodney Jones
Bianca Hensman
Mathew Hayward
Carlie Cummings
Edward Gleeson
Jessie Smith
Brett Carlyle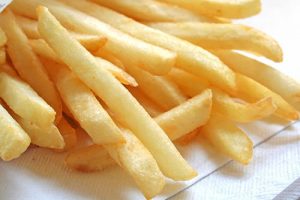 So take some local chip advice, grab some fries, sit on the beach and watch the waves.  Anyone of these babies is sure to satisfy.