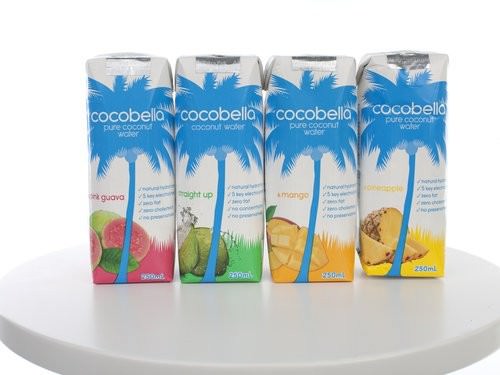 I had seen this drink in the supermarket, but I am a creature of habit when it comes to my weekly shopping and Cocobella hadn't quite made it into my shopping trolley.  I was delighted when Nuffnang asked if I would be prepared to sample the four flavours and write a review.
So what is Cocobella? It is a 100% natural drink made from coconut water. The water has no fat or cholesterol and more potassium than a banana. Reading the information supplied I feel that I should have given the product a try sooner.
For the past year Mr GG and I have been on a bit of a fitness regime. We have been attending the gym and being more conscious of what we put into our bodies. I have never been a fan of sports drinks because of the artificial colours, flavours and high calories. Cocobella is a 100% natural hydration drink, which replenishes the lost fluids from exercise quickly.  It also has three times the electrolytes as a sports drink! Naturally this is a product which fits into our healthy lifestyle.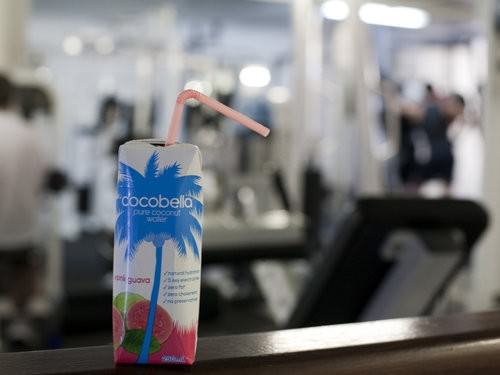 Cocobella Pink Gauva at the Gym
Cocobella isn't just for sports people, it is a refreshing drink to be enjoyed anytime.
It is available in four flavours, "straight up" which is unflavoured coconut water, pink guava, mango and pineapple.   So, what does it taste like? It is delicious and refreshing. I enjoyed knowing I was drinking something good for my body.  My favourite flavour was the pineapple, followed really closely by the pink gauva, but really all the flavours were great.  The all had a genuine flavour, and were not overly sweet.
I noted on the Cocobella website that they have said "whether you are exercising, leading a busy lifestyle or recovering from a big night out coconut water is the ultimate natural re-hydration and replenishment drink."
I can imagine regularly drinking this product after the gym, lazing around on the beach in the heat of summer. or after a big night out.
Give it a go next time you need a healthy thirst quencher.
This post was part of a "Nuffnang Product Talk"  I have not received a payment for this story. I have been given the product free of charge to try, so that I may provide readers with an honest review.