If you have been following our Tasmanian adventure you would know hubby and I have had a magnificent journey onboard Spirit of Tasmania, and have commenced the Cradle to Coast Tasting Trail. Before we start our tastings tour in earnest I think it is important to have a proper breakfast.
Christmas Hill Raspberry farm was one of the stops on our tasting itinerary but we couldn't resist starting the day with a good wholesome breakfast. I'm kind of laughing when I call it a "good wholesome breakfast." It is definitely one of the most indulgent breakfast you will have, I'm sure it delivered a lovely range of vitamins, minerals and antioxidants… but "gee o gee" it would not get the Michelle Bridges tick of approval!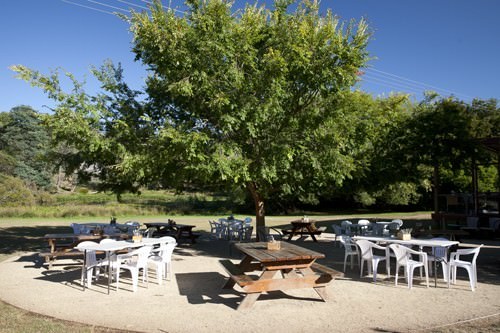 It was still quite cool outside so we took a seat inside where it was toasty warm and the air smelled like raspberry jam and bacon. YUM! If I wasn't starving when I arrived I certainly was when I viewed the menu.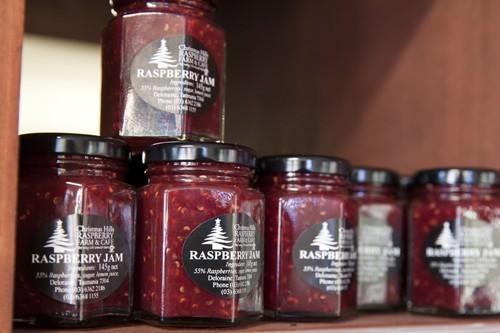 Hubby was torn between a raspberry white hot chocolate or a raspberry smoothie.  I would have loved to have seen the raspberry white hot chocolate, it sounded like such a delicious flavour combination, but my husband is a smoothie fiend!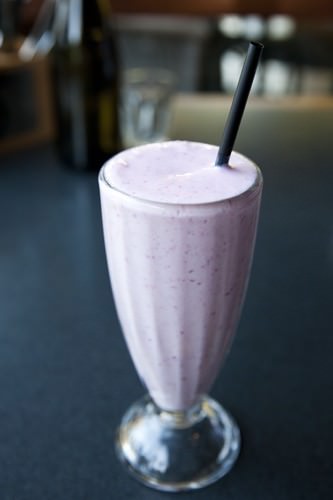 The smoothie was thick with ice cream and creamy local Ashgrove milk> The raspberry syrup was sweet and bursting with real fruit flavor including the distinct tart finish that distinguishes real fruit syrup, from commercially produced raspberry flavourings. "Damn this is good" was all hubby could manage as he sucked away at the straw!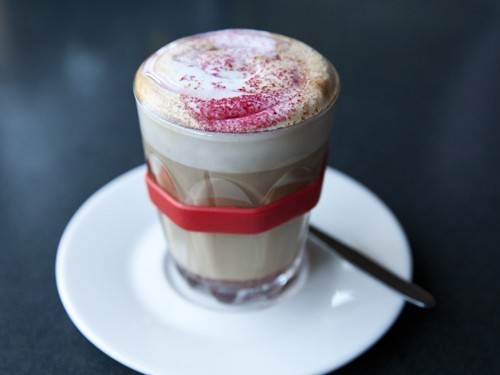 Sprinkled with "lust dust" my raspberry latte was as pretty as it was delicious. A lovely strong coffee with a creamy, rich, coffee creme, and laced with a sweet raspberry syrup which is made in house from fruit grown on the farm. In case you are wondering "Lust Dust" is a product which is also sold at Christmas Hill Raspberry Farm. The raspberries are freeze dried and with a little extra magic becomes a "lust dust" which makes everything pretty and raspberry flavoured.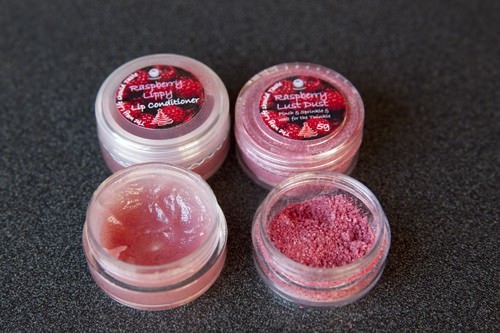 After much deliberation I decided on a savoury dish of Sweet Potato & Waffles.  I was not prepared for the dish which was placed before me. Fluffy, light scrambled eggs with sweet caramelised onion jam, with crispy potato hash brown waffles.  What are potato hash brown waffles??? I don't really know but they were amazing!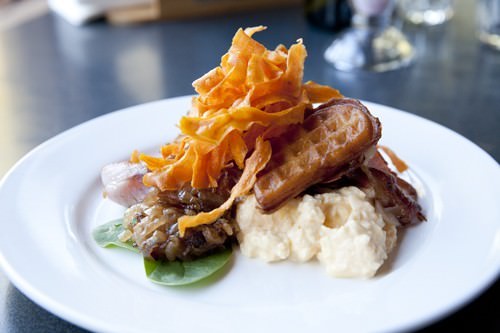 Cute little heart shaped waffles which had been deep fried to another how level of YUM!  They were from another world, proving my theory that anything deep fried rises to a new level of deliciousness.  Just to put me over the brink of my food orgasm the waffles were served with crispy bacon and topped with thin sweet potato fries. After finishing every last mouthful on my plate, I realised I should hope the next stop on our tasting tour was a decent drive away!!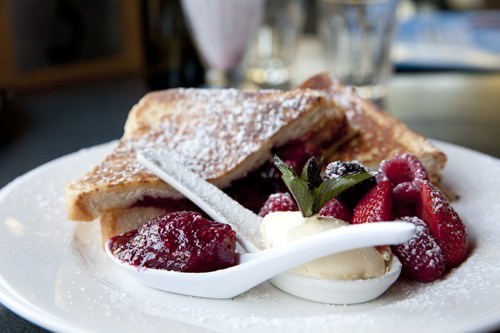 Hubby surprised me with his breakfast choice. He is usually not a fan of sweet dishes or a lot of chocolate.  This aside he dived straight into the Chocolate & Raspberry Jam French Toast.  Thick pieces of fluffy bread had been liberally spread with melted chocolate a slathered with sweet, homemade Christmas Hill Raspberry Farm jam. The french toast was cooked in butter garnished with more farm fresh raspberries, strawberries and mulberries and served with thick clotted cream.
It was such a decadent dish! …and for breakfast! WOW! If our kids were with us they would been in child, food heaven!
At the end of breakfast a friendly waitress asked if we would like to see the dessert menu. After looking at her like she was speaking another language she explained. "Breakfast dessert is a legitimate meal for us here on the raspberry farm!"
lol I love it! Another meal to be enjoyed. Alas we had filled our breakfast and dessert space!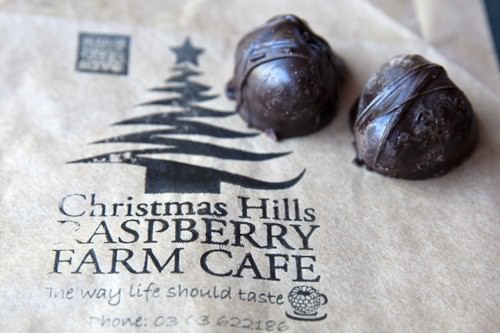 Given that we were completely full we decided that we would take our "breakfast dessert" as a takeaway for later. Two dark chocolate coated raspberries! Yum!
Christmas Hill Raspberry Farm Cafe
9 Christmas Hills Rd, Elizabeth Town TAS 7304  
Gourmet Getaways dined as guests of Christmas Hill Raspberry Farm Cafe.  All opinions stated in this article are the honest views of the reviewer.