Regular readers would know that I love Bakers Delight products.

I have used their lovely fresh baked bread products in recipes such as;
Pizza Bases:
Smokey Steak & Cheese Pizza w Caramelised Onion
Berry Delicious Pizza w Mascapone
Scrolls:
Vegemite Scrolls for Australia Day
Cob:
With this in mind I have been asked to come up with some more delicious recipes using Bakers Delight products.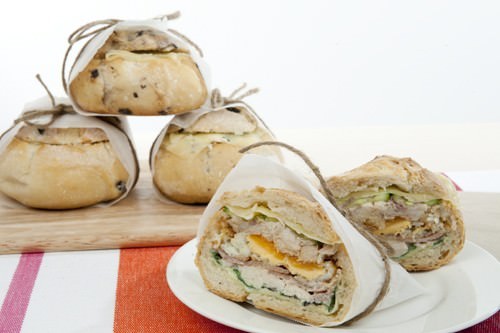 My brief was to come up with a lunch recipe. My mind immediately went to thought of food suitable for a packed lunch or a picnic.
One of my favourite picnic foods is the Muffuletta which I shared with readers in Nov 2010!! Wow, how time flies, two and half years ago! I really wanted to revisit this dish with some new flavours.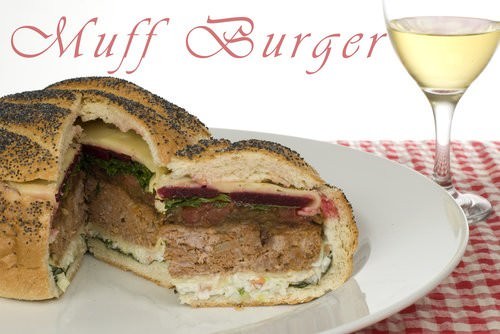 So I scrolled through the Bakers Delight product menu to find some inspiration. I have a tendency to just buy my regular products when I am in store so I thought this would be a good opportunity to broaden my bread horizons.
Then it hit me, I wanted to make mini muffuletta and I was going to try them in both the traditional "Authentic Sourdough Artisan Rolls and the Pane di Casa Olive Rolls.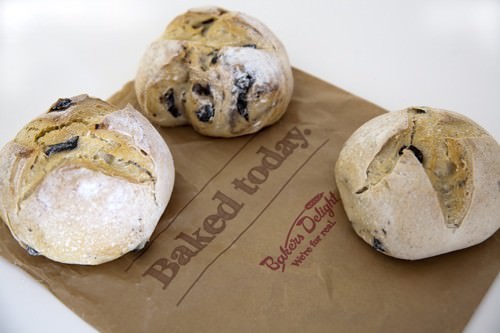 The traditional filling for a Muffuletta is antipasto but I wanted to make something a little different. Mr GG loves Caesar Salad so the idea was born for a Mini Chicken Caesar Muffuletta.
The perfect picnic food or packed lunch!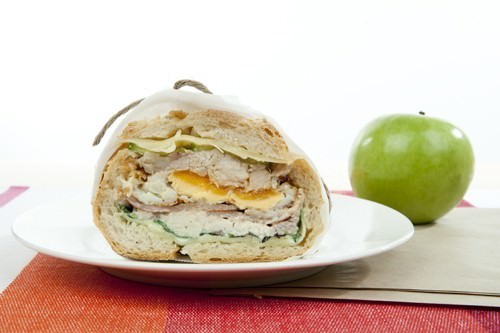 Mini Chicken Caesar Muffuletta
Ingredients:
3 Bakers Delight Authentic Sourdough Rolls
3 Bakers Delight Pane di Casa Olive Rolls
1 Roast Chicken striped (see tip)
200gm short cut bacon (pre cooked)
6 eggs (fried and place on kitchen paper)
12 slices Jarlsberg Cheese
Mixed lettuce leaves
Cucumber (thinly sliced)
Anchovies (if desired)
Thick Caesar Salad Dressing (Paul Newman)
TIP: If I buy a roast chicken for lunches I always strip it down and place it in a container ready for use whilst putting away the groceries. It comes off the bone more easily when it is hot, and the family uses the meat for sandwiches if this is done for them.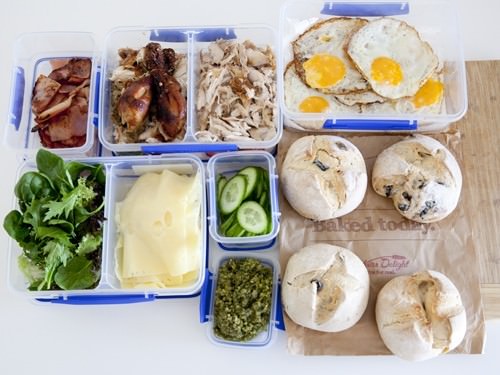 Method:
Cut a lid off the top of each of the rolls with a serrated knife.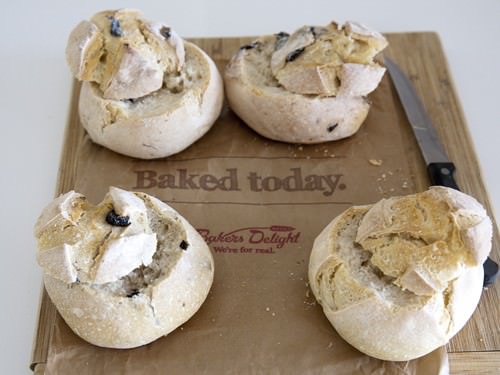 Cut a lid off the top of each of the rolls with a serrated knife.
Remove the bread from each of the rolls leaving just the crust. (Reserve the bread for yummy breadcrumbs)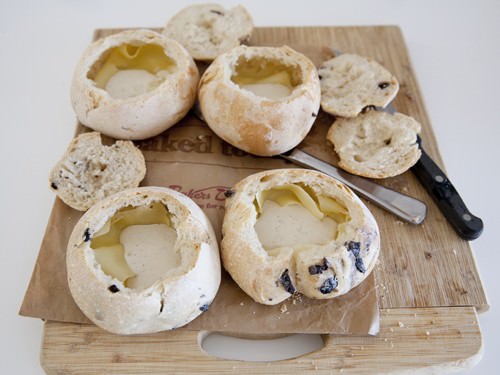 Start layering the muffuletta with the cheese so that it provides a liquid proof barrier for the bread.
Add a tablespoon of dressing to the cheese, then a thin layer of chicken. Continue layering up the ingredients and pressing down firmly in between each layer.
I used two layers of chicken and finished with a second layer of dressing and then cheese. The Muffuletta should be overfilled so the lid needs to be squashed on and wrapped firmly with plastic wrap.  This help compress the fillings.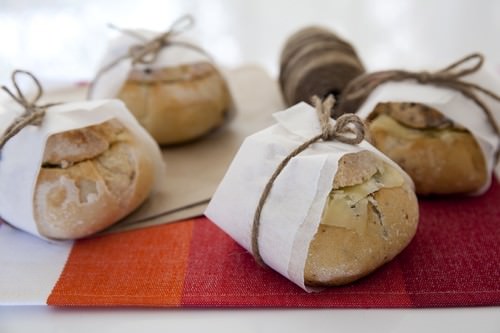 Now I  need some reader assistance, can you come up with another delicious lunch/picnic recipe using Bakers Delight bread??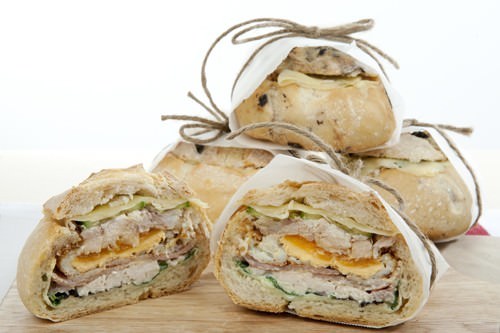 It can be simple, complex, sweet or savory – but help me choose another dish to make.  …any ideas??
Gourmet Getaways would like to thank Bakers Delight for supplying the product for this sponsored story.