As we meandered our way through the Vintage Estate, in Pokolbin, we passed by the most perfectly manicure lawn and gardens. Mr GG and I were on our way to Chateau Elan, a prestigious 5 star, luxury property in the Hunter Valley.  The tranquility of the tree lined golf course hugging the road, and watching people leisurely teeing off had already lulled us into holiday mode by the time we reached our destination.

It's not often you walk into a resort, take a deep breath in, and feel the stresses of the day melt away.  As I approached reception I found myself drawing a deeper than usual breath.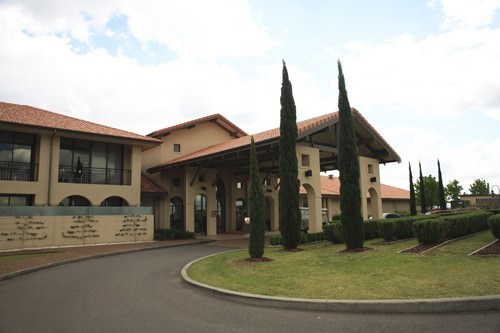 The sweet, relaxing  aroma that greeted me was truly sublime. After receiving our keys I asked the receptionist about the wonderful aroma. She explained that I was being mesmerized by Chateau Elan's signature scent. The friendly receptionist explained the scent was developed for the property, and is circulated through the air conditioning vents! It really made for a complete sensory experience.  She also let me know the fragrance was available in scented candles and diffusers at Cafe Elan.
I already knew I would be taking this fragrance home with me. I took another deep and relaxing breath in.  I was trying to inhale as much of the fragrance as possible before floating back to the car and driving to our villa.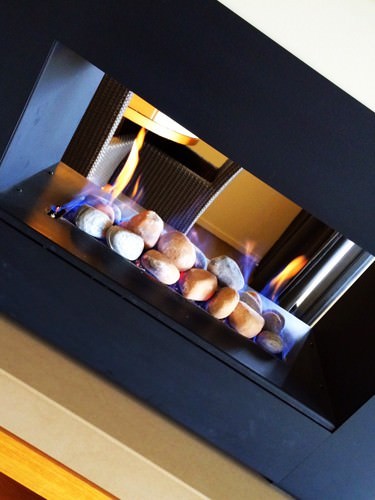 Opening the door too our villa at Chateau Elan was like coming home. We were immediately warm and comfortable. The one bedroom residence was modern, elegant, light and spacious.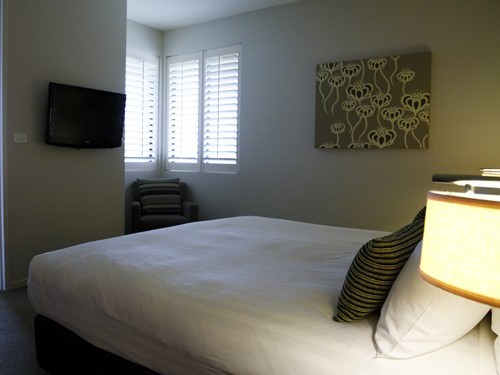 The gas fire had been lit in preparation for our arrival, and the rocks were glowing red, radiating  warmth through out the villa.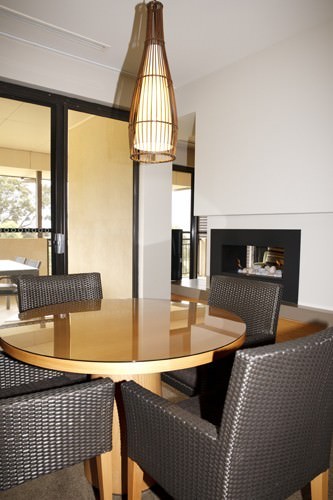 I was already so impressed by Chateau Élan. There were so many little touches that were making such a big impact on our enjoyment of the property.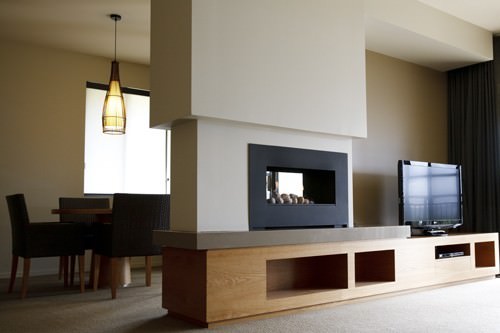 The fireplace was the focal point in the lounge room.  Even Mr GG noted that having the fireplace made the villa perfect for a romantic getaway. There was also a large television in the room, but as we don't watch TV at home, we certainly weren't going to watch whilst away on a couples holiday.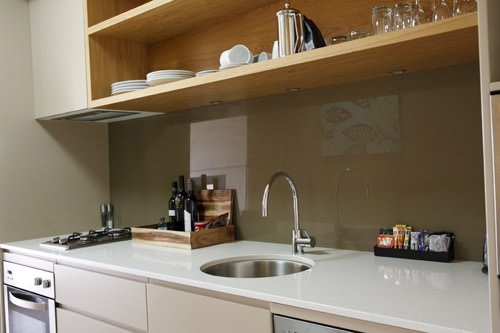 After getting settled we decided it was time to pour a glass of wine.  We sat mesmerized by the flames. Every so often Mr GG would look up from his book a comment about the cosy atmosphere.
I noticed the "do not disturb" sign on our door, and I had a quiet laugh.  The words captured my mood perfectly.
Mr GG seems to be having a few "man product" moments lately.  This is rather unusual for my husband.  He is the type of male that believes a dip in the ocean can be considered bathing.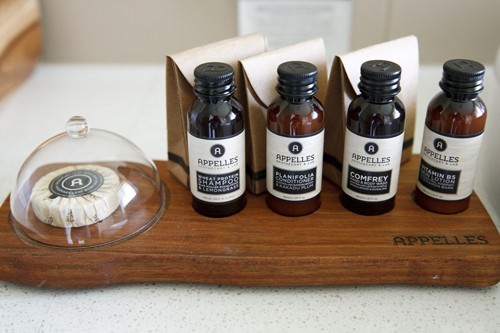 When he returned from the bathroom Mr GG was holding the Appelle Comfrey Hand & Body wash. The product contains ingredients Mr GG loves, lemon myrtle and sandlewood. He told me to smell the soap, I had to agree with him, it was fabulous. It's always nice to have quality Australian products in the room.
I was tempted to stay by the fire and do nothing for the rest of the day but the thought of organising a couples massage motivated to go for a walk.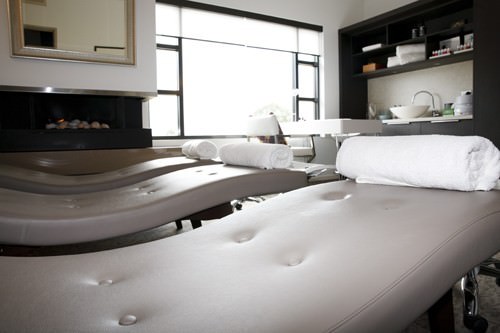 The Day Spa is located in the main building near reception.  They have 17 treatments rooms, a large hydro lounge, hot spa's, sauna's, infra red detox boxes, reflection lounge and hair salon. The treatment menu is extensive so I had a little trouble deciding which package to book.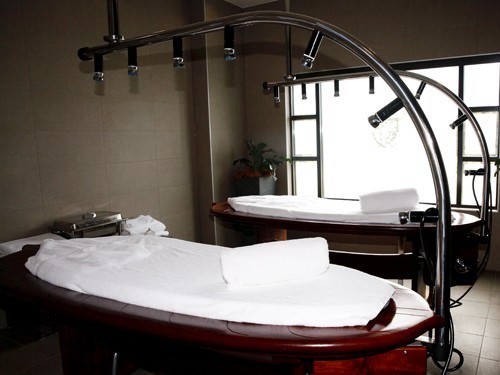 The therapist took me explained the various day spa options available for couples as she guided me through the various treatment rooms. The Vichy Spa Treatment looked very inviting set up with twin beds, but I decided on a couples massage packaged.  Our appointment was booked for 9.00am the following morning. Review to follow.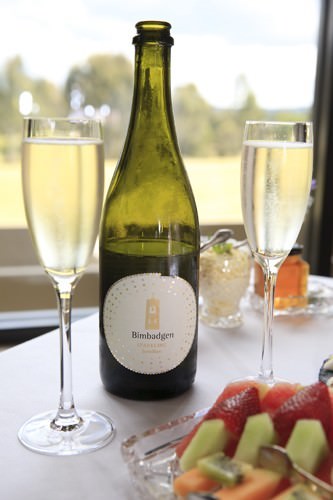 I was quite happy with myself and decided to make one more decadent booking before returning to the villa.  Cafe Elan is opposite the Spa and serves High Tea from Friday to Sunday.  To complete our romantic itinerary I organised High Tea with bubbles for after of massage. Review to follow.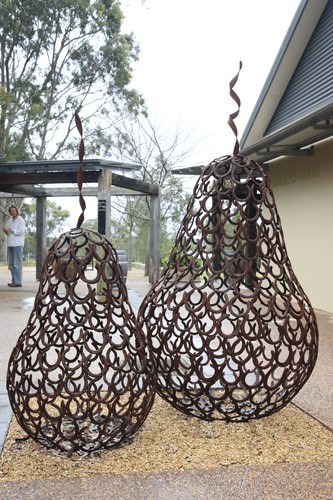 I think I may have had a skip in my step as I walked back to the villa.  I told hubby about our plans and we decided to take a romantic stroll around the estate.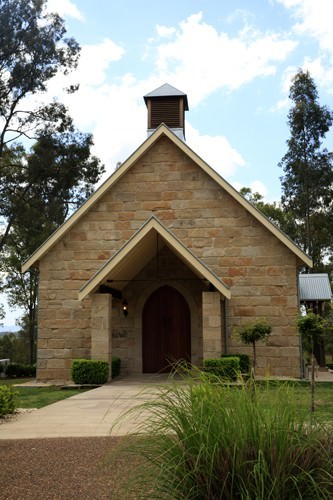 Chateau Elan is a popular wedding venue,  Mr GG and I had already noticed the gorgeous sandstone church when we arrived.  As we walked we noticed a white gazebo that would make the perfect location for a garden wedding. We also wandered past the function rooms, one of which was obviously being prepared for a lavish reception.

Also located in the Vintage Estate is a pictureque Greg Norman-designed golf course which I'm told is is ranked #2 in New South Wales. The Vintage Golf Course has a bar, clubhouse and is home to the Legends Grill restaurant. Each morning buffet breakfast is served at Legend Grill. With our High Tea booked for 11.00am we have decided to forgo the big breakfast.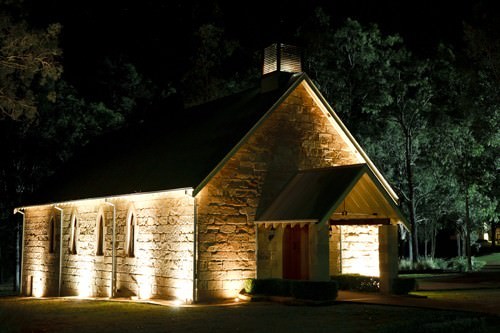 As we came home from dinner I couldn't resist taking another image of the beautiful chapel.  It looked even more gorgeous under lights.
At home I have been able to keep the tranquil memory of my stay at Chateau Élan stays fresh in my mind.  I purchased one of the signature scent candles and placed it at the entrance to my office.  Each time I walk by I get that same relaxed happy feeling I had during our stay.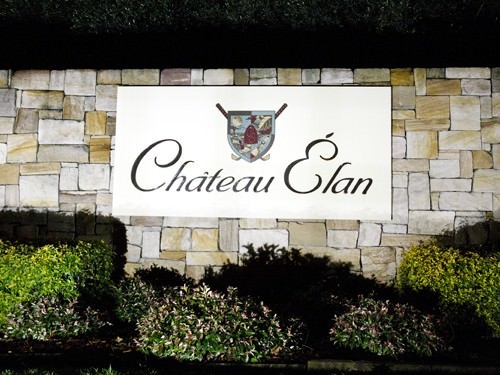 Chateau Elan – Hunter Valley
The Vintage Estate Vintage Dr, Rothbury NSW 2320
(02) 4998 2500
Website
  Gourmet Getaways would like to thank Chateau Elan Hunter Valley for their generosity in hosting this stay. As always the opinions contained in this review are written without bias and in accordance with my disclosure policy.