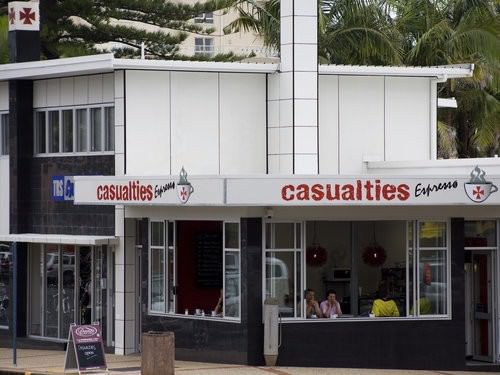 I am one of those people who cannot function of a morning without a strong cup of coffee.  As with everything else in life, I am very fussy! I have a Boeme Cappuccino machine at home which is plumbed into the water supply, and hard wired to electricity.  I also have a gorgeous husband who makes the perfect cup of coffee each morning for me.
So when I head away, a priority is finding a good cup of coffee.  After all, how is a girl expected to face the day without a bit of a jolt? I arrived in Port Macquarie and was having a brief stroll around the shops when I noticed this quirky café. Casualty Expresso! I like the sound of it! It was buzzing and busy so I made a note to visit in the morning.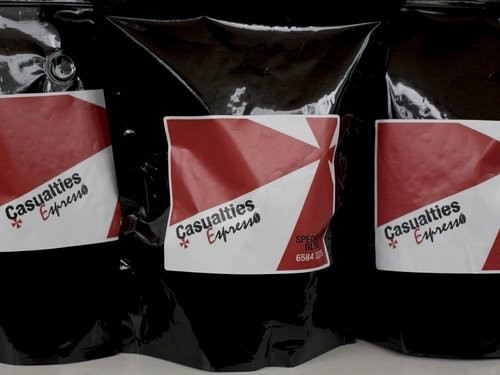 Next day when it came time to get my morning "eye opener" the place was quite busy. I ordered my "large, skim milk cappuccino with a double shot" (it always takes a bit more to get me going if I have to go out before I have had my coffee). The smiley girl behind the counter said "large skim heart starter" internally I smiled, yes… that is exactly what I needed.
I sat at the counter facing the street and watched cars and people go by while my coffee was prepared. I should explain the name of the café came about because I was actually sitting in, what was previously, the casualty room of the original Port Macquarie Ambulance station. As a play on the history of the building the café has references to its past in the form of the blood red walls, stethoscopes hanging on the walls and the menu is referred to as "the chart" and the red cross symbol is proudly displayed on top of the building.
My "heart starter" was delivered with a gorgeous almond biscotti which was lovely, crisp and sweet.  I am pleased to say the coffee was "just what the doctor ordered" and I was ready to start another day.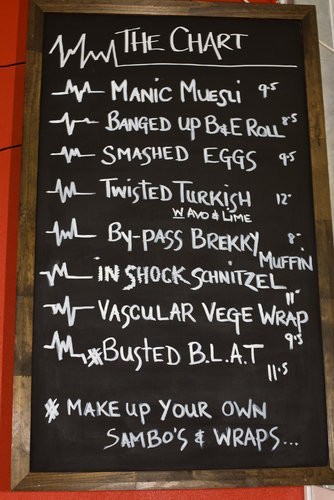 Casualties Expresso is open from 8.00am to 5.00pm and located at the corner of Horton and Clarence Street in Port Macquarie.