Another beautiful day in Tasmania!
We have wandered downstairs from the Salamanca Wharf Hotel for a bit of breakfast at Castray Esplanade Food & Wine. The cafe is literally just downstairs from where we are staying so it's a convenient and welcoming spot to get a quick hit of caffeine!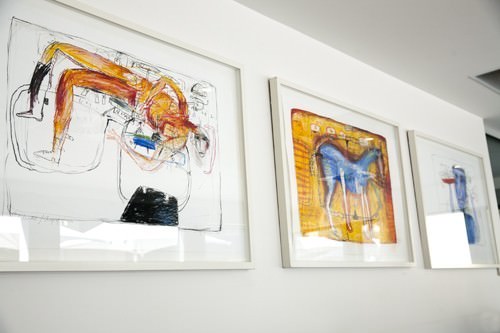 There's seating available outside but because the cafe is light and airy we chose to make ourselves comfy in the booths with the cushioned seats inside.
The feeling is casually sophisticated, polished concrete floors and modem art give the cafe an air of refinement without being pretentious.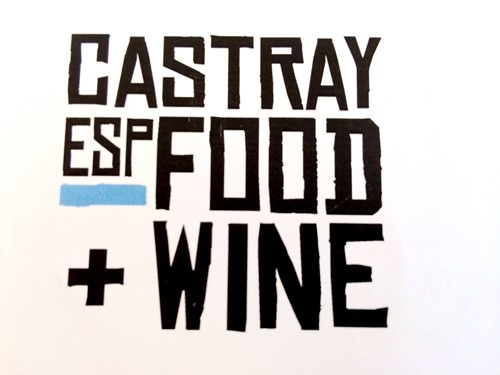 Reading through the breaky menu is like a "who's who" of local Tasmanian producers. Producers such as Ashgrove Cheese, Bruny Island Cheese feature on the menu as providers of  dairy products and the list goes on into seafood and local meat suppliers. The menu takes advantage of so many of Tasmania's premium producers and transforms the local food into delicious seasonal dishes. The cafe states on the menu that it strongly believes in using locally sourced, seasonal fresh foods believing this contributes to us eating a healthy, sustainable, well balanced diet. What I like about a cafe or restaurant taking advantage of local and seasonal foods is each area I visit has a distinct and unique flavour.
One day I might vary from my normal skinny cappuccino, but this morning was not to be that day.  I needed my caffeine hit! Hubby usually has a smoothie but today even he was "lightening up" with an orange juice.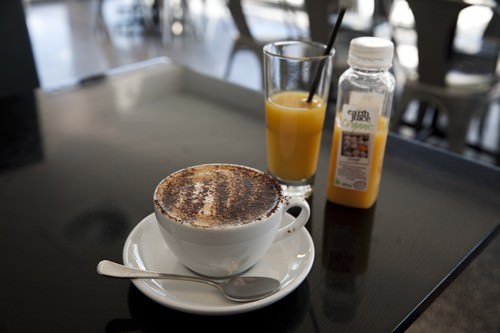 I ordered an Apricot and Bran Loaf.  It sounded wholesome and healthy, just what I needed after my full day tasting tour yesterday.  Brett & I were planning another food tour, this time on Bruny Island so I wanted to start with something light for breakfast.  I should know by now that everything in Tasmania is made for maximum enjoyment and nothing is light!  The apricot and bran loaf was thick and dense with chunks of apricot and the wholesome malty flavor of bran, it was so moist and filling! The loaf had been grilled in butter to make it crispy and then served with another large dollop of delicious salty butter. There go my skinny pants… I might as well leave them in the boot of the car for this trip!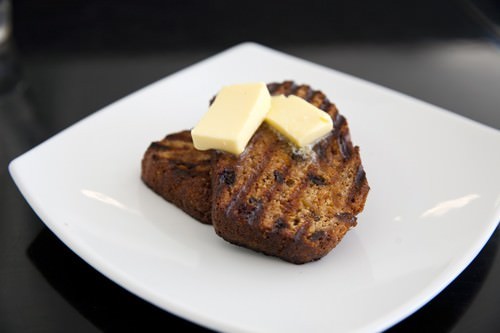 I think I have mentioned before that in my mind Tasmania is synonymous with salmon! When I think of Tassie, I want seafood, but especially salmon.  Mr GG must have the same association because he chose the Potato Rosti with Smoked Salmon and poached Eggs.  The dish was served with a shaved citrus hollandaise sauce which gave a love tang to the overall meal.  You can see by looking at the picture that Castray Esplanade Food & Wine does a perfectly poached egg and is particularly generous wit the smoked salmon.  It was a delicious breakfast.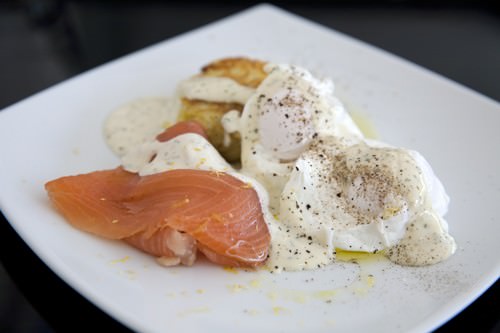 So as they say, there is no rest for the wicked… or the perpetually hungry.  We had to rush as we had planned to get on an early ferry to Bruny Island.  Neither of us had visited Bruny before and we wanted the maximum amount of time to explore.
A question for my readers, do you associate particular areas with types of food? Locally potatoes are grown in Dorrigo so when I am in Dorrigo I always choose the Gourmet Potato pizza if we are eating at the local pizza place. Do you have similar food expectations from an area, or do you just chose your favourite dish wherever you travel.
Castray Esplanade Food & Wine
13-17 Castray Esplanade Battery Point, TAS  
Gourmet Getaways dined as guests of Salamanca Wharf Hotel.  All opinions stated in this article are the honest views of the reviewer.