Carney and Earl's is something completely different for Coffs Harbour.  Even as you approach this burger joint you will realize things are a little "left of centre" here.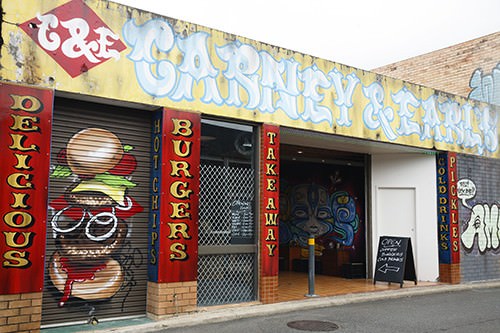 I have to admit, I really didn't know what to make of the place initially.  Firstly the premises are located in the back lane behind Park Ave.   The laneway is usually reserved for delivery trucks, so Carney & Earls is probably not a takeaway you would find by chance. Outside, the shopfront walls have been graffitied in a style that reminded me of an old vintage carnival style, cute.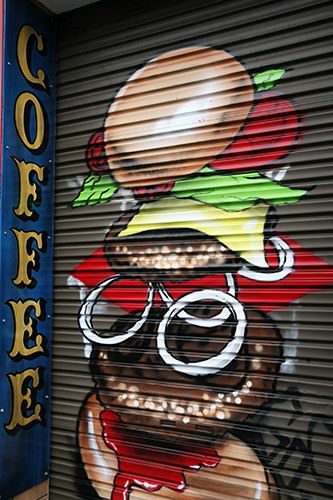 Still, it's fair to say I approached Carney & Earls with some apprehension. As I entered the takeaway I noticed the seating was in the arcade, and consisted of some upturned milk crates.  The tables were wooden packing boxes.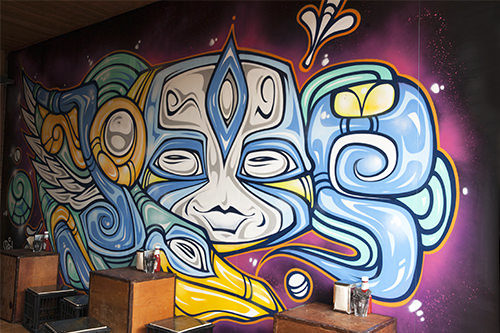 What really caught my attention though, were the meat patty which were being prepared in the kitchen. Big, fat, minced meat was being formed into burger patties and they looked good.  I was early for lunch, it was only 10.00am, but I was already hungry. I wanted to get a burger but was told they still needed to take a bath first, so the burger wouldn't be ready until lunch. Obviously that statement needed some clarification!
After a quick chat I discovered these were very special burger patties.  The meat used is a premium quality, grass fed beef which is then minced. Once all the meat patty ingredients are combined, each burger patty is vacuum sealed and cooked in a sous vide. The water bath is set at 55 degrees Celsius for two hours. This process cooks the meat perfectly without a loss of moisture or fat.  It gives the meat a better texture, and the controlled cooking method guarantees a consistent result every time.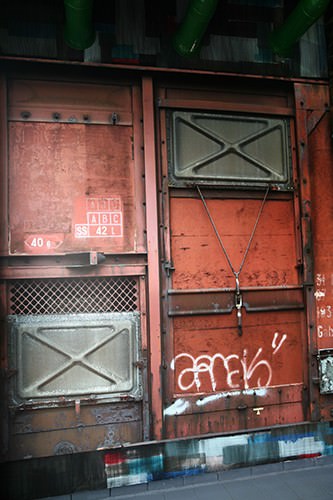 It was explained that once the burger patties have completed their sous vide bath, they are quickly seared on the grill for each order. I was also informed that the Brioche buns are imported from France and the Monterey Jack cheese is from the USA.
WOW! There's some serious burger action going on at Carneys!
With this knowledge I decided to put up with my hunger pains a little longer and come back for lunch with hubby and our French exchange student Romane. I was sure a brioche burger would interest them both.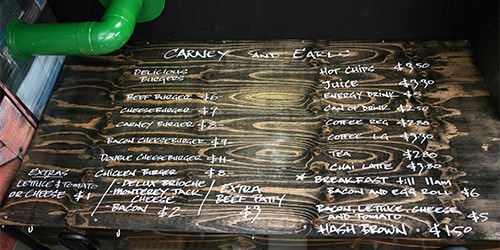 The menu is simple, you can choose between a beef burger or chicken burger.  I guess Carney and Earl's operates on the philosophy that when your using superior quality ingredients, simple is best.
Romane ordered the Carney Burger which is a cheeseburger with salad, caramelised onion, homemade southwest chipotle mayonnaise, homemade pickles and ketchup. After a little encouragement she decided to add some extra "homegrown bacon" to her burger.  We were told the bacon is sourced from a local supplier and smoked in Bellingen.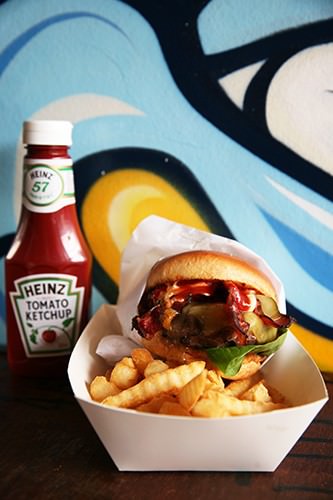 I was interested to know what Romane thought of the Brioche as yesterday she was telling me that she hadn't enjoyed any bread in Australia.  She said "It's the first time since being in Australia that I have experienced bread with flavour!" Romane was also thrilled with her burger, she said it was the best burger she's had in Australia.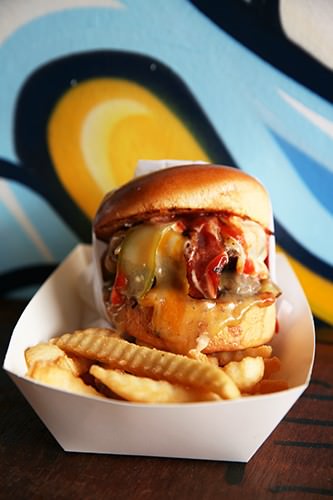 Hubby doesn't do anything by halves! He ordered a double bacon cheeseburger. This is the monster that appeared all drippy and delicious at our table.
Brett agreed with Romane that he had never had a burger like this before. So full of flavour and so deliciously moist.  The Bellingen smoked bacon added a salty crunch to his burger.
I knew what I wanted without rechecking the menu. I ordered a Cheeseburger on a Deluxe Brioche Bun with the Monterey Jack Cheese.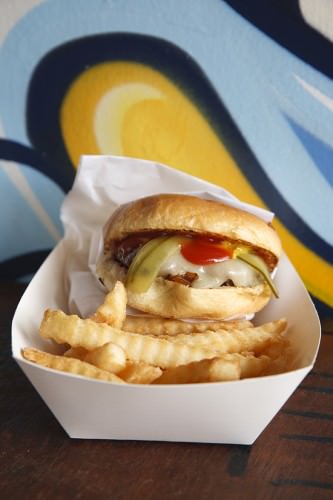 The waiter placed what he called the Cheeseburger Royale in front of me.  You can see the thumb mark in the base of the burger where I accidentally touch the soft brioche bun prior to photographing.  I can't describe how soft and airy the brioche bun was, it almost dissolved in my mouth! My burger also included thinly sliced homemade pickles, which gave the burger a nice zing. Dripping cheese combined with mustard and tomato sauce for a meltingly delicious burger.
I think I actually inhaled my cheeseburger! With every bite I was more disappointed that my time with this creation was drawing to an end. I tried to savour every morsel… and then it was gone!
Carney & Earls is a hidden gem, so make the effort to check out the lane way. Some of the best places in Coffs need a little bit of local knowledge to find. My guess is this laneway will be getting a lot more foot traffic from foodies in the know.
Just looking at these images makes me want to eat this meal all over again!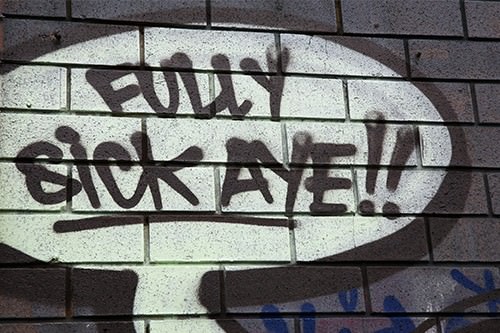 Carney and Earls Burgers
Shop 5, 17 Park Ave, Coffs Harbour NSW 2450
(Enter via Park Ave Lane)