There is more to Tulum than just the Mayan Ruins. There are three distinct districts called "Tulum." Tulum Pueblo is the town you pass through on the way to the ruins. It is about 3kms from the Tulum Ruins and it's worth stopping for a look around.
We loved our tour of Tulum (the Mayan Ruins) but once you exist the ruins and try to get to your parked vehicle or bus transfer you find yourself at the mercy of souvenir retailers (flea market) and buskers. These people are professional hustlers!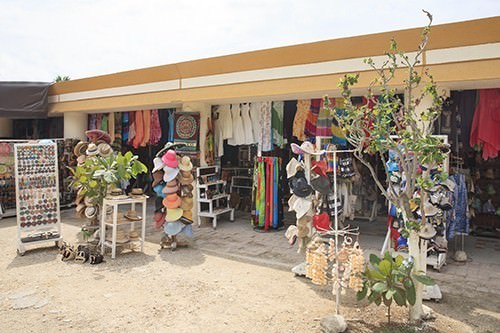 I snapped a photo of a sombrero stand and was followed and harassed for payment.  I didn't take a hat, I just took a photo!!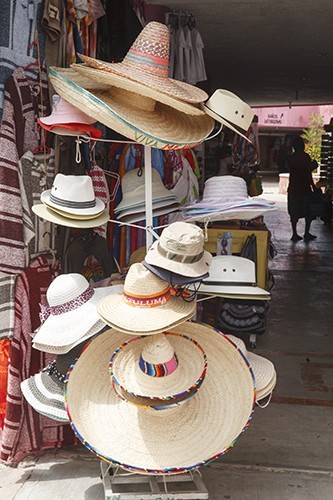 Maybe I'm a tight arse but I didn't want to pay for an image of hat stand that wasn't particularly photogenic or interesting.
While I was trying to get away from the hat retailer the children spotted some Mexican pole dancers! Or perhaps the Mexican pole dancers discovered them… I'm still not sure! Anyway before I knew it the children were dragged on stage for pictures and in order to get them back I needed to take an image and pay for the privilege.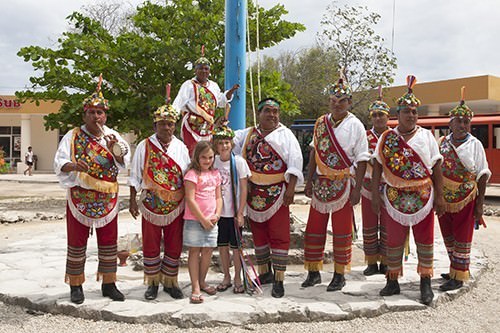 I offered them 500 peso which is about $6.50 Australian and was told that wasn't enough. The image ended up costing me about $AU13.  So please enjoy the picture. Oh and by the way, I know they probably aren't called pole dancers, but they performed on a pole and had their hand out for money so that's what I'm calling them.
After that I decided to get my moneys worth. I was going to "stealth snap" another group of hustlers. This group looked like they were dressed as native Americans then Mexicans? When they turned to walk away I quickly snapped and dropped the camera to my side and continued walking.
Instantly a blabber mouth shopkeeper started yapping in Spanish that I had taken a photo. I didn't look up or around, I kept walking and talking to hubby as if nothing happened. It was definitely time to LEAVE! This flea market was ruining my experience of the "Ruins."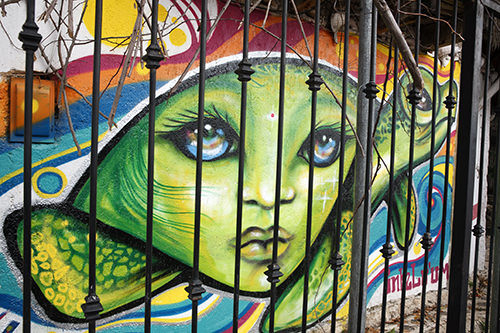 Tulum Pueblo, the town is probably about 3kms from the ruins and as soon as we arrived I was back in my happy place. The town probably exists mostly to serve tourist but it did have a great laid back Mexican feeling. As you can imagine, I was ready for laid back!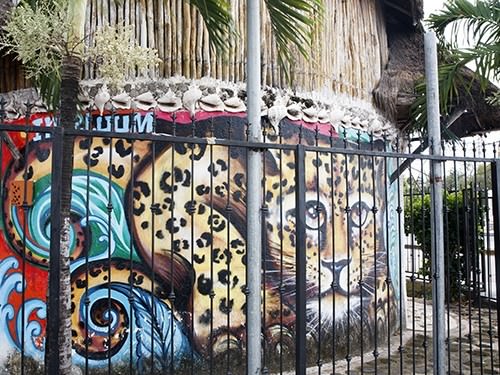 Everything about the towns main street was cute and photogenic! Each shop or wall I looked at was painted in bright colours that had an authentic, fun feel.
There were a heap of restaurants along the main street of Tulum pueblo.  It made it very difficult to choose a place to stop for a bite to eat. In the end we just parked in a busy section of the main street and looked at  menus.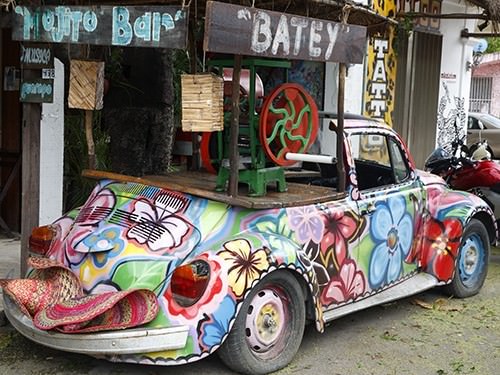 Most places were serving typical Mexican fare and were quite busy with tourists. Although there were a few weird Pizza and European Restaurants?!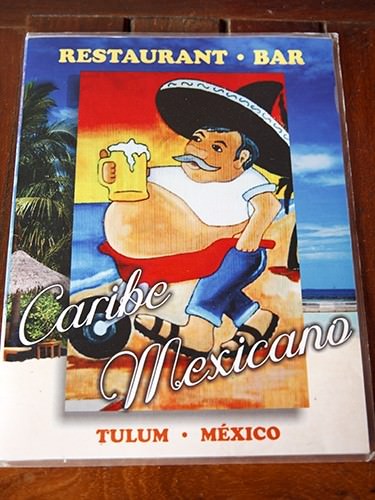 We chose the Caribe Mexicano mostly because it offered two for one cocktails, and I was kinda thirsty. Hehe, I'm always thirsty when Mojitos are offered at Mexican prices PLUS a buy one get free deal! But also I like the fat guy on the menu and the restaurant had a really nice, cheery open feel. Remember, this is Mexico & it's HOT!
So to ward off dehydration I ordered the obligatory Mojito and was presented with two drinks! Unbeknowns to me both drinks are served at once! Lol, not a problem for me! After all, as I said, it was hot. Upon seeing the two Mojitos Brett decided to be the responsible adult and chose an alcohol free beverage.
We ordered a plate of Guacamole for the kids that was demolished in second. As you can see in the picture the chips are homemade tortilla that have been fried.  They were REALLY good, so different to what is available in Australia. In case your interested in the pricing of food in Mexico, this dish was 66 peso.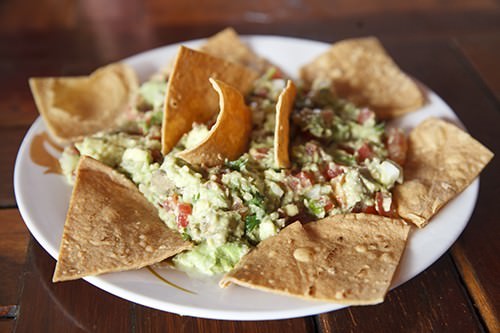 Brett ordered the chicken taco's thinking the kids might have some but apart from a "taste test" from me he was able to finish them all himself. I loved the salsa and the lime with the taco! The food just tastes to fresh and honest. This dish cost 70 peso. Unfortunately I have completely forgotten how much the cocktails cost.
I was so pleased we stopped in Tulum after the ruins. The dirt streets and brightly colour buildings gave me a whole different feeling of Mexico than we had experienced to date. I was also pleased we hadn't booked a bus tour to the ruins or we would have missed out on this Mexican memory.
So the third Tulum is Tulum Playa.  This refers to the beach area of Tulum which is about 3kms from the town centre. Tulum Playa means Tulum beach. We didn't get to the beach area on this trip, but judging from the beach at the Tulum ruins it would have been worth a look. Tulum Playa has boutique accommodation, spa hotels and cabana style accommodation.  There is also a selection of restaurants along the main Tulum Playa strip.
So how do you choose your restaurants when your in a different town or country. I have since looked at trip advisor and found mixed reviews for Caribe Mexicano. Just so you know I would be happy to recommend that restaurant any day of the week. The food was tasty and the service was SO friendly, not a bad feed for about $15 Australian dollars.
Caribe Mexicano Resturant
AV Tulum Esq Orion
Sur Tulum, Tulum, Mexico