Chateau Elan is my idea of the perfect romantic getaway. The 5 star luxury property is located in the Hunter Valley and surrounded by established vineyards.
Rather than wine tasting, I have organised a day of pampering for hubby and myself.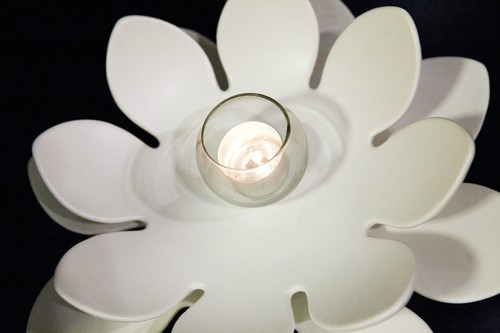 Our day started at 8.30am in The Day Spa on the grounds of Chateau Elan. We had organised a couples massage for 9.00am. The therapist advised us to arrive a little earlier so we could take advantage of winding down in the Reflection Lounge prior to our treatment.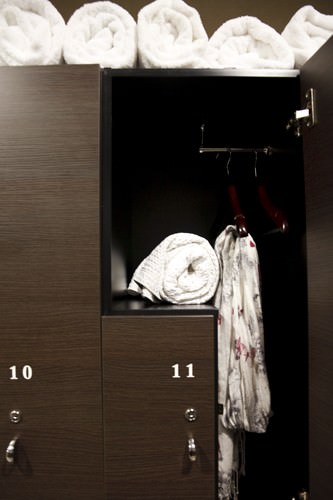 We were firstly guided to the bathrooms to change into a robe and then onto the Reflection lounge. The Reflection lounge was so serene. There were large comfortable lounges which faced out into the garden, guest could just stare out at the beautiful landscape.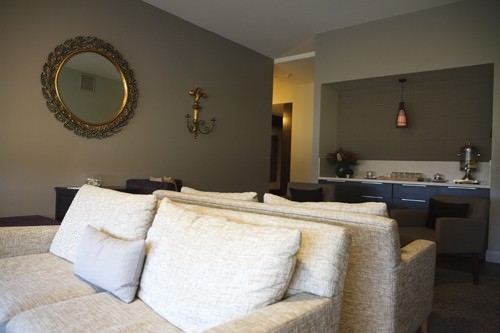 We were invited to make a herbal tea or help ourselves to a treat while we completed our pre consultation questionnaire.  I had a glass of fruit infused iced water instead which was so refreshing.
There is something about slipping on a white Day Spa robe and slippers that turns my body to jelly and my mind to mush. I would have been happy to sit and stare out the window for hours.

In a short moment we were being shown the Hydro Lounge on the way to the treatment room.  Our therapist reminded us that we were welcome to stay and enjoy the Infra Red Detox Box or the spas after our massage.
In the treatment room there were two massage tables and a spa just the right size for a couple. After a few questions it was established that hubby only wanted a soft massage whilst I was happy for a firmer style. We were given a moment to chose a table and the therapists returned.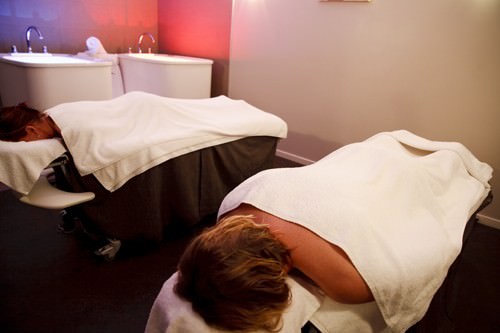 The massage that ensued was the most glorious experience.  I don't think I have met a massage I haven't LOVED, but enjoying a massage with hubby is something I have never experienced before.
The Day Spa has been designed as a multi-sensory experience, geared for total relaxation. You become totally immersed in the tranquility and the experience.
When the treatment was complete we were so relaxed we struggled to speak.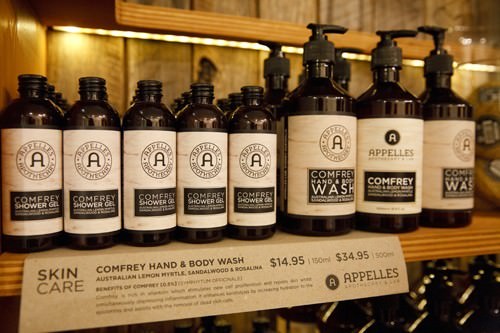 Hubby and I retreated to our separate bathrooms for a shower. Each shower contained the Appelle shampoo, conditioner and body gel.  I decided I was in no hurry to end the experience and took my time washing and conditioning my hair. When I emerge from the bathroom I felt fresh and completely rejuvenated. I had packed my make up bag so I came out of the bathroom looking like a new woman, ready for our High Tea booking.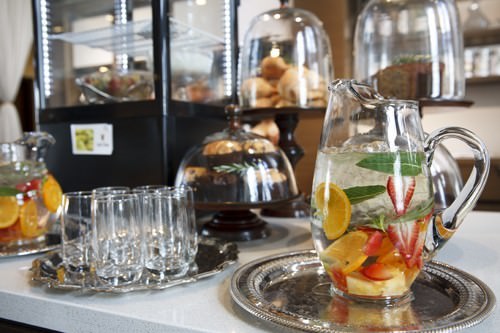 Cafe Elan is no more than ten metres from The Spa, so our High Tea, and more pampering was close at hand.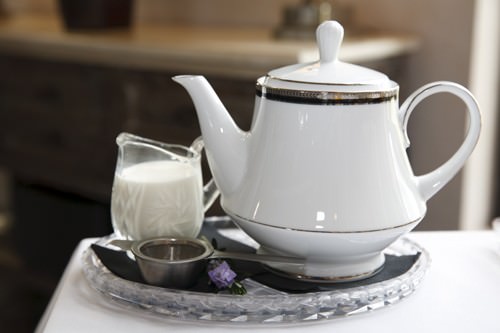 The first thing I noticed about the Cafe Elan High Tea was the amazing attention to detail. Napkins were held in silver embossed napkin holders. The linen was heavy, crisp, white linen.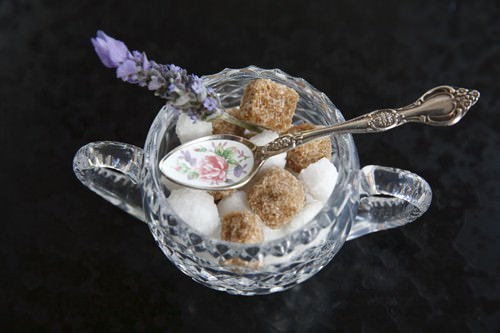 On the table fine china was from the Noritake range, and the delicate morsels were displayed on crystal serving platters with sprigs of Lavender from the garden. This decorative spoon was so beautiful I had to photograph it in the sugar bowl.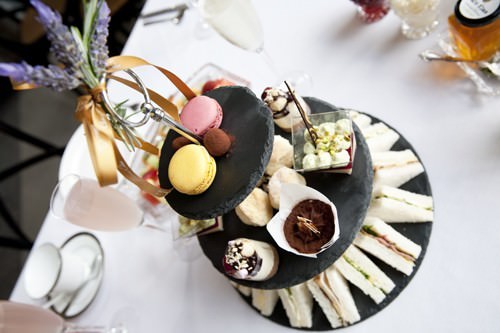 When we were seated the signature chilled water infused with seasonal fruits was poured and we were asked to select a tea each from the menu. I chose the Vienna Cinnamon while Mr GG selected the Belgian Mint herbal tea.  It was also explained that we had some upgrade options available.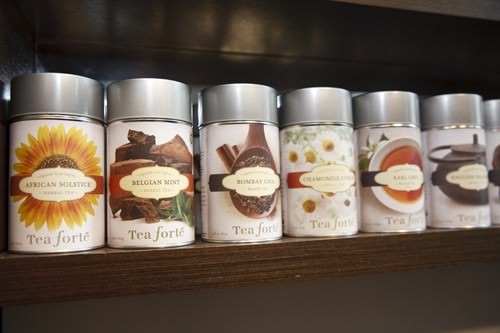 We could choose a number of drink upgrades.  The first was a choice of imported French Lemonades, the second a sparking wine from Bimbadgen and the third imported French Champagne. The day was all about decadence and pampering so I chose to upgrade to the local sparkling Semillion from Bimbadgen, whilst Brett chose to try the imported soft drink.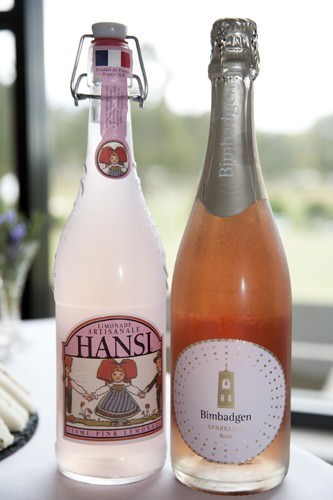 The Bimbadgen Sparkling Semillon has been one of my favourite little tipples whilst we have been staying in the Hunter Valley so I was very pleased to see it on the High Tea menu.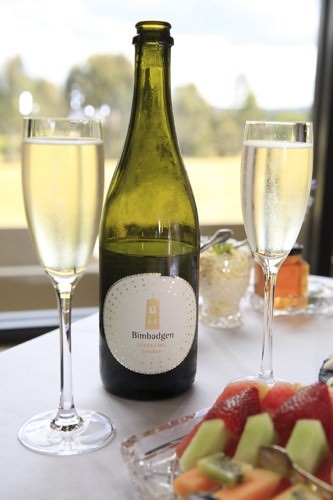 With the important decisions made it was time to enjoy our High Tea. Mr GG and I were both really impressed by the beautifully presented fruit platter.  It was explained to us that the fruit is nice to have between the savoury and sweet dishes.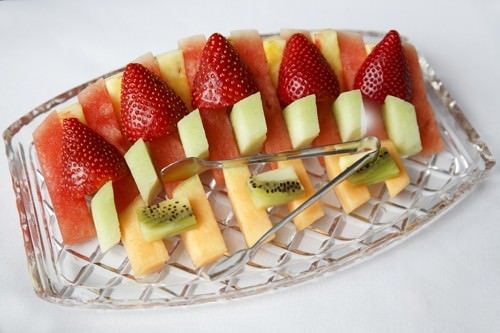 I like to start with the hot items first so the obvious starter was the mini quiche.  It was a broccoli with feta quiche, which was light and deliciously cheesy.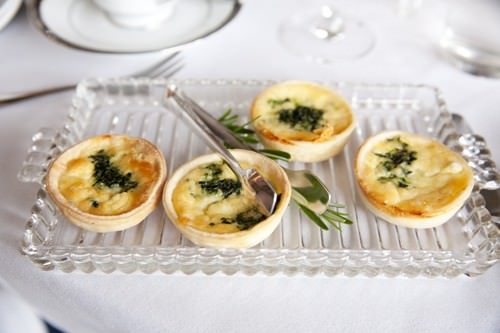 Would I seem boring if I say the sandwiches are one of my favourite things about High Tea?  I need to justify this remark.  I find that so much effort is put into the High Tea sandwich that they are a flavour explosion in comparison to regular sandwiches.
The sandwiches above are a rare roast sandwich beef with a mustard pickles. Then a chicken breast sandwich with Brie and a sweet caramelised onion jam!  Yes that was my faourite! Next was the egg, dill, aioli and rocket which was almost as good as the previous sandwich. The filling was so creamy and garlicky.  The final sandwich was the all important smoked salmon with cream cheese, simply lush! All were served on fresh, soft white bread.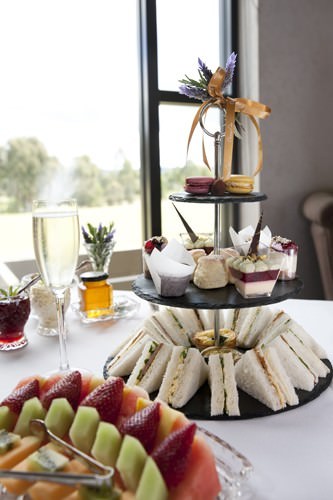 Sandwiches can sometimes be the least loved items on the High Tea platter but these little triangles held great flavour combinations and used a selection of condiments to lift them to another level.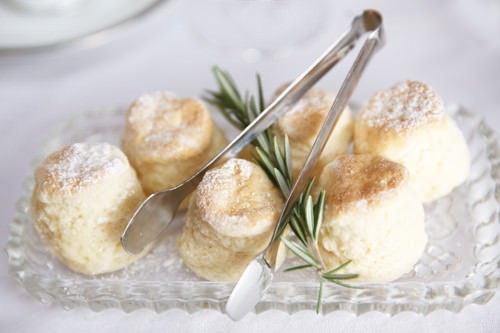 These dainty little scones were the next item to pique my attention. They were just bite sized which is nice for a High Tea Platter. Inside the scones had the most perfect texture and flavour! So light and buttery. They were served with  strawberry jam and a lovely chantilly cream. When I tried the cream I wondered if I would ever go back to scones with regular boring cream.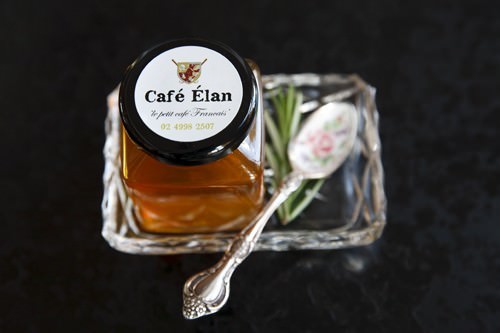 I am absolutely in love with cheesecake. It has to be my favourite type of dessert so I was pleased to see this Rocky Road Cheesecake.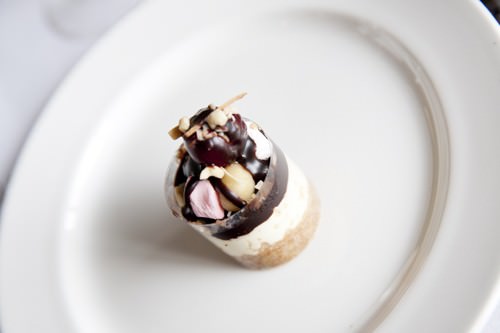 It was a taste revelation! Buttery biscuit base, with the lightest whipped cheesecake filling in the middle. The topping was a rich dark chocolate ganache dotted with the traditional rocky road inclusions such as mini marshmallows, macadamia nuts, glacé cherry and a dusting of peanuts.
Oh I had a taste for dessert now!
Next I tried the cup which held a layered parfait of custard with a fresh fruit raspberry jelly piped pistachio and marzipan and a sprinkling of pistachio. To finish a gilded chocolate triangle made a delicious scoop for the dessert.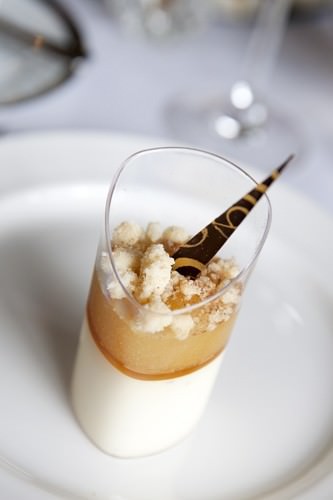 Then there was also this lovely light pannacotta with jellied fruit compote layer and crunchy biscuity crumb.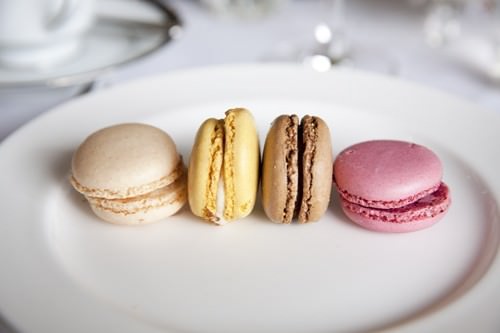 Perched on top of the tiered platter was the piece de resistance! Macarons and hand rolled chocolate truffles. Like the scones I love the size of the macarons. The were so petite and pretty, taking pride of place with the truffles.
The truffles were so soft and delicate, they literally melted in my mouth. So rich, and dark chocolate flavoured, just exquisite.
Pink macarons are a must have at a High Tea and these were just lovely with a fruity raspberry jelly in the middle and a crisp macaron outer shell.  The yellow macaron was a sweet lemon flavour and had a nutty centre. Both were delicious of course.
The high tea was the perfect size for two people, albeit quite generous. Mr GG and I thoroughly enjoyed a lazy two hours chatting, sipping on sparkling wine, drinking tea and sampling all the delicious treats. High Tea reservations should be booked 48 hours in advance and the cafe can cater for Gluten Free and other dietry restrictions with notice.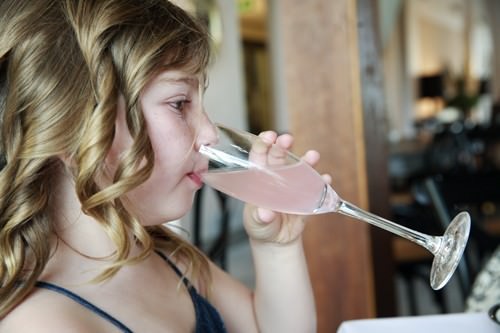 I loved the idea of the imported pink lemonade served in the champagne glasses so much I knew I would have to bring my daughter to Chateau Elan for a High Tea experience. It was less than a month after my initial High Tea that I had another reservation for a girls only High tea.  Anais loves anything girly or French, and there is nothing more girly and French than High Tea with Pink French Lemonade.
Oh and if your wondering what pink lemonade taste like? It's still lemon flavoured, but not as syrupy as our lemonade. Anais was thrilled.
Cafe Elan & Day Spa
Chateau Elan – Vintage Estate Vintage Drive, Rothbury NSW 2320
Website
Phone: 02 4998 2500   Gourmet Getaways would like to thank Chateau Elan Hunter Valley for their generosity in hosting this stay. As always the opinions contained in this review are written without bias and in accordance with my disclosure policy.