Cafe Aqua has a new menu, new owners and a totally new vibe!
When I say "new" the boys have had the cafe for over a year now but it is new for me, and I am one happy camper.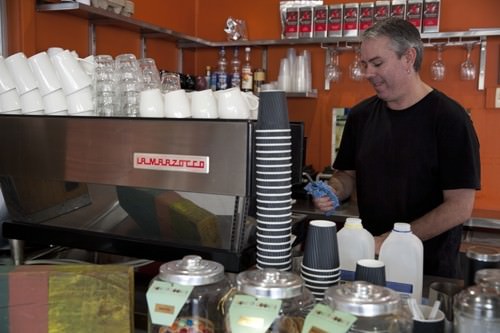 Mr GG and I decided to sneak away from work for a relaxing lunch and chose Cafe Aqua as the venue. We were in for a very pleasant surprise. The first clue that things may have changed was the decor, the cafe has been given a much deserved revamp. I love the rustic, beach chic look, it works well in this old cottage located across from Park Beach, a popular spot with board riders.
Even though I don't usually have coffee after breakfast I really felt like I could use a lift, I had also noticed they serve Paul Bassett coffee so I ordered my usual skinny cappuccino in a mug.
I was so pleased I had! It was a lovely strong coffee, with just the right amount of creamy milk to caffeine boost, not at all bitter and exactly what I need to get my energy levels up again.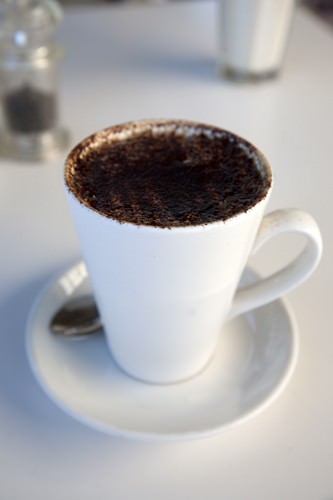 At the risk of sounding like a very boring and predictable couple Brett ordered his usual banana smoothie. If you are a regularly reader you will know that he has an obsession with Banana Smoothies. He is my resident expert on the subject, in his own words it was "wow!!!" …and gone in just a few quick gulps.  I wasn't even offered a sip!  I had to slurp noisily with the straw to get the bottom dregs just so I could confirm to readers that it was indeed, real banana, sweet, creamy and thick.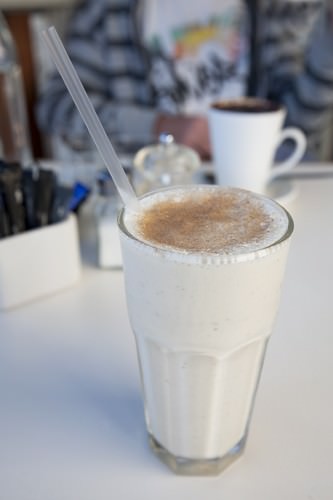 Reading through the menu gave the next hint that things had changed.  Both hubby and I were having a hard time narrowing down our choices.  There were so many delicious items on the menu and specials board that it seemed an impossible task to just choose one.
Eventually husband settled on the Hippy burger with fat crispy fried chips, seasoned with a gourmet salt and pepper blend. The hippy burger was a mix of grated and smashed vegetabes with ginger, garlic and other Asian flavours combined to form a soft burger patty.  The patty was then grilled and served with salad on a toasted Turkish bread with a tasty roast capsicum salsa. The piece de resistance was the creamy lime and cumin aoli which was deliciously tangy and garlicky and served on the side.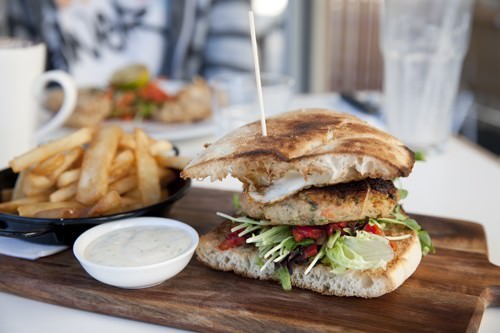 I chose an item from the specials board, the Salt and Pepper Squid with Asian Style Salad and Caramelised Lime. Just take a look at the crispy, salty, deepfried goodness on my plate. The squid is surrounded by a super sweet and sticky Beetroot Jus with goes perfectly with the tangy Asian styles salad of carrot, sprouts and coriander.
Such an explosion of flavours!
Delicious!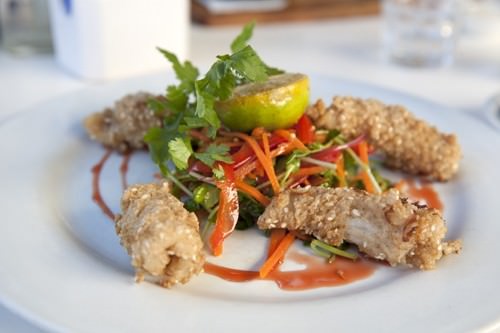 With lunch complete I didn't feel that I was quite finished.  I knew there was a tiny little bit of tummy space left, and some homemade cakes inside the cafe. I decided to go for a wander and see if something took my fancy. Behold the giant wedge of carrot cake!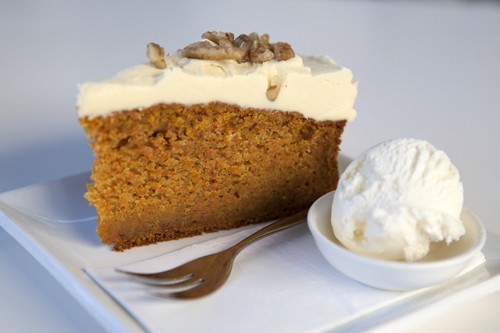 I couldn't resist a big wedge of homemade carrot cake with thick lush cream cheese icing over a soft, moist cake. I loved the hint of cinnamon and the crunchy walnuts. This is when I learned that Anthony and Marcus took over the cafe over twelve months ago and Anthony bakes a lot of the cakes for the cafe. It is always a treat to find house made sweet treats on the menu, personally I am not tempted by commercially prepared desserts.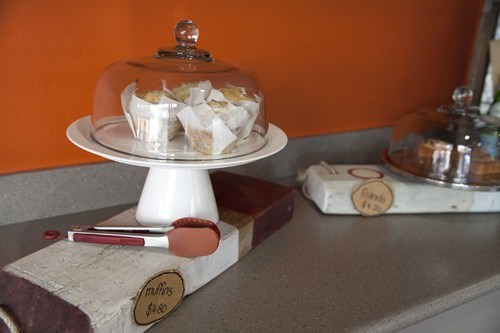 While I was chatting to the guys I was also told that the art on the walls came from photographic images captured in Bangladesh. The picture below was taken of the side of a bus.  If you look carefully you can see chipped paint and dirty splatter.  More of this style of image is displayed around the cafe.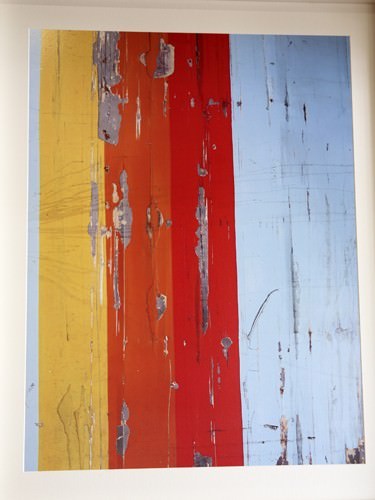 The new proprietors have brought more than a breath of fresh air to Cafe Aqua. The atmosphere is relaxed, friendly and welcoming and the food is delicious .
I will be back for more!
Cafe Aqua
57 Ocean Pde, Coffs Harbour
www.cafeaqua.com.au