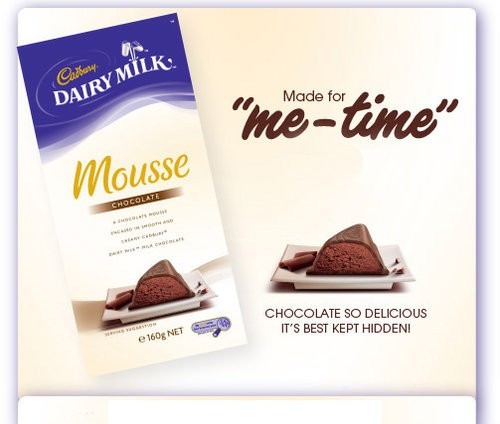 I trust that my chocolate loving readers have noticed that Cadbury's have released a range of Mousse Dairy Milk chocolate in three delicious flavours. Wouldn't you agree that there is something so "right" about curling up on the lounge, in front of television in winter, with a family sized block of Cadbury's chocolate all to yourself?
Which is why I also love the new advertising campaign, "Chocolate so delicious it's best kept hidden." I had recently noticed that if my chocolate isn't hidden there is never any left for me!
In my house treats such as chocolate have a way of simply disappearing, never to be seen again? I've had to be very ingenious when it comes to hiding chocolate. Hubby is 6"6' so a hiding spot high up is out of the question. The teenagers know exactly where things are kept in the pantry and everything is in open view. The little ones can now open the fridge, and the middle of the fridge is at eye level. It seemed I was doomed to never have more than a square of chocolate.
Then one day, whilst cleaning out the very bottom of the fridge, (where the vegetables go to die) I noticed an unopened block of chocolate had slipped into the nether regions of the crisper, (what an ironic name). I had stumbled upon the ultimate secret hiding spot! I now ensure that a bag of slimy lettuce stays in the bottom of the fridge to act as a deterrent, and as yet my stash of chocolate has never been discovered.
Now please don't get me wrong, I am not a horrible mother and wife, I wouldn't mind sharing my chocolate.  The problem is, sharing is not on the minds of the rest of the family, their goal is to consume, and then search for more.
My task now is to find a way of getting some of that "me time" so that I can enjoy my Cadbury Mousse Chocolate.
So I think it is time to have a bit of fun! If my lovely Gourmet Giveaway readers would like to share their secret hiding space with me I have ten blocks of Cadbury Mousse Chocolate to give away courtesy of the team from Liquid Ideas and Cadbury Dairy Milk Chocolate.

To be eligible please ensure you have liked Gourmet Getaways and Cadburys on Facebook.
Please share your hiding spot in the comments below and on the Facebook page. I am looking for the most imaginative response. After all, if hubby reads my story I will be looking for another spot to stash the goods.
The competition closes on Friday 10th June so you have 1 week to enter. Pictures of your hiding spot can be sent to [email protected]