Nestled in the dunes with a breathtaking view of Clarkes Beach is the Byron Beach Cafe. From the cafe's vantage point overlooking this popular surf break, diners can sit on the long verandah and watch the early morning surfers compete for a wave over breakfast.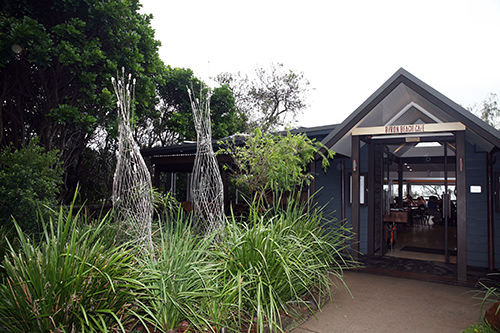 Equally as lovely is the sunset view we experienced. Relax with a glass of wine and enjoy the evening sunset with a delicious meal, what could be more romantic?
The Byron Beach Cafe has a motto, "Cafe Simplicity Restaurant Style." This statement captures the atmosphere and the quality of the food perfectly.  The location is beachy, the view expansive and the feeling is completely relaxed, but the menu is AMAZING! The dishes are beautifully presented and the menu is superb.
Sinking into the relaxed vibe I was guided in the direction of the coconut martini.  The menu described the drink as including chilli, caramel and coconut vodka. It sound delicious and deadly at the same time, but I was ready for a drink with a bit of flavour and a nice kick! I wasn't disappointed, the cocktail had so much sweet coconut flavour! I was in love from the first mouthful with the fresh coconut flavours, the buttery mouth feel and the warming hit of chilli which followed each mouthful! WOW! The cocktail was topped with a sprinkle of toasty coconut that finished the drink perfectly.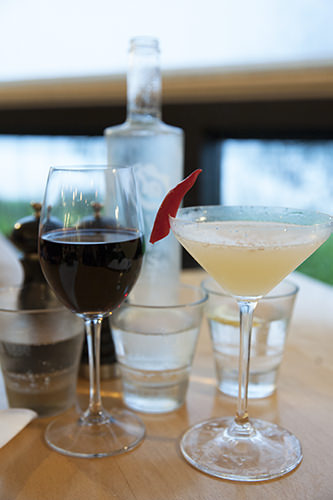 Hubby chose a glass of Tyrell's Hunter Valley Shiraz 2013. We do love our Hunter Valley wines and this was no exception. Byron Beach Cafe has an extensive wine list which features a great choice of Australian wines from our various wine regions.  There are also bio certified and organic wines, and vineyards which include sustainable winemaking techniques featured on the menu.  I also noticed some amazing imported wines including a selection of French Champagnes.
Another very interesting beverage on the menu was the 
Byron Beach Cafe Sparkling Water
.  The cafe filters, bottles and carbonates their own "Vestal" brand of sparkling water.  It was a huge step for the cafe to cancel their order of imported mineral water and switch to their own brand, but it was with good reason, and a kind heart. Vestal is offered to diners as a bottomless bottle and proceeds are donated to the Water World Fund. The fund uses donations to address the issue of safe drinking water to area's throughout the world in critical need of clean, uncontaminated water.
Perusing the menu I simply couldn't go past the seared scallop entree. Delicate, sweet and perfectly cooked seared scallops were presented on a bed of creamy smashed avocado.  It was the perfect bed for crispy  fried wonton and fresh crunchy salad greens. The coriander and chilli oil, with slices of fiery chilli livened the dish and lifted the flavor profile to another level.
 Regularly readers may have picked up that my dining companion is a cured meat fanatic. Hubby was all over the Saluki Beef Bresaola with rocket leaf, hot and sour dressing and roasted rice. To anyone else it may have been embarrassing to heat the moans of "aww you have to try this…"
Paper thin slices of cured soft tender, flavorsome, cured beef were fanned out in a delicate meaty circle.  The peppery rocket cut through the deliciously fatty melty meat. This was a definitely winner for Mr GG.
My daughter loves to try child's versions of adult meals.  She was very excited to see house made gnocchi on the kids menu. Anais had no idea what gnocchi was exactly, but she was ready to try it. Realistically I don't think my daughter has ever met a carb she hasn't loved instantly.  I am always heartened to see a kids menu which includes a few more interesting choices for kids that are not chained to nugget and chips.  The dish that was presented to Anais would be welcomed by any adult. The gnocchi was served with a fresh tomato based sauce and topped with pecorino cheese. The gnocchi was so delicate and soft, perfect covered in the homely tomato sauce. I know she will long for this dish.
Locky is not quite as much of a foodie as Anais. He was very curious about the "sustainable fish and chips". Perhaps it was the chips that caught his eye?? It doesn't matter what the hook was, that enticed him to order the meal.  My "non eater" devoured the plate. The meal is a great example of how to give children fish and chips, but make it healthy, tasty, local and sustainable.
With the children happily devouring their meal our waiter Francesco suggested that I should try a cocktail by his design.  He called the cocktail "Walking in the Bush." He explained the drink contained Gin, Rosemary, Pear Purée and Sugar Syrup.  The cocktail really did have the flavours of the bush. It was a refreshing drink which was a huge departure from your typical sweet cocktails.  Rosemary has a similar flavour profile to eucalyptus so the name was surprisingly apt.
I think a romantic meal must include oyster, and perhaps the only thing better than an oyster platter, is oysters three ways. The trio of oysters included two oysters presented in three different styles. Resting on a bed of pink salt was the amazing light and crispy, tempura battered oyster. OMG! Served with a wasabi aioli that had just the right amount of heat these oyster were TOO good!.
Even the natural oysters had received the Byron Beach Cafe attention. Served in their shell, the oysters were topped with the thinnest dicing of red onion salsa and black pepper. The oysters were perfectly plump and sweet. We then moved onto the Spicy Bloody Mary Oyster Shooters.  There is something very special about combining the perfect bloody Mary and a fresh, fat oyster.  The shot had a kick of chilli, and was spicy and warm. The fresh tomato flavor with a delicate oyster, finished with a crunch of thinly sliced celery was magic.
Between the entree and main we received a chilled, crushed green Kiwi fruit tea, which was so fresh and palate cleansing.  The drink was lovely and lemony with a hint of mint. A type of liquid amuse bouche.
Although it was a hot evening hubby chose the Sour Orange Coconut Milk Curry.  His selection is always quite different to mine, and I must admit I gave him a strange look. I do love a nice Thai curry, but with so many delicious choices on the menu it had not been on my radar.
That was my mistake! The curry was like no other! So much delicious seafood in one amazing dish. I confiscated the bowl and started identifying. There were prawns, locally caught fish (as described on the menu), scallops, mussels, calamari, pippi and so much more. The sweet and sour aroma of Brett's broth was torturing me. I knew he would let me have a mouthful, but I didn't know if I would be prepared to return the bowl.
The flavour was even better than I imagined. Hot, sour, spicy and sweet, with just the slightest hint of mellow sour citrus. A  perfectly balanced broth that reminded me of learning to cook in Thailand or Bali. I told Brett I would happily drink down the broth alone, but I knew he wouldn't let me whilst ever he had the ciabatta.  I reluctantly returned his meal and savoured the aftertaste of the lemon grass and kaffir lime.
Although it may sound like I have order envy it is not quite true. Placed before me was a generous serve of pork belly with the most luscious layers of flesh and fat I had ever seen.  This was local Bangalow pork and it was cooked to perfection.  The pork had been slow cooked so it was rich, moist and salty and just melted in my mouth.  The dish featured cauliflower and parsnip purée which was impossibly smooth and creamy.  The freshness of parsnip complimented the pork beautifully. Dripping over the side of the pork was a spiced plum and mandarin sauce.  The tart flavours of the sauce cut through the pork and added another flavour profile.  Perched pride of place was a sweet king prawn and crispy pancetta wafer. I did managed to spare a forkful to share with my husband… just one!
I loved the fact the dessert menu included a selection of Botrytis Semillon, Limoncello, Pedro Ximenez, Port and Grandfather Port. It's this attention to detail in the finer aspects of the menu which raises the bar for this award wining restaurant.
Speaking of awards, it would be time consuming to list all the accolades that have been bestowed on the Byron Beach Cafe, but take a look at the collection for last year.
2014 nsw tourism awards – best tourism restaurant and catering service (winner)
2014 north coast tourism awards – best tourism restaurant and catering service (winner)
2014 australian small business champion awards – best cafe (national winner)
2014 nsw business chamber awards regional winner – excellence in small business (winner)
We could only manage two desserts so making our choice was difficult. I secretly wanted to try the Rocky Road Tart but I knew my full belly wouldn't allow me to do the dessert justice and the children wanted ice-cream! Naturally the ice-cream is made in house. The three flavours were a fresh creamy strawberry ice-cream, a tart passionfruit and my favourite the vanilla bean. The ice-cream was served with a green jelly glass.
Our second dessert was the Coconut Musk Tapioca with Strawberry ice-cream and sherbet. The tapioca was creamy and sweet. There were fights at the table over the sherbet!  We made short work of both desserts.
It was the perfect sweet finish to a wonderful meal.
A month after we published this review, Byron Beach Cafe has once again earned itself some highly coveted national awards that warrant an update in this post.
On April 10th of this year, Byron Beach Cafe received accolades as Best Restaurant and Catering Service in Australia at the QANTAS Australian Tourism Awards in Adelaide. This was the highest accolade awarded in the industry and the first time a restaurant from Northern NSW has won.
The QANTAS Australian Tourism Awards are the industry's peak awards recognising and promoting business excellence. There is no direct entry into the Australian Tourism Awards and only state winners can become finalists. The Byron Beach Cafe was only one of three NSW businesses to win gold out of 29 categories and the only Byron Bay business.
Need we say more? 🙂
Byron Beach Cafe
Clarkes Beach Lawson Street Byron Bay NSW 2481 Ph: (02) 6685 8400
Website
  Gourmet Getaways would like to thank Byron Beach Cafe for their hospitality.  This review has been written in accordance with our disclosure policy.  The opinions stated in the article are a true and honest reflection of my experience.