I can't get enough of American style barbecue. A few years ago I judged a Barbecue contest in Port Macquarie and since that event I have been absolutely infatuated with the flavours. My love of smoked, slow cooked barbecue meats is so intense that I even brought hubby a Pro Q for Father's Day last year.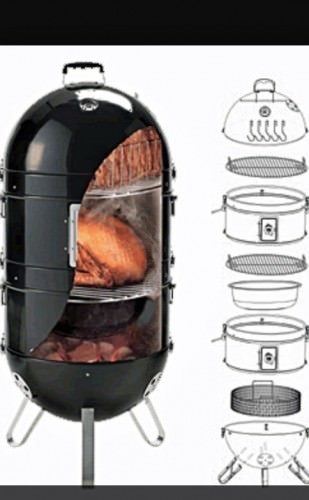 Somehow, despite all our enthusiasm, we just haven't been able to master the beast. The meat always has a beautifully smokey, with a lovely charcoal flavour, but maintaining the temperature has been really hit and miss. I knew we would need professional help.
.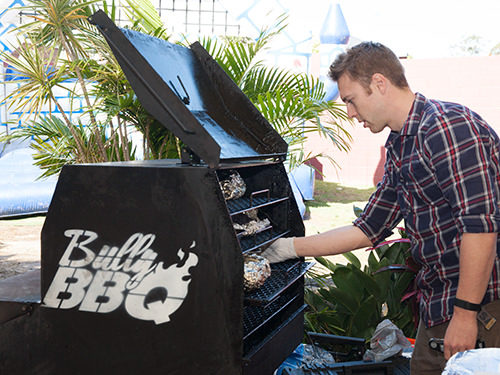 Happily I noticed Bully BBQ were running an American Style Barbecue class in Coffs Harbour. The course was perfectly timed to co-incide with Brett's birthday. What a great gift idea, a place in the BBQ class. My birthday gift to him was, that he could learn to cook BBQ meats for me! Win!!
The class was run by Ricky of Bully BBQ and his American wife Becky. Ricky was introduced to American Style Barbecue by his wife and was hooked. He wanted to know all there was to know about barbecue so 4 years ago he travelled to America and trained under some of the US BBQ champions.
The class was fabulous! I'm not just saying that because we started the day by eating smokey spiced BBQ sausages.  Our first lesson was about flavour. We were introduced to the various techniques of getting more flavour into barbecue meat.
It was explained that flavour comes from fat dripping on the charcoal and smoking. You can add more flavour with spice rubs or you can inject the meat with additional favours. Lastly adding wood chips gives the meat a distinctive smoky flavour, the delicious "bark" and the glorious pink smoke ring.
Ricky walked us through the various cuts of meat that are suitable for an American Style Barbecue. This style of low and slow cooking needs specific cuts of meat to achieve the desired finished product. Happily it's the cheaper cuts of meat with more connective tissue that performs best in the barbecue. During the slow cooking the connective tissue in the muscle starts to break down and melt down and become deliciously soft, moist and gelatinous.
We were shown how to prepare a Boston Butt. Ricky went through the rubbing and injecting technique with everyone.  Once the preparation of the meat was complete we were given the opportunity to sample some pulled pork which had finished it's cooking time in the barbecue.
The pork shredded so easily! It was just falling apart in Ricky's hands. Becky added a bit of sauce and some apple cider vinegar and the class participants charged the serving table. The aroma had been too much! I don't think anyone knocked back seconds and within a few minutes two full slabs of meat were no more.
The next piece of meat to be prepared was the beef brisket. I love this cut of meat in an American Style Barbecue. It has so much flavour and the texture is simply amazing.
Becky passed out some sweet barbecued corn as Ricky explained the various fuel options available in barbecuing. Brett and I had a lot of questions about fuel and temperature maintenance.  Ricky was fabulous and had  all the answers. After this section of the class we were both quietly confident in our new knowledge.
Although we had been well fed, I think everyone had their eye on the brisket in the barbecue. Little did we know there was another surprise. Becky pulled a giant tray of "Bad Ass Beans" off one of the BBQ shelfs. Yes, Bad Ass Beans is the actual name of the recipe!
We were served the beans first and I heard some funny comments from the men in the group. Most said they don't even eat beans but would almost consider becoming a vegetarian after try these!
It's fair to say that all thoughts about vegetarianism disappeared as soon as the beef brisket was out! Instantly there was a group of hungry meat eaters to feed.  The group was silent as everyone enjoyed the beef brisket finale.
Bully BBQ holds classes 3 weekends per month. The next class will be in Brisbane, 20th August 2016 followed by Sydney, 27th August 2016.
All the rubs, marinade and charcoal can be purchased online from BullyBBQ.
If you're looking for a Father's Day idea for a special man I would absolutely recommend the Bully BBQ Class. Or, if you're like me and just like eating delicious American Style Barbecue meat book in and sit up the front so you have first dibs on everything that comes out of cooker!
For more information on classes or supplies contact Ricky or Becky from Bully BBQ.
Bully BBQ – American Style Barbecue