Bruny Island is located off the south-eastern coast of Tasmania.  The island is renowned for being a foodies paradise to we have decided to take a Bruny Island tasting tour. Getting to the island is quick and easy. It's a short 15 minute car ferry trip from Kettering, just outside Hobart, to the island. Bruny is actually two land masses, North Bruny and South Bruny.  The two are joined by a narrow sandy spit.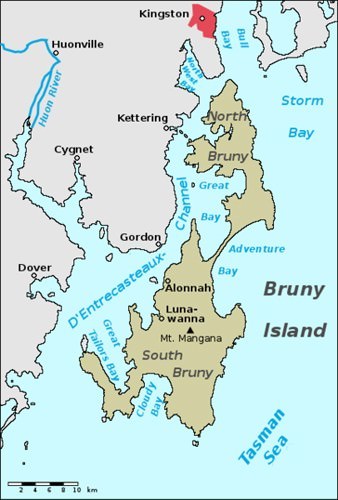 Bruny Island's traditional Aboriginal name was Alonnah Lunawanna, this name has become the  name of two villages on the island, Alonnah and Lunawanna.
From the moment we arrived on Bruny Island the water had us mesmerized. It was a beautiful turquoise colour, with gentle waves lapping onto impossibly white sand beaches.
The temperature on the island was a balmy 28 degrees so hubby was immediately tempted to take a swim in the inviting waters. I promised him that as soon as we checked in to Adventure Bay Retreat he could swim, but along the way we had some tasting to do.
Bruny Island Smokehouse
Bruny Island is just beautiful, completely unspoiled and natural.  There are just a few sealed roads and no real way we could get lost on our planned Bruny Island Tasting Tour.
Straight off the ferry and three kilometres down the road we had arrived at our first tasting stop.  The Bruny Island Smokehouse and Wine Bar specialises in house smoked local meats and delicious award winning condiments.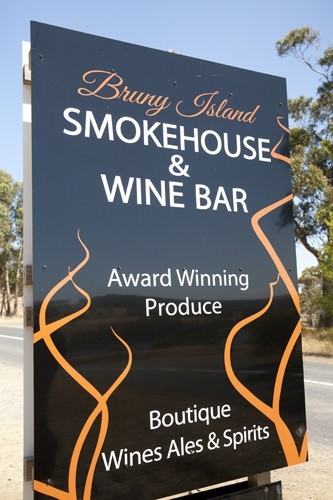 If it wasn't so early in the morning I might have been tempted to sit on the veranda with a glass of Tasmanian Pinot and watch the day go by enjoying a platter of cheese, smoked meats and relish.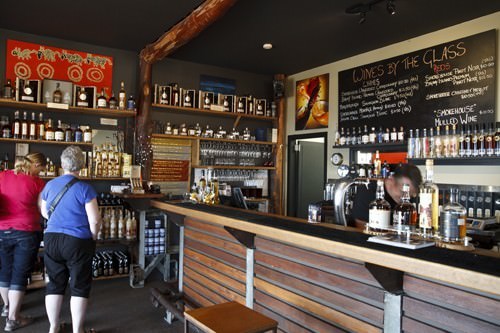 The smokehouse is fully licensed and the house smoked meats feature on the dining menu.  Dishes such as Pomegranate Smoked Quail, Leatherwood Duck and D'Entrecasteaux Channel Salmon were all sounding rather enticing but we were interested in a few takeaway items only.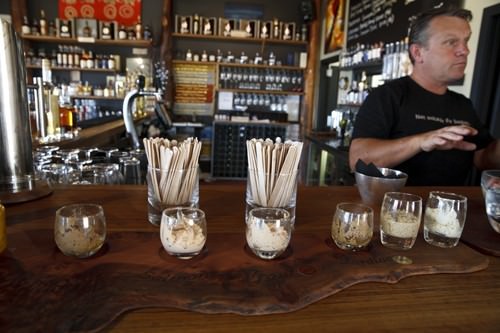 At the end of the bar a series of glasses with a choice of various smoked meats were available for tasting.  We were encourage to sample each.  The knowledgeable staff then gave a full explanation of the preparation and smoking process, further adding to our enjoyment of the products.
We tasted items such as smoked, salmon, trout, quail, duck, wallaby, chicken, mussels, and sardines.  The wallaby and salmon were my favourites but Mr GG was quite partial to the sardines and white anchovy.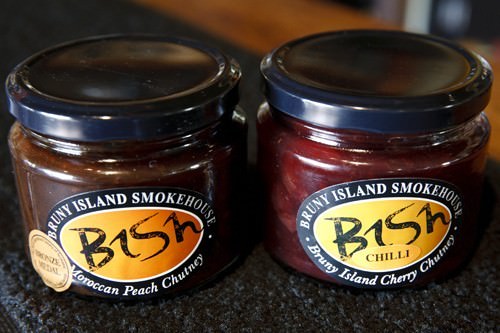 Also available for tasting were a range of award winning condiments.  After sampling a few I knew I would be stocking up.  They were delicious! Thankfully we traveled to Tasmanian via Spirit of Tasmania so we don't have to get our purchases on a plane!  The boot of the car is almost full of wine, chocolate, condiments and sauces.
Bruny Island SmokeHouse 360 Lennon Rd, North Bruny TAS 7150 Ph: (03) 6260 6344
Bruny Island Cheese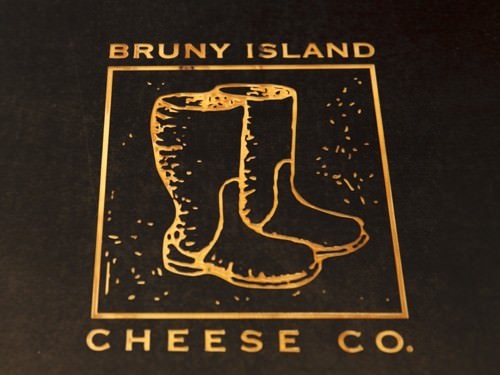 Bruny Island Cheese Company is an artisan cheese produce on South Bruny Island.  All cheeses a produced and matured using traditional techniques and local milk.
The Cheese Company produces cheese from cows milk, goats milk and a special, raw milk cheese.  The three main styles of cheese made at Bruny Island Cheese are the Tom, washed rind cheeses and the C2 Raw milk cheese.  I had the opportunity to walk through the factory as the cheese was being turned.  Turning the cheese allows the whey to drain and the cheese to compress.
Oh how I love cheese!!
I couldn't help taking a quick snap of the "Cheese Makes Me Happy Shirts".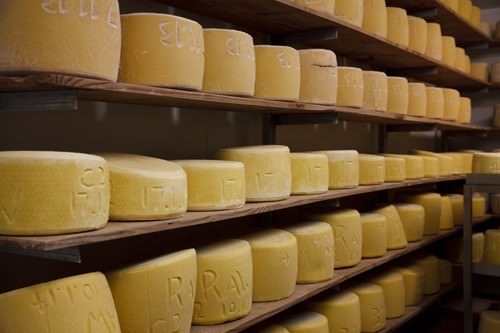 Next we went through to where the cheese is left to mature. The aroma was amazing! There is something just beautiful about seeing all that lovely cheese lined up on the shelves.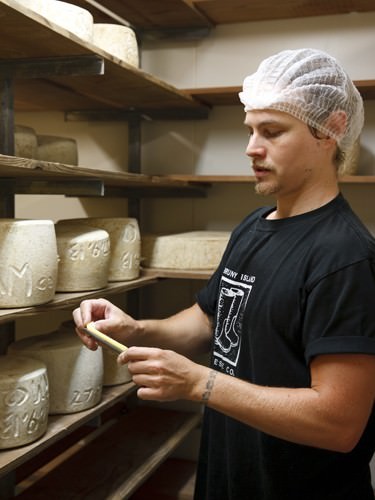 Walking through the various maturation rooms I was given samples of the cheeses at various stages to try.  It's fascinating how the flavour profile develops in each of the cheeses as it ages.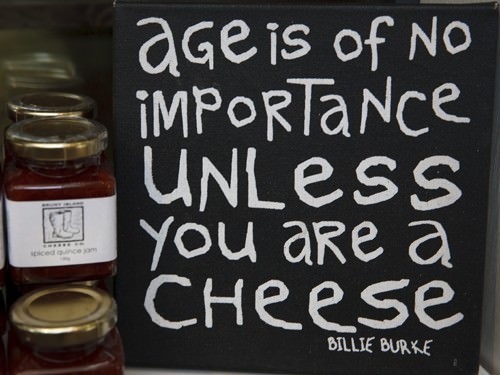 Back in the shopfront there were a selection of cheese on tasting.  Some of my favourites were as follows;
Otto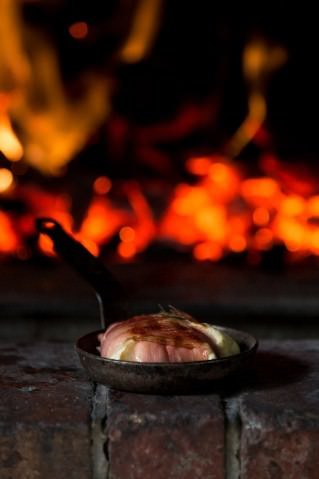 This is a cows milk cheese which is wrapped in prosciutto. This cheese is best baked for 15 minutes and served with some rustic bread, a simple salad and a glass of local wine.
Raw C2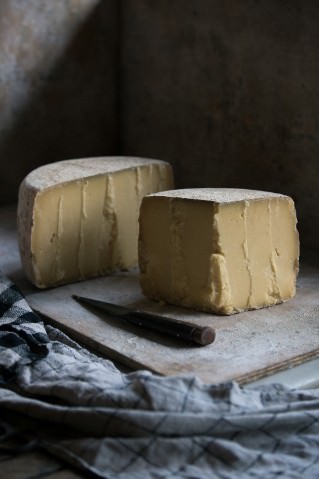 The C2 is a raw cows milk cheese which has been cooked and matured to form a hard cheese.  This style of cheese can be found in the French Alps and northern Italy. It's a classic cooked curd cheese made in traditional wooden hoops. C2 matures for 6 – 12 months allowing sweet aroma and a mildly nutty flavour to develop. 
1792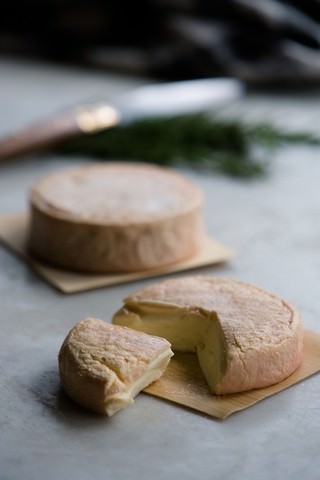 The 1792 is a soft cows milk cheese with a washed rind and matured on huon pine boards.
It was also the year the French first set foot on Tasmanian soil.  This is a French style, pungent cheese and probably my favourite in the range.  The pinky-orange rind is the result of being regularly hand-washed in brine. The washing encourages specific surface bacteria which give the cheese its complex flavour and aroma.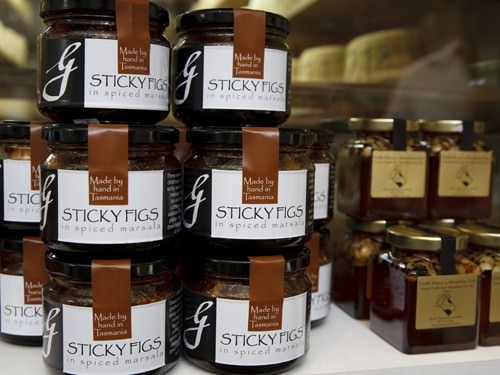 After tasting the various varieties of cheese I was interested to hear the Bruny Island Cheese Company has a cheese club. Eight times per year a selection of cheeses totally between 1 -1.5kgs are bundled up in a special offer to members.  The Bruny Island Cheese Company currently has more than 10,000 club members who receive these surprise deliveries.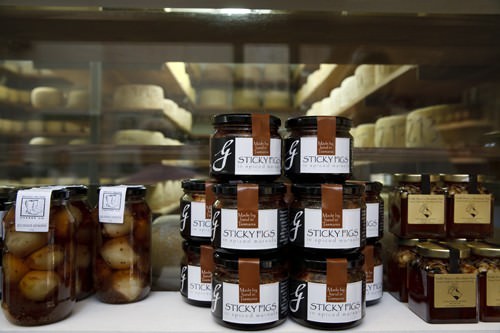 As hubby and I were leaving we noticed the enticing aroma of bread baking. Upon investigations we discovered an outdoor wood-fired oven which was had cooked a batch of woodfired sour dough to perfection.  We were told that member of the cheese club often received this sour dough in their cheese packages!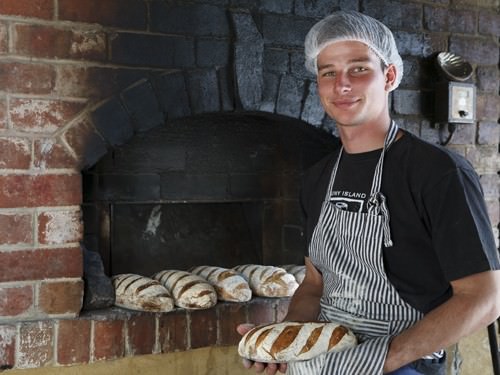 The homebaked bread, cheeses and various other local delicacies are also served in the tranquil bush cafe. A relaxing environment to just chill and eat delicious, real, local food.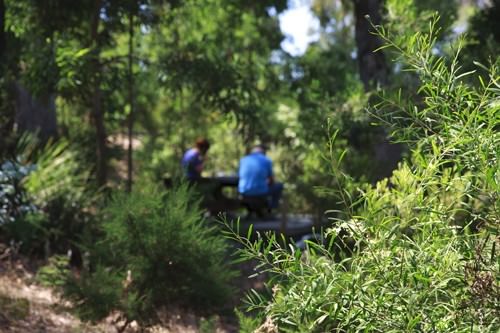 Bruny Island Cheese Co 1807 Bruny Island Main Rd Great Bay TAS 715o Ph: (03) 6260 6353
Bruny Island Berry Farm
Set on lush, green Tasmanian acres with a view out over the aqua blue bay and silky white sand is the Bruny Island Berry Farm.  I hope I have been able to draw a image in your mind of this picturesque location.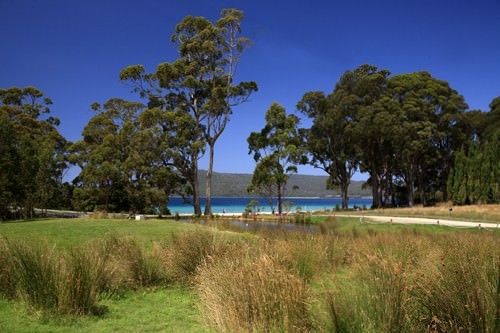 We have wandered into the berry farm to sample some of the different berries grown on the property.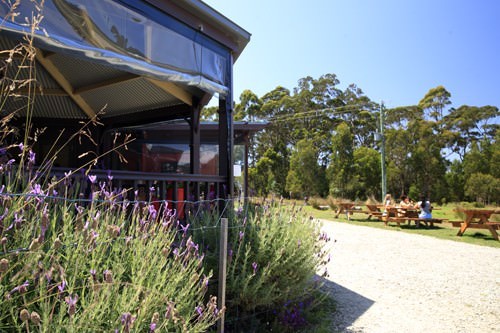 We did get kind of side tracked in the berry cafe.  Here the lush, juicy berries grown just 20 metres away are transformed into delicious cafe style treats.  We were shown an assortment of wonderful desserts. Although I know berries are so much better for me a la natural both Mr GG and I could help sample some of the desserts on the menu.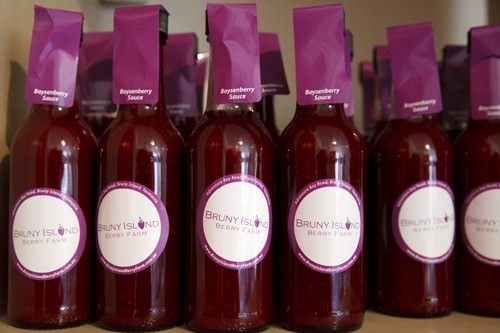 Before taking our seat at the table we tasted a few of the Tasmanian Ice-creams produced by Valhalla. I love native bush food so I had to try the Pepper Berry Ice-cream, made from the native pepper berry, the ice-cream had a distinctly Australian flavour. I can only describe the flavour as a delicious combination of eucalyptus and berry, but even that description is lacking.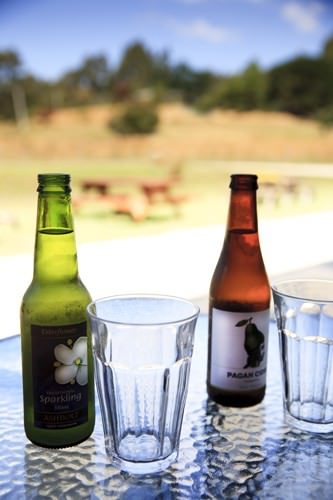 Relaxing with a gorgeous view of the bay hubby and I ordered a few drinks.  I chose the Sparkling Elderflower and Mr GG the Tasmanian Pagan Pear Cider.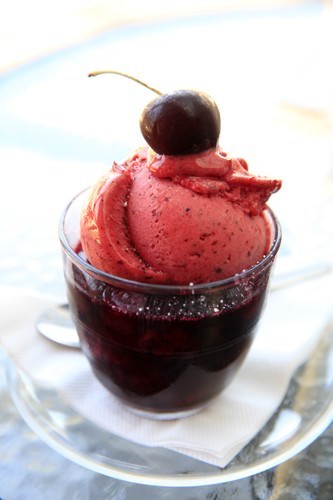 For my second, third, or maybe forth meal of the day I had chosen the Champagne Berry Jelly.  The dessert is made from a sweet fruit purée of all the seasonal berries on the farm.  It was served  set with a lush sweet berry sorbet.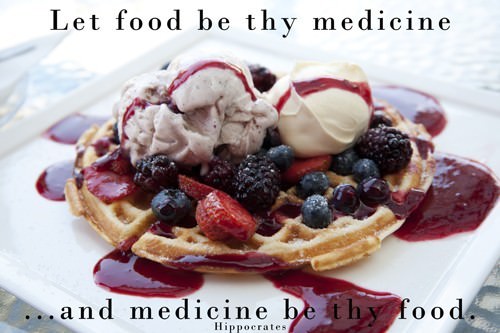 Hubby chose a mixed berry waffle with the pepper berry ice-cream and berry coulis.  The flavours were so fresh and naturally sweet, I was overwhelmed with the feeling of healthy antioxidant power!!! …or maybe it was a sugar rush? Either way it was thoroughly enjoyable, and I don't expect to get a winter cold this year with all the vitamin C.
Bruny Island Berry Farm 550 Adventure Bay Rd Bruny Island TAS 7150 Ph: (03) 62931055
Get Shucked Oyster Farm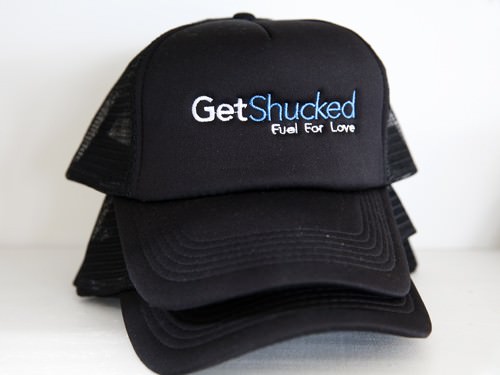 Another taste sensation on Bruny Island  is the oyster wine bar by the name of "Get Shucked."
The owner Joe is a Bruny Island local, he has lived on the island since he was just one year old.  Joe had worked on oysters farms for ten years prior to purchasing his own oyster leases and land for his business.
The man is truly passionate and has had the full support of his family and locals in turning this oyster shed into something so much more!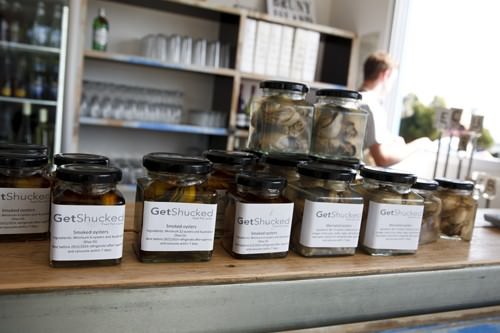 Originally operating from an old caravan, Joe wanted to keep the "drive up" aspect to the business. So just like Macca's, or KFC, there is a drive through window for those in urgent need of some natural "Love Fuel" aka oysters.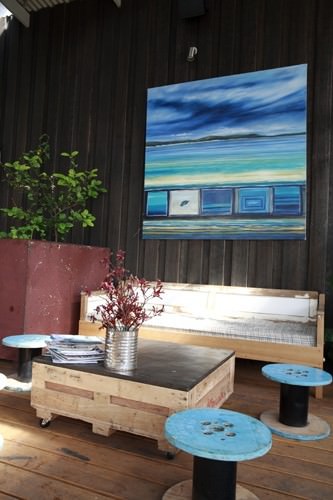 The whole set up has a relaxed beachy feel, from the upcycled stools made from industrial spools, weathered wood tables and corrugated iron garden edging. Everything worked so well together it's hard to believe the oyster bar had only opened in it's current incarnation 8 weeks ago!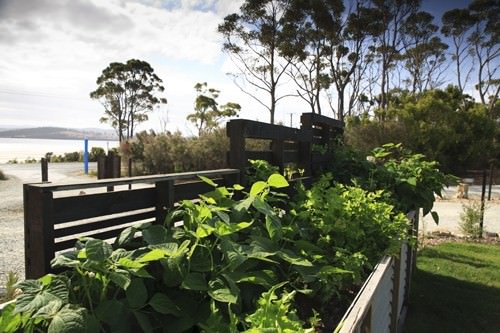 So what about the oysters?? Available alive from the mornings harvest for only $1 an oyster. Have you ever heard of those prices? You do have to be prepared to shuck your own for this bargain.
If you are like me you probably prefer your's on a platter with a local white wine. Get Shucked has that covered! We ordered one dozen fresh oysters which were served with lemon and some homemade Worcester sauce. Delicious fresh, fat oysters that tasted of the pure sea water and a crisp white wine! There is nothing better.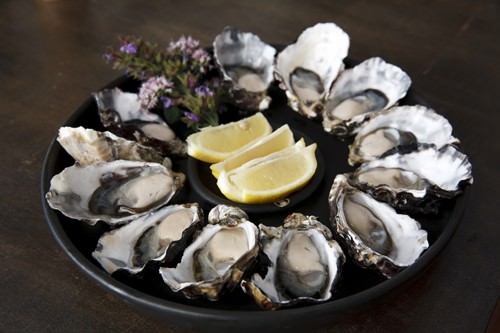 If you prefer variety in your oyster menu Get Shucked is sure to have all your favorite ways to eat oysters. Choose from natural oysters served with some fresh Lemon as we did, or dress them up a little.
The oyster menu includes Kilpatrick, an Asian Fusion of panko crumbed oyster on a Noodle Salad.  If you like there is also a wonton wrapped oyster served with a wasabi cream, and if deciding is too hard you can always order the tasting platter which serves three of each varieties with a sourdough bread.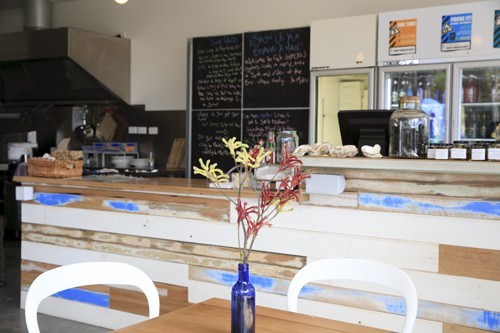 Oyster lovers really need to check this  out.  Be prepared to stop and stay a while, there really is no rush on your Bruny Island Tasting Tour.
Get Shucked 1650 Bruny Island Main Rd Bruny Island TAS Ph: 0428 606 250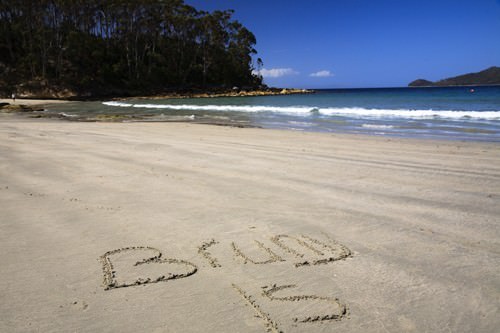 Although Antarctica is the next significant land mass on from Bruny Island hubby found the alluring turquoise water just too inviting.  He simply had to take a swim.
Once he returned to the white sand beach hubby commented that the water was no cooler than swimming in winter in Coffs Harbour. This surprised me, but since I don't swim in winter, I will have to take his word for it.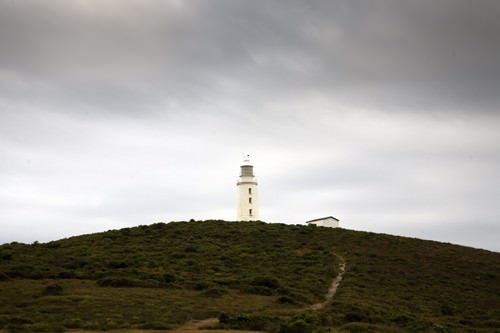 Gourmet Getaways would like to thank Spirit of Tasmania and all the individual operator on Bruny Island for their generosity and support during our stay.  Gourmet Getaways has not received any payment for these stories and all opinions are purely a result of a wonderful experience that I hope you will sample for yourself.