Today I'm sharing a delicious American brunch experience with you at Boathouse Hendry Beach California. We were enjoying a relief from the Australia winter, and taking some time to visit our friends in Santa Barbara.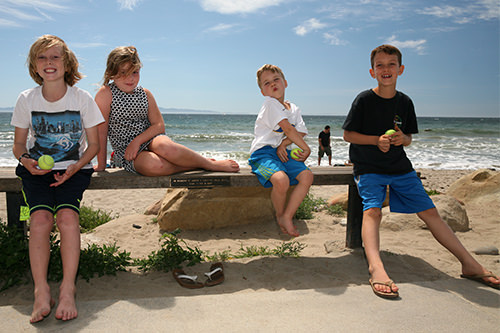 Our friends, the Grice's, spent a year living in Australia, happening to settle right across the road from us in Coffs Harbour. They have two children that are a similar age to our own, and we all quickly became friends.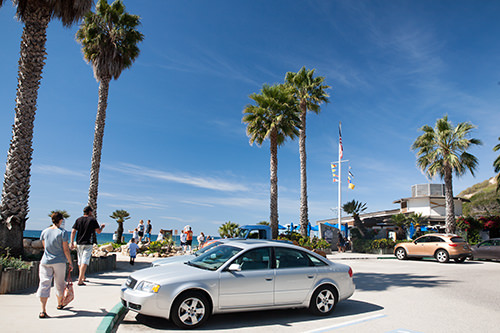 Dana & Cedar love good food as we do. They've been suggesting fabulous restaurants and food we should try. Today we took a short drive to Hendry's Beach to dine at the Boathouse. The restaurant is located right on the sand and it has gorgeous views out over the water.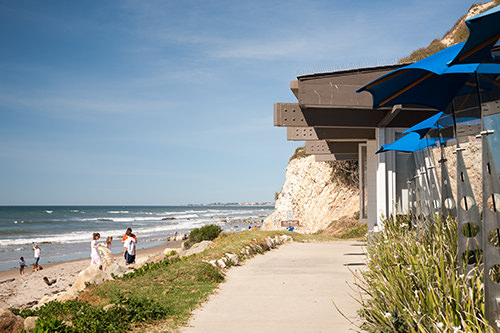 It was a beautiful, sunny day, and it seemed everyone had the same idea as us. The car park was full with beach goers and other diners. Cedar had reserved a table for eight and we were shown through to our seats. We had been given a table by the window with expansive views out over the water.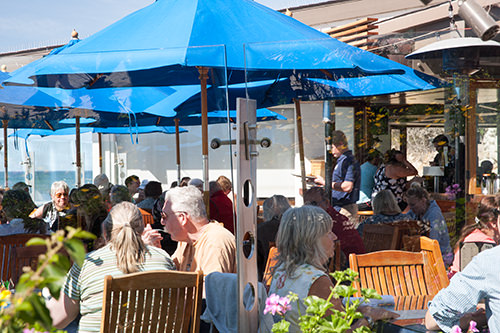 The interior of the Boat House is modern, light and airy. It takes full advantage of the stunning location. Whether you're seated inside or outside you are very much immersed in the beach environment. Outdoor diners are warmed by gas heaters and a large stone fireplace. Inside, large windows bring the outside view indoors.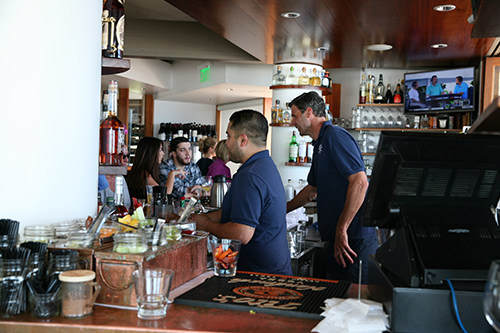 We took a look through the menu and I was instantly hungry. Before arriving in California I really hadn't appreciated how close the state is to Mexico. Parts of California actually belonged to Mexico between 1821 and 1848, prior to that period, the area was under Spanish control and missionaries settled in the area. The significance of this history can be seen in the diversity of food on offer.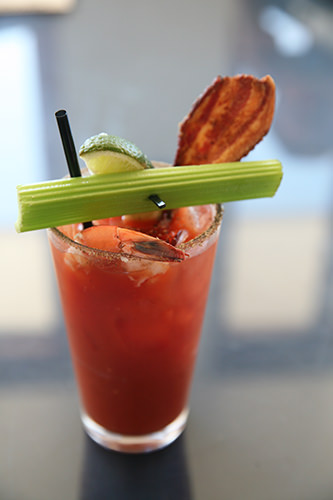 My personal feeling is that you have to love a menu that includes breakfast cocktails. Cedar set the tone for breakfast beverages by ordering the restaurants signature breakfast cocktail, the Bloody Mary. The Bloody Mary was a meal unto itself! The cocktail was garnished with a chilled prawn, a stick of celery, a crunchy thick cut piece of applewood smoked bacon and an olive and lime slice for good measure.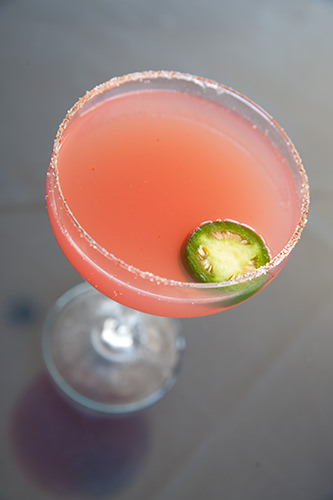 I'm never one to turned down a cocktail, particularly whilst on holidays. In keeping with the Mexican influenced menu, I ordered a Blood Orange Margarita. The menu described the cocktail as El Charro Super Premium Tequila, fresh blood orange juice with sweet and sour and lime. It was good! I have to admit, I may have sucked that baby down a little faster than one should over brunch!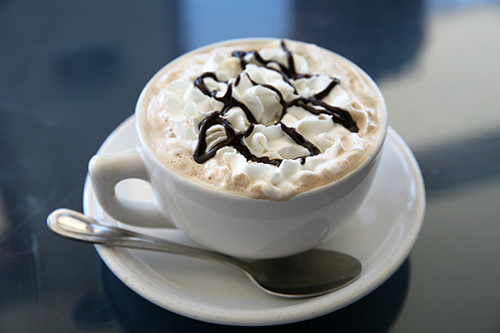 Given that we had brought two cars Dana and Brett were on regular breakfast beverages. I did think the cappuccino was pretty.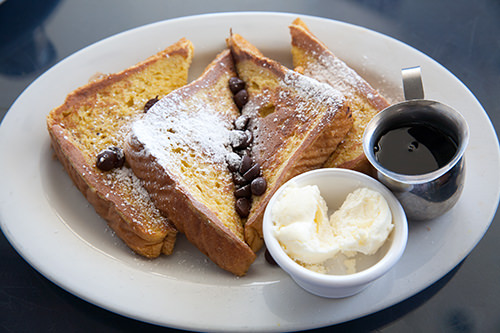 Ordering the kids breakfasts proved a little problematic. We always have a running battle with the kids over ordering something reasonably healthy. We had NO CHANCE of winning that argument today! Right or wrong Anais wanted French toast served with ice-cream, chocolate chips and chocolate sauce.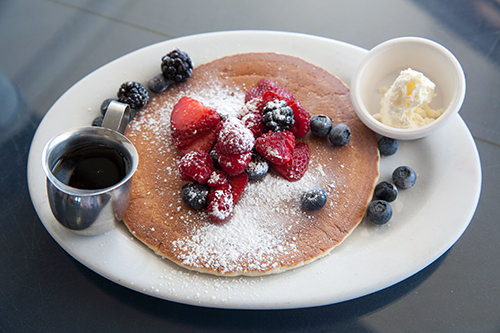 Locky's breakfast choice wasn't much better. He ordered a child's serving of buttermilk pancakes. He also could have chosen the chocolate topping option. Thankfully he decided to have his pancakes with maple syrup and mixed berries. Yes, I know it's only a tiny difference.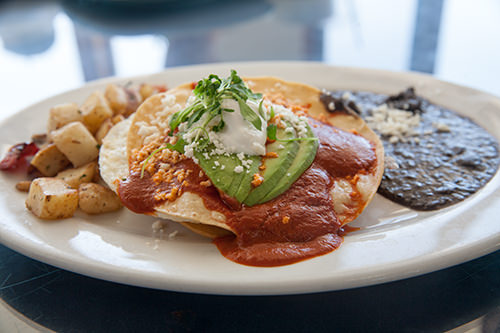 As I stated early, when I looked at the Boathouse Hendry Beach menu, I was instantly hungry. The options were so different to an Aussie breakfast menu. I love beans and avocado for breakfast so I ordered the Huevos Hope Ranch two fried eggs, crispy tortilla, black beans, avocado, sour cream, queso fresco & Boathouse breakfast potatoes. It was a huge plate of food with so many different and delicious flavours.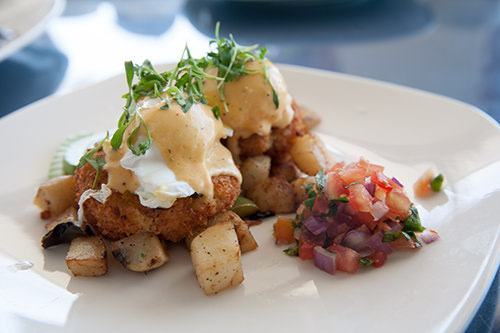 Cedar ordered the Boathouse signature breakfast. This was a very special plate of food. Perfectly poached eggs rested on house made crab cakes and were doused in a chipotle hollandaise. HELLO YUM! The dish also included fresh avocado, pico de gallo & the Boathouse breakfast potatoes.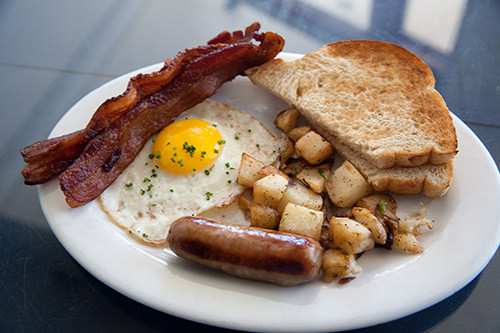 Dana ordered the traditional breakfast of bacon and eggs.  Although even this looked a little different compared to what we see in Australia. The bacon was thickly sliced and so well cooked it was completely rigid. The meal was served with diced seasoned potatoes and breakfast sausage.
Brett is always looking for a unique menu option when we are travelling. So naturally, he ordered an item off the menu we had never seen before, Chilaquiles. Chilaquiles is Mexican breakfast dish of corn tortillas cut in quarters and lightly fried. The tortillas are then covered in a salsa or mole and allowed to simmer until they soften.
Brett's meal was served with tomatillo salsa, slow cooked pulled pork and eggs. It was further topped with salsa fresca, sour cream, queso fresco, avocado, and black beans. It was a great choice and another fabulous introduction to real Mexican food.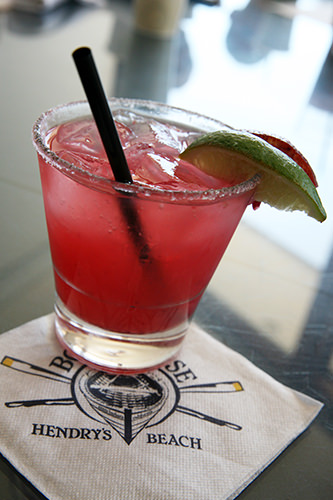 With the meal complete the children went out onto the sand. Our position at the window allowed us to watch as they played. I have to admit, I took the opportunity to order another "sneaky cocktail." I'm sure that cocktails at brunch are perfectly acceptable whilst on holidays…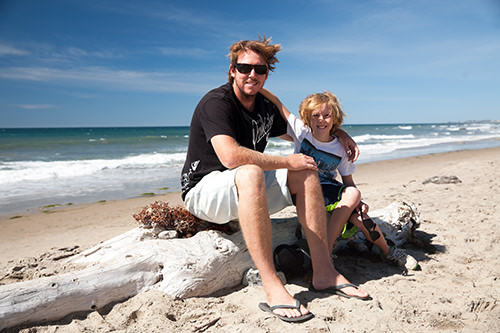 It was an awesome meal and wonderful company. I would love to go back for another meal at sunset. It would be so romantic to take a walk on the beach and then enjoy a few happy hour cocktails at the bar before dinner.
Thank you so much, Dana and Cedar for introducing us to the Boathouse Hendry Beach and for your fabulous friendship.