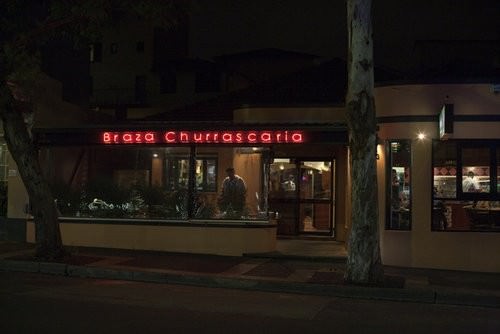 During a recent trip to Sydney I charged my SIL with the responsibility of choosing a restaurant for dinner.  I wanted somewhere a little different, and I know she has great taste in all things, so I was confident she would deliver something interesting. SIL took her responsibility very seriously and after asking around she came up with a great recommendation, Braza Churrascaria, an "all you can eat" Brazilian Barbeque Restaurant on Norton Street in Leichardt.
When she announced where we were going I was immediately intrigued! What is a Brazilian BBQ? All our questions were soon answered by the friendly staff, but firstly I do need to stress; this is not a vegetarian post, and the amount of meat eaten at this meal may actually offend some readers.  Mr GG experienced a severe "meat hangover" the next day, and everyone at the table regrets not wearing their stretchy pants.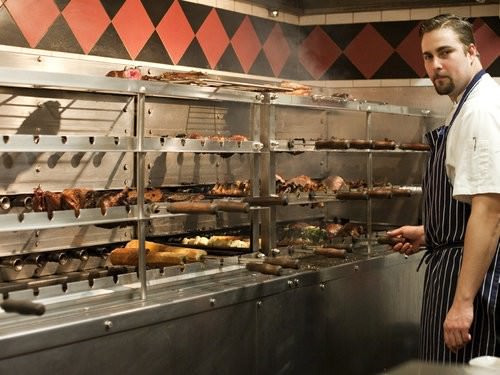 As we entered the restaurant we notice a massive rotisserie with so many different items barbequing over the coals. Our waiter informed us that we can chose as many side dishes for the table as we like, and the meat will just continue to be brought to our table until we cried "no more, and begged for mercy" alternatively we could just turn our little "Tommyknocker" to say "More Please", "All Out", or "On A Break" and the waiter would respond appropriately.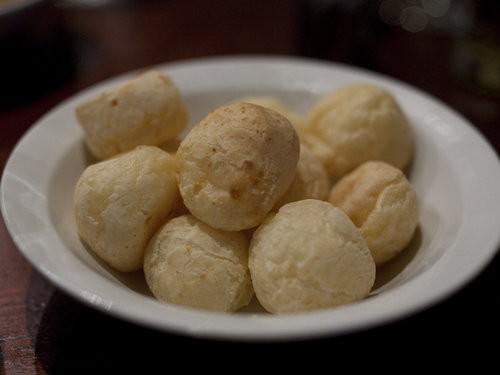 First item to be brought to the table were a bowl of deliciously light, Cheese Puff Bread. I only had one tiny bite of these delicious breads as I was "saving myself" but they were so good!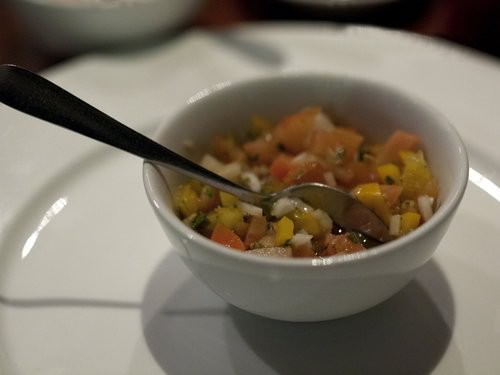 Next all the side dishes arrived; the Vinagretche a lovely fresh Tomato Salsa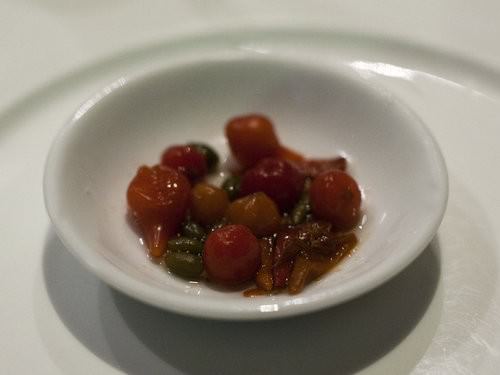 Pimentas da Malaguetta  a serve of Brazilian Chillies which varied in heat and flavour
Tá Fritos do Braza: Mandioquinha, crumbed banana and polenta which I unfortunately wasn't quick enough to photograph before it was completely devoured.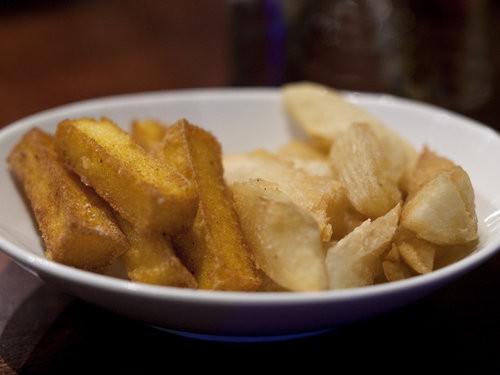 Cassava Chips. These were absolutely amazing, as much as I didn't want to fill up on these tempting lovelies I couldn't help but continue to munch on these. They were just so crisp and tasty.
Just for good measure we also ordered a few extra sides dishes;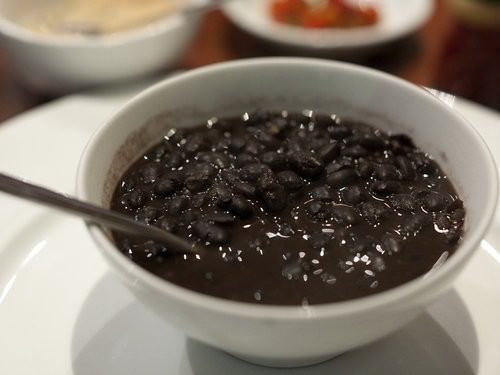 Delicious and healthy tasty Feijão Preto, a flavoursome black beans dish.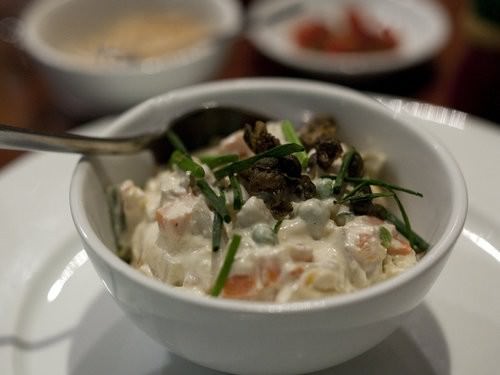 Viajo na Maionese de Batata – Potato Salad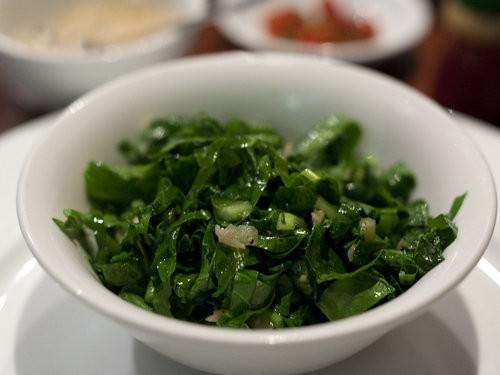 Couve – Kale / Chinese Brocolli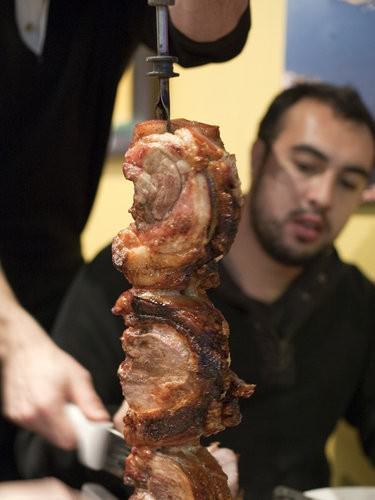 Then the meat procession commenced. 23 different types of barbequed meat we paraded before us.  Slices of meat were carved at the table directly from the hot spears.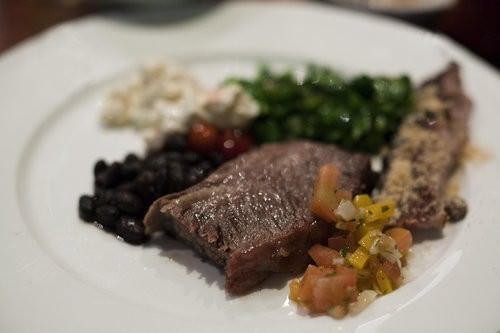 All the meats were completely delectable, they were moist and succulent and it was really difficult to let any of the spears go by without trying at least a smidgen.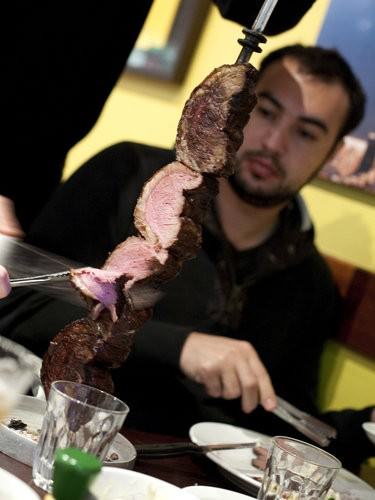 Our waiter was fantastic, he encouraged us to try each type of meat and it wasn't too long before we seriously concerned for the amount of stomach space we had available. Each time I considered lying down my Tommyknocker for "a break," there was another tempting meat, Chicken breast wrapped in bacon, BBQ chorizo, fish of the day, garlic BBQ rump and so on…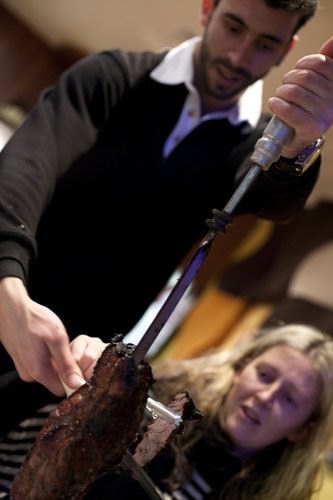 Periodically a barbequed skewer of garlic bread or haloumi would be offered to the table just to break up this 'meat fest."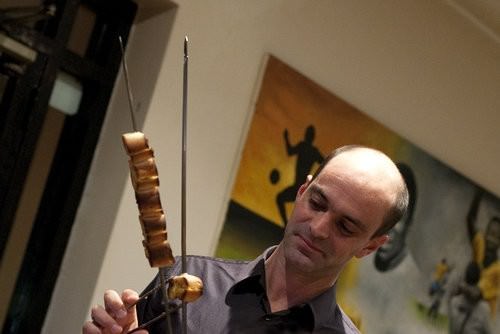 Eventually the table was struggling under the weight of all the gorgeous food and we had a few diners folding. The boys decided that whilst in the process of gorging on animal they should try the Chicken Hearts, after all, it's not something you get offered every day.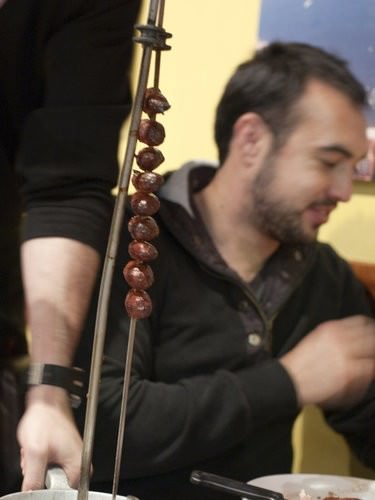 The tommyknockers were turned to the red side up, signaling "no more food!" to the waiter.  The hospitality of the staff was fantastic, we were encouraged to stay as long as we liked and let the "first course settle." I even heard the waiter chastise one couple for being finished to quickly.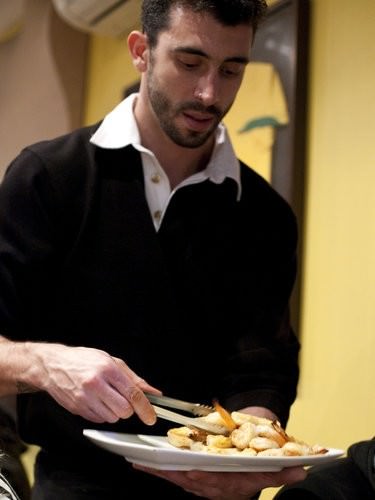 After a bit of coaxing, the waiter convinced us to turn our Tommyknocker over and show the green side once again. Before we could adjust our belts a plate of melt in the mouth delicious Garlic Prawns appeared and we were all back in the race again.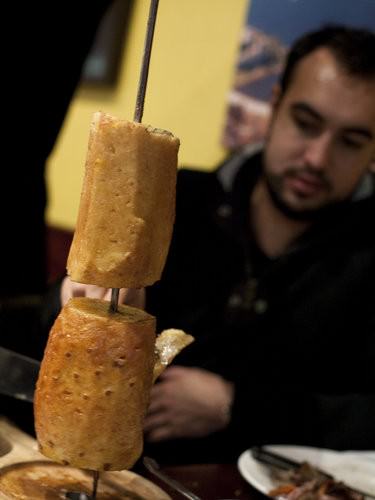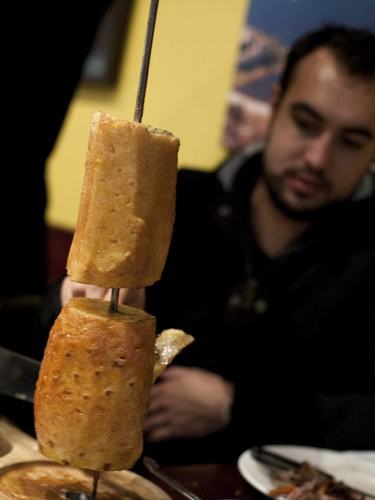 We had saved a tiny space for the BBQ pineapple which we had seen making the rounds. I asked the waiter for the tiniest sliver but I soon had him returning again and again. It was absolutely delicious! The pineapple had simply been rolled in cinnamon and barbequed over the coals but it was so sweet and juicy. It was just what we needed to end an amazing meal.
I love this restaurant, it is great value at $42 per head, great entertainment and delicious food. Try it for yourself!
(02) 9572 7921
13 Norton St
Leichhardt