Booze & Boobs Bus Tour of Sin City aka Las Vegas!
Just so you know that wasn't the official title of the bus tour, but in my mind it would have been a good fit. I also could have called this story "So many boobs, so little time!" or "T'its nice to meet you." but I didn't want to change the tone of the website.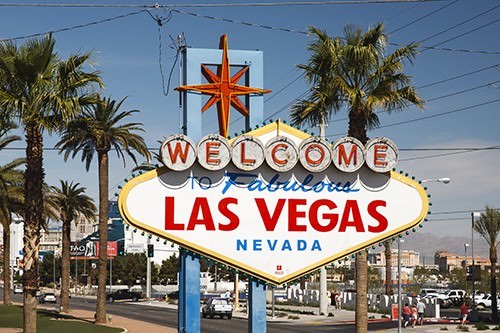 Anyway!!!
To our surprise we found that the city that never sleeps is just as raunchy by day as night. Do you mind if I kind of get a little fixated with the breast for a moment or two?  In my defense we have been in the America three days now, and I haven't mentioned it…(much) BUT…  the booby fairy has been working overtime here!
I will ease you into the story…
Given that we were still very much jet lagged and struggling to acclimatise to the reality of holidaying in a different time zone, we decided to take advantage of a topless double decker sightseeing bus. I figured it would give our nerves time to settle after our Driving on the Wrong Side of the Road experience.
We know from experience that the HOP on HOP off style of bus tours are a great way to get your bearings in a new town.  The Big Bus Tour Las Vegas offered the opportunity to see all the famous landmarks, whilst conserving some of our waning energy.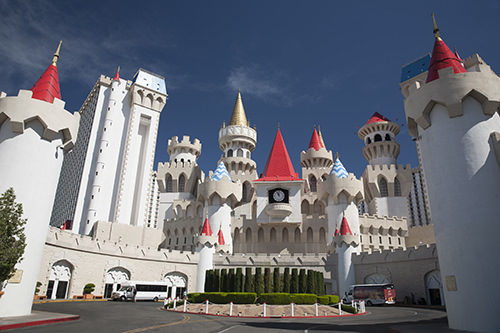 It was a good plan. The Big Bus Tour departed from our hotel Excalibur every 30 minutes and there was no need to pre purchase tickets, the family day pass could be bought on board.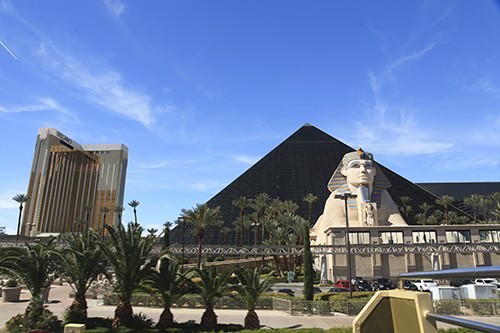 There are two routes offered on the Vegas hopper circuit. The red route covers the Vegas strip and includes all the famous hotels, casino's and popular landmarks.  Whilst the blue route extends on from the red route and takes sightseers downtown. Yes "off the strip and… Downtown" … Hmm, from memory CSI filmed quite a bit of their series "downtown".
Both routes converge at Circus Circus so it's simple to change between the two routes and cover all of Vegas in the one day.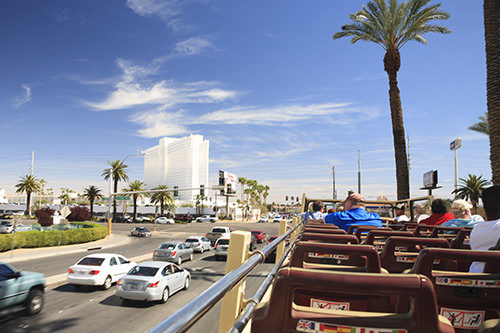 The best view is from the top deck of the open air bus, but bring sunscreen and a drink! The desert is a hot place! Our tour guide gave us bits of timely information as we past the various Vegas sights.
I had just enough time to take a quick snap of The Little Church of the West Wedding Chapel as we whizzed by.  The church was built in 1942 and is the oldest building on the Vegas strip.  The famously, and sometimes temporarily married couples that have recited nuptials here include;
Angelina Joile & Billy Bob Thornton
Zsa Zsa Gabor & George Sanders
Judy Garland & Mark Herron
Bob Geldolf & Paula Yates
Richard Gere & Cindy Crawford
Noel Gallagher & Meg Matthews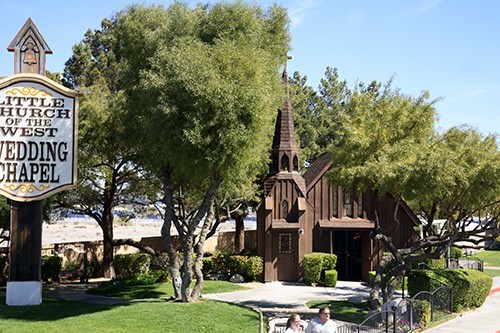 As I contemplated the cute little chapel, one of more than 50 places to get married in Vegas I heard Mr GG's voice.
"So when are we booked to tie the knot?" he asked.
I answered very nonchalantly, "Yesterday."
Hubby looked at me confused. I thought I should explain.
"We slept through our wedding honey." I said in a consoling voice.
"Why didn't you wake me up?" he asked concerned that I would be annoyed.
"Because I wanted to sleep too." I answered, as the Eiffel Tower came into view.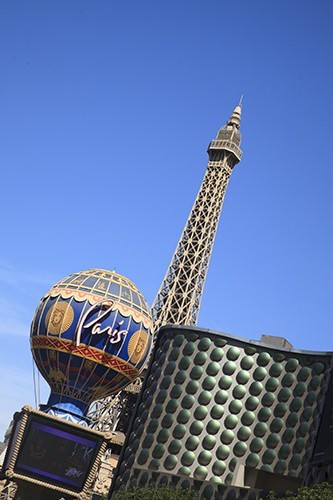 Since the initial stages of planning our trip to Las Vegas I had wanted a Vegas wedding! I figured there would be no better place to renew our vows.  I booked our marriage in at Vegas Weddings and remembered to bring our marriage certificate with us as required. I wanted it to be the most cheesy Vegas wedding EVER! So I had a hard time choosing between the pink cadillac, drive through wedding or having an Elvis impersonator marry us. I was planning to wear a tiny white mini -dress with a short veil and impossibly high heels… but, the jet lag got us!
When the 30 minute warning alarm sounded on my phone, we were crashed out in the hotel room. The blinds were pulled to keep the sun out as the family of Aussie Vampires slept. I was barely able to lift my head.  I knew I would have no chance at looking fabulous for wedding pictures.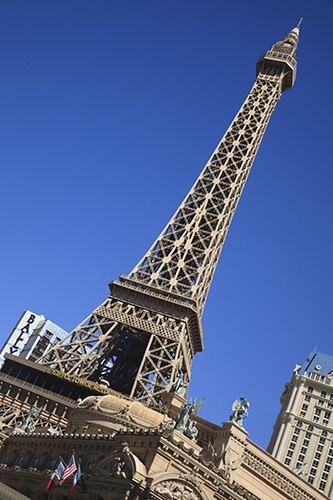 "Lucky we're already married." I said to husband.
"Yeah," he agreed, "It's a good thing you didn't let me sleep through the first wedding."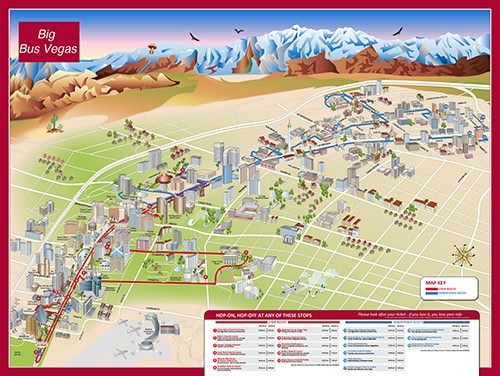 As we changed from the Red Route to the Blue Downtown Route I couldn't help but think back to my nights of watching CSI Vegas.  Do you think that it matters if I didn't solve even one of the CSI homicides??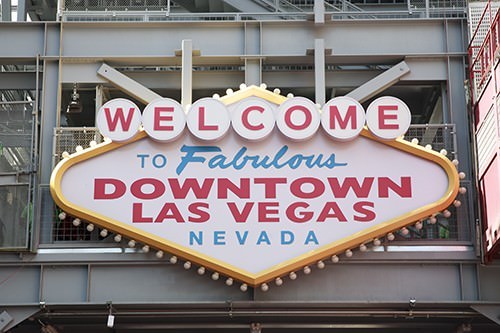 I decided that given it wasn't even noon in "downtown Vegas" I may not be called upon to solve a crime so we should be ok!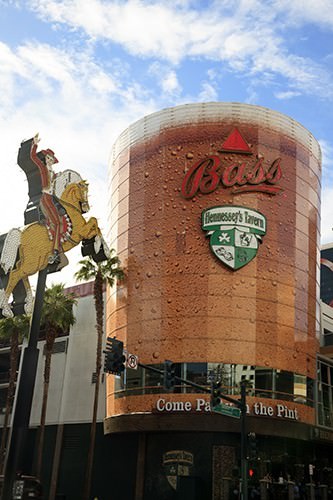 What we inadvertently discovered was the downtown is just as saucy during the day!  We hopped off the bus at Fremont street which is in the downtown area. The street is closed to traffic and serves as a wide open air pedestrian mall.  There are countless places to eat, an overhead zipline, casino's, buskers, street performers in g'strings and open air bars with topless waitresses.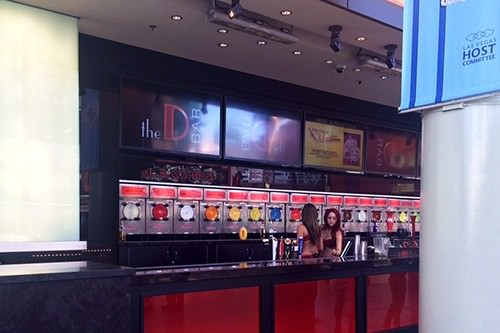 Did I manage to slip the topless barmaids into the story as if it's perfectly normal? Just walking along we were noticing picture perfect bodies wearing nothing but spray paint! There were Superhero's in g'strings posing for photo's and topless beauties serving frozen cocktails.
You may wonder what kind of establishment I stumbled into???  First let me say it's 11.30am and we were just walking along Fremont street minding our own business.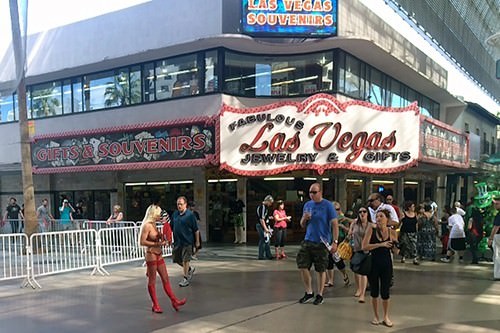 The topless lady in red pictured above was fanning herself and blowing kisses to passersby.  She did make a small gesture of covering her enhanced E+ size bust with her tiny lace fan. Although it was a lovely gesture of modesty it was a case of too little, too late. We were all wide eyed and unsure where to look. I would have loved to take a photo because it was such a surreal experience. I have never seen a gorgeously made up woman in nothing but heels and a g'strings in a pedestrian mall during the day. She was so confident and casual. Nevertheless, I don't have any close up pictures as I wasn't sure of the etiquette.
The image I would have liked would have been a streetscape which showed everyone going about there business and the mall peppered with unclothed ladies.
We noticed it was okay to get a photo taken with the models if a tip was given, but it really seemed to be a young male thing to do. Besides if I stood next to this buxom, tall lass in her 2″ platform heeled boots I'm sure I would have looked like an androgynous midget,  That's not the look I'm going for these days.
You may wonder why Mr GG didn't take one for the team, and pose for a photo?
Hehe, that will never happen!!! When Anais spotted the ladies she immediately insisted that her brother and father should NOT look.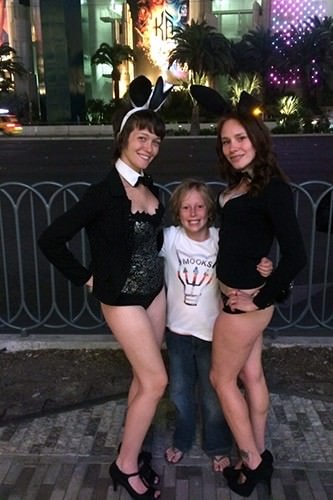 My poor girl had been traumatized by this photo which Brett had sent me via iPhone the previous evening. Anais and I had been at the cirque du soleil and Brett text me through this photo!
Anais had been a little worried at the start of the night that the boys may go out gambling while we were at the show. When the image of Locky cosying up to these girls landed on my phone she went wild.
"Mum! We have to find them" she implored. "They've been gambling and they won girls!!"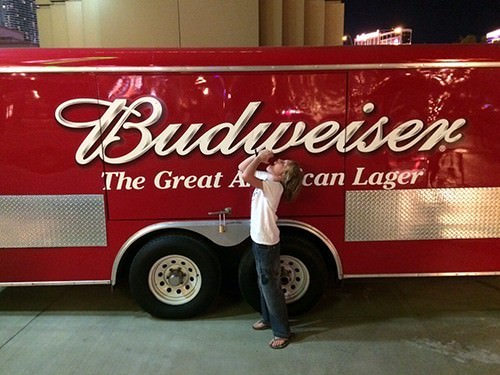 lol! Such a cute little conservative daughter I have. Needless to say if Brett had of posed for a picture with the model he would have been dragged away by Anais in utter disgust.
Locky has managed to get into the Vegas spirit just a little too well. After just one night out on the town with dad he is looking very comfortable with the booze, boobs and gambling.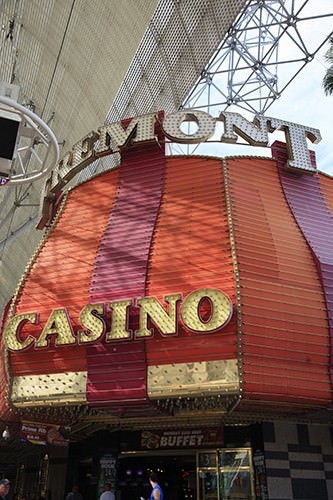 As I said previously, Fremont street is lined with casino and the machines aren't all inside the venue. A number of the casino's had free machines on the street to entice punters into some more gaming.  Locky decided to try his had at the "one arm bandit." The pictures spun and he watched on in anticipation, a small crowd had formed to see what luck this 9 year old boy would have.
Then security arrived… apparently the machines aren't a toy for just anyone to play. We were shooed away from the casino entrance and security latched on to the crowd that had formed and encouraged them to also try their luck at winning some free gaming chips.  Locky was a little peeved that someone else was getting his "free money".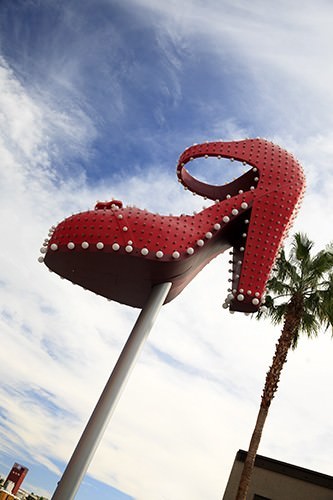 Freemont street was wearing a little thin by this time so we decided to take a walk to the the container park. The Downtown Container Park is billed as a family-friendly outdoor shopping, dining, and entertainment venue. It's only a short stroll from Freemont street but the atmosphere is completely different.  The mall is made completely of shipping containers which are stacked on top of one another.
There's a variety of boutique shops including clothing and jewellery plus countless food outlets. The children play area is in the centre of the complex and includes a 30 foot slide and water area.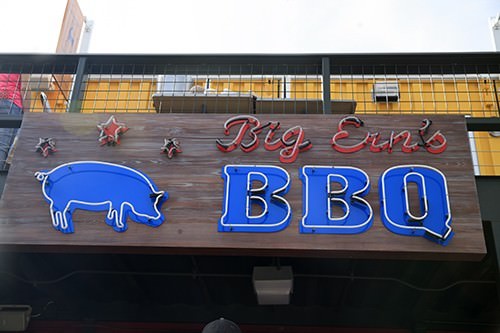 I took a seat outside "Big Erns BBQ" restaurant and inhaled the amazing BBQ aroma's as I watched the kids play. The container park features nightly "family friendly" entertainment in the outdoor amphitheater.  If I could have shaken the jet lag it would have been the ideal place to have dinner and soak up the atmosphere while the kids enjoyed themselves. The massive grasshopper pictured below shoots fire out the antennas of a night which would have been a real sight to see. Have you noticed everything is OVER THE TOP in Vegas!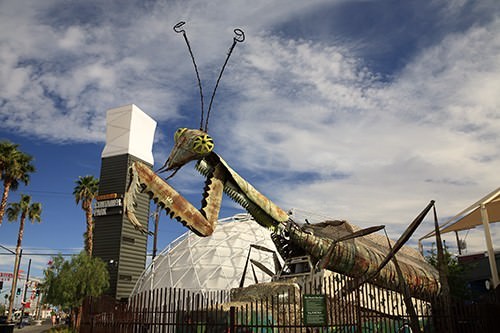 Unfortunately by this stage I was fading fast… At just 4.00pm we were back on the Big Bus Tour Las Vegas and I was out cold.  Brett woke me up to get off the bus at the hotel and then it was light out for me. I slept soundly until 1.00am. Jet lag sucks, I really underestimated how long it would take me to acclimatise.