What causes a restaurant to be so popular that from opening to close there isn't an available table to be seen? We had passed this restaurant at various times of the day and night during our stay in Santa Monica and we always found it was packed! So this was the question I had in my mind as we took a seat outside the Blue Plate Taco at Santa Monica.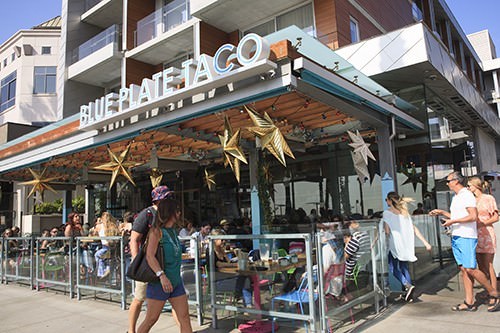 We had been asked to wait on a public bench seat for a table to become available. It was 3.00pm in the afternoon! We had eaten a late breakfast and totally forgotten about eating lunch until this crazy hour.
Be Prepared to wait at the Blue Plate Taco, that's a good sign.
The waitress warned there would still be at least a 15-minute wait! We joined our fellow "intending diners" on the street and waited for the waitress to summon us. I couldn't help but wonder how long the wait would be if we wanted to dine at an actual mealtime.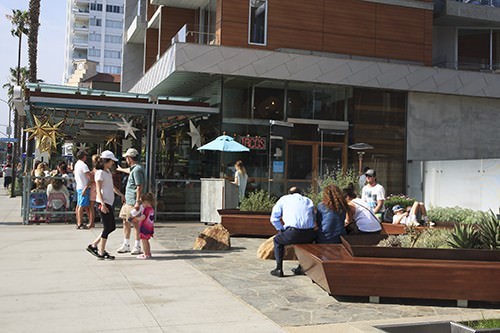 The wait wasn't too bad as the waitress was coming and going from the public space constantly, calling people to be seated.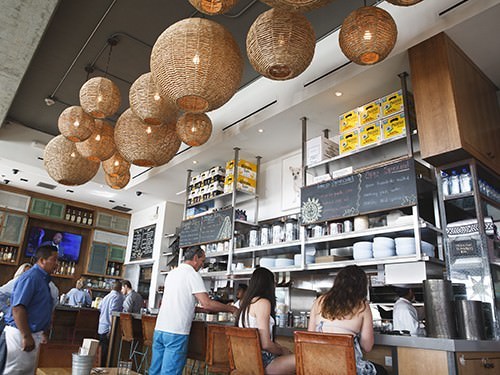 When our names were called we were ushered into a funky space full of loud chatty patrons and delicious aromas.  Most people were enjoying lovely looking cocktails with their Mexican food. I'm never one to say no to a Margherita with my taco, but I decided on a less traditional passionfruit Margherita.
When it arrived it was rimmed in salt as expected but had a piece of crystallised ginger skewered across the glass. The Margherita was surprisingly strong but full of fruity flavour.  At first, I was concerned that the drink might be a little too strong for me, but half a glass in I was considering ordering another.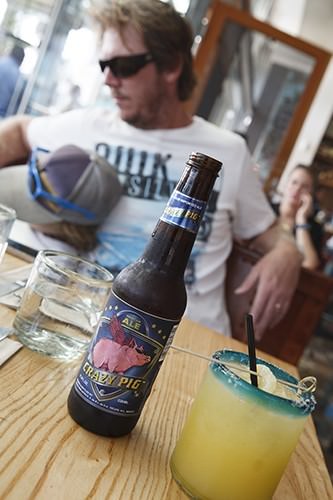 Hubby loves to try different beers whenever they're available.  He was quick to spot a Mexican Beer called Crazy Pig Ale from Mexico.  The beer had a lovely amber, red colour but was a little thin on flavour… but, in the words of my husband,
"Any beer is a good beer, when you're on holidays."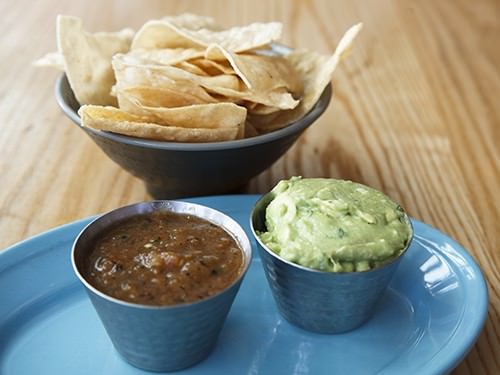 I think corn chips and guacamole are one of those "must order" items whilst you peruse a Mexican menu.The house-made chips were delicious with the creamy guacamole but it was the Pico de Gallo that I loved the most.  It had just the right amount of spice and tang.
It wasn't long before the basket of chips had been demolished.
Since we had more toppings left we ordered another lot of chips. It had just the right amount of spice and tang. It wasn't long before the basket of chips had been demolished.  Since we had more toppings left we ordered another lot of chips.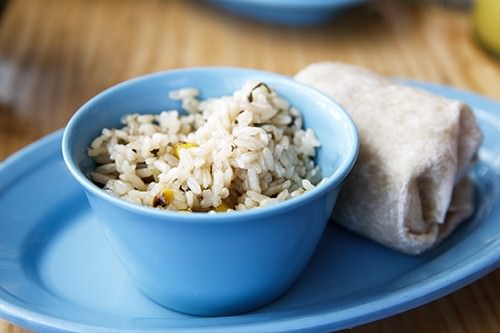 Anais has been loving Enchilada's and Burritos lately so she ordered a chicken burrito which was served with a brown rice, lime and corn bowl on the side.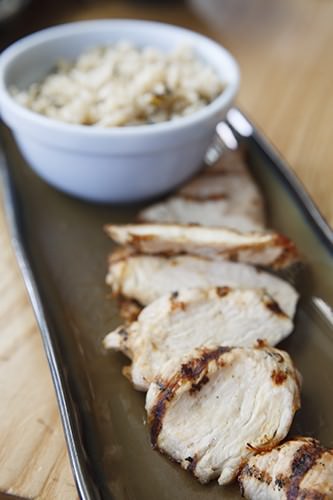 Locky has been trying to avoid anything spicy on this holiday.  I barely have the heart to tell him that shortly we will be in Mexico, so he will have to toughen up a little.  Given that this spicy reality is still a week or so away I let him take solace in a grilled chicken dish, which was served with the Blue Plate Taco's signature rice.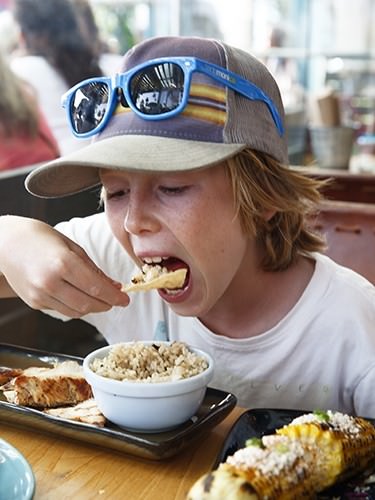 He was happy with his meal although I did try to get him to try a little of the Pico de Gallo with the dish.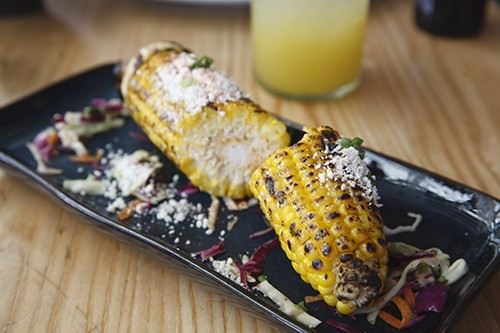 I wasn't particularly hungry and the thought of some tasty vegetable side dishes was exactly what I felt like. The grilled corn was moist and delicious! Lovely charred goodness served with a creamy soft grated cheese.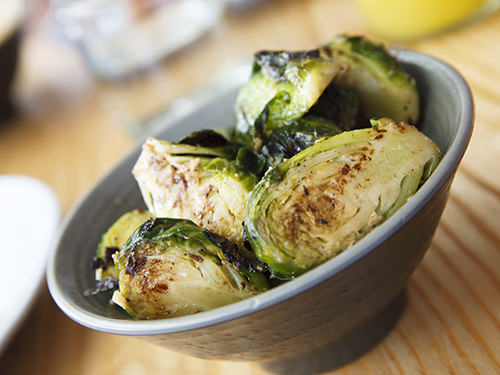 The other vegetable side I ordered was the roasted Brussels Sprouts. They also had a nice charred flavour and had lots of gorgeous salt and garlic.  Even the kids enjoy the brussels sprouts!
Brett had decided on the fish taco's  from the moment we were seated.  When the waitress took the ordered he was able to choose between grilled fish or Baja style.  Baja style is deep fried apparently, Brett hesitated so I decided for him, deep fried fish, on a taco was definitely the way to go!
The tacos were served with a Mexican style coleslaw, the Blue Plate Taco signature rice and stewed Pinto beans. It was all I could do not to eat a whole taco when Brett offered me a bite.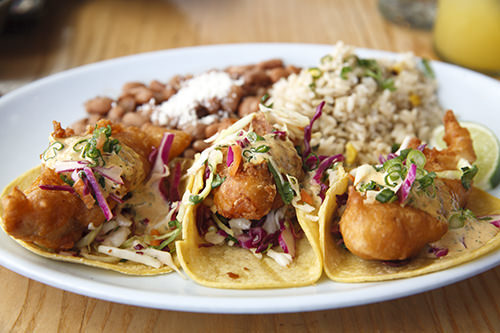 The meals were all really nice. I was very happy for all the healthy grains and organic vegetables included in the dishes, and we left feeling very content.
The picturesque location of the restaurant across the road from Santa Monica beach obviously adds to it's popularity, so for weekend meals, there may be a decent wait for table.
Where is the Blue Plate Taco Located?
1515 Ocean Ave, Santa Monica
California, USA