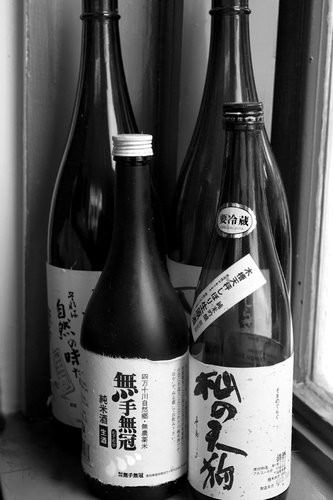 I saw this bottle display whilst lunching with my brother at Cafe ish in Surry Hills. Below I have included the colour version of this image. I think the rendering of the scene in black and white makes for a stronger image and suits the structured display better than the coloured version.
Feel free to correct me or add any comments.
I always shoot in colour and then convert the image to black and white using photoshop. I tend to follow the path IMAGE, ADJUSTMENTS, BLACK & WHITE to convert and image to B&W. This then allows me to adjust the filters to determine which filter will give the best Black & White end image. Other methods of converting to B&W discards very useful colour information.
Take a look at the same image below using a Blue, Green and Red Filter in the B&W conversion (in that order).
The differences are subtle in a small image but much more noticeable in a full size image.
There are so many more gorgeous images on our host Susan from  the "Well Seasoned Cook" website.  Thank you once again susan for hosting Black & White Wednesday.