Bellingen: A Short 30-minute drive from Coffs Harbour into an Alternative Timewarp
Bellingen is an easy 30-minute drive from Coffs Harbour, so it makes a great day trip for a spot of shopping and gourmet delicacies. Bellingen is a town with an alternative lifestyle background and a definite laid back feeling.
Driving down the main street of Bellingen the first thing you notices is the big trees lining all the streets and side streets. It is a very picturesque town with restored buildings housing a multitude of independently owned stores and cafes.
Our first stop on the way into town is a fabulous deli and café called Ateliers on Waterfall Way. It has an impressive selection of deli items, prepared salads, kitchenware and general gourmet produce. It was a little too early for eating so I purchased some Dariole Moulds for some upcoming pudding recipes and some labneh and pancetta for later.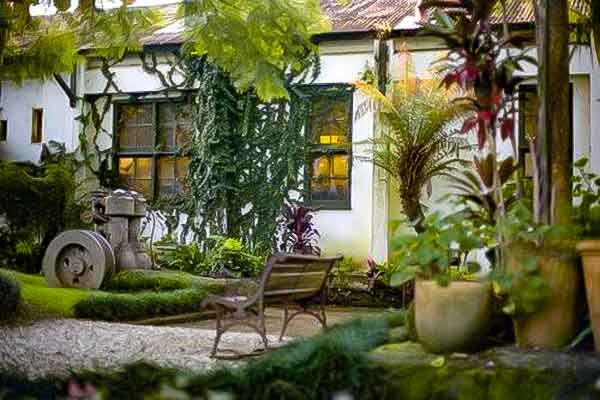 We continued to the iconic "Old Butter Factory" which has long since been retired, and now houses a multitude of little art and craft shops. It is a quaint little place with relics of machinery from days gone by scattered about the grounds. I perused the menu of the café, but I knew there would be more on offer in Bellingen.
The smell of leather beckoned next, and we were able to watch as handbags, and other items were made in the workshop attached to the showroom. It was very interesting, and the finished products in the store were beautiful. Obviously, all the bags, belts, shoes in the store were made on site, and in true Bellingen style they were modern and fashionable, I particularly loved a gorgeous lime green handbag…
The Art Gallery was our next stop. The gallery showcased all different mediums, photography, oil paintings, watercolours, glass fused pendants and charcoal drawings. The exhibition changes regularly and showcases local talent.
We looked in three or four more little stores including a Woodworking Store and the largest store in town which was an Antique Shop.
We drove a little further along Waterfall Way and stopped and the Yellow Shed. It is a well-known "tourist attraction" in Bellingen, popular for its arts and crafts.
True to Bellingens alternative ethos there is not a franchise store in sight which means the contents of every store are unique, and I am looking forward to seeing what we uncover.
---
Littered with Cafes, Delis, and Restaurants, You won't go hungry in Bellingen
We take a car park on Church Street outside "The Old Church" which now houses three trendy boutique stores. The first is a nursery called Natural by Design, there is a little kitchen and home wares shop, and a café called AVE Bellingen.
I am already getting a bit hungry, so I check out the menu as we pass. There are a number dishes which start my tummy grumbling, such as the Baked Eggplant Gratin, and the Roasted Pumpkin Fettuccini, but as it is still early we decide to do a bit of shopping and have check out a few more menu's first.
We head down to the main street hoping to take a look in the Mouza Gallery and Restaurant, but as it was a public holiday, it was closed. Mouza Gallery has a range of unique crafts, jewelry, clothing, silks and bags which are sourced from different locations around the world but with a decidedly Middle Eastern feel. The food follows along the same slant, and I was looking forward to road testing the menu. So it was a little disappointing, although it does give us a reason to return at a later date.
---
Bellingen Shopping: Alternative Handmade Wares and Designer Labels
On to Hyde Street and we uncover a store called Wunderland which is a quaint little giftware store. Children are well looked after here with handmade rag dolls, little decorator items for children's rooms, hair clips and a children's clothing range.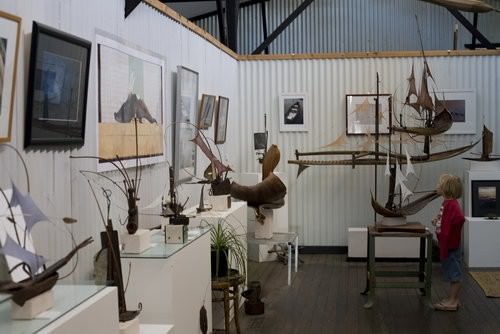 The next shop we visit is called Ships of the Way Gallery, although it has a small entrance and hallway, the gallery opens into three large rooms showcasing works of art in various mediums. There were some great photographic images and abstract oil paintings, in the end, two rooms which were displayed beautifully with sculptures and period items.
Chic on Hyde was our next stop; this store has a surprising range of clothing brands for women such as Metalicus, Calvin Klein, Jag for women, they also sell beautiful old style toys for children, lovely tin tea sets for little girls and a wooden range of toys for tots. As you wander through you realize there isn't too much this shop doesn't have, there are decorator items for the house and some lovely gift ideas, some hand-styled jewelry. It is a gorgeous collection, and the shop sets the scene for what we can expect in our travels.
The Emporium is another huge two storey shop which houses everything from fashion, men and women, giftware and Tribal Art! The displays are beautiful, and the temptation is to leave with bulging bags.
Driving through the town previously I had fallen into the trap of thinking, old buildings equals old style shops, but I have been mistaken. There are more fashion brand names, beautiful giftware and unique home wares here in this one little street than I have seen in most other places we have visited.
We had a quick look in the Surf Shop and Gecco, and the ecologically sustainable gift and children's shop, but I am hungry by this time, and I am more interested in looking at menus.
---
Still Hungry, Back On Track To Find A Place To Eat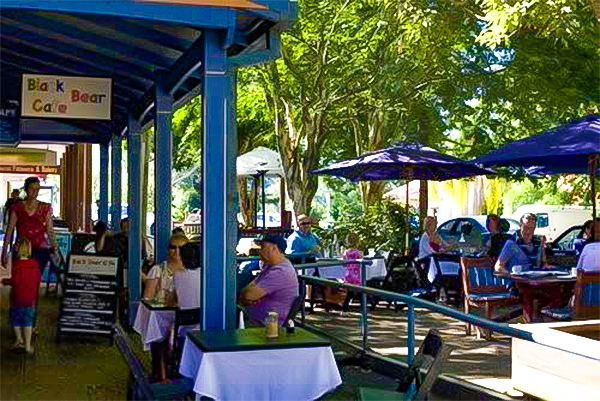 There are so many food choices, starting with the Bellingen Gelato Bar, and The Little Red Kitchen which is a pizza and pasta takeaway.
Working our way down the street, we pass a bakery and another café, we reached the restored Federal Hotel and decided to have a look inside at the menu of the "Relish Bar and Grill."
The atmosphere out on the deck of the Federal Hotel was fantastic, with everyone enjoying the public holiday and the sunshine, but there is barely a seat in sight.
I looked down the menu and noticed a marinated char grilled octopus on Asian noodles with greens which sounds more like me, but we decide to continue going down the street.
All the little laneways house small boutique shops and delis. One such shop was the "Heathfire Deli." They have a great selection of gourmet produce and ready-made picnic idea's, I grabbed a few choice selections for another day and then went back to the task at hand.
We walked pass the Bellingen Tuck Shop gourmet takeaway, café, and catering but I am looking for something a little more special.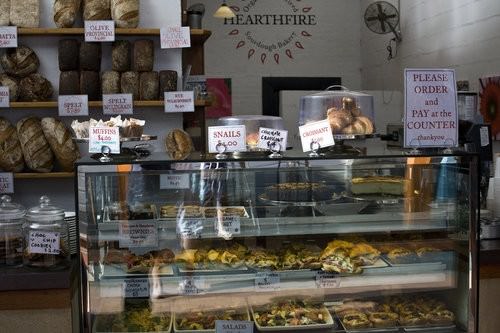 We take a walk down Church Street where there are some alfresco style cafes. There are plenty of people enjoying a meal under the fig trees at the Black Bear and the Bakery we have a look in at Ruby 2 Café & Books, Guru Food a little vegetarian alternate café with old style lounges and period pieces.
I guess the truth for me was that I was sold on the idea of the Baked Eggplant Gratin at the AVE Bellingen, in the old Church, so we head back to take up a seat at the huge tables in the church.
---
Our Visit to AVE Restaurant Bellingen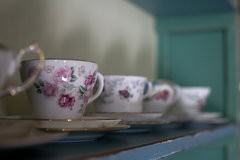 This quaint little café is housed in the "Old Church", in Bellingen.  The church has been restored and is now home to three shops, AVE café, a kitchen shop and a nursery.  The building itself is gorgeous, with beautiful stained glass windows and pitched archways which lead you from the hallway to the main dining room.
The body of the church features high racked ceilings and original floorboards.  It has been decorated with cute little period displays such as the tea cups display on the old sideboard, some enamel pots and kettles on the piano and various vintage lounges and matching lamps.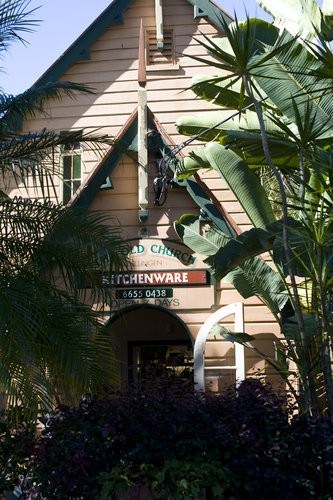 The décor is in contrast from a modern kitchen which is situated centrally in the dining room, allowing guests to appreciate the hard working solo chef and the busy waitress attending to tables and drinks.
When we visited there were six or seven tables being served throughout our meal.
We were given our menu and I noticed that there were some lovely dessert options and a very interesting "High Tea" option which I made a mental note that we would have to come back and try.
Today we were in for lunch.  I had already seen a couple of meals come out of the kitchen and they looked spectacular.  For me, it was a decision between the Fettuccini made on site and served with Pancetta, Roasted Pumpkin, Pine Nuts, Baby Spinach, Chili, Garlic and Olive Oil or the Baked Eggplant Gratin.  The Eggplant Gratin was described as layered Roasted Capsicum, Eggplant and Zucchini topped with Cauliflower Puree and Parmesan Cheese.
It was a difficult decision but when it came to ordering I chose the Baked Eggplant Gratin.  The waitress had gone through the specials of the day which I barely heard, I had enough trouble deciding between the menu items.  Brett decided on the special of the day which was a Pancetta wrapped lamb on a Celeriac Puree with Baby Greens and a Red Wine Jus.
We had a bit of a wait for our lunch but given we could see the lone chef it was easy to understand why so we didn't mind too much.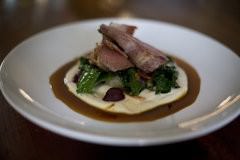 When our meals came out I was a little disappointed in my dish, I was expecting a more modern take on the gratin. Possibly something like and Eggplant, Zucchini, & Capsicum stack on the Cauliflower Puree.  My meal was 95% cheese sauce. I hunted through the cheesy soup for a few pieces of thinly sliced eggplant and the odd piece of Capsicum. I couldn't taste any Cauliflower puree and I didn't find any Zucchini.
In all fairness to the chef I did receive what I ordered which was a gratin, and I don't know why I was imaging a stacked vegetable dish but I didn't find my meal appealing, it appeared to be a dish straight off an 80's café menu, and it had very little in the way of vegetables.  I probably should have taken a photo but at the time I felt there was nothing to photograph, my meal was a white gratin dish with a grilled cheese covering it completely, there was nothing more in sight.
About halfway through lunch my dear husband, love of my life, offered to swap meals with me. I have to say, in fairness to the AVE, hubby thoroughly enjoyed the vegetables in cheese sauce.
I tried the lamb dish and I nearly died, it was exceptional.  I have never had such moist tender lamb, it was a melt in your mouth moment.  I cannot image how the chef managed to get the lamb so moist.  Hubby's meal was presented beautifully, it was tasty and it had a nice amount of zucchini and other greens accompanying the meal.
We looked over the desert menu, there were a few tempting desserts such as Lemon Lime Tart served with Blueberry Compote, and a Belgian Chocolate and Almond Fondant with Raspberry Coulis and Vanilla Bean Ice- Cream.  I did consider desert but I guess I was still a little disappointed about my meal and I wasn't sure how long our wait would be for a second course.
Lunch menu prices range from $16.50 to $28.00 (including specials menu), Dinner menu prices range from $26.00 to $34.00 (not including specials menu).
---
Our review of Relish at the Federal Hotel Bellingen
I had wanted to try "Relish" at Bellingen for a while so when a friend suggested we head up that way for a leisurely lunch I was quick to say yes.  Relish is located in the Federal Hotel on Hyde Street.  Both the pub and restaurant underwent a major renovation in 2005 and is now light, airy and modern.
When we arrived the restaurant was quite busy, but we were fortunate to get a table outside on the deck.  Relish has a lovely relaxed atmosphere, and with the restaurant and deck located to the rear of the pub, it is quiet and suitable for children.
I perused the menu while Mr. GG went to the bar to order a few drinks. I didn't know what I felt like so I was pleased when he came back with a Cassegrain Verdelho.  It is always nice to see our local businesses supporting other locals.  We thoroughly enjoyed our tour of the North Coast Wine Trail and now know which wines are our favourites from each of the local vineyards.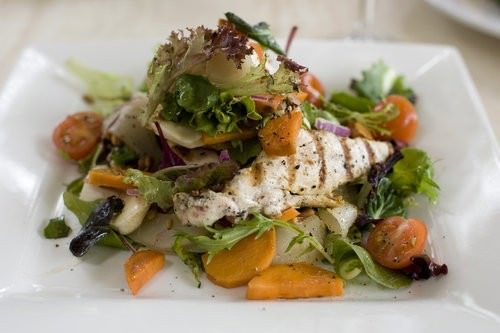 We returned our attentions to the menu.  There were quite some items which I found appealing, but I decided on the Federal Hotel Salad which included spiced pear, goats cheese and Moroccan chicken.  In addition to the menu Relish also has a specials board which features their "credit crunch lunch" deals.  These are tasty wraps, and burgers for between $10 and $15.
Mr. GG chose a Relish Burger with beer batter fries, and we got the two little kids Crumbed Whiting with fries to share.  The restaurant does have a children's menu but we quite often will divide and adult's meal for them, as there tends to be more salad and the price is usually compatible.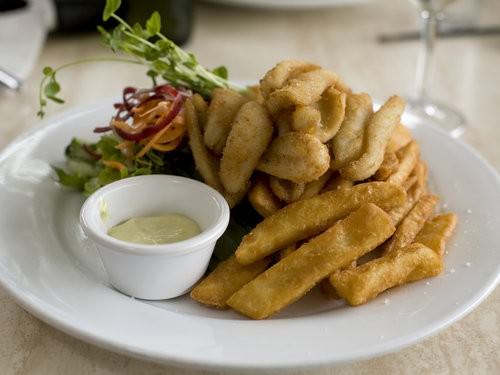 Rach couldn't go past the 300gm Steak Dianne with vegetables, and her hubby chose the Chicken Schnitzel with Vegetables and Jacket Potato. The final member of our party Judd settled on the Salt & Pepper Squid.
It is certainly a relaxed way to spend the afternoon, lounging on the deck with friends drinking beer and wine.  The meals took a little longer than expected to come out but when you are in good company and have nowhere, in particular, you need to be it is not such a concern. Although poor Judds Salt & Pepper Squid came out so long before our meal that I am sure it would have been cold when he ate it.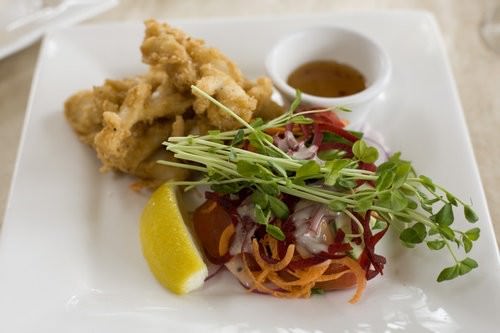 The meals were quite large, the Chicken Schnitzel, in particular, was huge but Scott managed to make short work of it.
The beer batter fries on the Burger and the children's meal were fantastic. They were crispy and delicious.  Hubby still gets a loving look on his face when I asked him to describe them.  They were his very favourite!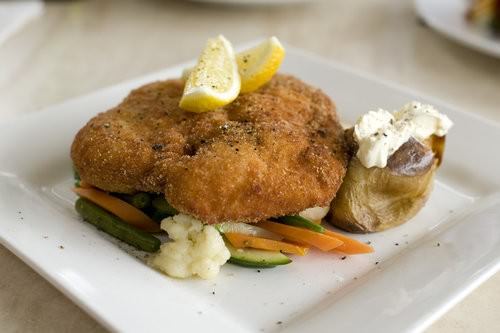 I thoroughly enjoyed my salad, the flavours were fantastic, and I am always happy when I can find a fresh, tasty salad on the menu. I had been trying to choose between the crispy skinned Salmon or the salad, and I was very happy with my choice.
The Steak Dianne had been exactly what Rach wanted.  The vegetables were a stir-fried style and were really tasty. The sauce was beautiful and rich, and she thoroughly enjoyed the meal. Try as she did, she couldn't make it through the dish but was completely satisfied just the same.
When we came to leave it was past 2.30pm but the there were still quite some people relaxing on the deck.  It is a great spot to kick back for a few hours.
Prices for the lunch menu range from $10 – about $26.
The Federal Hotel Bellingen is located at – 77 Hyde Street, Bellingen, NSW, Australia
Accommodation in Bellingen
If you plan to stay a little longer, there are some beautiful accommodation ideas in Bellingen.
Lily Pily Bed & Breakfast is an award winning B & B with views of the mountains and river. It is located just 3.5km from Bellingen town. Prices start from $180 per night which includes a home baked afternoon tea, and a lavish gourmet breakfast. Lilly Pily Bed and Breakfast is a destination in itself with art lessons available, the option of a 3-course silver service dining experience, packed picnic hampers and Beauty, Remedial Massage and spa treatments in the comfort of your suite.
The Promised Land Cottages are set on 100 acres which back onto the Never Never River just 12km outside of Bellingen. These are quiet, self-contained cottages set in a beautiful tranquil environment. The tariff is $220 per couple per night, and mountain bikes are provided for the more energetic guest to explore the area.