State of Origin night is the ultimate pizza night, I am told that it is one of the biggest night on the Domino's calendar aside from the NRL Grand Final itself.
Tonight we will be jumping the franchise pizza queues and having a Gourmet Pizza Party.
All my lovely guests are creating their own pizza's on the new Bakers Delight Pizza Bases. Naturally I have some incredibly creative friends and they have come up with some awesome creations.
Take a look at these pizza suggestions for your next pizza party.
Tandoori Chicken w Paneer Pizza on a Mango Chutney base
Antipasto Roasted Vegetables on Seeded Mustard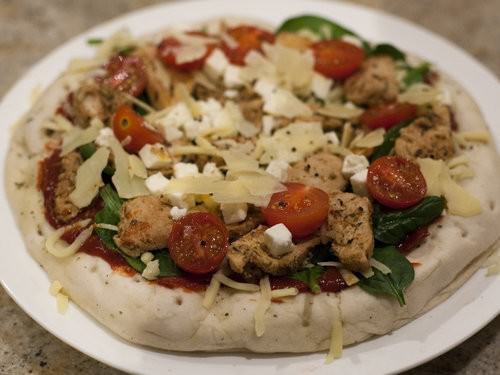 Cajun Chicken & Feta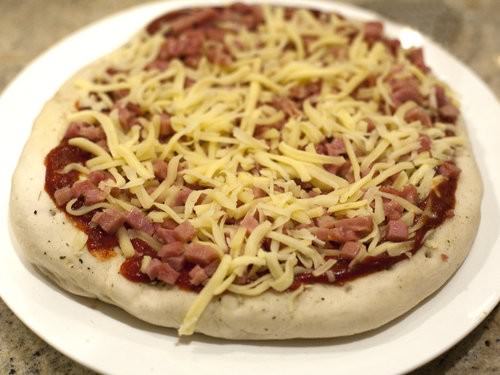 Bacon & Cheese Pizza
Pepperoni & Chili Prawn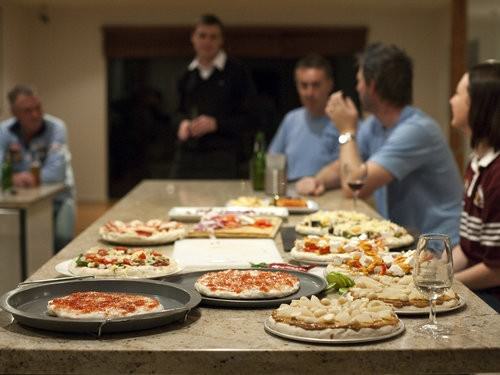 The final pizza on the menu was a Chili Vegetarian w Sundried Tomato & Feta Pizza. I seem to have missed photographing this one too… I will just have to blame the excitement on the night and assure readers that all the pizza's were delicious.
For dessert we enjoyed;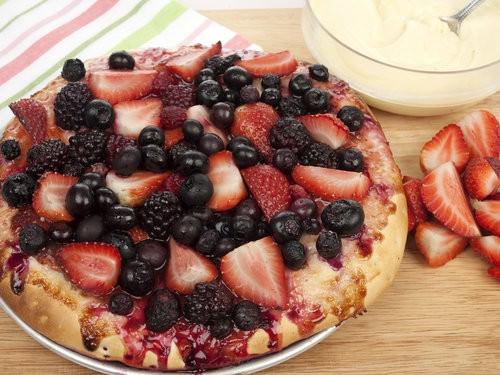 Berry Delicious Pizza w Vanilla Mascarpone
Plus we also had a  which I missed photographing. I will have to make it again because it was delicious and I would love to share the recipe with everyone.
Caramel Pear & Macadamia Pizza with Ice-cream
I was so pleased with the delicious range of flavours everyone came up with for the Pizza Party. The Bakers Delight bases were the perfect vehicle for these lush toppings.  I loved the fact that the bases are pre-cooked as this meant each pizza was in and out of the oven in 7-8 minutes.
After all, we had some hungry blue's supporters to feed… (and two Maroons), so the cooking time was a real bonus, nobody wanted to miss kick off!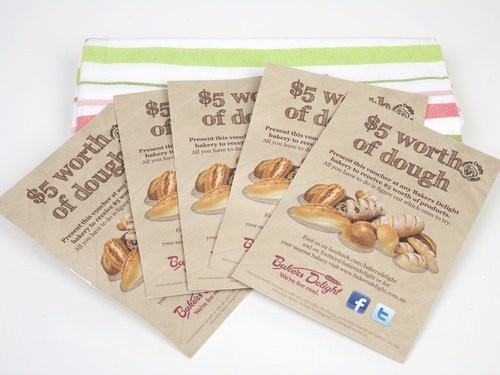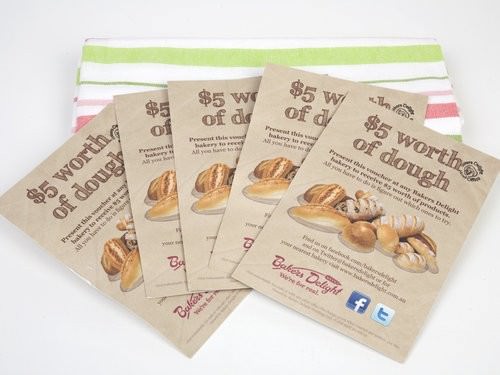 Now it's time to announce the winners of the five Bakers Delight gift vouchers. If your name is listed below please contact me via email [email protected]
Rob, Kym, Dianne, Rachel Mounter, Jacqui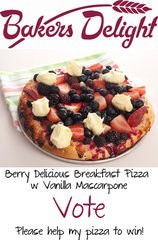 Thanks to everyone who voted for my Berry Delicious Breakfast pizza in the Baker Delight Facebook Competition. Alas it doesn't look like Im in contention to be the winner, but I can assure you the pizza is delicious and everyone should make a dessert pizza once in a while. Stop in at your local Bakers Delight and pick up a pack of bases, it really is a quick easy option for dinner.