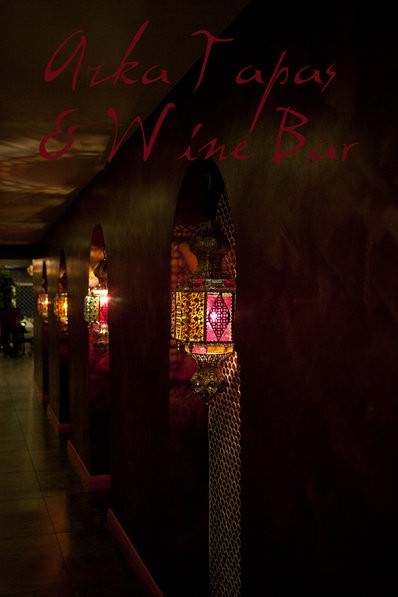 Armidale is another great winter weekend destination. There are so many gorgeous old country pubs to explore. Our first stop in Armidale was a little more upmarket we chose the Azka Tapas & Wine Bar.
Azka is located inside the Quality Hotel Armidale. Upon arrival we made our way downstairs and found the most intimate and relaxing wine bar. Subdued lighting and candles, comfy lounges and quiet little nooks beckoned us. We found a spot near the fireplace and peeled off the layers of clothing which had been protecting us from the Armidale chill.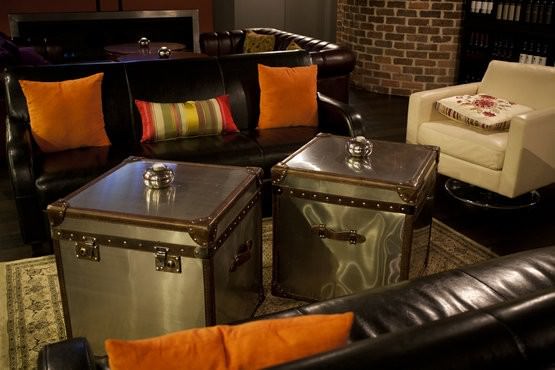 My eyes wandered around the dimly lit bar. The interior had been designed in a rich Moroccan style. There were lots of colourful overstaffed cushions with beadwork, Persian rugs and mosaic tile features walls. We sunk into our surroundings and ordered a wine while we perused the tapas menu.
The staff were amazingly attentive. The level of service was instantly apparent. Whilst I was photographing the wines the waiter asked if I would like the lights turned up slightly. It was a godsend, I never would have asked, but the waiter anticipating my needs was very much appreciated.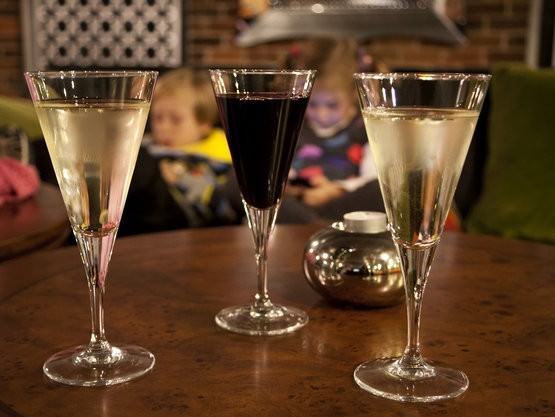 Miss Rachy & I each chose a different white wine from the extensive wine list. I settled on a Sauvignon Blanc from St Clair Estate in Marlborough, New Zealand. I have been enjoying my crisp whites lately and since we have an upcoming trip to New Zealand I thought a preview of the wines I will be drinking was in order. Whilst I enjoyed my choice of wine it was slightly fruitier than I would usually drink. Miss Rachy tried mine and both he and Mr GG thoroughly enjoyed it.
Miss Rachy had chosen a Plantogenet Riesling from Mt Barker, and husband the Arkies Shiraz from McLaren Vale SA. We all had a bit of a laugh at the quotes in the front of the wine menu, my favourite being one from Dean Martin. "You haven't drunk too much if you can still lie on the floor without holding on."  I will have to remember to apply that test!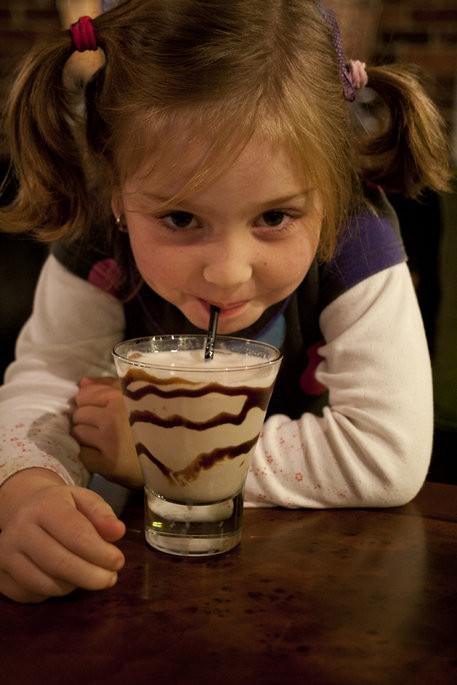 The waiter arrived with the children's milkshakes, so we now had happy children and very relaxed parents.
The first dish to arrive was a Cayenne Spiced Prawn with Aioli. It was a magnificently presented dish and delicious as only deep fried food can be. It was amazingly crisp with a deliciously creamy aioli.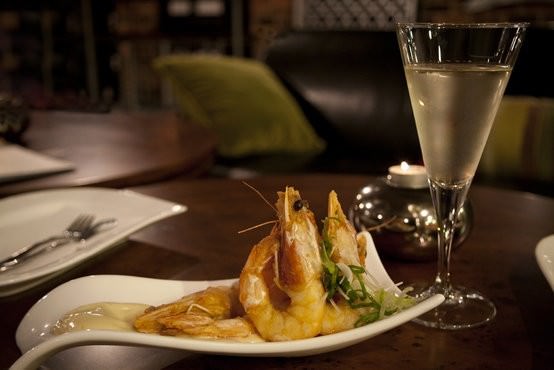 Braised Octopus with Saffron potato and smoked paprika. We had differing opinions on this dish.  The flavour of the octopus was wonderful but my dining companions didn't seem to get the tender moist sections of octopus that I found. We all agreed that the dish would have been improved with a sauce as the potato was tasty but we would have like something to pull the two components together.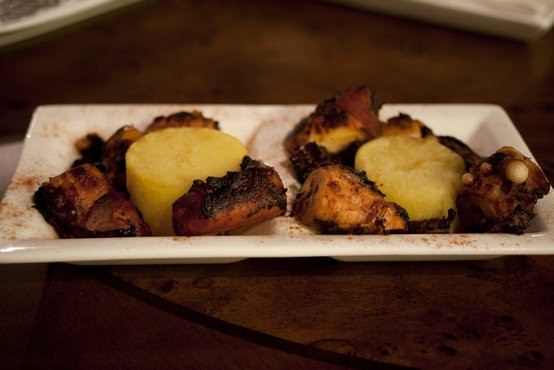 For something a little different we had chosen the Scallops with Tequila, Lime and Tomato Salsa.  This was a fresh, cold dish which featured raw scallops which had been prepared using the ceviche "cooking" method. Ceviche uses no heat, just the citrus juice to cook the seafood giving a very fresh, moist, sashimi style dish. We all enjoyed the flavours of this dish. The waiter did warn that the Tequila is not cooked off in anyway either and the dish would not be suitable for children.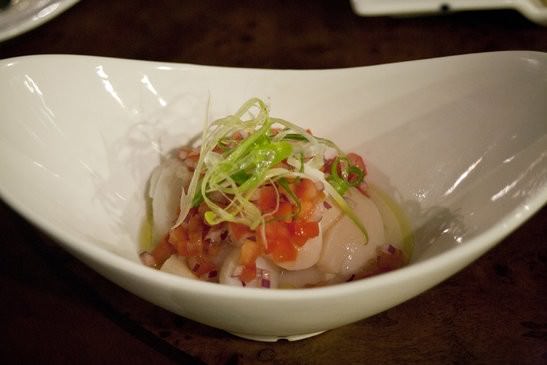 The final dish on our tapas journey was a Prosciutto, Salami and Duck Rillette Plate. This was the perfect dish for lazing, picking and sharing. A platter filled with tasty morsels. I fell in love with chutney; it had a delicious sweet spicy flavour and used cinnamon and cloves to impart a Middle Eastern feel.  The duck was served in a pulled style with the delicious cooking liquid, it was absolutely perfect, moist and gamey.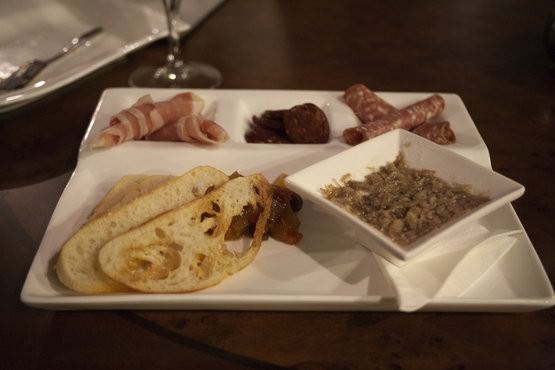 After another round of wine it was time to take our weary bodies from their comfortable positions in front of the fire and return the layers of clothing in order to face the outside world.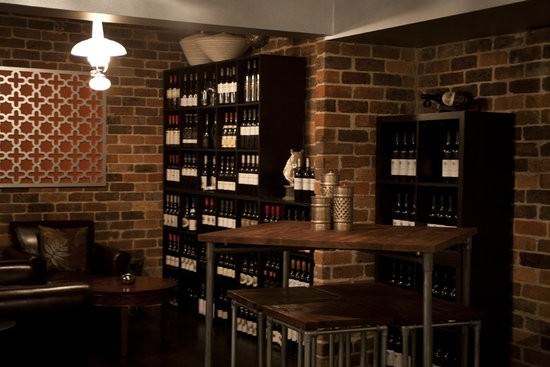 I would highly recommend an evening in front of the fireplace, with a special someone and a glass of wine at Azka.  It would make a lovely romance getaway. Readers, what do you find romantic?? We all know for me it is a comfy lounge, fireplace and a glass of wine with a special someone, let me know what other things you find romantic.
Azka Tapas & Wine Bar
31 Marsh Street
Armidale NSW
Tel: (02) 6772 7788