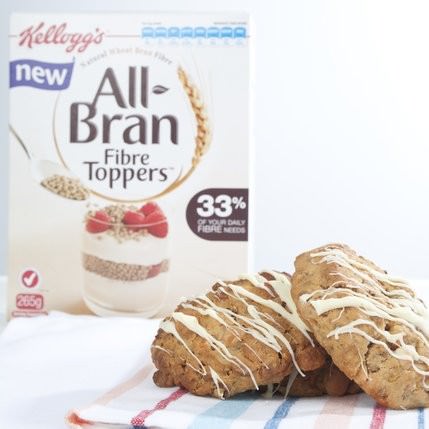 We are all looking for ways to increase our fibre consumption whilst not sacrificing on flavour. After all low GI fibre is what keeps us feeling full in between meals, and is an important part of a healthy diet.  An excellent source of fibre is the Kelloggs Bran Fibre Toppers.  This product can be added to cereal, fruit or yoghurt to give your breakfast a healthier boost.  Just ½ cup of Bran Toppers will give 33% of your daily fibre needs.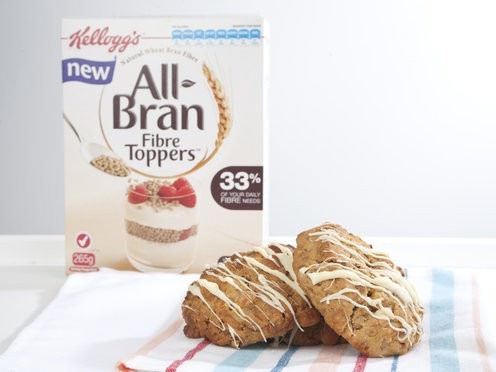 With the children returning to school this week I thought I would experiment and create a healthy lunchbox cookie using the Bran Fibre Toppers. I am pleased to say they turned out absolutely delicious.  The dried apricot and macadamia added even more fibre, protein and healthy oils to the cookies, and the orange zest lent a fresh zing to these crunchy treats.  Oh, and I am sure no child could resist the drizzled white chocolate on the top! Try my fibre rich lunchbox treats; I am sure the children will never guess they're healthy.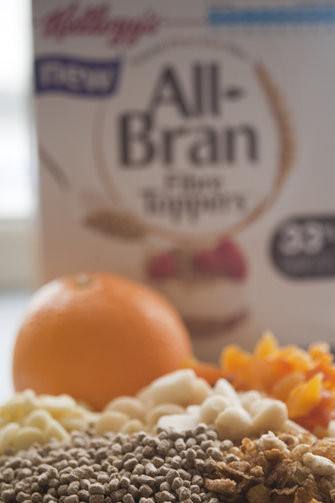 Ingredients:
1 ¼ Cups Kelloggs Bran Fibre Toppers
1 ¼ Cups Kelloggs Just Right Clusters & 5 Grains
2 Cups SR Flour
½ cup brown sugar
1 cup white chocolate bits
½ cup unsalted macadamia nuts
½ cup diced dried apricot
Zest from 1 orange
½ cup fresh squeezed orange juice
150gm butter (melted)
½ cup milk
1 egg
Method:
Preheat oven to 160 degrees.
Place baking paper on two cookie slides
Add all the dry ingredients to a large bowl and mix together.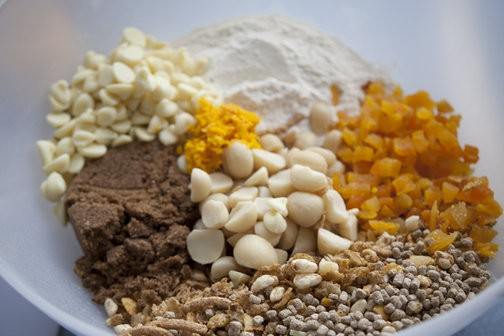 Melt the butter in the microwave. In a small jug combine the butter, milk, orange juice and egg. Whisk this mixture lightly until combined.
Add the liquid to the dry ingredients and mix by hand.
Form balls by hand and place on the baking tray. Flatten the balls and place in the oven to cook.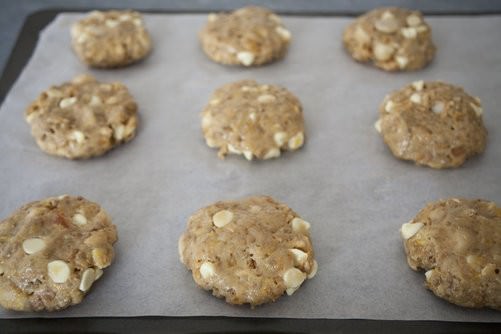 Cook until golden brown. Approx 15- 20mins
To Finish:
Melt ½ cup of white chocolate bits in the microwave in 30 second bursts. Once the chocolate is sufficiently melted, use a teaspoon to drizzle over the cookies.
Perhaps if you are in a hurry of a morning they could double as a breakfast bar.