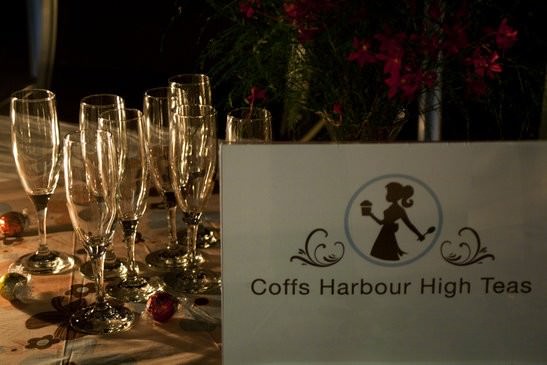 Do you ever wish you could be on a deck overlooking the sea, have a candlelit table, a few of your closest girlfriends (and a few new faces), some champagne and the most decadent tasty morsels, all served to you by a smiling friendly hostess.  Now imagine this lovely hostess then cleans up, and leaves you to relax on the lounge with your friends and enjoy the experience.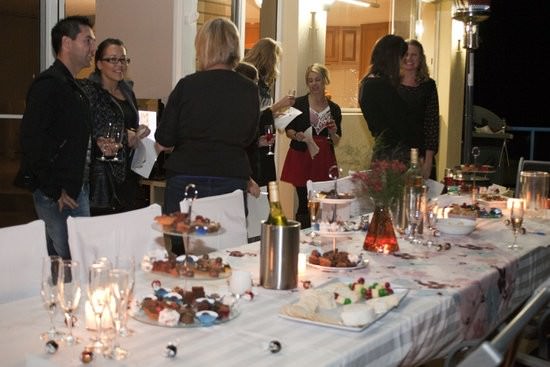 This may sound like a very elite style of catering, but it is one of the services provided by Harbour High Teas in Coffs Harbour. They specialise in mobile high teas and event catering. The girls can supply and serve delicious platters of tasty treats for any event, regardless how small and intimate, or how large the gathering may be.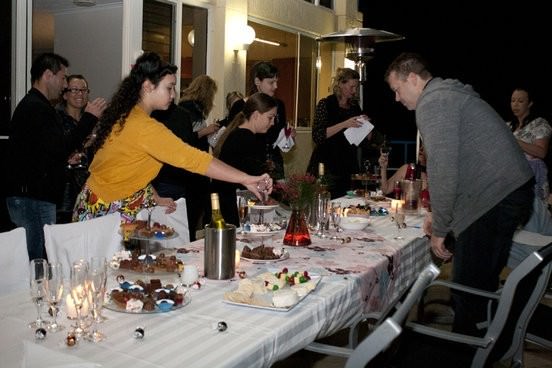 Alternatively customers are welcome to simply order their favourite platters, and they can be delivered prior to the event.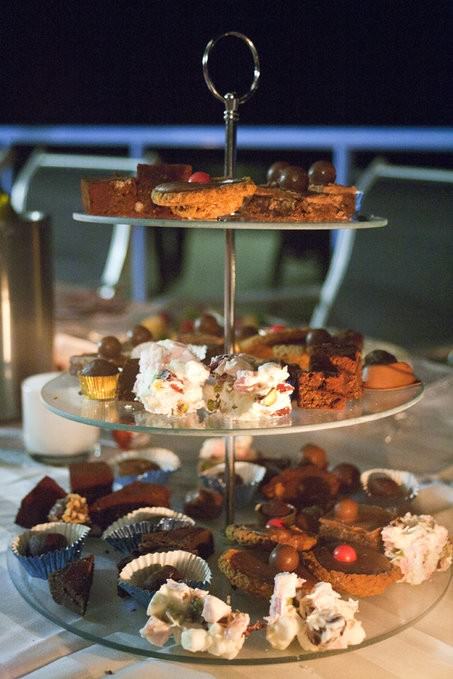 Tonight we are sampling delicious treats from the Chocolate & Bubbles range.
On the menu we had a mouth watering mixture of dark, milk and white chocolates.
I must admit that I had a pictorial preview of some of the sweets which were to be served, and I had a plan of action… target the Bounty Tartlet first! I was not disappointed, the tartlet was a delicious biscuity base, filled with a creamy, smooth milk chocolate ganache which reminded me of a Kingston biscuit, only so much better!
It was love at first bite! I was worried I had peaked too early, and already picked the winner. Reluctantly I decided not to devour all of the Bounty Tartlets and moved onto the Malt teaser slice. This dainty square of chocolate was topped with a malt teaser. The slice had the perfect amount of sweet creamy chocolate to delicious malty crunch. We were two from two and I was feeling some serious chocolate love.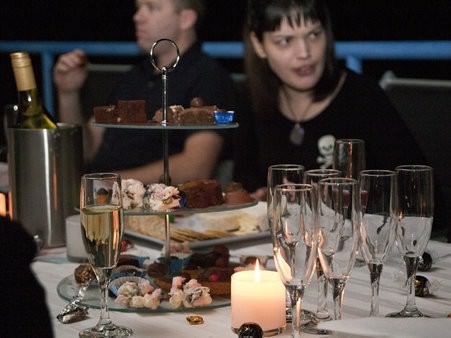 I decided to break away from chocolate for a moment, and helped myself to the cheese platter.  We were served four very different cheeses with crackers.  My favourite was the rich creamy blue (as it usually is J) but I found all the cheese delicious and a welcome accompaniment to the chocolate.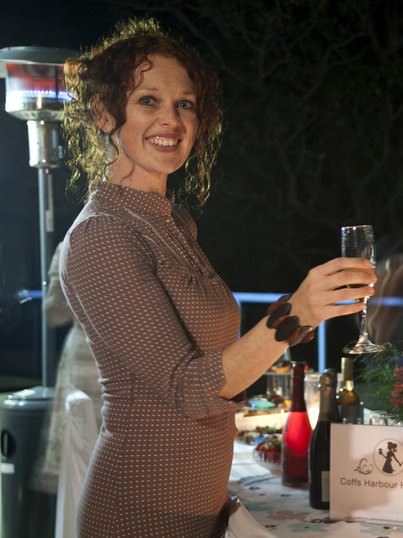 It occurred to me at this point that I had made good inroads, on the chocolate and cheese, but I was a little slow in the bubbles. There was a variety of champagnes to choose from, one of the favourites of the night was a sparkling pink Moscato.  I like my champagne a little less sweet so I chose a Yellow Tail Bubbles, it has lovely crisp fresh fruit flavours with less residual sugar. Given this was a catered event I had plenty of time to chat with friends and leave the girls from Harbour High Tea's to look after the food and wine.
After quite a bit of chit chat, some strawberries and more cheese I returned to my chocolate infatuation.
It was time to sample the chocolate truffles, passion fruit choc balls and hazelnut truffles. I hope I am not sounding like a little piggy, but I really did need to sample all the truffles and tasty morsels on offer. The fact that I may have sampled them more once was merely a result of me being thorough and professional… and perhaps a little smitten.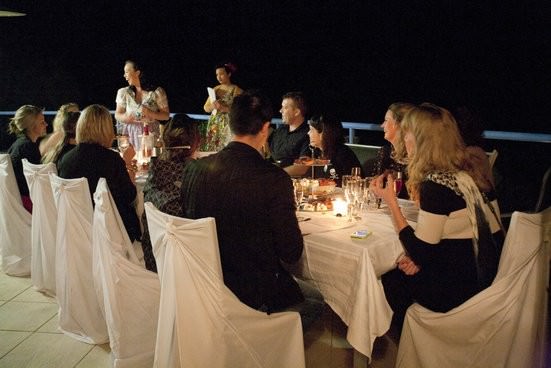 Another glass of champagne was in order whilst I took a piece of crispy sweet biscotti. Sammy from Harbour High Tea's informed me that they also do a knock your socks off, delicious chocolate fondue for customers. Naturally they supply an assorted range of tasty morsels to accompany this warm rich fondue, including the biscotti I was casually nibbling on… hmm, maybe next event I could order one…
So back to the tiers of deliciousness!  The white chocolate, pistachio & cranberry Rocky Road was calling my name. I was ready for a change in chocolate and this was just the palate cleanser I needed. The flavour was a complete contrast from the preceding treats. I loved the combination of tart cranberry and crunchy pistachio.  This will be my choice of Rocky Road in the future, no more kiddy flavours for me. This is the adult alternative to Rocky Road.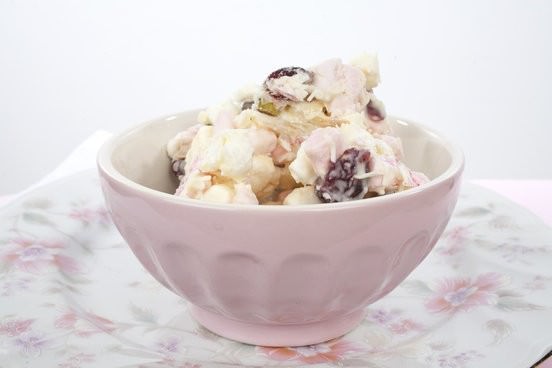 Moving along, and happily tasting as I go I found yet another strong contender for my undying love. It was the "torts di ciocclata," a rich hedgehog style slice with the delicious inclusion of crunchy hazelnuts.
As it turns out I was wooed by many over the evening, but my favourite in the end was the Bailey's Irish Cream Fudge.  This dark chocolate fudge had a very distinct Irish Cream flavour. Sammy had cut it into delectable triangles and dusted in a rich dark cocoa… it was simple, and it was amazing!
One of the invited guest was Bridgette from the Red Sparrow Tea Company. At about this point in the evening she brought out a special blend of her premium raspberry tea.  All the Red Sparrow Tea's are sourced from the highest quality tea, and blended personally by Bridgette. They are completely chemical and artificial flavouring free. The raspberry tea was like having a refreshing glass of only slightly sweet red cordial, without all the nasties!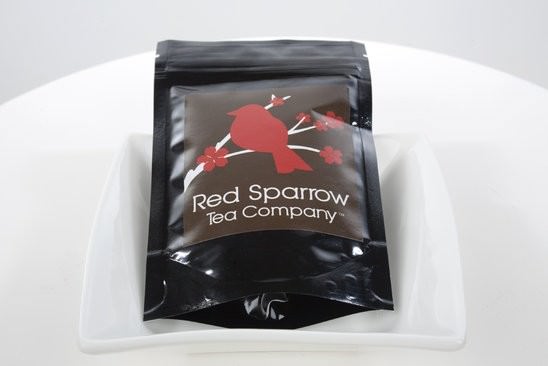 We finished the evening with some homemade chocolates under the gas heaters, sipping more champagne, listening to the sound of the waves and the music in the background.
It was a fabulous night and I can honestly say I did not lift a finger.  This is something I would definitely like to do again in the future.
What about you readers?
1/ Would you prefer to have your evening fully catered, and be served by hostesses
2/ Are you a complete DIYer and wouldn't use any form of catering
3/ Would you be more inclined to buy a few of your favourite catered treats, and serve them to guests yourself?
Ph:0419 416 467