Bangkok is a bustling and dynamic city that straddles two distinctly different worlds that are both ever-present. One foot is firmly planted in the 21st century with its penchant for speed, technology and international business, while the other sits solidly in the past, steeped in Thai tradition, culture and spirituality. It's an invigorating mix!
Bangkok boasts a culture and atmosphere unlike any other.  This mix is most apparent in the style of food available.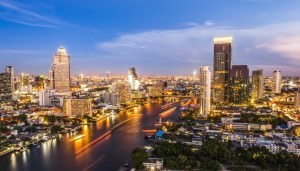 If you're looking to travel half a world away, because you need to eat something extravagant, exotic and authentic, you can't find a better experience than planning a trip to Bangkok. From its street food to its fine dining, the rich history of this region is alive and well in every bite of food. I have included 8 of my favourite places to eat in Bangkok. Next time you visit make sure you visit some.
8 Places to Eat in Bangkok
1. Issaya Siamese Club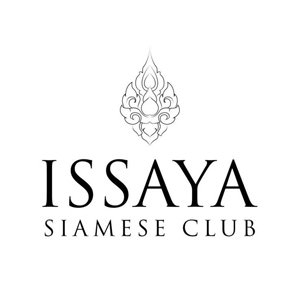 Tucked away on a little side street and in the middle of a large garden, Issaya Siamese Club occupies a refashioned and expertly renovated 100-year old house that makes for an ideal place to share a romantic dinner. Excellent service meets traditional Thai food that is artfully presented making every dish a memorable one. If you want to experience exceptional Thai food in a beautiful and upscale setting, Issaya Siamese Club is a sure bet.
2. Le Du Restaurant

Another difficult-to-find spot that's also worth the effort is Le Du Restaurant and Wine Bar. Brand-new and already getting plenty of recognition, this Thai restaurant features classic dishes that have been sourced from local farms and prepared with inventive twists that give its cuisine a more international flavour. At lunchtime, you can enjoy their more European-inspired menu. But for an opulent fine dining experience that is resolutely Thai, go for dinner. From the service to the décor to the menu, the experience is an event unto itself.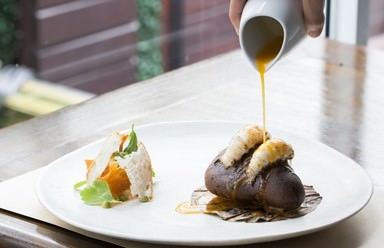 3. Toney Restaurant
Street restaurants in Bangkok are very common, and almost all of them are worth trying. However, a handful of places really do stand out, and Toney Restaurant is one of them. An Indian street restaurant located in Pahurat (also known as Little India) along a small motorcycle and walking street, Toney Restaurant creates authentic Indian fare that is other-worldly and reasonably priced.
4. Vertigo and Moon Bar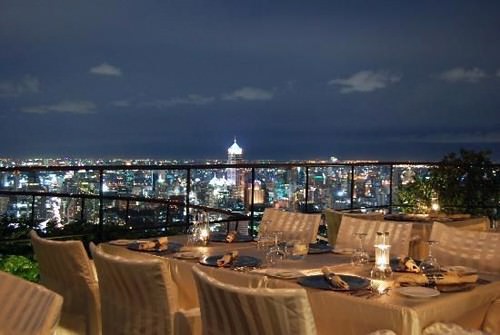 This rooftop open-air restaurant and bar provide one of the best views of Bangkok at night in the entire city. Vertigo and Moon Bar serves high-end cocktails, seafood and steaks on the 61st floor of the Banyan Tree Hotel. The cuisine is continental, and the view is unforgettable. For a night out with good friends, this restaurant and bar provide the perfect backdrop.
5.Chesa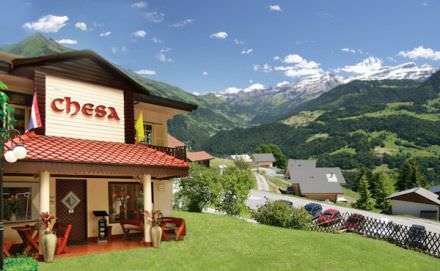 Just in case you're tired of Thai food and want a change of scenery and taste, there is a fantastic Swiss restaurant called Chesa. Utilizing the best seasonal produce in the region, Chesa has been impressing local foodies and international travellers for 13 years. From pasta to foie gras, some of the best Swiss and French cuisine can be had at Chesa, Bangkok.
6. Little Beast
With an emphasis on small plates, Little Beast is a great place to enjoy a hearty round of appetizers and a cocktail before embarking on a late-night dinner. Chef Nan Bunyasaranand is a hometown girl who received her schooling at the Culinary Institute of America and has worked in Thomas Keller eateries in New York.
From sea bream to homemade sausages, everything she makes is delicious and ephemeral as the menu changes often. Dedicated to using all the parts of an animal, you'll find the most unusual treatments of unusual cuts of meat at Little Beast.
7. Somtum Der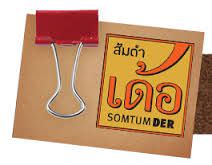 Specializing in northeastern Thai food, Somtum Der offers reasonably priced authentic food in an atmosphere that feels like the whole experience should cost you more. The spicy fare that's been pasteurized to accommodate foreigners' digestive systems, this restaurant will provide a genuine Thai food experience without the risk. Try the tum sua — a papaya salad with vermicelli noodles — and their tom saep — soup with young pork bones.
8. Microphone
Officially called Lan Kuay Jab Jaedang, Microphone is a busy, loud street restaurant with multiple chefs, all of whom are presided over by an emcee with a microphone. When someone orders, the emcee barks the order over his microphone, and one of the chefs gets to work on it. The food is fast and delicious, and they're open from late afternoon until around 3 am. You can find Microphone along the Thanon Ratchawithi Road.
For your next food-centred vacation, set aside time for Bangkok. From fine dining to street-fare, the city is bursting with flavour. So much variety ensures that every meal will leave a lasting memory.