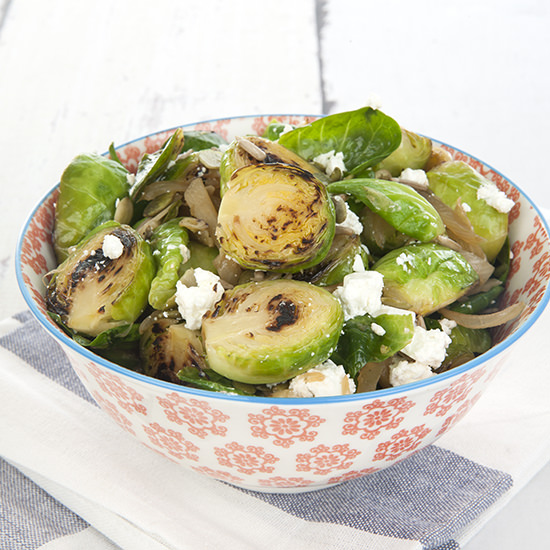 Have you noticed the rise in popularity of Brussels Sprouts? I certainly have! Is it just a food trend or do Brussels Sprouts really have something important to offer?
I have never really considered this vegetable seriously in the past as I wasn't given them as a child.
As a twisted parent and adult when the kids asked me what we're having for dinner I usually answer brussels sprouts and eggplant. Although that was just a joke, I didn't have any Brussels Sprouts recipes in my repertoire.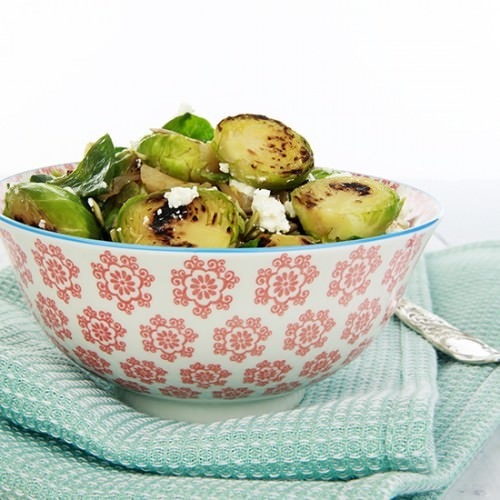 The joke was on me when I discovered the kids LOVED Brussels Sprout.  Brett and I had ordered a side dish of brussels sprouts and prosciutto to accompany our meal and the kids absolutely smashed it. They couldn't get enough of these little, nutrient, rich power balls.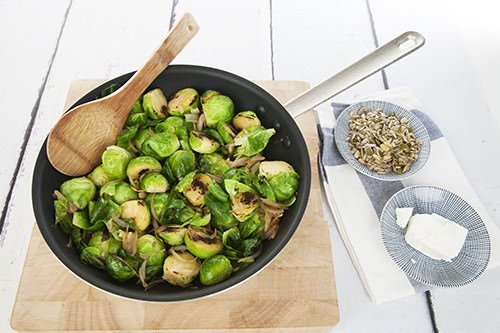 So, are Brussels Sprout really that good for you?
The answer to this question is a resounding YES! We all know that vegetables are good for us but these little power balls pack a big nutrient punch. Brussels Sprouts belong to the same family as Kale, Broccoli Collard Greens and Cabbage and we know how good these vegetables are! Like all vegetables the way they are cooked is vital for nutrient retention. I used my cooktop
(click here)
with minimal cooking liquid to ensure they steamed not stewed. Before I give you the recipe lets look at why you should eat Brussels Sprouts more.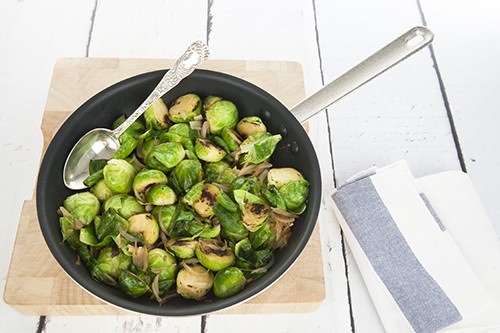 Here are my 5 Reasons to Eat Your Brussels Sprouts
1/ Brussels Sprouts are one of the top 20 nutritious foods

According to the ANDI score rating system. (Aggregate Nutrient Density Index) Brussels Sprouts make this listing due to their high nutrient value and low calorie content.

Here is the nutrient breakdown according to the USDA National Nutrient Database

1 Cup of raw Brussels sprouts 88gm

38 calories

0 gm fat

8 gm carbohydrate

3 gm sugar

2 gm fibre

3 gm protein

Consuming one cup of Brussels sprouts will also provide:

195% of vitamin K

125% of vitamin C

10% + of vitamin A, vitamin B-6, folate, potassium and manganese needs for the day.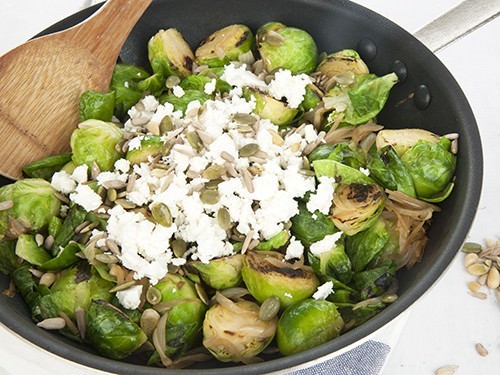 2/ They are cancer fighting

Brussels Sprouts contain several important flavonoid anti-oxidants such as thiocyanates, indoles, lutein, zea-xanthin, sulforaphane and isothiocyanates. These phytochemicals are thought to offer protection from prostate, colon, and endometrial cancers. Funnily enough its the slightly bitter sulphur flavours that are thought to be the good guys in this vegetable. Although boiling them to death like previous generations did, reduces the level of sulforapha and the benefits.
3/ They hold the Fountain of Youth in their little buds

Ok, so may be I can get a little carried away in my quest to look young and vibrant. But Brussel Sprouts are full of anti-oxidents. When the anti-oxidant Vitamin C is consumed in fruit and vegetables it helps to fight skin damage caused by the sun and pollution. It is known to reduce wrinkles and improve overall skin texture due to it's role in the formation of collagen. If your thinking about eating citrus for vitamin C you may be surprised to find Brussels sprouts provide 75 milligrams per cup as shown in the table above, more than 100% of your daily need. It's also important to have Vitamin A for healthy looking skin, Brussels sprouts has that covered at 10% of your daily needs.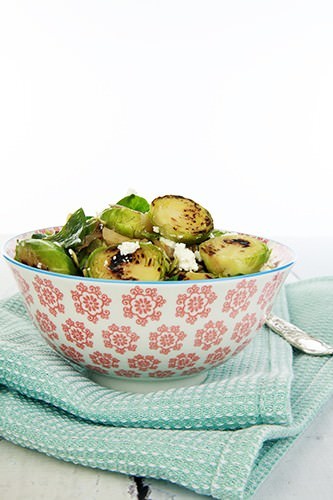 4/ Look Deep into my Eyes

Yes, Brussels Sprout hold the answer to maintaining good vision as we age. It may not be a sexy, inspiring reason to eat Brussels Sprout but as someone who is now using reading glasses I wish I had of eaten my Brussels Sprouts as a kid.Vitamin C helps keep eyes healthy by providing increased protection against UV light damage. So if you are like me and enjoy time at the beach, for your skin and eyes sake you should be consuming more vitamin C. Why you should reach for the Brussels sprouts in addition to an orange is that it also contains zeaxanthin which helps filter out harmful blue light rays.  This plays an extra protective role in eye health and may also prevent damage from macular degeneration.

5/ They Taste Amazing

I could continue to list the health benefits of this great food but really my main motivation to eat these little balls of goodness it that they taste great and they are quick and easy to cook. So without further ado I am sharing this recipe, for a vegan version just omit the feta cheese.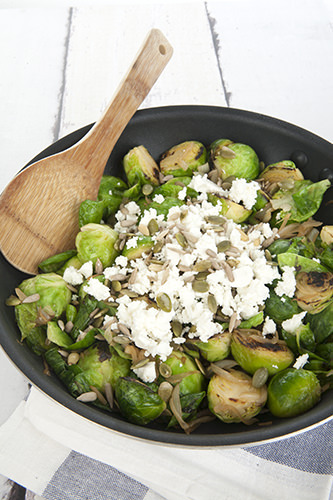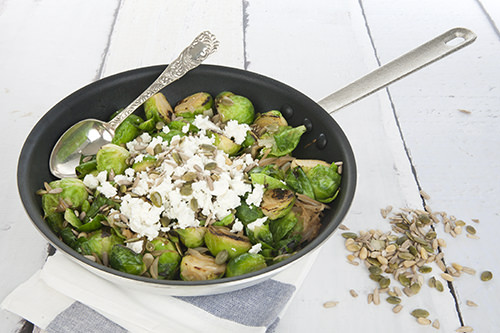 5 Reasons to Eat Your Brussels Sprouts
These little vegetables pack a great nutrient punch. This recipe is full of flavour, quick to make and low in calories.
Print
Pin
Rate
Ingredients
700

g

Brussels Sprouts

1

brown onion

chopped into matchsticks

3

cloves

garlic

chopped into matchsticks

1

Tbs

olive oil

100

ml

vegetable stock

50

g

mixed seeds (sunflower

pine nuts, pepita seed)

50

g

Danish feta *optional
Instructions
Trim the ends off the Brussels Sprouts and cut in half longways.

Prepare the onion and garlic by cutting into matchsticks.

Heat a non stick pan and cook the onion and garlic with the olive oil until brown and caramelised.

Remove the onion mixture from the pan and place the brussels sprouts cut side down on the pan to charr the vegetable. Once the Brussels Sprouts have charred they will get a lovely nutty flavour.

Turn the Brussel Sprouts over and turn the heat up.

Add the vegetable stock and cover quickly, cook for 3 minutes.

Remove the lid and allow the stock to reduce down.

Take the Brussels Sprouts off the heat and serve with your choice of toppings.
Nutrition
Calories:
155
kcal
|
Carbohydrates:
20
g
|
Protein:
8
g
|
Fat:
7
g
|
Saturated Fat:
2
g
|
Cholesterol:
11
mg
|
Sodium:
285
mg
|
Potassium:
730
mg
|
Fiber:
7
g
|
Sugar:
6
g
|
Vitamin A:
1425
IU
|
Vitamin C:
151.5
mg
|
Calcium:
146
mg
|
Iron:
2.6
mg
Now that I know how much the family enjoys Brussels Sprouts I usually add them as a side dish to our meal once or twice a week. I have roasted them with prosciutto and pine nuts which were equally as delicious.
So, readers, I'm curious, do you choose to add foods to your diet because of their health-giving properties?
As regular readers would know I have just finished a huge renovation on my kitchen. If you are in the market for a new cooktop and would like to see the selection I chose mine from taking a look at the kitchen appliance specialist
ASKO
.
*Given this story has nutritional claims I have included a list of my sources below. Please be aware I am not a qualified health professional and you should consult with a dietician for the full Brussels Sprouts story.
Powerful prostate cancer fighters — from arugula to wasabi, cruciferous veggies pack a powerful punch, Densie Webb, PhD, RD,
 Today's Dietitian,
 Vol. 13 No. 10 P. 20, October 2011 Issue, accessed 8 September 2014.
Anticancer compounds found in food, Machowsky, Jason, MS, RD, CDN, CSCS
Alpha-lipoic acid, Nutrition 411, last reviewed August 2012, accessed 3 June 2014.
The role of the carotenoids, lutein and zeaxanthin, in protecting against age-related macular degeneration:
Eating for eye health, Getz, Lindsey, Today's Dietitian,
 Vol. 11 No. 9 P. 12, September 2009 Issue, accessed 24 September 20