Nothing brings the Coffs Coast residents out like a good food festival. The Sawtell Chilli Festival just celebrated it's 16th year and was bigger and better than ever!
There was something for everyone on Sawtell's main street yesterday. The Chilli Festival is a real family affair, with rides for the little ones, entertainment at both ends of the street and some very tasty treats in between.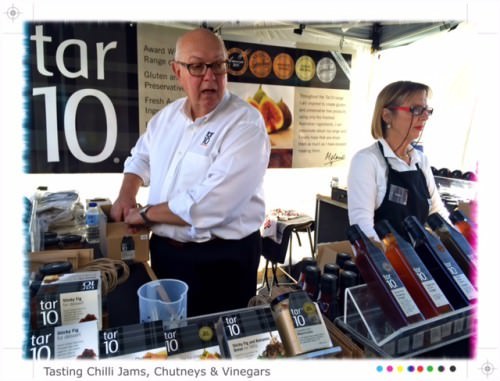 Each year Hubby and I take the opportunity to visit the tasting stands and try some of the new and interesting products.  The condiments at the Tar 10 stall were delicious.  We eventually purchased some fruit preserves to serve on cheese platters.  My favourite was the Sticky Fig which won a gold medal at the 2012 Fine Food Awards.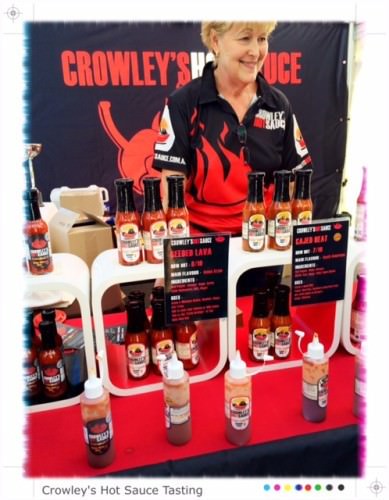 Events like this are an important outlet for fledgling companies to introduce their products to the public. It was great to see such a diverse range of chilli products at the festival.
The Crowley's Hot sauces were another favourite.  The range was rated by the heat of the chilli.  The sauces starting in the pleasure range and worked up to the pain end of the spectrum.  My favourite here was the "Smoke and Fire" sauce which was rated 7/10.  It had a delicious smokey BBQ flavour.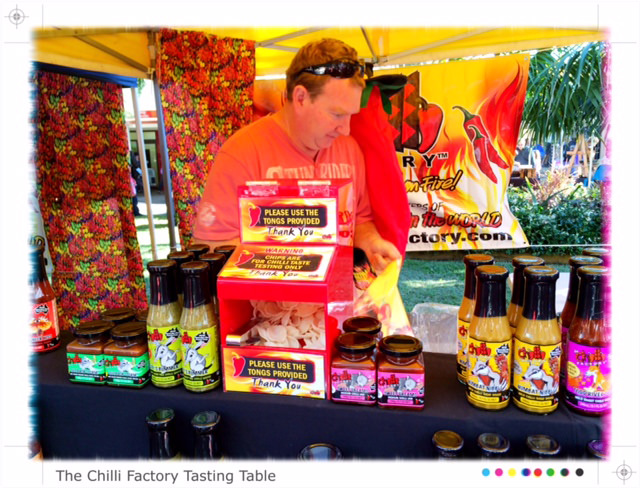 The Chilli Factory was another stand with some seriously hot and tasty chilli sauces. I am proud to say that even Locky tried the hottest of their sauces. Although I don't think it would be an everyday sauce for him. My favourite here was the satay sauce as it had a lovely flavour and a nice heat.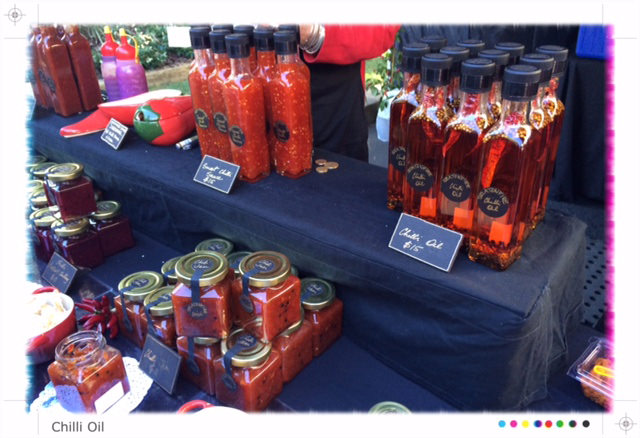 Sawtell had arranged the perfect weather for this outdoor event.  The winter sun was out, and everyone seemed to be enjoying the Chilli Festival atmosphere.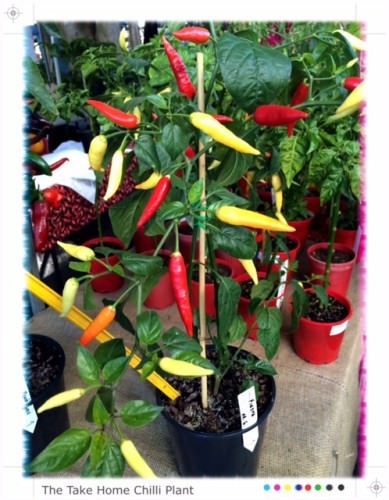 Holding the event in Sawtell's main cafe and restaurant precinct meant there were plenty of food options.  Festival goers could choose from street vendors selling delicious chilli dishes, or the local cafes who had also got into the Chilli Festival swing. Plenty of people were choosing a spot at the cafes with a comfortable chair as a place to stop and watch the busy street activities.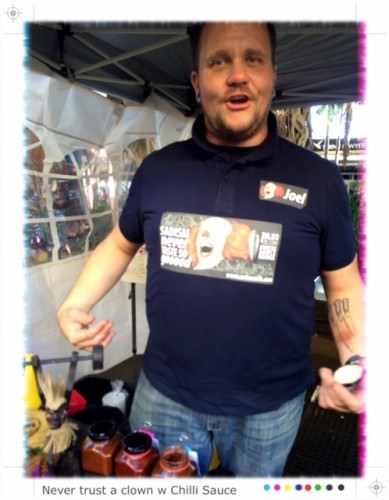 Although we had enjoyed some chilli tasting it was time for something a little more substantial. Local chef Joel McCulla from Zulu's Restaurant had a rather interesting offering.  A series of benign looking Chilli jars were displayed on the table.  In hindsight I should have realised you never take treats from a laughing clown.
In case you can't read his shirt the clown is saying "Sadism never tasted so good!"
Lachlan and I sampled the Shetani Chilli.  This harmless looking chilli sauce contains three different chillies to derive maximum flavour and pain to those brave enough to sample.  The flavour was spectacular, so unbelievably tasty.  The burn was equally as spectacular.  Both Locky and I were red faced and burning from all different areas of the mouth. The sauce was made using, ghost chilli, habenero and chocolate scorpions, sounds very deadly!  Thankfully Joel had watermelon on hand for emergencies.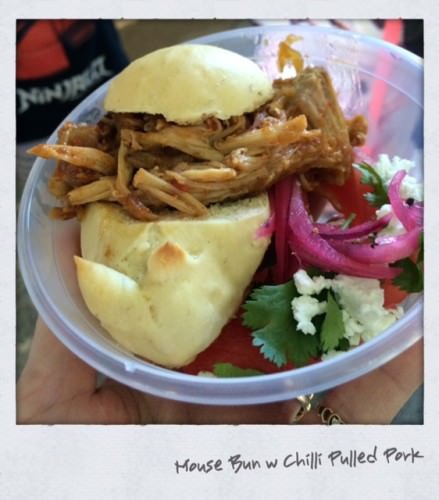 Actually the watermelon was part of the lunch dish Joel was serving. We ordered one of his Pulled Chilli Pork Buns which was presented on a little bunny or mouse roll.  It was so good, Joel has a way of delivering maximum flavour with a quirky twist.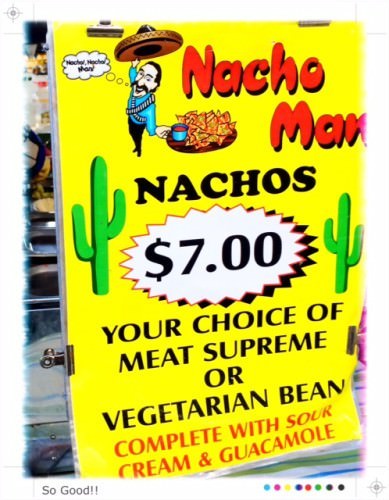 It was time to find something for the little ones to eat.  We didn't have to go far. Nachos is always a safe bet with my kids. I ordered a bean nachos but the kids started to demolish it before any photos could be taken. You will have to trust me that it was good!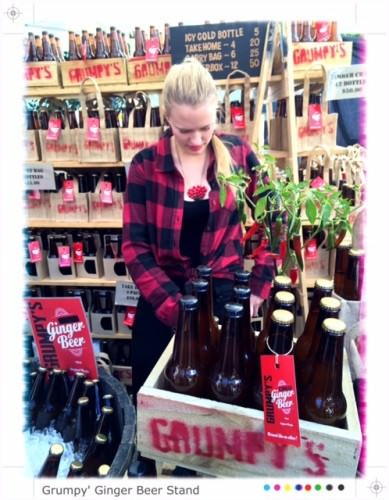 After all the chilli tasting it was time for a thirst quencher. Hubby spotted a stand selling icy cold ginger beer.  Upon closer investigation we discovered they also had a Chilli Ginger Beer.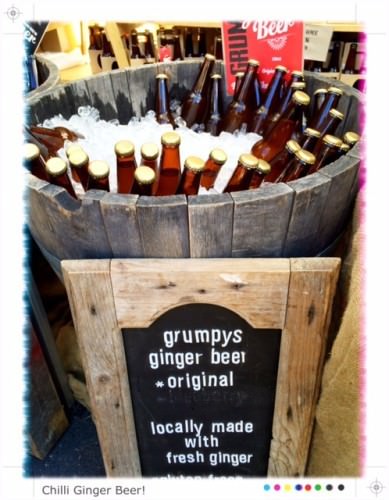 In keeping with the flavour of the Sawtell Chilli Festival we ordered one of the chilli varieties.  The cool ginger beer was just what we were after, lovely and sweet with a nice chilli heat at the end.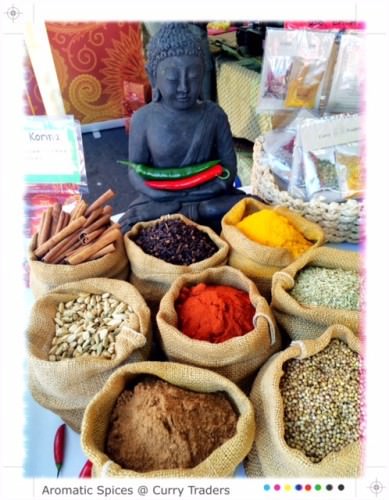 Rounding the end of the street we started on the other side of the stands.  There were so many delicious street food stalls and spice blends on this side.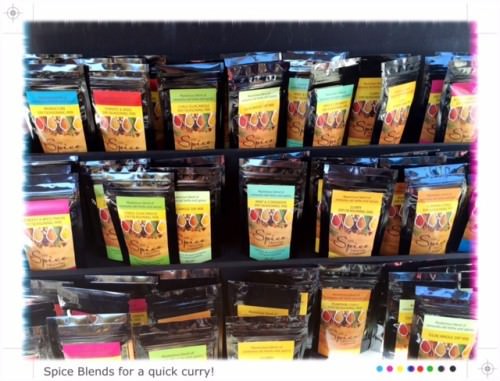 I love curries but I always struggle to make an authentic tasting curry.  I have found good spice blends invaluable to achieving the correct flavour.
I took home spice blends from Yumi Spices & Herbs, Curry Traders and the Spice Trading Company.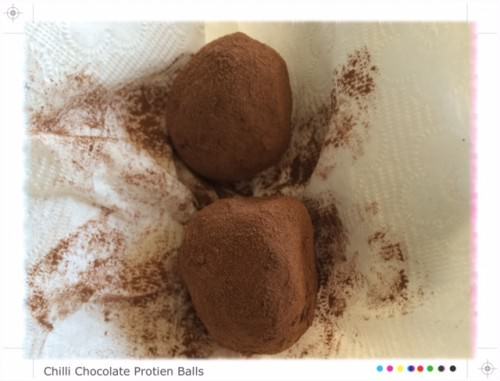 It was Anais that discovered the Chilli Chocolate, and decided it was time to move onto something a little sweeter. Seatonfire Chilli had a range of chilli chocolate to sample.  I bought the Licorice and Lime Chilli Chocolate which was a sublime flavour combination.  I also couldn't go past these Chilli Chocolate Protein balls which included nuts and date for sweetness.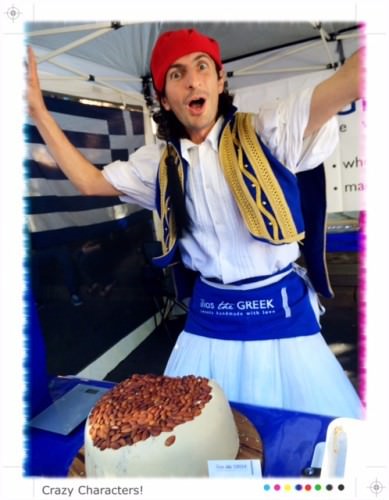 Moving past the chocolate we found some Greek desserts.  Here a lively character was offering tastings of Halva.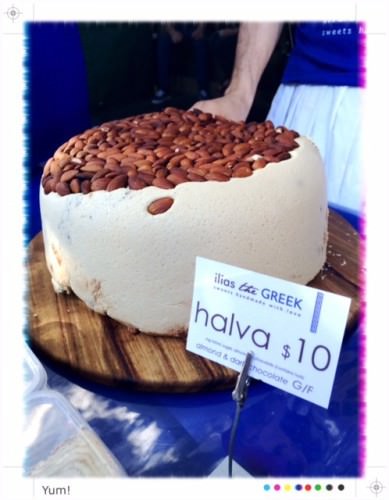 It's always the Baclava that turns my head.  There were trays of the sticky, sweet dessert. It was too irresistible, I couldn't go home without some.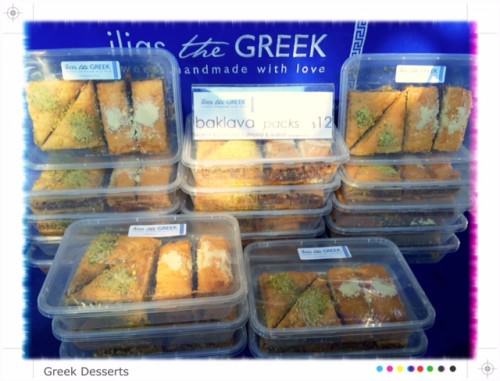 Nearing the end of the street we decided to stop at Mother's Milk Stores & Taphouse for a beverage.  Here they were offering two varieties of Chilli beers.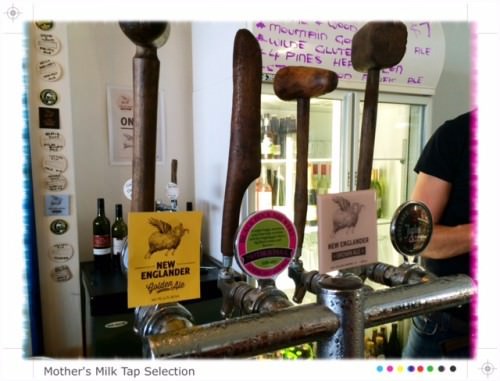 Lachlan and I took a seat at the window where we were able to continue our observations of the festival.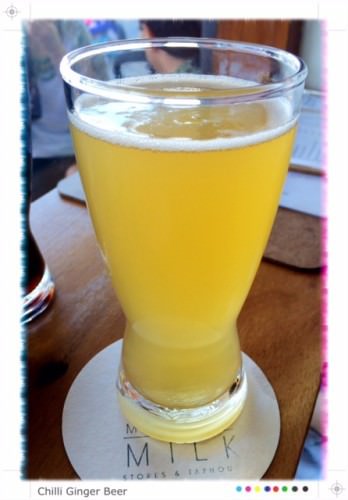 Hubby tried the Chilli Ginger Beer first.  It was deliciously cold and refreshing with a full ginger flavour.  The warming heat of the chilli came through after the mouth was emptied.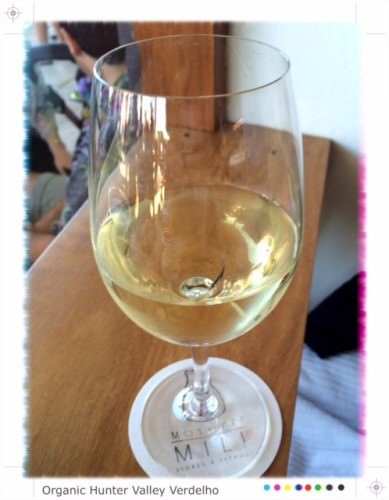 Meanwhile I enjoyed a lovely chilled Verdelho from their range of organic wines.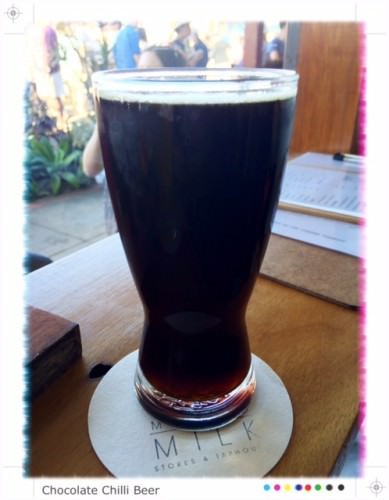 The Chocolate Chilli beer was Mr GG's pick of these special edition beers.  A bigger flavour and a more warming chilli effect pushed this beer past the sweeter ginger beer for hubby.
Once again the festival has been a huge success.  Our family certainly made a full day of the event.