If you're a food blogger, chances are you know how important recipe submission sites are in driving large amounts of traffic to your website
By using these sites you can get your blog in front of a large audience FAST! Even if you're a brand new blogger you have potential to be seen by 100's of 1,000's of people.  BUT, if you've ever been rejected by Foodgawker I'm sure you've wondered if you should even bother to submit to other sites.
My thoughts are ABSOLUTELY you should! Foodgawker can be finicky, and a recipe submission that gets rejected by Foodgawker may be accepted by some or all the other recipe submission sites. So you need MORE recipe submission sites in your marketing arsenal. These sites are an important part of promoting your content.

Before we get put off by a rejection from the big players I guess we just have to remember that some of these recipe submission sites recieve thousands of submissions per day.  They can afford to be picky about the images they choose to accept. Whilst your honing your photographic skills it pays to submit your recipes to a wider range of sites.
I have been blogging and photographing food for nearly 6 years and I still only achieve a 70% acceptance level from Foodgawker! This doesn't bother me because my traffic from all the recipe submission sites is good! I have also noticed that when my images are accepted Foodgawker, it doesn't drive as much traffic as it used to.
Perhaps this has something to do with the emergence of more ways of finding delicious foodporn on the web.  Plus sites like Pinterest Instagram and Yummly are becoming more prominent.  Check out my article on getting traffic from Pinterest and Yummly. Whatever the reason for the traffic changes, it means that we now have lots of promotional tools to use when we are promoting our stories.
I thought I would share my favourite recipe submission sites with readers. The top 11 are my favourite sites.
I also have a nifty way of submitting to the all the sites quickly. Take a look at the instructions at the bottom of the story.
Recipe Submission Sites
Want to know how to submit your recipes to all these sites fast!
Set up an account with each of these sites. Select "remember me" so your automatically logged in next visit.
Return to this site and click on any of the 18 website links that a relevant for your recipe. Wait for them all to open.
Complete all the details for the first recipe submission site but don't submit. On my list the first recipe submission site is Foodgawker.
Copy the first field from Foodgawker ( the URL of the recipe) and paste it in the appropriate field for all the 18 open submission forms.
Go back to Foodgawker and copy the second field (the name of the recipe) Move along to all the open pages and paste the name.
Repeat the process with all the subsequent fields until all the submissions forms are complete.
Check that you have uploaded an image.
Go through and hit submit on each of the forms.
Final submit your Foodgawker form.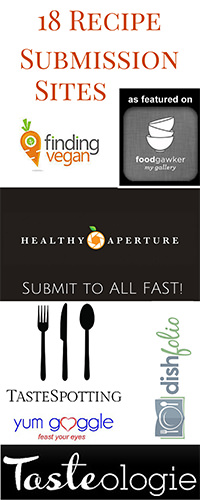 Some sites also encourage you to tag them into your social media. In response to being tagged they will quite often promote your image on their social media platform too. I have been featured on the Yummly and Yumgoggle Instagram accounts.  So make sure you follow the recipe submission sites social media accounts and tag them into your relevant images.
If this has been useful please bookmark the page and feel free to use the list.
Oh and, yes I know there are more than 18 Recipe Submission Sites but I just keep updating the list when a new one comes along.